Tomatina time is nearly here! Woohoo!
You need to start putting some thought into what to actually take to Tomatina.
The basic Tomatina rule: Don't take anything you're not prepared to lose or have ruined.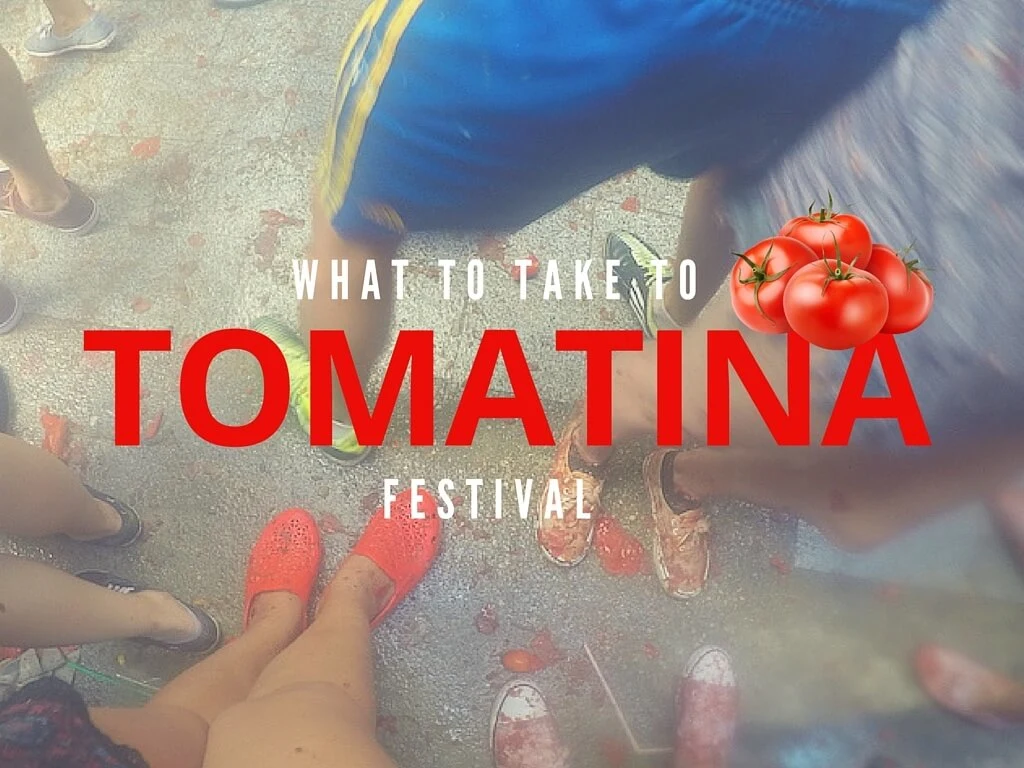 Packing list for Tomatina Festival What shall I wear for Tomatina?
I wore a white t-shirt – kind of on purpose to show off the before and after – and kind of because it was greying after a year of dark washes and was headed for the bin anyway.
Go with Busabout and they'll give you one of their official Tomatina tshirts, a la the guys in red in the photo above. I decided to save mine for night wear as I didn't want to ruin it.
They also give you a bandana as you can see on my video of how to do Tomatina, although by the time I'd got there they'd ran out, so make sure you check in early.
My shorts were old. I'd had them for ages and they were bin bound too. The weather was ok in Bunol when I went to Tomatina, but you might want some sort of trouser if its any colder.
Underwear for Tomatina
There's a rumour that there's always a few guys who'll pull and rip girls tops in the hustle. For this reason, I bought a cheapo white bralet top thing in Valencia. It was tight and tough, there was no way anyone would be able to rip it.
The tight bralet also made a great storage for my selfie stick with the GoPro on the end, and my money (more on that below).
In the end I didn't see any sign of 'ripping tshirts' anyway but at least I was 'secure'.
I wore an old white bra underneath that, thankfully as white tops go pretty see through with all the tomato juice around.
And that's it. Keep it simple and be ready to throw it all away at the end.
Should I wear goggles for Tomatina?
Some people were wearing goggles, but they were also very steamed up. I wouldn't recommend it. They're so restrictive and feel unnatural too.
I bought some sunglasses for €5 in Valencia and was fine, apart from that time they got knocked off my face. Get some sturdier ones than the wire ones I had and you'll be fine. I definitely wouldn't wear any prescription or expensive ones. You just don't know where the tomatoes are going to come from, and you don't want to be worried about your possessions when you're meant to be having fun.
I wore contact lenses too. My eyes were irritated by the tomato juice, but then I never get on very well with contact lenses anyway and the redness soon went away.
What shoes do I wear for Tomatina?
I bought this delightful pair of imitation crocs from a shop in Valencia the day before for €5. They turned out to be perfect.
They had holes in so the tomatoes could get out and they didn't end up all soggy like my fellow Tomatina friends' trainers. They did make me at least an inch taller, making me more of a target, but hey ho. And if you're short, that could be perfect.
Keep in mind that you're going to be stood up for a long time so make sure whatever shoes you take, they're comfy.
I'd recommend shoes like these…

Fresh clothes to go home
Take a plastic bag with fresh clothes to wear on the bus home. They won't let you on the bus if you're dirty and it feels amazing to put on something clean. Go with Busabout and you'll be able to store these under the bus while you're at the tomato fight and showering off.
Bring a towel or a sarong if you're a bit nervous about changing in front of everyone, because there's not really any other option.
Can I take my iPhone to Tomatina?
If you do want to take your phone double protect it with those waterproof cases, like below. I didn't take mine and I definitely wouldn't take in any sort of DSLR. You never know where the next waterbomb or tomato is coming from. Also, anyone who did have a phone had to be mindful of losing it in the carnage. Just focus on the fun!
You can leave your phone and camera on the bus to take photos at the after party.
I've got lots of tips for photographing Tomatina here. It's not really the place for cameras – I think a GoPro and a strong selfie stick grip is the only option.
If you do decide to take your phone, use protection…
Will I need money?
I took €10 in a little baggy, and kept it in my bralet top. I ended up spending €5 on a Tomatina tshirt on the way out, and €5 on a sandwich. You don't absolutely, definitely need it as you can go back to the bus and pick it up, but I'd be anxious out there with no money.
Remember, don't take what you aren't prepared to lose.
Book Tomatina with Busabout
Go with Busabout, like I did, and you have somewhere to store your clean clothes while you're at the festival, a lift there and back, clothes, a pre party, friends, a leader and someone to show you what's what.