Here are all the best beaches in Aruba, and why. Whether you're looking for beach bars, watersports or a beach in Aruba for a spot of yoga, these are the best places to feel the sand between your toes…
Aruba, a small island located just north of Venezuela, is renowned for its white-sand beaches, high-rise resorts, and variety of water activities. Not only is the natural beauty of the island's flat landscape something to enjoy, but Aruba also has some world-class beaches and shopping. The small island country is considered part of the Kingdom of the Netherlands and sits in the Caribbean – making Aruba an ideal spot for a holiday under the sun.
This island has around 40 Aruba beaches to explore, each of them beautiful and with distinct features that help attract just under 2 million visitors to Aruba every year. However, some of Aruba's beaches shine brighter than the rest when it comes to beauty, accessibility, and things to do.
Here are the 10 best beaches in Aruba to visit while on holiday.
10 Best Beaches in Aruba
These were my favourite Aruba beaches from my recent trip!
1. Palm Beach, Aruba
When you picture a vacation spent among the stunning scenery of the Caribbean, you are probably picturing Palm Beach, Aruba.
With a selection of high-rise Aruba hotels, restaurants, and casinos nearby to escape the sun, Palm Beach offers much more than just sunbathing and swimming. However, these two activities are not to be trifled with as Palm Beach has a paradisal 2-mile stretch of soft white sand and turquoise water.
Palm Beach offers superior facilities that make your beach day more enjoyable. From top-notch restrooms and showers to beach huts and cabanas that you can rent to escape the hot Caribbean sun.
Besides the usual snorkelling, swimming, and sunbathing, Palm Beach offers visitors a great choice of water activities from paddle boarding, jet-skiing, windsurfing, and more. All of which can be accessed by the beachside rental shops and shacks. This, is without a doubt, one of the best beaches in Aruba.
2. Eagle Beach, Aruba
Another one of the top three beaches in Aruba, Eagle Beach, offers one of the most picturesque views in all of the Caribbean. The beach is made up of powdery, white sand, lush greenery, and azure waters.
The water here is some of the clearest, and because it has little to no waves and is shallow in some parts, Eagle Beach is a perfect spot for families with small children. Another big plus to the water of Eagle Beach is that it's all sand – there are no coral reefs or sharp rocks to dodge as you walk along the ocean floor.
Eagle Beach is much more lowkey than the more touristic Palm Beach, but that doesn't mean a lack of facilities. There are a few great Aruba restaurants nearby and rental places where you can rent gear to snorkel, windsurf, or jet-ski. I stayed at Eagle Beach when I was in Aruba, just a few seconds walk away at the Amsterdam Manor Hotel. Such an incredible location on one of the best beaches in Aruba!
If you time your visit right, there may be an opportunity to spot (from a safe, respectful distance) turtles who utilise this gorgeous beach as their hatching ground. Although, you do need to give the turtles and their hatchlings wide berth when they are on shore.
---
READ MORE: The Best Places to Stay in Aruba
Aruba Travel Tips You NEED To Know
---
3. Manchebo Beach, Aruba
Located just a short way away from Eagle Beach, Manchebo beach is for those looking for a bit more seclusion when it comes to their beaches. The Beach is recognisable for the Palapa's that dot the length of the recluse beach.
Manchebo Beach has a ban on motorized water sports too, making the serene landscape even more peaceful. Because Manchebo Beach is lesser-known among Aruba tourists, you can usually count on a lot fewer crowds suffocating the beach – perfect if you want a low-key kind of beach day where you can lay down a towel and read a book.
The sand is golden and expansive, making Manchebo Beach one of the widest on Aruba. There are a handful of smaller resorts that line the beach, and there you can find some restaurants to sample while there. But besides that, the only activities on the beach are swimming and sunbathing.
This is one of the best beaches in Aruba if you're looking for somewhere to practise yoga – I joined at great class at the Manchebo Beach Resort and Spa.
4. Hadicurari Beach, Aruba
Hadicurari Beach, also known as Fisherman Huts, is a watersport haven for those looking to do more activities in Aruba than just lounging around. The beach is known for having strong winds, making it perfect for windsurfers and kite surfers alike. Definitely one of the best Aruba beaches if you're looking for some action and adventure.
Hadicurari Beach has white sand beaches and shallow, turquoise water that makes the perfect environment for learning how to wind or kite surf. Lessons are offered by the rental shops that line the beach and so even if you're not an avid wind or kitesurfer, at Hadicurari Beach you can learn to be.
If you happen to visit Hadicurari Beach during the summer months of June or July you may be privy to watching the wind or kite surfing competitions that happen on and around the beach.
5. Malmok Beach, Aruba
Malmok Beach is located just north of the tourist strip on Aruba and has what is regarded as being the best snorkelling on the island. This beach is just off a rocky coastline that juts out onto a coral reef where snorkelers and divers can spend hours looking at the fascinating aquatic life that calls Malmok Beach home.
Besides the reef, there is also a shipwreck just off the coast which you can explore called the Baboo Shipwreck. This purposefully sunken boat was farther out to sea but a storm dragged the wreck closer to shore leaving one part of it sticking up out of the water.
If you head just a little bit more north of the shipwreck, you will come to a popular snorkelling spot where you can follow schools of fish in the shallow water. You can do this either solo or by booking a snorkelling tour on one of the sailboats. These tours will take you on a sailboat around the area where you can jump into the water and snorkel around popular spots.
Definitely one of the best beaches in Aruba!
6. Arashi Beach, Aruba
Arashi Beach is located just north of Boca Catalina and is a popular choice for those looking to escape the tourist crowded beaches for a more laid-back one. The water is calm, clear, and azure making it a popular spot to swim at. The sand is pristine and backed by a lush green landscape but do keep in mind that Arashi Beach is slightly more rocky than other beaches on this list. However, that's what makes it one of the best beaches in Aruba for one of its biggest attractions – snorkelling.
Arashi Beach is known to have some of the best snorkelling accessed from the beach. Soft corals and rocks are located just off the shore and make for great homes for colourful schools of fish. It's one of the best beaches in Aruba for snorkeling.
There is also a snack shack located on the beach from which you can order refreshing beach snacks and even see live performances. But besides that, the facilities are few, so bring your parasol, snorkel gear, and a good book!
7. Baby Beach, Aruba
Next on the list is one of the most popular spots for swimming on Aruba – Baby Beach. Because of its crescent shape and calm, shallow waters, Baby Beach is a prime spot for swimmers looking for a safe area to explore with their families.
As far as facilities go, Baby Beach has a lot to offer. There are beach huts, restrooms, and even snack stands where you can get refreshing beach snacks to enjoy while sunbathing.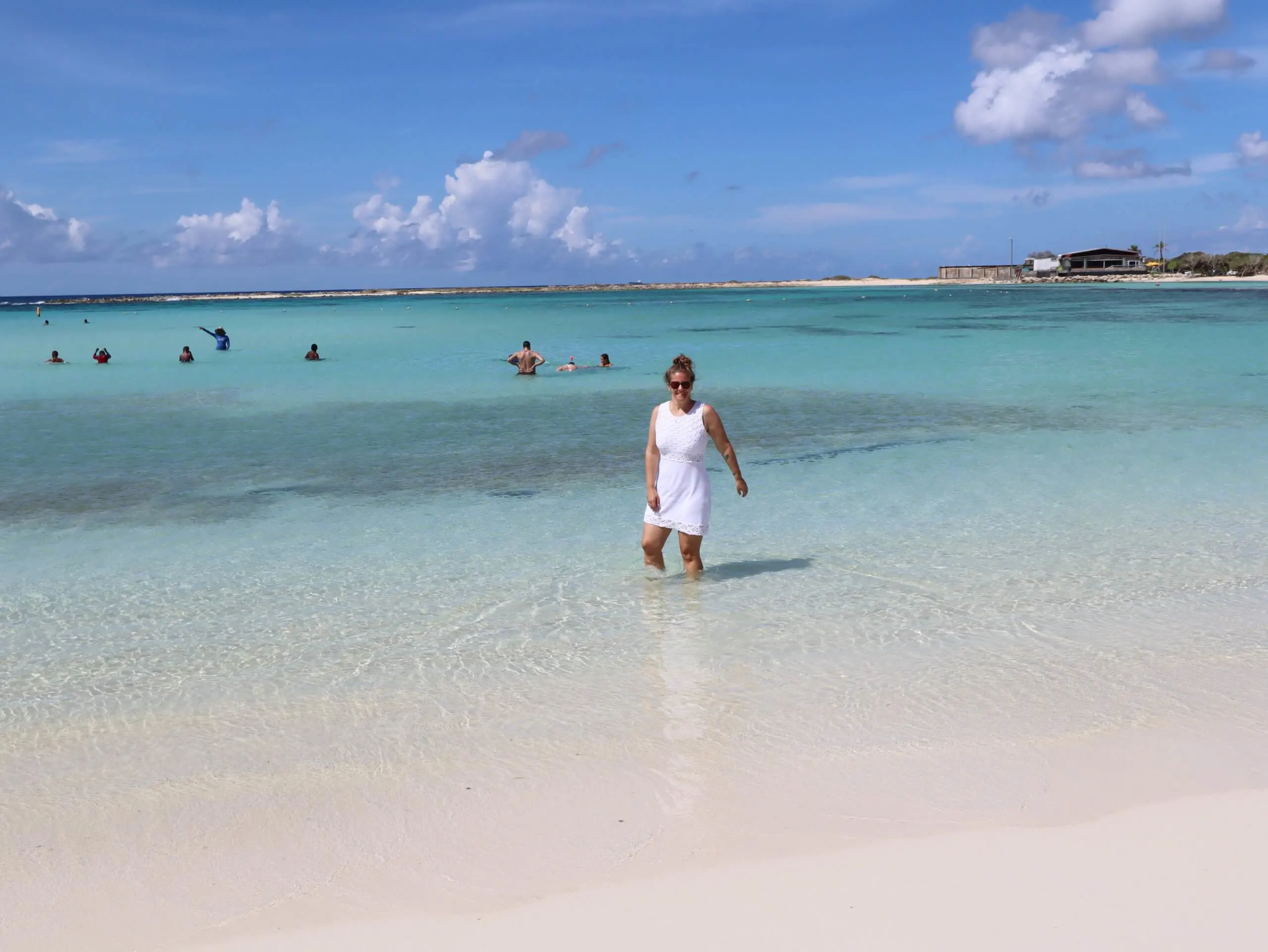 It is worth noting that even though the coastline of Baby Beach is pretty and idyllic, the view is interrupted by an oil refinery. Still, I was genuinely amazed by this beach and it'd be number 2 after Eagle Beach on my list of the best beaches in Aruba, if I was doing this in order.
8. Andicuri Beach, Aruba
Andicuri Beach is a great spot to go if you want to bodyboard rather than swim or sunbathe. The stunning setting is one of a rocky cove intersected by a stretch of pristine sand that leads into the water. A bit further away, the landscape raises into large hills that create an enclosed feeling to the beach.
Andicuri Beach is popular among locals as it is usually skipped for the more paradise setting of the beaches such as Eagle or Palm, however, the few tourists who do make their way are treated to a relatively empty beach filled with bodyboarders.
This coral cove makes for a strong surf and current, creating ideal conditions for body surfing. If you're willing to brave the waves (and are aware of the strong current) then you can try swimming, however, Andicuri Beach is mainly used for bodyboarding. During the year, locals host bodyboarding competitions, and if you time your visit right you may get to see it for yourself.
9. Boca Keto, Aruba
Continuing with the theme of local-loved spots, Boca Keto is an off-the-beaten-track kind of beach but is well worth the journey of getting there. Hidden among the surrounding rocky landscape of Arikok National Park, Boca Keto is a secluded beach that has little to no crowds and is perfect for a recluse type of beach day.
Although the water is clear and cerulean, it is rough and not recommended for swimming, however, the shallow part is great for cooling off after a day spent in the Caribbean sun and on the beaches in Aruba.
Because of its location and secluded nature, there are no facilities at Boca Keto, which leaves it up to you to pack food, entertainment, and shade. However, once you've got yourself set up, Boca Keto is a great little hidden paradise on the island and one of the best Aruba beaches.
10. Boca Grandi Beach
And finally, if you want your favourite beach in Aruba to be a windy one, perfect for kitesurfing, head to Boca Grandi Beach. There was barely a soul here when we visited!
Best beaches in Aruba
There are lots of impressive beaches in Aruba to choose from, and none of them were particularly busy in the October I visited – as you can see from the photos. If you're looking for somewhere to truly relax, then the Aruba beaches are a wonderful destination. I can't wait to go back!
Have a different favourite beach in Aruba? Let me know in the comments below…
---