From yoga classes to mindful practices, the UK is home to some of the best wellbeing and yoga festivals in the world. Each one is distinctive, offering unique activities to leave you feeling restored and reenergised. Which one will you choose?
Yoga festivals have become increasingly popular in recent years, providing an opportunity to unwind, connect with other yogis, and spend time honouring the practice. Fortunately, you don't have to travel too far to get to one, with some of the best yoga festivals are in the UK.
UK yoga festivals are located in beautiful settings too, making it that much easier to switch off from daily life and truly get into the festival spirit.
You don't really have to be a yoga-fanatic to enjoy these festivals either. Most of them feature all sorts of activities alongside yoga to help you escape into the world of wellness. There's usually workshops, sound baths, music, nature activities, breathwork, mediation and lots more ways to indulge in self care for a day (or two or three).
I also find the yoga community is a very welcoming one too, so there's usually everyone from complete beginners to seasoned yogis looking to connect and enhance their practice. So if you've ever thought about going to a yoga festival but were worried about your heels not reaching the ground during downward dog, don't worry. Just grab your mat and decide which one of these top yoga festivals in the UK to head to first.
Best yoga festivals in the UK 2023
Here are the 10 best yoga festivals taking places across the UK this year.
1. Soul Circus Yoga Festival
Circus meets yoga at this incredible festival situated in one of the most picturesque areas of the UK. Soul Circus festival in the Cotswolds unites wellbeing and acrobatics, and invites you to dance and stretch the night away. Yoga experts will guide you through sunrise sessions, aerial classes, and mindfulness workshops during the day, while DJs light up the night with great performances.
You'll also be able to take part in a range of different transformational workshops such as shamanic journeying and cacao ceremonies. And if that's not what you're after, then you can always relax with the range of beauty and holistic therapies (or bathe in the wood fired hot tubs and saunas if you're more a hands-off kind of person).
Soul Circus isn't just one of the best yoga festivals in the UK, but it's also one of the best festivals for food!
From ramen to pizza, or the dedicated wine bar, there's a great range of high-quality food and drink on offer. Given the amount of bending, climbing, swinging, strength work and dancing you'll be doing, having good food to restore energy levels is critical. Yes, that includes wine too!
If you're looking for a yoga festival in the UK to go to with kids, Soul Circus is a great option. They have a whole area set up just for 'soul kids', offering circus workshops, yoga and lots of other kid-friendly activities. Plus, children's tickets are free (under 15s) with a paying adult.
17th – 20th August 2023
2. World Yoga Festival
Set within the magnificent Henley Showground, the World Yoga Festival invites yogis from all around the globe to celebrate the ancient teachings of yoga. Across four days, festival-goers can learn, practice and experiment with a wide range of different styles of yoga asana, meditations, chanting, Ayurveda and much more.
There's also work on chakras, which you can read more about in my blog on chakra affirmations.
World Yoga Festival describes itself as somewhere between a retreat and a festival, as it likes to balance relaxation with entertainment. This encourages people interested in yoga and wellbeing to get involved while not being too serious and appreciating the fun of festivals.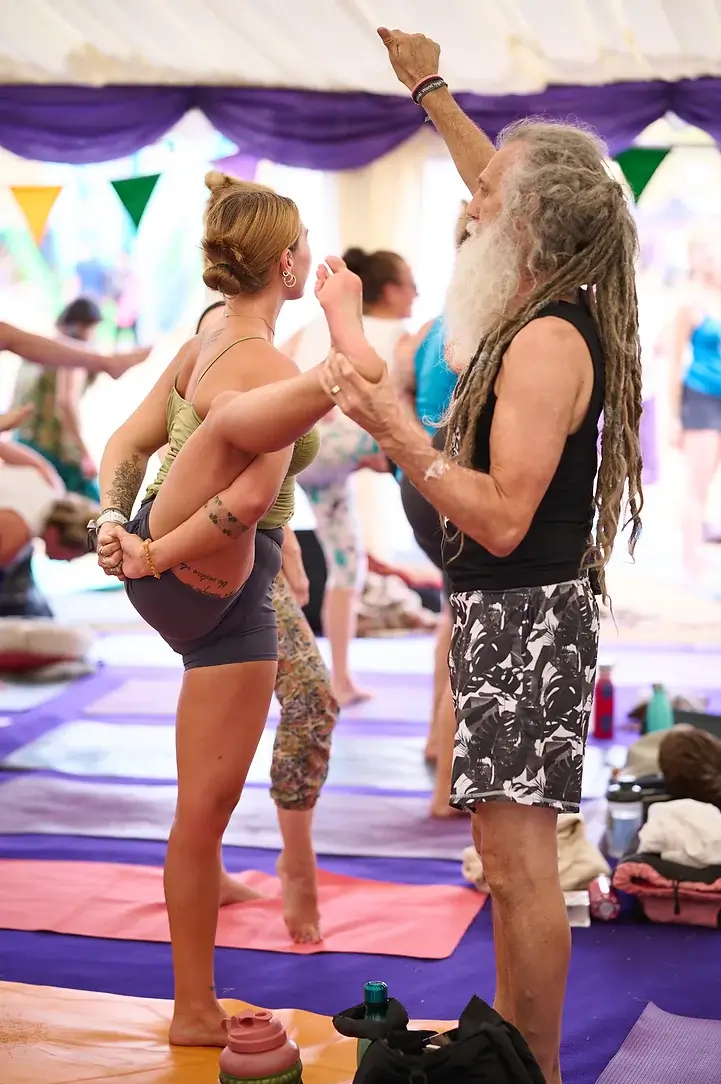 The World Yoga Festival has been going since 2016, and likes to welcome different teachers and practitioners each year. They have diverse backgrounds and experience, so you can really come away from this UK yoga festival having learned all sorts. This could include crystal healing, parenting techniques, how to juggle mindfully, and of course yoga!
The World Yoga Festival is another of the best yoga festivals in the UK for families, with 'glitter fairies' on hand every morning. There's also different workshops and classes aimed at kids, meaning you won't be the only ones leaving feeling energised and relaxed.
3rd – 6th August 2023
3. The Big Retreat Festival
If you like yoga but also want to try different activities related to fitness, The Big Retreat Festival in South West Wales is a good option to consider. It takes places across four days, where you can choose from a wide range of things to do like wild swimming, foraging, circuit training, nordic walking, learning about gut health, wine workshops and so much more! Or you know, you could just simply indulge in the Woodland Spa, which is all about self care through facials, massages, wild water saunas, ice baths, hot tubs and yoga.
One of the things I like about the Big Retreat Festival is all the different areas to explore. It has a soul space, a mind space, a fitness field, live music, a chef's kitchen, Darwin's den and lots of other places that cater to different purposes. But while you're there, why not dabble in all of them? The ticket includes 300 'feel good' experiences, so if you enjoy doing different activities then you're in the right place. Tickets are now available for 2024, which is way in advance but they are expected to fill up quickly.
24th – 27th May 2024
4. Verve Festival
Dubbed the 'Woodstock of wellness', The Verve Festival has a strong focus on nature, hence why this yoga festival is set in one of the most beautiful rural parts of the UK; the Wiltshire countryside.
This yoga festival channels the importance of taking care of both ourselves and our environment, with lots of the festival geared towards this. They have great initiatives in place with the way it's organised, considering things like the mileage of suppliers, low-to-no plastic, minimal waste, reusing materials etc.
If you want to go a yoga festival that's big on sustainability, Verve is definitely right for you.
Like other yoga festivals in the UK, Verve doesn't just do yoga, but lots of different workshops that nurture your wellbeing. Some examples are cacao ceremonies, gong baths, sheshensu, face yoga, getting to know about the vagus nerve, comedy performances, harnessing the power of natural medicine etc. So there's plenty of things to try out as well as great food stands and – in the past at least – a garden market for feasting!
16th and 17th September 2023
5. Wellfest London
Wellfest – as the name suggests – is a celebration of wellness through fitness and health and wellbeing.
The 2023 edition is brought about by Gym+Coffee, an Irish athletic clothing brand that focus on the socialising that happens around exercise (makes sense to be sponsors of a festival). Wellfest takes place in Old Deer Park in Richmond, London, and launched this year!
It's the newest festival in the industry, so expect lots of yoga, lots of trending exercises, lots of new alternative ways to stay healthy, and lots of well-known faces.
The first edition of Wellfest includes Joe Wickes, Faisal Abdalla and Cat Meffan, so it's definitely going to be a popular one. Fortunately there's lots going on to cater to crowds too, such as welltalks, a wellvillage and stuff for wellkids. If you're particularly after a yoga-focused festival, then you'll be happy to hear they have a wellflow area too!
2nd July 2023
6. Medicine Festival
It might not sound like a yoga festival, but Medicine Festival is one of the best for yogis in the UK. It professes to be a celebration of people and the planet, which is why they dedicate all their profits to indigenous communities. At this festival, you'll not only be able to practice lots of yoga, but also book into the healing village, sweat lodges and saunas, or onto a craft medicine workshop.
This is also a great festival if you really don't want to camp. They have hotel options where you can stay on the Wasing Estate. Personally, I think camping is part of the festival experience, however the Wasing Estate has the potential to convince you otherwise. It's all about wellbeing and sustainability with organic produce and a farm, so it definitely fits in with Medicine Festival!
17th – 24th August 2023
7. Balance Festival
The busy but trendy neighbourhood of Shoreditch hosts the Balance Festival, one of the most yoga-focused festivals in the UK. It welcomes yoga and pilates icons and brands, so you can train with some (and in some) of the best.
Balance Festival is definitely a different crowd to others, attracting a lot of people who are focused on the fitness benefits of yoga than the spiritual. However, it does feature lots of meditation classes for you to also relax and escape the daily grind of London.
Balance is also a great festival if you want to stock up on all the best yoga or wellness brands from around the UK. If you purchase a day tickets, you'll be able to get involved in most of the programmes offered across different spaces, as well as full access to shopping and eating areas too.
19th – 21st May 2023
8. Wilderness Festival
While not exclusively a yoga festival, Wilderness features a dedicated yoga programme alongside music, arts, and outdoor activities. It's, as the name suggests, all about connecting with ourselves and nature, and feeling free. This is one of more well-known UK festivals for yoga and wellness on the list, where around 20,000 people head to Oxfordshire each year for it.
Although there are a lot of music lovers that go, it's not exactly the same crowd as the likes as Glastonbury, Leeds and Reading etc. Festival-goers range from children to seniors, all coming together to take part in workshops like foraging or cabaret, or wild swimming and nature walks. If you really want to maximise the yoga experience, Wilderness Festival has a Yogarise Studio with at least 20 (definitely more) types of classes on.
However, that isn't to say it's not a crazy and wild experience. If you've read my Wilderness review, you'll know that between the costumes and the musical bingo, Wilderness Festival is something else!
3rd – 6th August 2023
9. LoveFit Festival
Located in Kent, LoveFit is a high-energy, action-packed festival to try all things related to wellness. You can try forest rides, paddle boarding, circus classes and HITT. There are lots of top fitness instructors from brands like Soul Cycle and Gymbox who run different activities. But if you want to stick to yoga, there's plenty of that too, including paddle board yoga. This is supposedly the ultimate core and balance test! But there's also lots of calmer and perhaps more mindful yoga too, which you can find at The Zen Den ran by Yogi Pod, breathwork with X-Hail and yoga with Good Yoga Life.
LoveFit Festival needs to be praised for its food too. You can find lots of amazing restaurants on site too, like Wrap It, Harrisa and Lemon, the Coconut Cafe and Pokie and Roll. It's got some of the best vegetarian and vegan food, perfect for nourishing that restoring, healthy glow at the end of the festival.
14th – 16th July 2023
10. YogaFest Brighton
While the UK is home to a lot of yoga festivals, YogaFest Brighton is one that really focuses on yoga (as opposed to other activities related to fitness). It does have mindfulness, meditation and holistic therapies, but it primarily centres around yoga. There are over 100 yoga class to get involved in, so you're bound to come out of it with your inner yogi fulfilled.
What's nice about YogaFest is that it evokes the spirit of yoga being for everyone. Every age, fitness level, and experience is welcome, including total beginners. It's so popular that it's now been going for nine years, with different themes each edition. This year it's all about reconnection, which reiterates the ethos of yoga as a tool for anyone to connect with their mind, body and soul.
22nd July 2023
UK Yoga Festivals
These yoga festivals are the perfect way to change up or level up your yoga practice by learning from others. Or they might provide opportunities for you to take some time to reconnect with yourself (while indulging in saunas and learning about wine-making of course). This guide to the best yoga festivals in the UK also shows off just how beautiful the UK can be, with estates, countryside and beaches offering the perfect place to unwind from normality.
What is a yoga festival?
A yoga festival is similar to other festivals, which is essentially a gathering of people looking to celebrate something. This might be music, food, film, or anything really, but it's all about the collective coming together. For yoga festivals that take place across more than one day, you'll also be able to camp out like at most other types of festivals. However, if you happen to check out the gallery of previous editions, you'll notice that a luxury yurt is slightly different from some of the makeshift tents at Glastonbury!
What happens at yoga festivals?
Aside from the obvious, yoga festivals are typically situated in the fitness or wellness industry, so there's typically lots of other related workshops and activities alongside yoga classes and talks. These are often meditation and mindfulness as well as fitness classes, nature walks, cooking demos and lots more. At most, there will be the chance to meet or listen to experts in the field too. This includes practitioners, teachers, wellness seekers and different types of yoga enthusiasts.
One of the best features of yoga festivals is also the food. Several yoga festivals in the UK have different restaurants or food trucks where you can have healthy, nutritious and filling food.
Are yoga festivals suitable for beginners?
Absolutely! Yoga festivals are suitable for beginners and provide a welcoming environment to embark on your yoga journey. These festivals offer a diverse range of classes and workshops catering to different skill levels, including introductory sessions specifically designed for beginners.
You'll have the opportunity to learn the basics, explore different yoga styles, and receive guidance from experienced instructors. Moreover, yoga festivals foster a sense of community and support, allowing you to connect with like-minded individuals on a similar path.
So, whether you're a beginner or an experienced yogi, attending a yoga festival can be a wonderful and inclusive experience for all levels of practice.
Are yoga festivals family-friendly?
Many yoga festivals are family-friendly and welcome participants of all ages, including children and families. A lot also allow children to attend for free with paying adults. These festivals often offer designated areas or programmes specifically designed for kids and families, which are often based around yoga, crafts and creativity or mindfulness.
Attending a family-friendly yoga festival in the UK can be a really nice opportunity to get away together and do something a little different. The vibes are generally wholesome and there's always something to take part in.
Quicklist of the best yoga festivals in the UK
Soul Circus
World Yoga Festival
The Big Retreat Festival
Verve Festival
Wellfest London
Medicine Festival
Balance Festival
Wilderness Festival
LoveFit Festival
YogaFest (Brighton)
---