I wanted to find the biggest Airbnbs in England to give you and your family and friends the most amount of space possible on your trip. All of these huge Airbnbs have 15 or more bedrooms, so you can have one each, or maybe even two.
I know we're not allowed to travel right now, but one day we will be back out there, ready to make up for all the time we've missed with our loved ones. And I want you to be prepared for that beautiful day.
So, I've trawled all the listings to find the best of England's biggest Airbnbs for that special occasion.
9 Biggest Airbnbs in England
These are the biggest airbnbs in England for weddings, anniversaries, hen and stag dos, and just general all round meet ups.
1. Beautiful house and grounds in rural Wiltshire
If you're looking for a big Airbnb in the south of England, then take a look at this stunner in Wiltshire. Located near the town of Devizes, you'll have all the local amenities you need there and also the Kennet Avon Canal just a few minutes walk from the house. You can cycle all around here, or take a stroll along the many walkways.
This house was once an outdoor education centre but has been re-purposed for 2020. Expect to pay from around £1200 per night for this 22-bedroom property.
Braeside House offers fantastic accommodation for a large group with plenty of space for socialising. The main building is made up of 10 bedrooms and 5 bathrooms with social areas on the ground floor. The remainder of bedrooms are spread between 2 separate buildings within the grounds. We have a fully stocked professional kitchen and dining space for up to 50 and multiple outdoor eating areas.

The outdoor space is unique as we are predominantly an outdoor education centre so you'll find outdoor table tennis, a hard court, a camping and bush craft area, problem solving activities, low ropes and a bouldering wall around the grounds. We also have high ropes, abseiling climbing and zip line which can be booked with an instructor.

– BRAESIDE HOUSE
---
2. Glingerbank huge house up north
Oh this is a wonderful property for a socially distanced trip. As well as having (pretty much) the whole house for your family and friends, you'll also have the surrounding garden and woodland for long walks. You can bring pets here, and there's a hot tub for use too, as well as table tennis and a billiard room too.
The house is lovely and spacious, with plenty of room to get away from the family you thought you'd missed. This is the most northern property on this list of the biggest Airbnbs in England, and also amazing value at around £800 per night.
A fabulous large Edwardian house, recently completely refurbished, tastefully furnished and decorated, sleeping 24 in 13 bedrooms and 13 bathrooms.

Large reception rooms, including hall, sitting room, huge oak panelled drawing room, dining room, billiard room, study and well equipped kitchen. Lift & step free access. Outside there is a large, beautiful, well tended garden.

– GLINGERBANK
---
3. Canadian Style Country Lodge in Surrey
This lodge isn't the fanciest on the list, but it's one of the best priced. Expect to pay upwards of £700 per night. There are 19 bedrooms, with space for 42 – although right now you can only book for 16 for some reason. Stay here and there are 5 bathrooms, plenty of parking and breakfast will be provided for your trip.
Located in the pretty village of Brookwood in Surrey, this is one of the most central big Airbnbs on the list.You'll be just outside Woking, with a train station close by and not too far from London either. A good value, huge property for if you just want to get together and aren't too fussed about the frills!
Take a look at the listing here.
Country style Canadian Lodge, set within Bisley Shooting grounds.
19 bedrooms that can accommodate up to 40 guests.
One bedroom is complete with a private bathroom.
There are communal showers and bathrooms.

Communal living room and bar to wind down at the end of a long day.

Prices are based on per person per night for bed & breakfast only.

– CANADIAN STYLE COUNTRY LODGE
---
4. Great Everden Manor Spa with indoor pool
Phwoarr this place is lush. I could definitely do that pool right about now. If you're looking for one of the biggest Airbnbs in England around Kent way, then this manor spa is the one for you.
Located in Alkham, this is a countryside retreat near the coast. The nearest village is called Hawkinge and has all the grocery shops and takeaways you could need. You're also only four miles from Folkestone.
Excellent leisure facilities. Contemporary accommodation. Indoor heated Swimming pool/hot tub open all year round. Gym, tennis, pool/snooker. Beauty therapist can be booked in advance. Bikes can be booked in advance.

– GREAT EVERDEN MANOR SPA
---
5. Highfields Manor & Spa Estate
This massive airbnb in England is super central – perfect if you have family and friends coming in from all over England. The Highfields Manor & Spa Estate has an indoor pool and sleeps 39. Yes, 39.
Do you even know that many people?
The property looks incredible, and it sounds like you can order anything and everything to your door. Dreams. Of course with all this luxury you've got to expect a price tag – you're looking at upwards of £3k a night here. But what price can you put on being with your family, hey?
Set in a 13.5 acre private, gated Leicestershire Estate and approached along a sweeping tree-lined drive, leading to a gravelled forecourt with a large water fountain, Highfields Manor with indoor spa is the perfect country retreat for all seasons & all reasons. Complete with a miniature lake, the immaculate grounds and contemporary luxury accommodation afford an oasis of calm. The drawing room, dining room & spacious kitchen are off a beautiful entrance hall with a piano & sweeping staircase.

Exclusive use of indoor pool, hot tub (weather permitting), games room with pool table, shuffleboard, darts, card table and fitness/dance studio.

– HIGHFIELDS MANOR
---
6. Temple Guiting Estate
If you're looking for a massive Airbnb, big enough for all your friends, then let me introduce you to the Temple Guiting Estate, all 14.5 acres of it.
You can expect Champagne, fruit and freshly brewed coffee on site, as well as seasonal treats and daily meal from the pantry.
This huge Airbnb in England is big enough for 36 people – making it perfect for gatherings like weddings etc.
This place is lux – so lux in fact, it's part of Airbnb's LUXE range. Well, there is a pool AND two hot tubs – perfect. In fact, there are so many facilities here, it'd take me a whole blog post to list them all. So let's just stick with what we have and you can check out the listing for more information.
You're looking at about £5k a night to stay here (gulp).
Naturally distressed wooden décor effortlessly complements the plush furnishings and rich, captivating artwork. There are plenty of tucked-away alcoves scattered throughout the property to sneak off to with a good book. After grilling fresh produce from the garden on the charcoal barbecue, the alfresco table is the perfect spot for lunch.

Take your best serve on the astro-turf tennis court, challenge the crew to a foosball tournament, or play some ping-pong. The lavish—and meticulously landscaped—garden, sprinkled with fragrant flowers, features gravel paths that wind their way through the abundant foliage. On a rainy afternoon, a wide selection of movies and board games will keep you entertained as you lounge on plump sofas. Take in the historic sights at Sudeley Castle or mingle with horses, cattle, and pigs at nearby Cotswold Farm Park.

– TEMPLE GUITING ESTATE
---
Map of the biggest Airbnbs in England
7. The most beautiful house in Suffolk
If you want to impress this winter / summer, then this stunning house in Suffolk is just unreal. I feel like fans of Downtown Abbey will love it here, as it's like having your very own stately home in England.
The 15 huge bedrooms are all wonders, the 8 bathrooms are huge, and you're guests will enjoy the swimming pool, tennis courts, two lakes and impressive parkland. This massive Airbnb in England would be a great place for a wedding, family celebration or wedding.
Expect to pay around £2500 per night, which, divided by 30 isn't very much at all considering all you get!
And, they have alpacas on site.
Just check out this list of services on demand:
– Private butler and cook
– Airport and train stations car transfers
– Helicopter transfers to Worlingham Hall
– Hunting
– Clay shooting
– Kayaking
– Horse riding
– Go karting
– River boat trip
– Exclusive dinners
– Massages and beauty treatments
– Sea-side day and half-day trips
This exceptional Grade I listed Georgian country house is set in an extensive parkland and woodland: this wonderful location is perfect to make yourself relax walking through private breath-taking woods, swimming in the crystalline water of the pool settled in the middle of an amazing English garden and observing the incredible quantity of different birds, deers and squirrels which resides in the park.

– THE HOME
---
8. Sparkford Hall
Somerset is going to be as far south as we go on this list of the biggest Airbnbs in England. This amazing Sparkford Hall in Yeovil has 15 bedrooms and 9 bathrooms for your big socially distanced trip.
They don't give much away in the description of this hall, but you can check out the photos and reviews for evidence of just how amazing the hall is. Imagine spending Christmas or New Year here – it'd be AMAZING!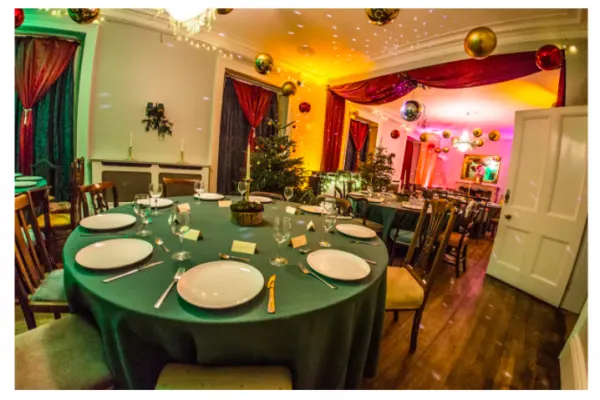 ---
9. Hargate Hall, Wormhill, Peak District
If you want your group accommodation a bit more private, then Hargate Hall would be a great choice for you. Located in Wormhill in the Peak District, stay here and you'll have 12 independent self catering apartments totalling 20 bedrooms and 15 bathrooms. Enough accommodation for 71 people!
The Peak District, England's oldest and most visited national park, offers activities from cycling and caving to rock climbing and hiking. Hargate Hall is within 15 minutes' drive of Castleton and historic Bakewell. While the spa town of Buxton has various shops and cafes and attractions include St Ann's Well, the Pavillion Gardens and Buxton Opera House.
Set 5 minutes' drive from Buxton in a rural location, this Victorian country house is set in 7 acres of parkland in the heart of the Peak District National Park. It offers stylish apartments with and open fires and free WiFi in public areas.

A former gentleman's residence, Hargate Hall offers contemporary apartments with tasteful décor. All include a lounge with a digital TV and DVD player and a fully equipped, modern kitchen.

– HARGATE HALL
---
Biggest Airbnbs in England
There you go, the biggest Airbnbs in England for your socially distanced holiday. We don't know what the future holds, whether we'll be allowed to holiday with our loved ones like we used to, or not. But, no one can stop us planning our futures.
Which one of these huge Airbnbs do you like the best?
Think I'd choose number 7 – let me know in the comments below!
---
PIN THESE BIGGEST AIRBNBS IN ENGLAND FOR LATER