If you're looking for some eco camping tips, to make your trip that bit greener, then let me help you out. We've all got to do our bit, right?
Eco friendly camping trips are a great way to get away without damaging the natural environment you've travelled to enjoy. Tent camping is obviously the most eco-friendly option – you minimise your impact on the ecosystems you pass through, and get to tread a little lighter.
But even if back to basics tent camping is not for you, there are more 'glamorous camping' options that might suit if you're trying to do some eco friendly camping.
Glamping in a fabulous cabin, hut, bell tent or yurt can be a wonderful solution for those who don't necessarily want to rough it on their adventure, but want to bring a little bit of the outdoors in and do something different when it comes to your accommodation. There are also plenty of great sustainable glamping destinations to choose from around the UK, and the world.
I'm going to give you a few eco camping tips gained from the past few years, and then you can incorporate them into your travel and festival camping to suit your vibe.
1. Buy eco friendly camping equipment
If you do decide on a traditional tent camping holiday, then the choices you make when it comes to buying equipment can make a big difference. The tent, cooking equipment, outdoors gear… that you choose will have an impact on how eco friendly your camping trip will really be.
There are a lot of different things to consider when choosing camping equipment.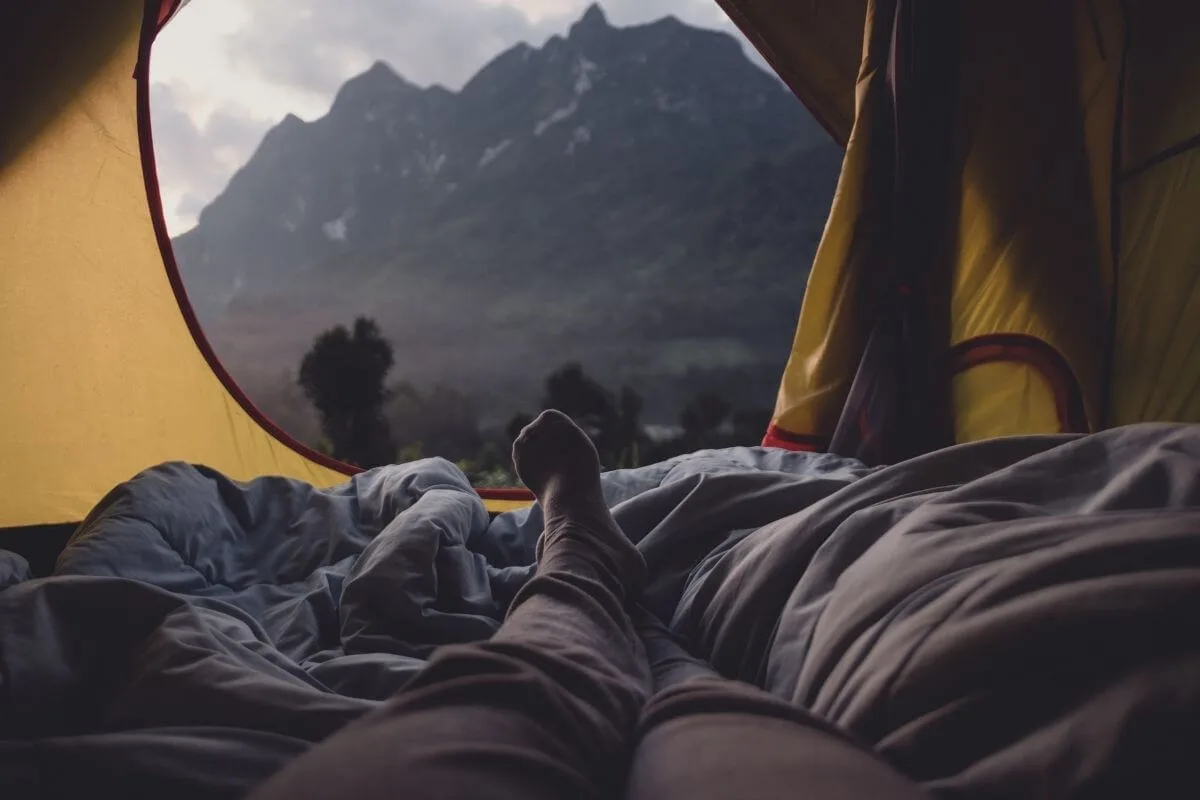 First of all, you need to think about materials and how things were made. The camping world is filled with plastic items – made from finite and polluting fossil fuels. But there are alternatives.
For example, use a canvas tent for summer camping, buy eco friendly bamboo plates, and pick up some eco friendly soaps and bug spray.
Even when plastics really are the only option that really works well (for high performance tents and gear, this can sometimes be the case) you can often seek out recycled options. Even choosing things that will last longer, and are high quality, can minimise the impact of your purchases over time.
Think carefully and seek out eco-friendly options whenever you buy anything for camping excursions.
2. Take a water filtration system
Instead of paying out for expensive, plastic bottles of drink, invest in your own water filtration system.
Buy the LifeSaver Liberty, the world's first and only portable water purifier which is a 400ml bottle with an inline pump combined.
The LifeSaver Liberty removes a minimum of 99.99% of bacteria, cysts and even dangerous viruses from contaminated water, making it the perfect companion for campers, walkers and hikers. To use, you simply fill the bottle from its base and pump the water though the ultra-membrane filter. Release the valve and clean, great tasting water will flow from the top so there's no strenuous sucking required. Unlike many filter bottles, the Liberty's advanced filtration technology is extensively tested and approved by numerous leading organisations, including Oxfam and the British Army, so you can drink confidently anywhere.
It's a great addition to your travels abroad too, as some of the water in Europe isn't safe to drink if you're not a local. Avoid environment-damaging, single-use plastic bottles and carry one of these super portable stylish bottles with you instead.
You can use it to filtrate clean water into other vessels too, so it's great for all the family. Each filter can treat 2,000 litres of water, and the FailSafe technology guarantees you won't ever be at risk of drinking contaminated water.
I went for silver but there are four other colours to choose from. Find out more about the LifeSaver Liberty at www.iconlifesaver.com.
3. Use second hand camping equipment
Ask yourself if you really need to buy new. Facebook Marketplace can be a great place for picking up new but used equipment, and eBay and Gumtree. Consider sourcing things second hand.
4. Dispose of old camping equipment well
Think about what will happen to your tent and other camping equipment at the end of its useful life too.
Can it be recycled?
Is it biodegradable?
Or will it stick around, creating a waste problem for future generations to solve?
Is it really unuseable or again, can you sell it on or give it away?
---
LOVE CAMPING?
How about a camping quiz?
See how high you can score!
---
5. Use eco friendly wood to cook
Rather than cooking with gas or other fossil fuels, consider campfire cooking, or purchase an eco friendly wood fuelled stove.
6. Choose a sustainable campsite
Where you choose to camp is also very important.
Remember, if you stay at a campsite, you can only ever be as green, as an individual camper, as the site itself. Fortunately, there are plenty of green campsites to consider staying at, across the UK.
Things to look for when choosing a campsite include:
Use of sustainable / reclaimed materials for buildings on the site.
Renewable power use, or even renewable energy generation.
Responsible use of water and sustainable sanitation options.
Sustainable growth, or even food production on the property.
Respect for local communities of people, wildlife and ecosystems.
7. Or wild camp responsibly
As a tent camper, in certain areas, you might even be able to look into wild camping.
In England and Wales, you usually have to ask the landowner before setting up camp on an area of land – check out my guide to the rules of wild camping in England.
In Scotland, the right to roam means that wild camping is permitted in most areas. Read my blog post about that time I went wild camping in the Outer Hebrides.
If you do decide to go wild camping instead of at a campsite, it's important to make sure you know the laws and always, always wild camp responsibly. When you wild camp, there should never be any sign that you were there. You should take care to tread lightly, and to respect the natural environment in every way.
8. Get to the campsite in a sustainable way
Another very important thing to consider, whether you are heading to a glamping site or camping in your own tent, is how you get to your destination. Of course, you should always try to minimise your carbon footprint by choosing more eco-friendly modes of transportation.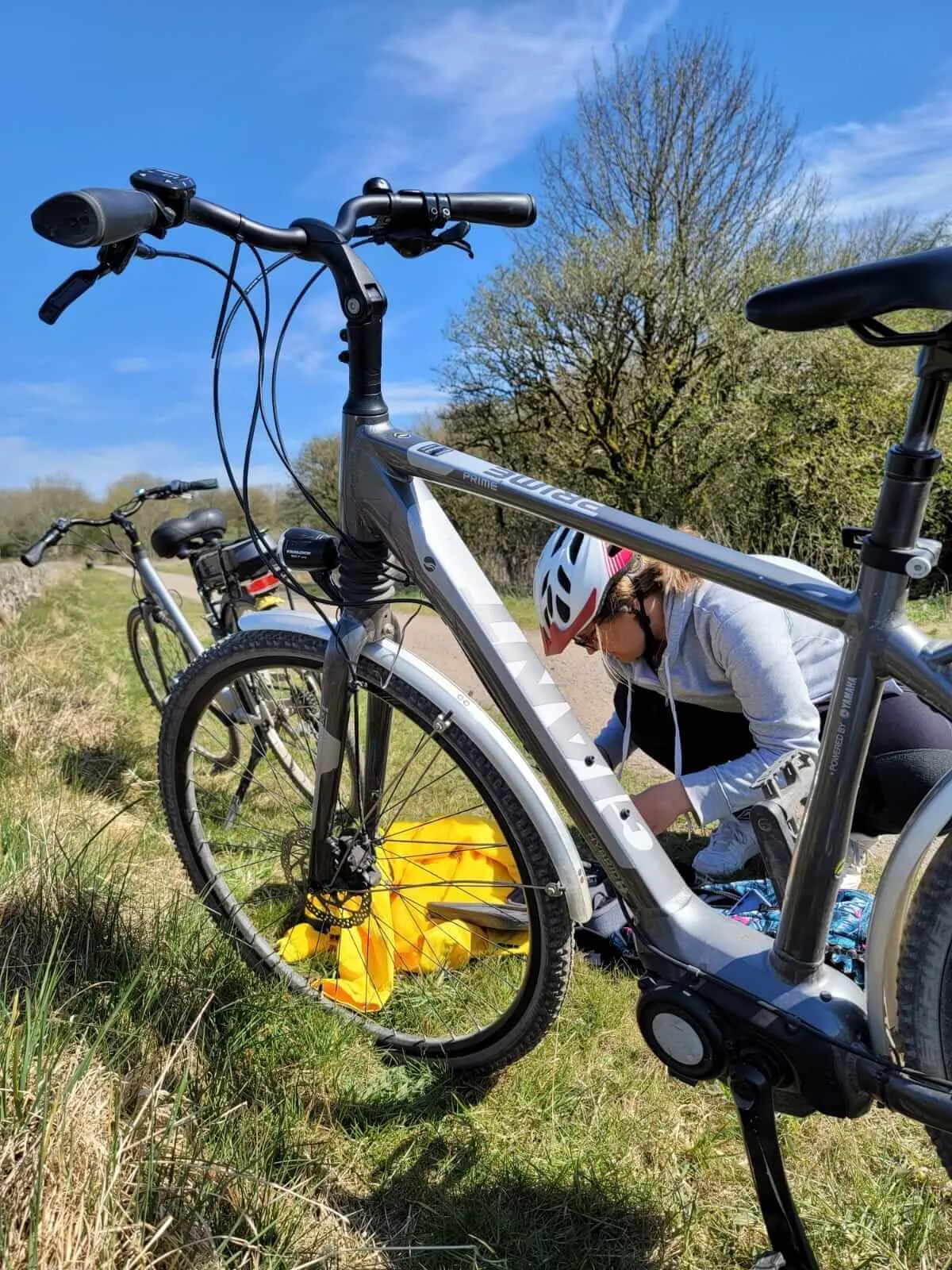 Rather than taking your own car, you might, perhaps, consider hiring an electric vehicle, even if you cannot afford to buy one just yet. Of course, taking the train can also be a great way to get to campsites that are further away.
Better yet, consider staying a little closer to home, and use slow travel options – hiking or cycling for example, to reach your campsite. Remember, there are great rewards to camping – even in your own back garden. And you don't need to go too far from home to have an amazing holiday, especially this year.
9. Respect the environment
Wherever you choose to go, and whatever type of camping you choose – always respect the environment around you. This means not polluting or despoiling it in any way. Be aware of the wonderful plants and wildlife with whom you are sharing the space and make sure you don't disturb wildlife in any way. This might involve sticking to paths, and keeping the noise to a minimum to avoid disturbance to nesting birds, for example, in some areas.
Respect for the environment begins with a deep knowledge of and love for the natural world. An eco camping trip can give you the perfect opportunity to get to know nature, and feel a closer connection to it. Thinking about eco-friendly activities to enjoy on your camping adventure can help you see how respecting the environment involves learning to love and protect it.
10. Explore the locale in a simple way
Great activities for eco camping holidays include many outward bound pursuits, from hiking and cycling, to wild swimming, kayaking or paddleboarding, climbing, canyoning and more.
Watching wildlife, bird watching and bug hunts, climbing trees, scaling mountains… there are endless ways to enjoy yourself outdoors. Enjoy a campfire, watch the stars, make sandcastles on a beautiful beach, forage for wild foods, pick your own from a sustainable farm… as long as you respect the environment, the natural world can be a playground for you to enjoy.
Eco camping tips
These are just a few eco friendly camping tips to help you make sure your camping trips are as eco-friendly and sustainable as possible. Hope I've inspired you to travel in a more eco friendly way this year!