Tempted by going wild camping in England?
Those resorts and 5-star hotels just can't beat the experience of camping in the wilderness under the open sky, close to Mother Nature. So much more therapeutic, calm and serene.
Camping is seeing a huge resurgence this summer, with people shying away from other people and all those surfaces in hotels. The campsites are getting booked up for the Brits summer in England. Nothing wrong with that, I spent many of my childhood holidays camping in a tent at the River Dart Country Park in Devon. Loved it. In fact, I'm planning on going back this year.
But, how about wild camping in England for even more less touch time?
Apart from camping on Newquay Beach when I was 18 and being woken by seagulls every morning, I haven't actually been wild camping in England yet. I've just read The Salt Path, by Raynor Winn, and now I'm desperate to try it. In the book, she and her husband walk the 630-mile South West Path round Cornwall and Devon and wild camp all the way.
I wanna do that! Except, maybe not that far.
So, I've been looking up the rules of wild camping in England, so I can plan my night under the stars.
Wild camping in England
What is wild camping?
Instead of camping at campsites, wild camping is setting up camp wherever you feel like, usually off a walking trail. Wild camping gives campers a chance to explore the wilderness and sparsely populated areas, and to camp for free. Known campsites can get overcrowded due to peak season, so people who wish to have some isolated time go for wild camping instead.
As much as you want to though, you can't just go wild camping wherever you like. In England there are rules about wild camping, and where and when you can't do it.
If you disobey the rules you've essentially just set up camp in someone's front garden and you could be done for trespassing. It's not about getting yourself in trouble, not now.
Where can you wild camp in England?
There are many places in England where you can go wild camping. If you want to get the best of your England wild camping experience, you should connect with the place you select, and treat it respectfully. Wild camping in England usually means in the wilderness, and you will need to practice responsible travel while you're there.
I've researched the most popular places in England for wild camping, and the rules around them. Read on…
Rules of wild camping in England
– Do not trespass any fences or other property
– Don't leave any traces of being there
– No litter
– Camp above the highest fell wall, and away from any towns or villages
– Don't light fires for cooking outdoors
– Only stay one night and then move on
– Small groups only (1-4 people)
– Go to the toilet at least 30m from water
– Protect your environment as much as possible
– Don't set up the camp within 100 meters of the road or close to people's homes
– Don't feed animals or harm wildlife
– Respect the privacy of the people
– Set up camp late, and leave early
– Be a responsible tourist
1. Wild camping in the Lake District
The Lake District is an excellent option for wild camping, especially if you're a beginner. The lush views, the gorgeous lake, and the wilderness all add to your wild camping experience. In normal times, wild camping in the Lake District is totally acceptable.
There's a great guide to wild camping in the Lake District here, but basically…
Always get a map before you finalise your spot for your camp, so you know where you're going. You can wild camp in the UK on a longer trip, but you can only camp for one night in each space.
Top wild camping spots in the Lake District
Holme Fell, Hodge Close
Sprinking Tark, Roshwaite
Ennerdale Valley Western Fells
Lingmoor Fell
2. Wild camping in the Peak District
The Peak District National Park is famous for its plateaus, rolling hills, and valleys. This national park is divided into two areas; the White Peak and the Dark Peak.
Wild camping is only allowed in a few areas of the Peak District. The Peak District National Park is owned privately, so you need to seek permission from the landowner to camp overnight. Wild camping in the Peak District is highly discouraged in summer, due to the dry moors which can catch fire easily. Park Rangers will enforce this rule.
Wild camping is challenging in the Peak District, but doable. Always have a Peak District map to hand, and don't set up where you don't have express permission or you could get in trouble.
Top wild camping spots in the Peak District
Woods of Burbage Valley
Reynards Cave in Dovedale
Agden Rocher
Bleaklow and Derwent Moors
You can find videos on YouTube of wild camping in all of these Peak District spots. If someone tells you to move though, move.
READ MORE
How to Drive a Motorhome in the Peak District and Derbyshire Dales
The Best Peak District Walks on thewanderlustwithin.com
Best Itinerary for a Weekend in Dorset
Brilliant Ideas for Days Out in the UK
---
3. Wild camping in Dartmoor
Dartmoor is the only place in England where wild camping is legally allowed, in certain areas. It's a dreamy place with astounding views, clear blue sky, and clear water streams. It's known as being one of the wildest areas in England.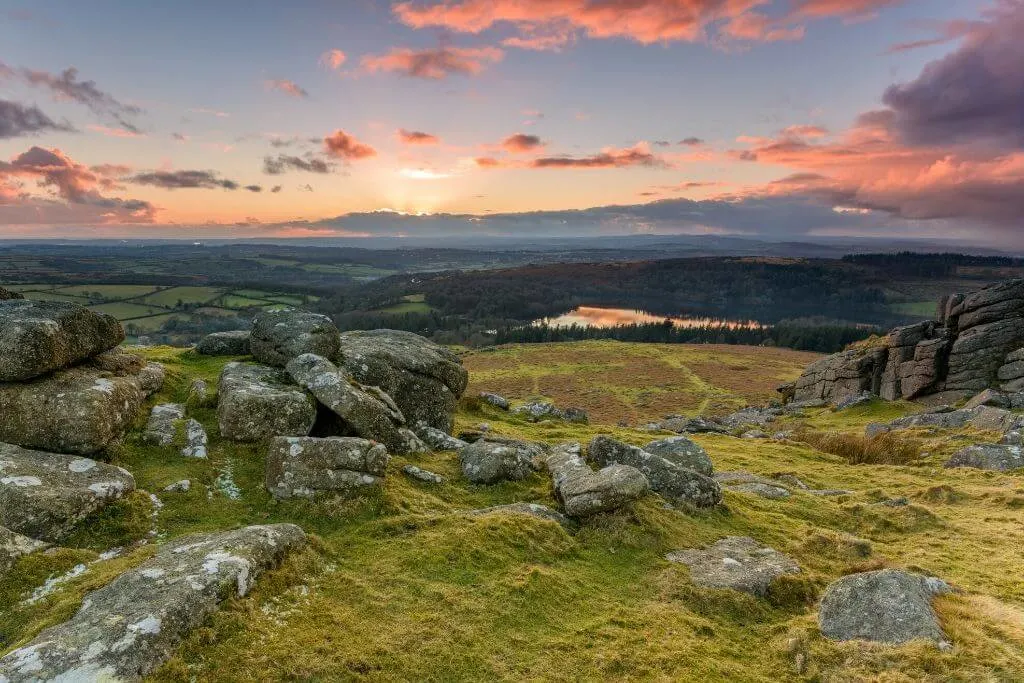 Pick up a wild camping map from the Dartmoor National Park office and get to know the best areas for wild camping. You can ask any questions in there too. To ensure the campers' safety, the authorities at the Dartmoor Park recommend campers set up their camps 100 metres away from the road – as in the rules above (re-read!).
Dartmoor does not allow family-sized tents, so pack light and opt for backpacking tents only. A bivvy bag can be a good option if you're not travelling with family.
Top wild camping spots in Dartmoor
Bellever
Ugborough Moor
Otter Vale
Sweet Meadows and Wildwoods
Teignhead
---
READ MORE NEARBY
How to Do a Jurassic Coast Road Trip
Itinerary for a Weekend on the Isle of Wight
40 Unique Things to Do in the New Forest
58 Brilliant Things to Do on the Isle of Wight
---
4. Wild camping in Exmoor National Park
Exmoor National Park is one of the most visited places in England for wild camping. It's a challenging and exciting place to be, with dramatic vistas and astounding landscapes. From rocky beaches and clear waterways to towering cliffs, green valleys, and surging hills, there are some stunning views here.
Exmoor National Park is famous for another thing; it's one of the only Dark Skies Reserves in Europe. As the sun sets, you get to experience a tapestry of stars in the dark sky – peace and tranquillity at its best.
You can wild camp in Exmoor National Park with the permission of the landowner, and will be trespassing if you don't get permission. Much like wild camping in the Peak District.
Top wild camping spots in Exmoor National Park
Dulverton

Dunster
Porlock
Watermouth Bay
---
5. Wild camping in Cornwall
Cornwall is widely known for its sandy beaches, vivid coastline, and gorgeous seaside villages, but the thing which attracts wild campers the most is the wild inner moorland. The descriptions from Raynor Winn in The Salt Path are what kick-started this foray into researching wild camping for me – it sounds incredible.
Cornwall has a rugged coast with cliffs, coves, caves and splendid beaches. I'm guessing wild campers love wild swimming – if you do, there are plenty of spots to explore.
Top wild camping spots in Cornwall
Bude
Newquay
Praa Sands and Porthcurno beaches
---
6. Wild camping in the New Forest
Just like the Peak District, it's also restricted and illegal to wild camp in the New Forest. The New Forest does not allow wild camping, and if you're caught, you can be fined or even can end up in jail for trespassing.
There's so many things to do in the New Forest it's sad that you can't wild camp there, but totally understandable. The natural beauty of the New Forest is well-known and famous among campers in the UK, but you'll need to stay in a registered camp site or holiday park.
I once stayed at Hoburne Bashley Holiday Park and had a great weekend with my friends.
READ MORE
6 Places to Go Glamping in the New Forest
---
7. Wild camping on the Isle of Wight
There's really not much information on wild camping on the Isle of Wight, other than to follow the rules I've listed above. I don't live far from the Isle of Wight, so I'll just have to go over and check for you. I have however found a few spots to entice you…
Top wild camping spots on the Isle of Wight
Fort Victoria
Compton Bay
Culver Down near Bembridge
And just remember you're on an island with lots of coastline – don't camp too close to the edge in the dark!
---
More on visiting the Isle of Wight
What to Do in a Weekend on the Isle of Wight
There are many great restaurants on the Isle of Wight to try
How about some glamping on the Isle of Wight instead?
---
Laws of wild camping in England
Wild camping is considered illegal in England, except for on Dartmoor. As you'll have read though, wild camping can be done after obtaining permission from the landowners. It's entirely at their discretion and they can can add terms and conditions in addition to the above rules. Wherever you plan to wild camp in England, make sure you camp in the eco friendly way.
So, looks like I need to get planning a wild camping trip to Dartmoor to ease me in. Anyone wanna come?
Oh, one last thing, just as an FYI:
Wild camping in Scotland is totally legal!
What to take wild camping in England
Tent
Sleeping bag
Camp pillow
Food (uncooked and not, depending on how long you're camping)
Dry coffee and milk
Sleeping mat
Stove
Butane canister
Spork
Mug
Empty plastic bottle
Power bank and cable
Whistle
Torch
First Aid kit
Moonblanket
I love the Moonblanket by Ticket to the Moon.
This sleeping bag / blanket totally saved me on our recent campervanning trip to the New Forest. I was co sleeping with my toddler so obviously didn't want loads of duvets and heavy blankets – especially as it was a sunny June weekend. I could just wrap myself up in this, knowing it wouldn't cover him in any way. He was fine in his sleeping bag, and I was cosy in this.
You can also wear the Moonblanket as a cosy poncho, rather than getting in it like a sleeping bag. The Ecodown® is made of 100% recycled fibers from post-consumer plastic bottles, so the creation has been better for the environment too. So good for chilly nights outside.
The multi-purpose synthetic quilt also folds up into a convenient and lightweight bag – making it easy to transport and carry if you're going wild camping. It's going to be so good for festivals, and it's perfect for some lightweight coverage if you're camping in summer. Take a look at the Moonblanket on Amazon.
More on exploring England
A Weekend Road Trip in the Mendip Hills
Guide to Your 3-Day Road Trip in the Cotswolds
Weekend on the Lincolnshire Coast
---
Explore more of England
NEW SITE: I recently launched a brand new website dedicated entirely to days out in England.
It's called… DAY OUT IN ENGLAND. Ha!
It's packed full of local knowledge, awesome things to do, and more.
Few of my favourite posts for you: how about the best adventurous days out in England, or the most popular English beaches? I've also put together a guide on saving money on days out, and even an English food quiz too. Go and check it out – you're guaranteed to learn more about England!
---
Pin 'Wild Camping in England' for later