You'd think if you've seen one of the best sex museums in the world, you've seen them all, right? After all it's pretty much a universal act. But, while the mechanics might be the same, the traditions, rituals and history behind each country's love of love might be different.
That's why rather than writing off a visit to the sex museum in your new city, it might be worth popping in instead. Much more interesting than your average historical museum right?
Bit of a 'different' blog post from me today, but I wrote this a while ago for a company who never paid up for it, so I thought, why not put it on my blog…?
I mean, who doesn't want to read about sex museums in this time of uncertainty in the travel industry? If we're all stuck indoors for the next few months, we'll have completed Netflix and then what's left to do?
I've been to a few sex museums around the world in my time, just for the lols.
Worst case scenario you leave having had a few giggles and best case you learn a whole lot more about the what goes on between international sheets. Here's my list of some of the best sex museums around the world from personal experience, and what the interwebs tells me too.
1. MusEros Museum of Erotica, St Petersburg
If you've ever watched the animated movie Anastasia or read about Russia's Romanovs, you'll have heard about Rasputin. The baddy in the movie, former royal adviser and 'mad monk' had a reputation of being well endowed (that part didn't make the movie).
This rumour followed him beyond the grave and since his assassination in 1916, various people have claimed to have the dead man's castrated genitalia in their possession. Over the years it's arisen in many locations but right now a Russian doctor says he has hold of it in his St. Petersburg Museum of Erotica.
Swing by and you can try to spot the 11 inch appendage among the 15,000 other erotic artefacts.
I've actually been to this museum, when I was in St Petersburg. Rasputin's penis was in a separate room, surrounded by red curtains and you actually had to pay extra to see it. My friend did it and just left the curtains open.
It was disgusting. Just a shrivelled schlong in a box.
Please don't give it any more money. The museum was great though!
READ MORE
My Cruise from Moscow to St Petersburg with 220 OAPs
2. Red Light Secrets, Amsterdam
Prostitution is generally thought of as taboo despite being one of the oldest professions in the world. In the liberal city of Amsterdam though, it's a respected role.
The Amsterdam Sex Museum – claiming to be the world's only dedicated to prostitution – pulls back the covers on life as a sex worker. You can learn what it's like to be in a red light district window, hear sex worker confessions and step inside an authentic boudoir. It was so weird standing in the window with people looking up at you. They also had this simulator thing where men went past the window being gross, so you really got to know what it was like.
Those ladies go through a lot for their profession.
Appropriately housed in an old brothel in the red light district, entrance will cost you €10.50. It was genuinely fascinating and I'd totally recommend.
READ MORE
How to Have a Really Fun 24 Hours in Amsterdam
3. Sex Machines Museum, Prague
In this museum, sex machines don't refer to hunky guys or romancing robots, but to the toys, devices and gadgets designed to up the ante in the bedroom. The Sex Machines Museum in Prague aims to educate about erotica through toys, some of which even date back to the 1800s.
For €10 you can wander the 3 floors learning about the various cultural uses of phallic objects (as a deterrent to having Chinese wives stray back in the day to cultural ceremonies in ancient Greece).
From there, you can graduate to the evolution of BDSM toys and sex machines.
Too much? Go and get yourself a beer.
4. Jeju Loveland, South Korea
Museums can be kind of stuffy but this one on Jeju Island in South Korea is far from it and is known as a 'sexual theme park'. That doesn't mean gliding down penis slides or bathing in naked saunas but is an al fresco affair showcasing statues in compromising positions.
As a top honeymoon location, the idea behind the island's loveland is to help brides and grooms, often having had an arranged marriage, feel a bit more at ease with one another. Although, I'm not so sure walking around creepy sex statues is really an aphrodisiac, but who am I to judge?
5. Antique Vibrator Museum, San Francisco
Ever wonder what vibrators looked like pre-Ann Summers?
Me neither but San Francisco's Good Vibrations sex toy store and museum is set to enlighten you anyway.
Founder, Joani Blank, began collecting antique vibrators over 20 years ago and once word got out customers began sending through the bedroom toys they'd found. Now there's a collection dating back over 200 years so you can see exactly how your ancestors got their jollies.
Don't touch?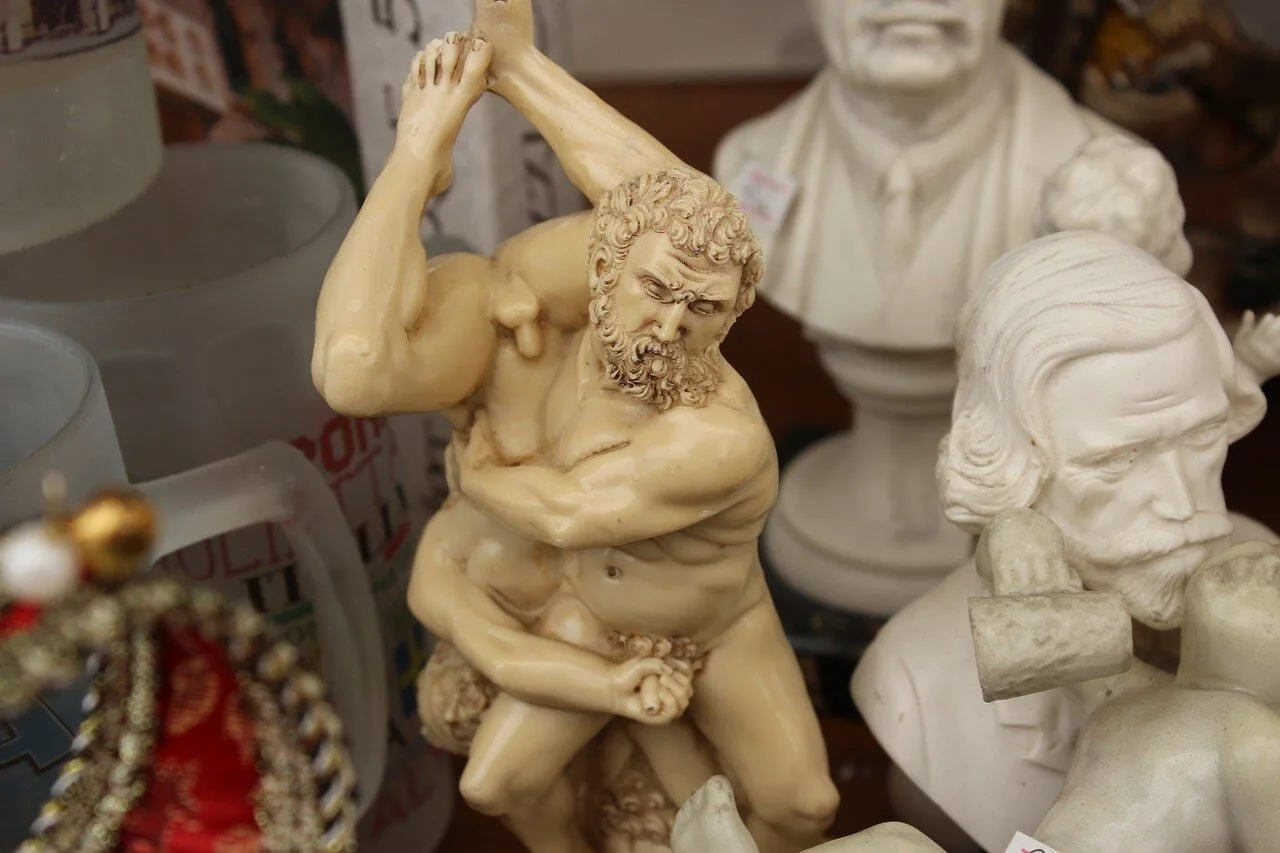 ---
READ MORE on SAN FRAN
Where to stop on a road trip from San Francisco to Seattle
Your San Francisco to LA Road Trip
---
6. Erotic Heritage Museum, Las Vegas
What happens when a preacher and a strip club owner buddy up?
You get one of the world's best sex museums.
That's what happened in Las Vegas when the Erotic Heritage Museum exploring the history of humping opened in 2008.
Housing thousands of artefacts, exhibitions and artistic expressions of love from all over the world the owners wanted to create 'a sex positive exhibition space'. Hosting events, workshops and lectures related to sexual, emotional, mental and physical health, you can go at it, exploring that is, for hours for $30.
Just a little something to get up to in between all the gambling in Las Vegas.
7. The Antarang, Mumbai
Visiting a sex museum around the world is often all about having a bit of a laugh, but it's hats and lots more off to Mumbai who have put an educational twist on The Antarang, their Sex Health Information Art Gallery.
Drawing in the tourists and locals, it of course lets visitors celebrate the act of lovemaking and has some sexual and spiritual objects on show, but it's also pushing another message. The state government run the museum in the hope of educating the public about unprotected sex and dangers of contracting HIV/AIDS. So while it can all be fun for a little while, there is a serious side to this informative museum.
Maybe not as fun as Rasputin's penis or the Amsterdam museum, but still, an interesting way to get to know a country through their sexual history and present. Check out my three-week India itinerary for how to get Mumbai into your trip.
8. Leather Archives and Museum, Chicago
I wouldn't be surprised if some have wandered into this Leather Archives Chicago Museum expecting to learn about the life of a tanner. Unfortunately, this museum is about hide of a completely different kind claiming to be the only museum dedicated to fetishism and BDSM. Serving the public for 27 years. Definitely one of the moreinteresting things to do in Chicago!
For $10 you can learn about what the terms really mean in a judgement free zone.
Kinda bookish and kinda serious, but still, totally entertaining.
---
More fun things to do in Chicago…
---
9. China Sex Museum, Shanghai
Tongli is a tiny Chinese water town and visiting feels a bit like stepping back in time with the historical buildings, teahouses and wooden walkways, but one thing making it deviate from its quaint appearance is the China Sex Museum hiding in a stately mansion by the river.
Previously located in Shanghai, the museum was moved 40 minutes away in 2004 after being deemed a little to risqué for the big city. With over 3,000 artefacts like jade penises, chastity belts and erotic artwork it offers a unique glimpse into the history of sex in China.
10. Museum of Sex, NYC
It's not known as the city that never sleeps for nothing. NYC is the capital of the free and liberal and the Museum of Sex offers a titillating experience for those interested in having a good time both in and outside the bedroom.
There's the serious with all the interesting artefacts, the informative side with the various exhibitions on themes like the sex lives of animals and the unusual side with blow up boobs and an erotic fairground.
Once you near the end, you can slip into the cocktail bar, Play, which serves up aptly named beverages.
Sex on the Beach is probably the obvious choice, but wait till you see the other mixes on the list. What a way to finish off your holiday to NYC.
---