The Caribbean island of Aruba is a holiday destination that most people dream about. It's got pristine beaches, great nightlife and lots of cultural things to do. But how do you bottle that up to take back home? My list of the best souvenirs from Aruba is the closest you can get to that.
With a mix of Dutch, American and Caribbean influences, Aruba is one of the most fascinating islands to explore. It's known as the One Happy Island because the people are so welcoming and friendly too. It's unlikely you'll ever want to leave, but when you ultimately have to, it's nice to bring back a little souvenir from Aruba.
The island is mostly known for its incredible Aruba beaches, and rightly so – they're possibly the most idyllic beaches you could come across. But it's also a great place to go out, visit some local cultural attractions, and of course, do some souvenir shopping too. You can check out my blog if you want to know the best things to do in Aruba, and what it's really like to holiday there.
Some of the best things to buy in Aruba include local products like Aloe Vera gels, part of the island's desert landscapes and sun-drenched terrain. Or there's Aruban rum and coffee, local crafts or the iconic Cunucu dog figurines. These are also some of the best souvenirs from Aruba that make for great gifts too!
It's not always easy to find a token that sums up the perfect holiday. A Caribbean escape to Aruba is all about the weather, landscape and vibes, which you can't just stuff into your suitcase. But these nice little keepsakes might still warm your soul when you leave.
14 Best Souvenirs from Aruba
The best way to get over post-Aruba holiday blues is to have something to remember it by. That's where my list of the top souvenirs can help.
1. Aloe vera products
Aruba Aloe is renowned for its high-quality aloe products including lotions, gels, and sunscreens. It was first founded in 1890, which makes it the oldest aloe company in the world. Aloe vera is generally quite popular these days, as it has so many beneficial properties in skincare. So why not take some back from your trip to Aruba?
2. Aruban art
On the rare occasions you're not on the beach, you might stumble around Aruba and notice the incredible, colourful art that's painted on walls. Aruban art typically channels its Caribbean roots, but also the indigenous Arawak community known for their symbols and designs.
A piece of art is one of the best souvenirs from Aruba to take back with you, as it not only supports local artists but really showcases the lively spirit of the island.
3. Divi Divi tree-inspired crafts
Otherwise known as Caesalpinia coriaria or Watapana, the Divi Divi tree is regarded as a natural compass in Aruba. It always looks like it's leaning, pointing to the South West because of the wind direction.
The tree is really distinctive so you'll know it when you see one. And because of how unique it is (as well as being native to the land), it's inspired lots of craft work that you can buy as a souvenir from Aruba. These can be little miniatures, or keychains, painted rocks, coasters etc.
4. Cactus jam or jelly
Cactus jam, marmalade or jelly is a great little souvenir from Aruba. Cacti are common on the island so making them into jam is a great way of making the most of them. You can easily get some from supermarkets or markets, or some gift shops too.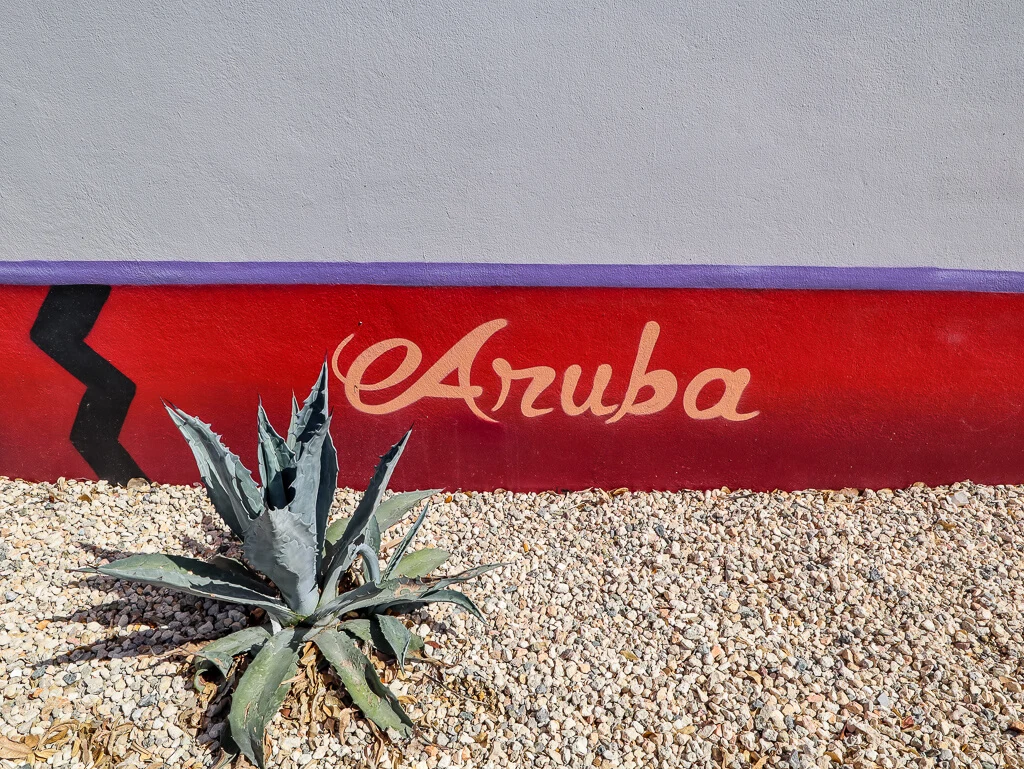 If you've not had the chance to taste it yourself, then you'll probably be pleasantly surprised. They're a little tangy but also a little bit citrusy. It's good anyway, trust me!
5. Aruban rum
Rum is the flavour of the Caribbean – or at least one of them – so it makes sense to squeeze in a bottle from Aruba to take home. If you're interested, you can visit one of the many rum distilleries there too.
If you are going to buy rum, the best one to get from Aruba is Papiamento Rum Aruba Reserve. Papiamento is the official language of Aruba, which was spoken by the Arawak community.
6. Delft Blue pottery or ceramics
You can find Delft Blue pottery and ceramics at ECCO, which is a department store in Aruba. Or you find them in downtown Oranjestad, or at least items that look very much like Delft Blue pottery.
Delft Blue pottery generally looks similar to Chinese porcelain because it was intended to be a cheaper option. It was created by the Dutch and although it isn't necessarily embedded in Aruban culture, you can spot it everywhere.
7. Balashi beer
Balashi beer is the official beer of Aruba. It's got a kind of malt sweetness taste that's quite light and refreshing. So taking a bottle (or two) home with you makes for one of the best Aruban souvenirs, as you can capture the fun and summery spirit of the island. Or at least try to.
It will also make for a great memento if you visited the Brouwerij Nacional Balashi brewery. It's a large, modern brewery that has been going since 1998 and sometimes offers tours. If you love beer then this is well worth the trip.
8. Calabash bowls
Calabash bowls are widely used in Caribbean culture, which makes them a top souvenir idea from your trip to Aruba. They're wooden bowls that can be used for either food, decorative purposes or even musical instruments like drums. They're really nice to just have on your table and serve things like nuts, crisps or other snacks in when you have guests over.
They come in all sorts of patterns and colours, often carved into different designs. But you can also find them just plain which I personally think are just as nice.
You can find out more about what a calabash bowl is and its presence in Caribbean culture.
9. Arubiano Flip Flops
Forget Havaianas, Arubiano flip flops are the way to go when it comes to strolling along the beach. They're made from recyclable materials and are environmentally friendly, are also pretty comfy too.
The brand loves to celebrate Aruban culture, inspired by breathtaking designs sourced from Arubian wildlife photographer, Damilice Mansur. They also feature fauna such as the Shoco owl, iguanas, and flamingoes, as well as flora like cayena flower.
You can find them in shops around Oranjestad, or other places around Aruba too.
10. Bath salts and salt skincare
Aruba has lots of salt flats, such as Saliña Hòfi and Saliña Cerca, which you can find in the southern region. The island is known for producing salt, which makes it an ideal place to stock up with some local skincare like bath salts, salt scrubs, face masks and more.
If you prefer salt for cooking or to use with food, you'll also be able to find that here. Historically, the salt was primarily used for preserving food, particularly fish, and for trading.
11. Aruban stroopwafels
Stroopwafels originally come from the Netherlands, but given the Dutch influence on Aruba you can also find them on the island. They're two thin waffles with a caramel syrup filling, that have a slight zestiness to them. Although they're Dutch-inspired, in Aruba they're typically mixed with the island's flavours like coconut, rum, and tropical fruits.
Whether you're wandering through the streets of Oranjestad or lounging at Eagle Beach, the aroma of freshly made stroopwafels is just divine. But you'll also be able to find some to take home as souvenirs to sweeten up the post-Aruba blues.
12. Spicy Aruban sauce
Distinct in its fiery flavour profile, this sauce encapsulates the essence of the Caribbean with every drop. It's made from aromatic spices, locally-grown chilli peppers and hints of citrus. It's generally not too overpowering (unless you use too much of course), so it's widely used with things like grilled seafood and stews.
For tourists, taking back a bottle is a good souvenir from Aruba as you'll really be able to sense the Caribbean flavours in dishes prepared back home.
13. Sea glass jewellery
Given that Aruba is known for its beaches, it makes sense that the landscape is known for one of the most beautiful art and crafts: sea glass jewellery. These pieces are made from local artists and are some of the most unique souvenirs from Aruba to buy.
Sea glass, often referred to as 'mermaid's tears', is formed from shards of glass that have been tossed and turned by the ocean over decades, if not centuries. From aqua blues to the soft greens and browns, each piece of sea glass jewellery is one of a kind. Paired with metals, sometimes even embellished with pearls or semi-precious stones, they become pendants, earrings, and rings.
14. Souvenirs with the 'One Happy Island' or 'Aruba' slogan
As I mentioned, Aruba is called "One Happy Island" because it's so friendly and welcoming. With such a vibrant spirit, it's a nice keepsake to buy something with that nickname written on it.
For some reason, Aruban license plates are really popular tourist souvenirs, and you can find lots of plates with 'One Happy Island' written on it. It's likely because Aruban drivers have to change their license plates yearly, so there's a lot going spare and they've become an iconic emblem for visitors.
Other ideas include flags, keyrings, ornaments…there's a lot to choose from.
Top things to buy from Aruba
You can easily find some of the best souvenirs from Aruba, given it's got everything from unique jewellery, skincare and beer you can't find elsewhere, as well as typical-tourist pleasers like licence plates, crafts and art.
It would be easy to spend your time just shopping the markets, independent shops and even the supermarkets, but don't forget to relax too. I'm pretty sure this won't be a problem, given Aruba is home to some of the best beaches in the world.
Quicklist of the best souvenirs from Aruba
Aloe vera products
Aruban art
Divi Divi tree-inspired crafts
Cactus jam or jelly
Aruban rum
Delft Blue pottery or ceramics
Balashi beer
Calabash bowls
Arubiano Flip Flops
Bath salts and salt skincare
Aruban stroopwafels
Spicy Aruban sauce
Sea glass jewellery
Souvenirs with the "One Happy Island" slogan
Is shopping cheaper in Aruba?
Aruba offers a mix of shopping places, with prices varying based on the product and location. While luxury items and designer brands in the high-end boutiques might be on the pricier side, local markets and smaller shops can offer more affordable and unique finds. However, it's worth noting that the cost of some imported goods might be higher due to import duties and shipping costs.
What should I shop for in Aruba?
There are literally endless options of souvenir ideas in Aruba, so it kind of depends on what you enjoy and the parts of the island you visit. However, some must-buys include local art or paintings, Divi Divi tree-inspired crafts, and items adorned with the "One Happy Island" slogan. These are typically things you can't find elsewhere. Also, don't miss out on traditional Aruban food products like cactus jams, local spices, and Aruban-made chocolates.
What cheap souvenirs can I get from Aruba?
Aruba offers several budget-friendly souvenirs that won't break the bank. These include postcards featuring iconic Aruban landscapes, handcrafted jewellery, small ceramic crafts, Aruban flag or emblem merchandise, and souvenirs with the "One Happy Island" slogan. Local markets are excellent places to hunt for affordable keepsakes.
What products are made in Aruba?
Aruba is known for producing a variety of local goods. Some of the prominent Aruban-made products include aloe vera, Aruban rum, cactus jams and jellies, handcrafted ceramic crafts, sea glass jewellery, and traditional handicrafts inspired by the island's culture and nature. The island is also known for its Balashi beer, and handmade sandals or shoes.