I want to show you some of the many fantastic things to do in Aruba. So many Aruba attractions to list, and I've pretty much done them all!
The adventurous Dutch Caribbean island of Aruba is one of the best holiday destinations I've been to. It brings together a beautiful climate with dry and sunny weather, with stunning beach scenery coupled with a distinct culture and a good focus on hospitality.
Days on Aruba can be spent scuba diving off of Hadicurari Beach, shopping in Oranjestad, witnessing the natural wonders of the Arikok National Park or one of my favourites, checking out some of the amazing restaurants Aruba has to offer.
If you're looking for a list of the best things to do in Aruba for your next holiday, then let me take you through what to do in Aruba to make sure you have the best holiday ever.
Awesome Things to Do in Aruba
Here are all the best things to do in Aruba.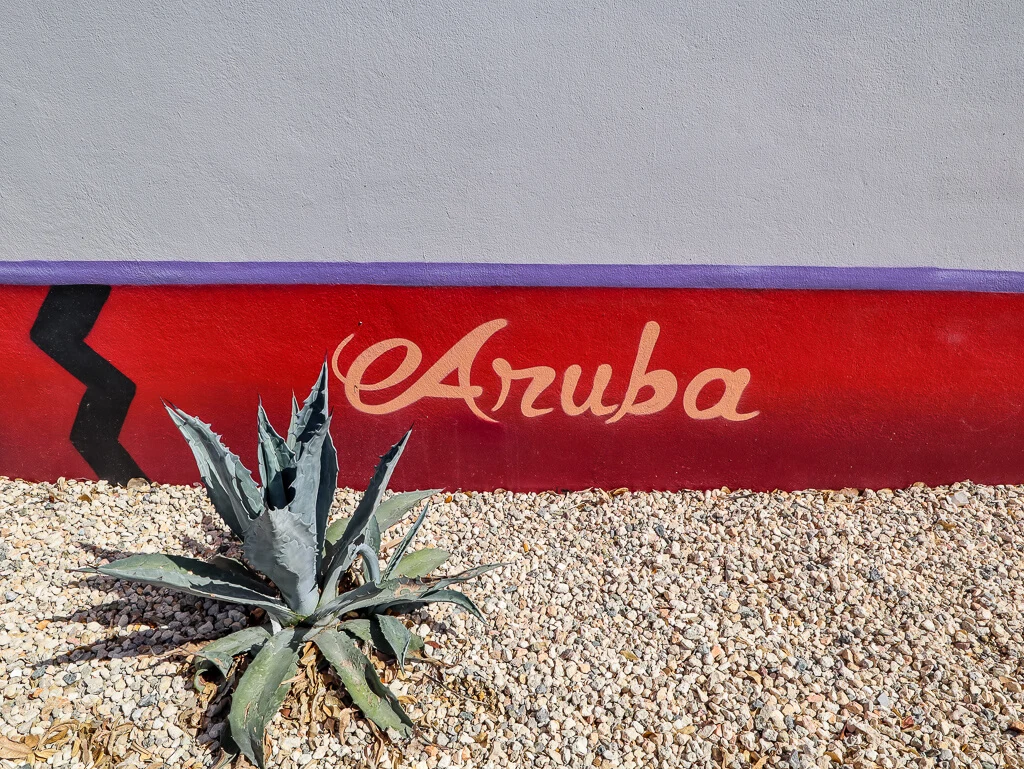 1. Check out Aruba's Natural Pool
One thing is for certain here: you can't enjoy Aruba if you don't have a swimsuit packed. No one visits a Caribbean island without cooling off a little bit. Sure, your resorts or luxury hotels might have great pools, but they're nothing compared to the legendary Aruba natural pool.
This is one of the most desirable places in Aruba, and scuba-diving is one of the most exciting things to do there. If you're adventurous, you're going to love the cliff-jumping opportunities.
The natural pool is surrounded by volcanic rock, and the water is about 17ft deep. It's often full of other tourists, but that's just the fun of it. While you're there, you'll have to follow all the safety rules put in place.
I'd recommend you join a tour so you can learn more about what you're seeing when you go to the Natural Pool – a tour will also mean there's someone to show you where to go and look after you. You never know!
You can join this Natural Pool and Cave Safari which will show off the best of the area.
"Embark on a raw award-winning adventure as you travel by jeep to unexplored parts of Aruba. Follow dirt tracks through the Arikok National Park, and take a dip in an idyllic natural pool. Snorkel, swim, and explore! Led by a professional driver guide."

– – Natural Pool and Cave Safari
2. Go on a catamaran in Aruba
When you're in Aruba, you'll want to take in all the pleasures of the sea by enjoying the Aruba beaches. I'd strongly recommend you do a half-day catamaran and snorkel experience; it's a lifetime adventure. The serenity and peace that comes with lying on the expansive sun deck, with a cocktail, under a shaded cabin top is all you need.
While on your adventure, you can indulge in a delicious meal prepared by the island's top chefs or enjoy a cool beer from the open bar. This is definitely one of the most fun things to do in Aruba – you NEED to do it!
You can also enjoy the beauty of the sea by taking in the view below the waterline. Another fun activity you won't want to miss is snorkelling!
The best snorkelling spots in Aruba are Boca Catalina, Arashi Reef, and the Antilla Shipwreck. A catamaran tour is an absolute must do in Aruba!
3. Visit the Arikok National Park in Aruba
Arikok National Park makes up 20% of Aruba, so avoiding it will be rather difficult… but why would you want to anyway?
Arikok National Park has more than 20 miles of walking trails and some impressive indigenous flora and fauna. Park rangers are available throughout to answer questions and lead hiking tours.
Visiting Arikok National Park should be at the top of your list for fun things to do in Aruba. You can't finish experiencing the Park in one day, but you can definitely get a good idea of what it's about. Check out this hiking tour of the Arikok National Park to enjoy the opportunity to hike with a local and informed guide who'll show you all the best parts.
Arikok National Park is home to Aruban rattlesnakes, parakeets, iguanas, goats, donkeys, migratory birds, whiptail lizards, iguanas, goats, donkeys, and migratory birds. So, if you're not big on Nat Geo, stay away from the Southeastern part of the Park, even though it's guarded and has warning signs all over.
You could explore the Arikok National Park by horse, for a truly unique experience. It's a must see in Aruba.
"Experience the spectacular panoramic scenery of Aruba's beaches on a horseback riding adventure from Noord. See a wide range of man-made and natural wonders, such as beautiful beaches, sand dunes, and a fantastic ocean view."

– Arikok National Park by horse
4. Hang out on the beaches in Aruba
When I went to Aruba Eagle Beach was currently riding high as the top beach IN THE WORLD on Trip Advisor, and I was staying just opposite it at the Amsterdam Manor Hotel. It was a beautiful site to cross the road and see the white sands and blue hues of the sea laid out in front of me.
READ MORE: 8 BEST PLACES TO STAY IN ARUBA
The beaches are the TOP things to do in Aruba, and one of the main reasons why people visit.
The beach in the picture below is Mancheba Beach. A private beach for anyone staying at the Mancheba Beach Resort, or attending one of the yoga classes I did there.
My favourite beach in Aruba was actually Baby Beach in the south of the island.
"Take in spectacular ocean views and indulge in shallow, crystal clear water at this magnificent paradise, Baby Beach.

Famous Baby Beach in the southern part of Aruba, close to San Nicolas, is a true Caribbean beach paradise. This gorgeous half-moon sandy expanse in a calm lagoon is ideal for families with small kids.

The shallow waters make it a prime beach destination for swimmers who like to wade out for a long distance and still touch the sea bottom. Where the bay opens out to the ocean, Baby Beach also offers the perfect location for snorkeling; for your safety please stay within the marked snorkel area."

– ARUBA.COM
You can read more about the best beaches in Aruba in my post here. Or, you could join this beach hopping snorkelling tour to see more of the coast on the island.
5. Explore Aruba on a tour
Whatever mode of transportation you use (jeep or bus), touring the island with someone else at the wheel is a great idea. You'll get to explore every top destination. On tour, you'll see places like Aruba's longest-standing church, the Natural Pool, the Alto Vista Chapel, and the California Lighthouse too.
Doing a tour in Aruba is a great way to capture all the features of Aruba in one, and all transportation modes are comfortable to move around in. You can rent a jeep for yourself if you wish for more privacy and comfort though. We rented a car one day and it was a great adventure!
If you're looking for something to do in Aruba that'll really introduce you to the island's natural wonders –this jeep safari tour of Aruba is the trip for you. And if you want a bit more comfort as you go, then the Best of Aruba by Bus tour covers the same attractions.
6. Go to the Natural Bridges in Aruba
One of the greatest attractions of Aruba is its Natural Bridges. It's said that it took thousands of years for wind and water to form these bewildering bridges. The most famous natural bridges collapsed a little back in 2005; what survived of it is still a view though.
Beside it is the Baby Bridge, which is another one of Aruba's best sights. Check out the Natural Bridges at Wariruri Beach and Black Stone Beach too. Add some hiking boots to your Aruba packing list!
7. Enjoy the Bushiri Karting Speedway in Aruba
One of the most fun ways to get a dose of adrenaline is by getting behind the wheel of a go-kart. And if you want a thrill, go karting is one of the best things to do in Aruba.
Bushiri Karting Speedway is the only karting speedway in Aruba, but it's going to be one of the best karting experiences you'll ever have. It's like a huge rolled ball of fun and excitement. And it's even more so if you're a fan of karting.
The speeds are super high, and the turns are precise. The go-around tracks last for only eight minutes, so we advise you to savor every second of it. Bushiri Karting Speedway is definitely one of the things that makes Aruba a good vacation place. Grab your bags!
8. Eat at the amazing Aruba restaurants
There are loads of great restaurants in Aruba, but one I didn't include on that list is the Pinchos Grill and Bar.
Located by the swells of the Caribbean Sea from the downtown stripes of Oranjestad, Pinchos Grill & Bar is considered one of the most romantic places for an evening meal in Aruba. Pinchos revolves around one central cabin that stands upwards above the water on a timber pier, illuminated by twinkling lights and the dimming glow of the sun setting from the west.
Aside from the taste-bud-tingling Caribbean staples found on their menu, including sesame-crusted tuna, grilled shrimps, spicy fish cakes, Pinchos also offers an incredible broadside view of the ocean.
9. Visit the Aloe Vera Farm in Aruba
For a more unusual thing to do in Aruba, visit the Aruba Aloe Farm and pick up some all natural aloe vera sun cream. I got some after sun and after putting it in the fridge it was a delight to lash upon my slight shoulder sun burn!
At the Aloe Vera Farm you'll learn loads about the production of aloe vera, and what it means to Aruba. You'll have the chance to go round the factory and actually see how they make the products, and buy some too.
10. Try kayaking in Aruba
Kayaks are a superb mode of transportation for somewhere as chill as Aruba, and a super fun experience too. Kayaking allows you to navigate the Aruban waters in slow, peaceful motion.
What's more, the Aruba Kayaking adventure offers amazing tours around the sea. You'll come across different points of interest, like the lovely forests and the secluded forests. You can look forward to what you're going to see next with each stroke of your paddle.
11. Go skydiving in Aruba
Let's admit it. We've all once told ourselves we were going to go skydiving when given a chance. Well, guess what? You're in Aruba, and this IS a chance.
You'll get access to a first-class skydiving experience at Aruba Skydive, and this is one of the most fun and exciting things you can do in Aruba.
Aruba Skydive has almost two decades of experience and has been providing thrill-seekers with the most exciting moments of their entire lives for a long time.
Even though skydiving CAN be dangerous, Aruba Skydive is extremely safety-minded and has some careful set-up rules and guidelines to ensure skydiving is as safe as it is fun.
Also, you have nothing to worry about since the Aruba skydiving team is all experienced professionals. Just let go and get ready to enjoy freefalling. Feel a pure excitement. Chances are, it'll be one of the top moments of your life.
12. Hang out in San Nicolas in Aruba
Once known as quite a run down part of Aruba, St Nicolas is now thriving thanks to the cool art scene that brings people down there.
"Although San Nicolas, Aruba's 'Sunrise City', is a quiet coastal town of 32.84 km2 located only twelve miles southeast of Oranjestad, it seems a world away. In the heart of Aruba's second largest city is a quaint promenade on Zeppenfeldstraat, an art murals, some shops, snack shops, restaurants and bars as well as historic buildings of architectural interest."

– ARUBA.COM
13. Day out in Oranjestad
Ride the trams, go shopping, get an ice cream – just hang out in Oranjestad! This is a great spot for some Aruba souvenirs to remember your trip.
Oranjestad is the capital city of Aruba and it's a lovely city. I had a walk through and then rode the trams back. Make sure to visit the ice cream shops as you go – it's medicinal!
Visiting Oranjestad is an absolute must do in Aruba – it'll give you more of an insight into what life on Aruba is really like.
---
READ MORE: If you want to know more about what Aruba is Really Like < click the link!
---
14. Spend an afternoon at the Ritz Carlton in Aruba
Visit the Ritz Carlton and spend an afternoon at their spa. Trust me, you'll LOVE it.
I had a massage therapy and it totally chilled me out, even more than I was from relaxing on the beaches. The pool was FAB – look at it! And I had it to myself.
"Aloe, coffee and other indigenous ingredients are showcased in signature treatments and paired with science-driven skincare from ESPA and Eminence for results-oriented facials at the Ritz Carlton. Relaxation lounges include whirlpools, saunas and steam rooms, and an oxygen bar helps reduce stress and boost energy."

– RITZ CARLTON
You definitely need to add this to your Aruba itinerary!
15. Attend music festivals in Aruba
Aruba is known as a place for celebration, and is there any better way to celebrate than with music? And so, throughout the year, music events happen everywhere around the island, featuring diverse genres of music from pop to jazz and reggae.
Some of the best festivals in Aruba include the Aruba Summer Music Festival, Bon Bini Festival, Aruba Piano Festival, Soul Beach Music Festival, Aruba International Film Festival, Caribbean Sea Jazz Festival, Dance Festival. All these festivals offer opportunities for the best kind of excitement.
If you're wondering what to see in Aruba, a music festival is a great idea. This way you get to see the island at its best and most relaxed, and you get to have fun while you do it, too!
16. Go windsurfing in Aruba
Aruba is a great destination for your first (or 10th) windsurfing experience. There is plenty of wind that'll give you momentum to carry you around the waters.
Windsurfing is more like sailing; only it requires more skill and agility. You'll need to know how to steer your vessel and maintain a proper pose.
Top tips for windsurfing in Aruba: make sure to keep your knees bent and your head pointed wherever you want to go. Once you know the basics, windsurfing will become one of the most exciting things for you to do in Aruba.
17. Go jet skiing in Aruba
Aruba has one of THE best jet skiing experiences in the world. A pretty bold claim, right? That's because you haven't tried it yet. When you do, you'll get it.
Wondering what to do in Aruba for a really memorable experience? Well, jet skiing is it!
You can rent a jet ski anywhere on the island and blast off all around the ocean. But do make sure you're riding when conditions are good and that you're following the safety rules put in place specifically for you. Definitely one of the most adventurous things to do in Aruba!
18. Visit the Fort Zoutman Historical Museum
Oranjestad, the capital of Aruba, is home to a lot of the nation's historic buildings. The most historical one of them being the Fort Zoutman Historical Museum. This masterpiece was created in 1796 and originally served as a protection against pirates.
Today, most of Aruba's iconic history is captured at this museum, hence the name. Different kinds of precious artefacts and historical documents are kept here. While you're there, you'll get a marvelous view of the area from its watchtower and learn so much about things, like how Arubian cooking is done and the history of the nation; how it was found and when.
19. Go snorkelling with Aruba's Bob
While you might see snorkeling like some underwater version of bobsledding, it is fun in Aruba. It's just a simple snorkeling experience run by a charismatic guy called Aruba's Bob. If you've never done this before, you're going to need to strap in tight for one of your life's most exhilarating moments.
Getting around underwater can be made easier with special scooters while snorkelling.
Bob does everything to make sure the experience is exciting but also very safe. You'll be able to see amazing views like the coral and tropical fish. He also gets professional photos taken, so he got you covered there.
Check out 40+ more Aruba activities on GetYourGuide. Book in advance to save time and money!
20. Do a yoga class at Island Yoga
Add Island Yoga to your Aruba to do list. This place is headed up by Instagram's Rachel Brathen, better known as Yoga Girl. She's inspired millions to explore the benefits of yoga, and now you can enjoy a live class with her at her studio.
The studio also serves smoothies and healthy snacks at the on site Nourish Cafe, and is the perfect spot to relax. You can do your teacher training here, or just enjoy an hour or two of Rachel's amazing yoga moves.
21. Climb up California Lighthouse
One of the top things to do in Aruba is to climb up California Lighthouse to enjoy the 360 island views from the top. I was lucky in that I had my drone to see bird's eye views of the island, but I know for many this is the only option to see the beauty from above.
Located near the island's northwestern tip I drove up here when I rented a car for the day in Aruba, and also went to see it on the jeep tour we did.
The lighthouse was named after the S.S. California – which sunk previous to its construction in 1910. Perched on a high seaside elevation, the lighthouse has become one of Aruba's scenic trademarks and offers a picture perfect view of the island's western coastline of beaches and coral shorelines.

– ARUBA TOURISM
Go for sunset at 7pm for the best experience!
If you're wondering what to do in Aruba, this is it!
FAQs about unique things to do in Aruba
1. What do locals do in Aruba?
Surely, with easily accessible beaches and lively streets, locals in Aruba would be doing the same thing as tourists do, right? Well, partly true. But many locals from Aruba recommend that you also try natural pools and eat at food trucks. That's the closest thing to an authentic local experience.
2. What are the things to do in Aruba with kids?
Spending quality time with your kids in Aruba can be done in many ways. You can consider activities such as splashing on the beach (of course), rent a car for a mini road trip, visit Aruba's animal sanctuaries (Butterfly Farm, Ostrich Farm, Donkey Sanctuary Aruba, Bubali Bird Sanctuary), and going on tours and submarine rides. There are many fun activities to do in Aruba – take a look at this list from GetYourGuide, featuring all of the Aruba activities you can book.
3. What's the nightlife in Aruba look like?
Aruba nightlife can be experienced in its lounges, bar, and clubs that are scattered over the island. There's plenty of entertainment, music, and drinks in Aruba to keep you busy. Beaches are also free to roam on during the night – gather your travel party and have a coastal gathering!
4. What language do locals speak in Aruba?
Dutch and Papiamento are the official languages in Aruba. If you're worried about language when you visit Aruba, don't be – Arubans communicate well with its tourists and many speak English.
5. What sort of attractions can I enjoy in Aruba?
Beaches, national parks, and sanctuaries are the types of attractions you can enjoy in Aruba. There are plenty of land or water activities worth your time. There are also some great non touristy things to do in Aruba too.
6. What indoor activities can I do in Aruba?
If you're unlucky and happen to visit Aruba when it's raining, you'll be pleased to know there are plenty of indoor activities to do in Aruba to explore.
If it's raining in Aruba, you can visit Fort Zoutman Historical Museum, Renaissance Mall, Royal Plaza Mall, Indulgence by the Sea, or Aruba Glass Ceramics.
7. Bahamas vs. Aruba: Which Is a Better Vacation Spot for You?
Undeniably, both Caribbean spots are great holiday destinations. The two have their own share of stunning beaches and top-notch accommodations. It's all gonna be up to you to judge. But I am going to be a bit biased here favouring… Aruba's.
The country's rich culture, combined with the incredible beaches, the great places to eat and the vibe from the people make it one of my most favourite places I've visited.
Check out my Bahamas blog post here – I visited Nassau.
The best things to do in Aruba
Hope you've enjoyed this post about the most unique things to do in Aruba. Make sure to check out my other blog posts about Aruba for all my advice to help you have the best trip possible. Especially my Aruba travel tips!
---
PIN THESE GREAT THINGS TO DO IN ARUBA FOR LATER