Known as the 'German Riviera', the baltic coast line in the state of Mecklenburg is absolutely stunning. When I went to Germany in May, the golden fields of rapeseed, gave way to lush fields of green, and the blue waters of the sea were looking their absolute best under the spring sun.
There are more impressive things to do in Kühlungsborn, but I was amazed by the beaches, absolutely amazed. I'd presumed the photos of Kühlungsborn (the town) I'd Googled before I went were Photoshopped, but no. The two-hour journey from Hamburg had been grey and rainy but as we arrived nearer the coast those skies turned blue, and I was able to get pictures like these.
And that sand was white.
I stayed in Kühlungsborn for three days and two nights to explore what there was to do.
Silly of me, but I hadn't actually registered the fact, that I'd been to this region before. Last May I was on a 10-day Baltic cruise last May, which departed from Warnemünde, about 40 minutes and 30km away.
When I departed the industrial port I never imagined this beautiful coast was so close. I definitely would've arrived earlier!
So, if you just so happen to be going on a cruise from 'Hamburg' this could be your starting point. Keep that in mind!
Where is Kühlungsborn?
Kühlungsborn is in the German Riviera, on the Baltic Coast. It's in between the coastal towns of Rerik and Heiligendamm. The nearest city is Rostock, 40 minutes away.
Kühlungsborn is 130km from Hamburg, and 180km from Copenhagen.
It's Mecklenburg's largest seaside resort with 16,000 beds, Germany's longest promenade, a pier, a marina, a city forest and beautiful historical resort architecture too.
Things to Do in Kühlungsborn
– Activities in Kuhlungsborn –
There are plenty of things to do in Kühlungsborn, but not too many that you feel overwhelmed. It's not a big place – Kuhlungsborn is the perfect destination for relaxing, for being outside, enjoying the wildlife and nature and just switching off without a pressure to sightsee.
Here are some of the best Kulungsborn activities to enjoy.
1. Ride the Molli Train
The Molli Train goes from Kühlungsborn to Bad Doberan, with stops in between to get off and explore. We got off at Bad Doberan – to see the Minster – and Heiligendamm, to get some lunch (and cake) at Germany's first seaside spa resort.
It's apparently so called because a lady used to shout her cat 'Molli' a lot, and people thought she was shouting at the train. And the name stuck.
I loved the Molli train. The best bit was standing on the platforms between carriages while the train was still going, and feeling the wind in my hair. The train has been going since 1836 and goes past and through some of northern Germany's most beautiful countryside.
The Mecklenburgische Baderbahn Molli Train also has a dining carriage so on special occasions you can enjoy a meal as well as the views and the gentle chugging.
The return train fare from Kühlungsborn to Bad Doberan was €13.
2. Admire the Bad Doberan Minster
The Bad Doberan Minster is amazing. Such a beautiful work of art. The famous Cisterician Abbey Church is beautiful inside with amazing statues and religious artefacts.
I loved the high ceilings and the decoration on the supports, also, sounds weird to say but the mausoleum at the end was pretty amazing too.
The Bad Doberan Minster is set in lush gardens with a lake nearby. No wonder there were so many artists with their easels set up.
Stay in Bad Doberan for an hour or two for a look around, it's a beautiful place with cafes and bakeries for you to enjoy.
3. Hire a bike and cycle to the lighthouse
We picked up bikes from Drahtesel Vermietung-Verkauf-Service in Kuhlungsborn, near our hotel, and then cycled the 8km round trip up to the lighthouse.
It was a beautiful cycle ride.
We passed colourful fields, through a cute village or two and then when we were on top of the hill we had incredible views all around and right down to the sea.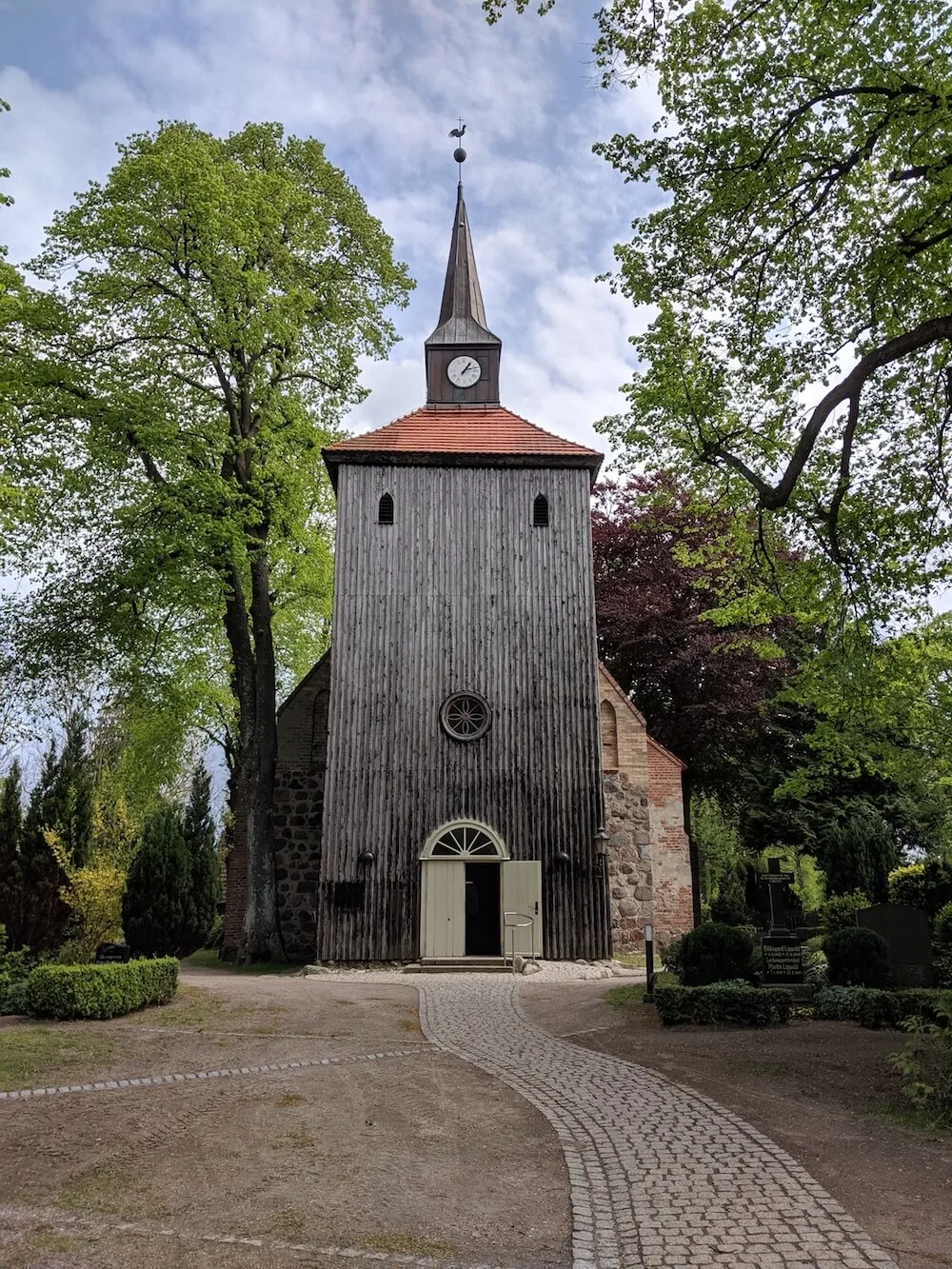 On the way back we passed this church, and although we didn't speak any German, and he didn't speak English, the caretaker there invited us to look around. Cute little place!
---
Pin for later
---
4. Brave the high ropes course
There's a high ropes course behind the Polar Stern Hotel. I didn't actually do it, but it looked epic.
There was one station where you had to ride a bike across a rope bridge. A bike! I'd love to have a go on that.
I didn't get a close look but TBH it looked like one of the best ropes courses I've ever seen. Check them out at Kletterwald Kühlungsborn.
5. Hang out at the 3 MowenHalle
If it's raining in Kuhlungsborn when you're there then the 3 MowenHalle is the place to be. It means '3 Seagulls Hall' and a crazy golf course is being built as I type this, there's also a ball pit and escape room too.
6. Visit the art centre
The art centre in Kuhlungsborn West wasn't open when I was there but it's at the end of the promenade and features local artist's work. Could be worth a look round once you're done walking the longest promenade in Germany!
7. Relax in a Strandkorb
A Strandkorb is a traditional German chair that was invented in 1882. They're very popular in Kühlungsborn and you'll see them dotted along every beach. You pay €10 and then it's yours for the day. Perfect for dealing with different weather conditions, and having a base that's a little comfier than the sand.
– Free things to do in Kuhlungsborn –
With so many things to do outside in Kuhlungsborn there's loads to do for free. Walking the beaches and the parks is the obvious tourist pleaser, there are so many to enjoy. You can just sit and watch as the day, and people, go by.
8. Look at the beautiful houses
The architecture in Kuhlungsborn is amazing. So German, I loved it.
There are lots of big houses with colourful beams to admire. When I went out on the bike ride to Bardhof, to the lighthouse, we passed some incredible houses that looked like something out of Grand Designs.
9. Check out the market in town
Wednesday is market day in Kuhlungsborn. Visit the site around the main train station to pick up some local goodies, and a few presents for yourself too.
They had some great looking wursts for sale. Yum yum.
10. Walk the promenade
Kuhlungsborn has the longest promenade in Germany, how cool is that? It goes all the way along the beach to the marina and runs for a few miles.
Along the way you'll find snack vendors and pop up restaurants to make the walk a bit more fun.
11. Go see the Rathaus
Kuhlungsborn city has spent a lot of money on flowers at the Rathaus, the town hall. If you're there in season, go and admire the colours!
12. Hang on the beach
Who needs a Strandkorb when the beach is this beautiful hey?
I sat down to admire the view and with a quick brush off of the sand, was fine to carry on with my day. The beaches in Kuhlungsborn are so beautiful, and cost nothing to enjoy.
– Food and drink in Kühlungsborn –
Did you really go on holiday if you didn't stuff yourself with the local food and drink?
As one of Germany's prime seaside resorts, set in a strategic spot on the coastline, there are lots of food and drink options in Kuhlungsborn. Here are just a few to try – the ones I managed to fit in to my 3 days in Kuhlungsborn.
13. Go to Edel & Scarf
I loved this place.
The whole premise is wurst sausages and Champagne. I mean tell me, what's not to love?
There are two Edel & Scarfs in Kuhlungsborn. One just on the beach opposite the Hotel Polar-Stern, which I went to accidentally, and one down at the marina. Which is the one I was actually meant to be at.
Basically Edel & Scharf is wursts and the sauce done amazingly, and Champagne on the side. Every pommes (chip) was an absolute taste sensation and cooked to perfection in a boat shape to help you soak up the sauce a little better.
The wurst was delicious and that sauce was rich and totally tangy. And of course, Champagne is Champagne. Delightful.
14. Eat at Meergut
Hotel Meergut has one of the fanciest restaurants in Kuhlungsborn – I went along to check it out. The hotel is huge and right at the end of the promenade. Like so many of the restaurants here it had all the tables and chairs out the front on the beach, as if ready for the hoards but at this May time of year, there was only us three couples inside.
When I say 'couple' I mean me and Orla, the lady from Baltic Sea Travel who organised my trip.
I went for the anti pasti to start. It was melon with aubergine and pepper, with parma ham. All very good.
And then I had the perch for my main. I wasn't too keen on the spinach, in fact I only had a tiny bit of it, or all the burnet rosemary that was on everything.
The potatoes were absolutely incredible though.
After a foodie day we skipped dessert but it was a nice place, if you want a fancy dinner with mood music by the sea.
15. Steak at Bulows Steak Restaurant
The Bulow Steak Restaurant is part of Hotel Polar-Stern. They are experts on steak and were also the first people to bring halloumi to the area, many, many years ago. And so, for my dinner there, I had my first steak and halloumi dinner.
Gawd, it was YUM.
I went for the Argentine fillet steak, medium rare with peppercorn sauce. And it came with hash browns.
For dessert I had the apple strudel – all perfectly quaffed with some carefully selected Malbec.
Our waiter, and brother in law of Sarah, the manager, had just got back from Argentina the previous week so it was fresh from his tasting visit. Felt very special!
16. Drink at the hotel bar: Bülows Garten-Lounge
Bülows Garten-Lounge is in a big conservatory out the back of Hotel Polar-Stern. It's a lovely space with a fire in the centre and a well-stocked bar with many, many whiskys.
I went for an Old-Fashioned, just to check out the facilities you see.
Where to stay in Kühlungsborn
18. Hotel Polar Stern
I stayed at the Polar–Stern Hotel in Kuhlungsborn. In room number 22, right on the top floor with the balcony looking out to the Baltic Sea.
It was such a lovely hotel. It's been family run for years and years and is a really cosy place, but spacious too. Sarah and her brother in law run it, but uncles and sisters help too.
My room was great and had everything I needed without being OTT flashy.
All guests have breakfast included, and there was a great spread. Over the two days I had herrings, fish, pretzels, yogurt, locally made honey and boiled eggs with caviar. Yep, went all out.
It was great having the Bulows Steak Restaurant and Bulows bar so close too – both lovely places in their own right.
I'd definitely recommend staying at the Hotel Polar-Stern if you visit Kuhlungsborn. It's right on the beach, near to the pier and to west Kuhlungsborn, so you can't really get a better location!
Have you ever wanted to go to the German Riviera?
How about now?
I travelled to Kuhlungsborn as a guest of BalticSea.Travel. I stayed in Kuhlungsborn for two nights and had a brilliant experience. I'd love to go back and visit again. I'd recommend spending 3-4 nights in this area, longer if you really want to relax!

More on travel in Germany
Coolest Things to Do in Hamburg for Music Lovers