Here are all the best things to do in Samos, Greece, for your next Greek holiday.
Samos is definitely overlooked by us Brits. Thanks to the likes of Santorini, Corfu, Skiathos, Mykonos and Crete, it's kind of under the radar. This is good for us in the know that are going though. It means the prices are better, there are less people at the beach, and we can enjoy the genuine Greek charm without it being laid on for tourists.
Samos is known for being a rocky island. It's hilly, very close to Turkey, and is the sixth biggest island in Greece. My brother's wife, Xanthi, is from Samos, so after hearing all about it, the first time I went was for their wedding. I went back again a year later, and then hopefully, I'm going again in 2021 to meet their first baby, Eliana.
There are lots of things to do in Samos. This holiday guide to Samos will tell you all the best spots to explore, and the most interesting things to do.
Best things to do in Samos
Here are all the activities in Samos for anyone planning a trip there.
My top 5 Samos activities
1. Relax in Pythagorio
You can't really go to Samos and not have a night in Pythagorio. The pretty horseshoe shaped harbour is filled with restaurants, ice cream shops and cute places to explore as you walk down. It's also where a lot of the boat trips go from, and where you'll find the statue of Samos' most famous resident, Pythagoras, the mathematician.
Don't leave Pythagorio without trying the avocado and egg toast at Pergamonto. It had me looking in all the shops for the pesto they used. Delicious.
The gelato at Storiadolce is a definite do. Get that pistachio with a biscuit in. Ooo yeahhh.
2. The mountain towns
Hire a car from Savvas Rentals and drive up to Manolates, in the mountains. This pretty town makes for a lovely afternoon of wandering about. There are some art galleries, trinket shops and a shaded restaurant too. More on this fun thing to do in Samos below…
3. Visit Psili Amos Beach at Marathokampos
Psili Amos is my favourite beach on the main island of Samos. It's sandy, which means a lot on this rocky island. It's also sheltered from the wind which is so prevalent on the north coast near Kokkari. There are sunbeds which you'll need to buy drinks to use, and it's a great thing to do in Samos if you have kids with you.
There are also 3-4 tavernas here. I've tried two – Stefanakos Tavern at the back, and the one down the side with the octopus hanging out the front. I've been there twice in fact as their souvlaki is spectacular, but I definitely wouldn't recommend the calamari!
4. Spend the day at Proteas Blu
I love Proteas Blu Hotel. I've seen a lot of hotel pools in my line of work, but this is my favourite. I love the pool, the beach bar, the beach, the hammocks and the range of comfortable beds too. Proteas Blu is absolutely one of my most favourite things to do in Samos.
My boyfriend and I spent our first anniversary here just lying on the beds on the beach and ordering gin and tonics to the bed, on the beach. It was fantastic.
I've never actually stayed here, but phone them up as a courtesy to check and they'll give you a visitor pass for the day. Well, they always have for me anyway!
Or, you can check out the prices to stay at Proteas Blu Resort on Booking.com.
5. Boat trip with Andreas
Take a boat trip out to Samiopula Island with Andreas and you'll get to see the south of the island without actually having to drive it.
From the comfort of the boat you can see the beaches, along the south coast and pick your favourite. Samiopula Island is beautiful. The boat will drop you on the south side and it's a 5-minute walk over the top to the paradise beach. It's a bit rocky but there were plenty of oldies doing it so as long as you have some good shoes you'll be alright. I did it in flip flops.
We paid €35 each for a group trip to Samiopula, then a trip to a beach with a BBQ lunch, then a stop in the sea for a jump off the boat and back to where we started in Pythagorio. It was a great day out and totally worth every penny.
The holiday companies might try to charge you €50 but just go direct to Captain Andreas' boat in Pythagorio – outside the frozen yogurt shop – and you'll get a better deal direct. Every day it's a different tour, to a different place, so it could be good to check the day before.
The private beach he takes you to is amazing!
---
10 best Samos beaches
The beaches are some of the best things to do in Samos, of course. Here are my favourites…
1. Potokaki Beach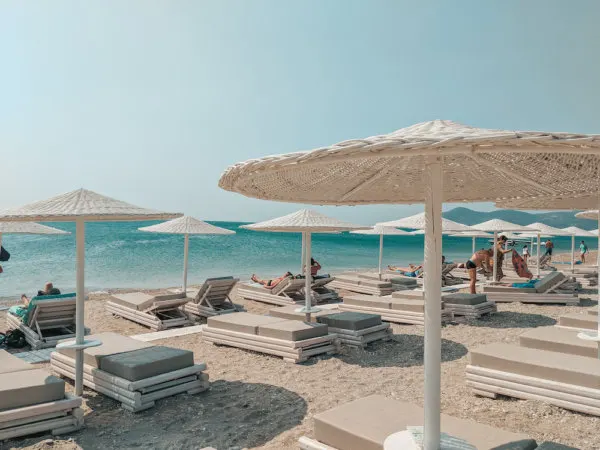 Potokaki Beach is one of my favourite beaches on Samos. It's under the airport runway, which is way better than it sounds. You get to watch the planes go over at close proximity – it's only around 5 a day so it's not like you're lying under the Heathrow flight path or anything.
Feels a bit like Ibiza at the Monday Circo Loco parties at DC10 – anyone? Misspent youth.
The sun beds are super comfy here, the sea seems calmer and the Almrya Cafe serves excellent food. This is a great place to stop if you've had to leave your accommodation early on your final day in Samos, and you're waiting for your flight. It's less than a 5-minute drive to the airport.
2. Kokkari Bay
Kokkari Bay is another great Samos Beach, just round the corner from one of the most popular areas in Samos, Kokkari. You can walk across the top to get there – which is probably the safest option – or you can walk through the sea – watch those tides. This is a bit sketchy but totally possible.
I thought it'd be fun at first for me, mum and dad to walk through, but then as I realised how slippy it was my mind changed to working out what kind of a lifeguard I'd be when they fell in.
No need.
Parents did me proud.
This is a great beach with comfy loungers and a nice little bay too. Loungers are two for €7, and you can have a massage overlooking the bay too. There's a restaurant called Basilico which I haven't tried yet, but I will next time I'm there.
You can also walk out to the rocks and take posing pictures, like I have.
3. Potami Beach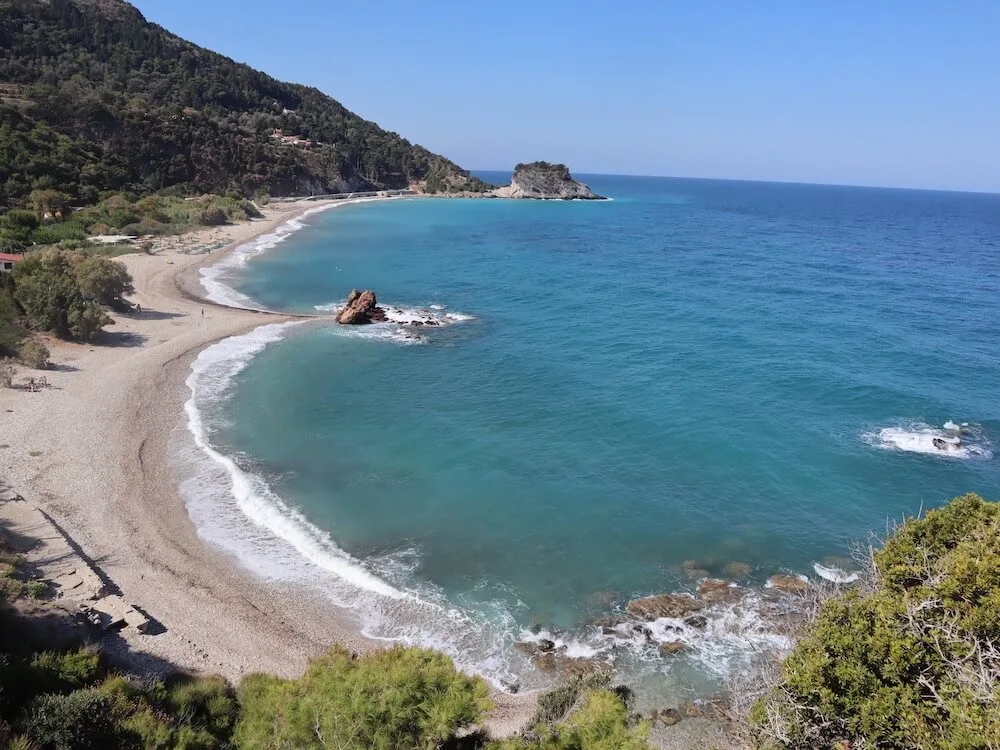 Visit Potami Beach and you can fit the waterfalls in too – more on that below. Check out the Cafe del Mundo restaurant for a nice coffee with hippy vibes. Next time I go I'd definitely like to spend more time here.
On your way to Potami make sure to stop at St Nicholas Church for a stunning view. The church is a slick and beautiful design and looks out over a beautiful beach. This is an iconic view in Samos.
4. Tsabou Beach
There are cool Mediterranean vibes here at Tsabou Beach. To be honest, last time I was there I conked out on the comfy bean bags as soon as I'd finished my (delicious) mango smoothie, and didn't move again until it was time to leave.
One of the greatest things about Tsabou Beach in Samos is that you can drive your car down right next to the beach, and you don't have to hike down any cliff faces to get there. And please, order that mango smoothie.
5. Samiopula Beach
You can only reach Samiopula Beach by boat, so read back to point 5 up there on my list of the absolute best things to do in Samos and you'll find the details of how to get there with boat captain Andreas. The beach is stunning, and one of the most private you'll find.
More beaches in Samos to try…
– Avlakia
– Lemonakia
– Tsabo
– Kervil
– Mikali
– Votsalakia
– Ireon
– Ormos
– Kambos
– Limionas
– Klima beach
– Livadaki
– Kerveli Beach
8 best restaurants on Samos
I've spent over three weeks eating my way round Samos now, here are the best Samos restaurants I've found.
1. Two Spoons in Pythagorio
This official photo from Two Spoons in Pythagorio isn't an exaggeration – this was the actual chocolate melty thing I had there and when you put your spoon in it, it all oozed out.
Delicious.
There's also great coffee there, and gelato too.
2. Prawn saganaki at Primavera
Had this on the first night last time I was in Samos, and it is SPECIAL. Bit of bread to dip in, and yum yum.
Eating is definitely one of the best things to do in Samos!
2021 update: CLOSED
3. Pizza at Girasole
If you want a good priced dinner while you're in Samos, but still super tasty, then visit Girasole. You can easily have a pizza between two and they have loads of different flavours.
4. Spinach pie at Grandma's
I absolutely love a spinach pie. This one at Grandma's in Kokkari is a delight. That, an iced coffee and a bit of Greek salad – yum.
5. Shrimps in ouzo at Meltimi
I've only eaten there once but Meltimi is my favourite restaurant on Samos. Located on the beach in Kokkari, its popularity shows. Get there early or book a table for the best one. The staff are lovely, they serve wine in wine glases (usually tumblers in Samos) and the food is absolutely delicious.
We had taramasalata and feta in honey for a starter, between the three of us. Then I ordered the Meltimi Saganaki with ouzo sauce which was an absolute delight. Next time I go to Samos I'm 100% going back there.
6. Pancakes at Solid, Samos Town
Phwoooaaar, I mean, look at the size of these pancakes. Yum yum. FEAST.
Solid is a really nice cafe on the waterfront in Samos Town. Great coffee too.
7. Mixed dinner at Tarsanas
We accidentally happened on Tarsanas in Kokkari when we were on the hunt for shrimps. We'd only wanted a small dinner but ended up with about 5 appetisers between us. Feta in honey, tzatziki, and all sorts of Greek foodie delights to share.
We had the loveliness of the beach and then Greek and UK music coming from the live band next door. It was a wonderful experience.
8. Almyra Restaurant
This is the fab restaurant on Potokaki Beach that sits under the airport runway. I'd already posted the pics above but I don't think you can ever get enough gyros, can you?
---
Historical things to do in Samos
I haven't actually done any of these as I've been too busy on the beaches and in the restaurants, but, I didn't want to write a list of the best things to do in Samos without a bit of history.
25. Efpalinios Aquaduct
My dad has been to the 1036-metre Tunnel of Eupalino – he said it very 'tight'. And with that, I had no need to visit or see it. I'm good with the fresh air thanks.
"The tunnel is the second known tunnel in history which was excavated from both ends, and the first with a geometry-based approach in doing so."

– eupalinos-tunnel.gr
26. Walk through a traditional village like Paleokastro
27. Archeological Museum in Samos Town
29. Monastery of Panagia Spilani
30. Pythagoras Statue
Oh, I've seen this one, many times.
"Pythagoras of Samos was an ancient Ionian Greek philosopher and the eponymous founder of Pythagoreanism. His political and religious teachings were well known in Magna Graecia and influenced the philosophies of Plato, Aristotle, and, through them, Western philosophy."
You might know him best through his maths theories, mainly, Pythagoras' Theorem. For any right-angled triangle, the square of the length of the hypotenuse (the longest side, opposite the right angle) is equal to the sum of the square of the other two sides.
Don't worry, you don't have to understand that to just go and see him on the harbour in Pythagoreio.
---
Best views in Samos
31. Waterfalls at Potami
The waterfalls at Potami are probably one of the most adventurous things to do in Samos. This video below shows them in all their glory. As you can see, these guys have walked through them to get there, which could be a bit risky depending on your stability and swimming skills.
There is another alternative to see the Potami waterfalls. Drive from the road opposite the Church of St Nicolas in Potami, 50m past on the right. It's cement and at parts gravel, but in good condition. Follow the sign that says Archontisa, have a nice glass of wine or amazing oven cooked food there, and then walk down 50m to see the water falls from the back side.
In the middle of summer there might not be much water to see, but you can still enjoy a look at somewhere different in Samos. I went on my last trip to Samos and we went in the fresh mountain water to the first waterfall, but decided to save the rest for another time.
32. The 3 Villages Walk
Join a hike (or go it alone) through the mountain top Μanolates, Mona Vronta and Drakei villages. I've already mentioned Manolates above, but there's a pretty walk connecting the three.
It takes a few hairy hairpin bends to get up there, but once you're up there it has great views out to see and over Samos.
Spend a few quid on the tourism while you're up there. There's a really nice cafe called Kalisti Cafe. Great toilet and tasty fresh orange juice. Would recommend.
You can also pick up a few bits of jewellery, trinkets and art if you need too.
33. From the plane!
Make sure to look out the window when you go in and out of Samos, the views of the coast line are impressive.
34. Mount Kerkis
One year I was invited by my Airbnb host to climb Mount Kerkis but declined when I realised it was two hours up and down. And it was hot.
If you're really into your mountain views, then sure, go ahead, but go early and take lots of water!
35. Hammocks at Proteas Blu
The views from the hammocks at Proteas Blu is definitely one I think about on dark days in England!
---
READ MORE: The Best Things to Do in Thessaloniki
Where to go shopping in Samos
36. Walk through Samos Town
In Samos Town you'll find cute shops, boutiques, trinkets and loads of things to buy as souvenirs and to furnish your home.
37. Visit Kokkari
There are some really nice shops in Kokkari. I could've spent a lot of money if I had it. Really lovely jewellery, clothes and art work all over. You'll also find souvenir shops, body care and fun things for the beach too.
38. Day in Karlovasi
One of the best things to do in Samos if you're into shopping, is to visit Karlovasi. There are some nice churches, homey shops, and a nice square to get your lunch. In 2020 the Aegean Sea earthquake shook here, so I don't think this building looks like this anymore – just to warn you.
---
Night time entertainment in Samos
Samos isn't like some of the other islands of Greece with all night music, main strips and clubs. It's got a certain class to it. Apart from dinner and drinks, there isn't that much otherwise to do in the evenings. I think you make your own fun here.
39. Boa Vista Cocktail Club
We did go to the Boa Vista Cocktail Club one night, for one. It's a really cool Tiki bar that looks out over Kokkari Bay. Mum tried her first Margarita and definitely wasn't into that salty rim. Cocktails are around €10 each which is pretty average for the island, and at least they were made fresh with the finest ingredients here.
40. Watch a film at Cine Rex
Cine Rex is an outdoor cinema showing a mix of recent and not so recent films. Check out that link to see what's on while you're in Samos to plan your trip.
41. Sailing Bar, Kokkari
I really liked Sailing Bar in Kokkari in the evenings, to watch the sunset from. TBH in the week I was there in September I didn't reallly see a spectacular sunset, just a nice tinge to the sky. Hopefully it'll be better for you.
---
How much is Samos?
Samos is not cheap. You can expect to spend about £3-400 on the flight, and a minimum of £300 a week on accommodation. The average dinner is about €10 with a €3 drink on top. Wine is good value here and if you go into the Bio shop in Kokkari you can get it out of a vending machine.
I spent £870 on my week in Samos in 2019.
Flight + baggage = £360
Spends in cash on meals, drinks and activities = £330
Accommodation = £180 on a one bed airbnb in Kokkari
---
Getting to Samos
2019: I travelled with Enter Air, which I wouldn't recommend as they go via Lemnos (and don't tell you) so you have an extra stop and it takes longer.
2018: The first year I went to Samos I flew with Aegean Airlines through Athens – I wouldn't recommend this either as I had to wait overnight in Athens Airport. Not fun.
2021: I have the once a week flight booked with TUI, for £361. It's currently showing as £157, which I'm trying very hard to ignore!
You could also get a cheap flight to Athens or Mykonos, and then take the ferry from there to Samos.
---
Things to do in Samos
I hope that's given you some good ideas for what to do in Samos on your trip. Any questions, just let me know in the comments below!