If you're planning a weekend in Budapest, let me help. I've been three times now, spent over two weeks there, and would be well up for going again. After Barcelona, Budapest is my second favourite European city.
Let me show you around.
Actor Anthony Hopkins claimed it was the most beautiful place he'd ever been, Alice Cooper said people needed to visit and Angelina Jolie is even rumoured to have bought a house in the city she loved it so much. If Budapest is good enough for the celebs, it's definitely good enough for us.
Going to Budapest for the weekend is the perfect opportunity for 48 hours of spas, goulash and amazing architecture.
Budapest has a long and colourful history; it was originally formed by bringing together three separate towns or areas. Pest, Buda and Óbuda were the original districts of the city. But as the city grew so did the number of districts, now totalling 23. Here's a look around just a few of them for your Budapest weekend.
What to do in 48 hours in Budapest
Budapest is known for having almost 125 hot springs, and taking a dip is a tradition that dates back to Roman times. So making like Cesar in an art nouveau joint like the Gellert Baths or in Europe's largest medicinal bath at Szechenyi Baths, is a must. For those who prefer a good beat while they bathe, make sure to put a 'sparty' on the Saturday night agenda.
If you're on a budget on your weekend in Budapest, spend Saturday taking in the best of the city's sites with a walk. Go along the Danube river where views of the Buda Castle, Liberty Statue, Little Princess Statue and Fisherman's Bastion are free. Then cross the city into either the Buda side or Pest side of the city via the famous Elizabeth or Chain Bridge.
Complete your afternoon by hopping over to Margaret Island in the middle of the river where you can see the music fountain, medieval ruins and fancy water tower, also for a sum total of zero. This is where the famous Sziget Festival takes place every August.
– read more: Survival Tips for Sziget Festival –
More things to do in Budapest
Delve a little deeper into Budapest's culture on the Sunday, and head underground. Hospital in a Rock is a museum under the Buda Castle dedicated to the secret military hospital built back in the 1930s.
Keeping the clandestine theme going, the Szabo Ervin Library is a 19th century throwback located within another library within an aristocrat's old mansion — talk about hidden.
A little less secret is the city's love for Michael Jackson. In front of the Kempinski Hotel there's a tree dedicated to the star and completely covered in his image. You can walk by on your way to the For Sale Pub. Not actually for sale, this cosy joint is full of floor to ceiling ads, postcards and notes pinned to the walls by the hundreds of patrons who've visited in years gone by.
If you still have time for more cool things to do in Budapest, check out my quick list of the 52 Budapest hotspots.
Drinking in Budapest
I can't write a Budapest weekend guide without mentioning the ruin bars.
One of the most diverse and interesting of Budapest's districts is number seven. The seventh district was for many generations the home to a mostly Jewish community.
After the end of the Second World War, which reigned destruction down on this part of the city. The seventh district became a near ghost town and suffered decades of total neglect by the city government. But as sometimes happens in these abandoned parts of cities new life began to emerge.
In comes Budapest's 'ruin pubs'
This new injection of life blood came in the form of 'ruin pubs'. These are bars that have seemingly appeared out of nowhere to brighten up this derelict area on the "Pest" side of the mighty river Danube. This area is still very much rundown, but the 'romkocsma' or ruin pubs are attracting not only locals but also large numbers of tourists to the slightly unusual backstreet areas to the rear of The Great Synagogue.
One of the great charms of the area is that each of these ruin pubs is very unique although there are common similarities that link the bars together.
The basic recipe seems to be located in an abandoned building. Hopefully with an adjoining cleared demolition site, which will become home to an outdoor seating area. Here you will find picnic tables and a makeshift bar and a great vibe. The decor at all the bars all seems to have been collected from the same charity shop. This perhaps does not sound very inviting, but is all part of the very cool scene in this area.
Budapest's ruin bars are famous the world over. Once derelict and condemned buildings, entrepreneurial souls took them over by putting up bars to welcome in the local artists. Fast forward to today and they're now one of the main draws to Budapest on a weekend.
Check out Szimpla Kert (third best pub in the world in 2012!) and Doboz for the best experience. But have a little look around to find some more underground offerings.
Where to eat in Budapest
Start each day of your Budapest weekend with a Hungarian breakfast at a hip cafe like Zoska or take an extra shot of history with your coffee in Hadik as you sit where legendary writers are said to have once mused.
Boscolo New York Cafe
If you really want a breakfast in Budapest with a difference, check out the New York Cafe – it's amazing! I nearly walked into a few tables I was too busy staring at the hand painted ceiling and the gold plated walls.
The New York Cafe, or Boscolo New York Cafe as it's called now, is still decorated as it was when it opened. The ceiling frescoes were created by Gusztav Mannheimer and Ferenc Eisenhut at the time and the Venetian chandeliers are exactly the same ones as they were then.
After much deliberation we ended up with poached eggs, French toast, American pancakes, Hungarian sausages and wursts. All served up with a healthy dose of cappuccinos, power smoothies and freshly squeezed orange juice. And seeing as it was such an occasion, of course we had to have Champagne too, hand selected by the sommelier our waitress told us. Get me!
5 breakfasts, two orange juices, a pineapple juice, a cappuccino and four Champagnes came to around £80, so £20 each. Bargain!
Come lunch time, head to Central Market Hall on day one for a cheap and cheery experience where you can grab some goulash on the go and pick up a kolbice, aka a Hungarian hotdog, on day two.
For a more traditional experience in the evenings, visit the 117 year-old Kerek Tavern in the Obuda neighborhood or Pozsonyi Tavern in District XIII. With warm dumplings, cosy cave-like settings and checkered tablecloths, you'll feel as if you've travelled back in time.
Wash it all down in the Buda Castle Faust Wine Cellar, where you can sample over 20 wines from across the country or try out one of the city's 'ruin pubs' known for their grungy interiors and cheaper prices.
Instant, Kuplung and Fogas Haz all serve up a buzzing atmosphere and great tunes.
Don't leave Budapest with trying a Langos
I'd walked passed a few of the stalls in my 13 days in Budapest, but it was only on my final day I got to try the Hungarian speciality 'Lángos' (Lahn-Gohsh) .
Langos is just water and flour, crafted by proficient hands into dough. Apparently a lot can go wrong in the conception and it's not as easy to make as it sounds. I'll take their word for it, there's no way I'd want to learn to make this obesity treat.
I ordered mine from the stall in the main square at the end of Vaci Utca. I watched the Langos lady with great admiration – it took her about 20 seconds to do the following 5 steps, from the moment her sous chef slapped it in front of her out of the dee fat fryer, to passing it over and grabbing my 600ft (£1.50).
Step 1: Cook the fluffy doughnutty base
Step 2: Spoon some sour cream on
Step 3: Spread it with a painting brush
Step 4: grate cheese all over it
Step 5: hand on over, ready for me to devour
You can get all kinds of toppings on the Langos. Unfortunately I can't read Hungarian, or speak it, the lady was scary and I had a queue behind me. I just asked for what the person in front of me had. I liked that the person behind me did the same. We were in it together.
The Langos was a lot tastier than I thought it would be, and of course, I somehow managed to finish the lot. I imagined it to be a ball of grease, but it wasn't. More like a delicious sweet sour cream and cheese sandwich – not a flavour I've ever tried.
Apparently this is the ultimate beach side snack. I can honestly say that after devouring that beast there's no way I'd want to get in my swimmers!
Getting around Budapest
Budapest was made for walking. You can see the sites, save the pennies and work those muscles all while enjoying the Hungarian capital. However, if the distance from St. Stephen's Basilica to the historic Citadel is just a bit much, the metro, trams, buses, ferries and trolleys charge around £1 for a single ticket or charge less than a fiver for 24 hours of unlimited travel.
Alternatively, wrap up warm and take to city's waterways. Boat parties, tours and river cruises show you the best of the city from the comfort of the Danube.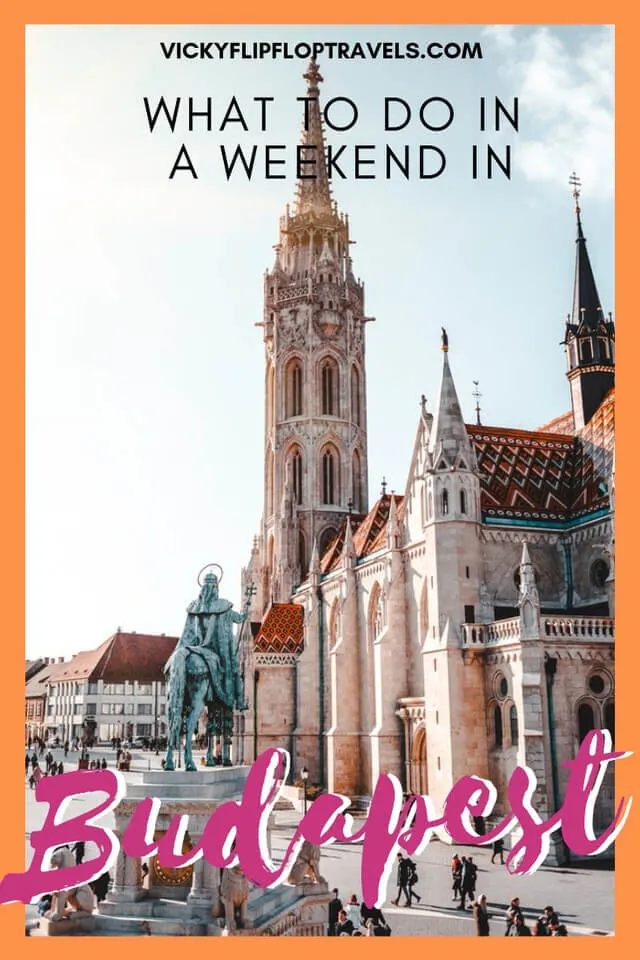 ---
BOOK YOUR TRIPS BEFORE YOU GO TO GUARANTEE A SPOT
---
Your weekend itinerary for Budapest
If you want your 3 days in Budapest (or 4 days in Budapest) laid out for you so it's easy to see what to do and when, here's my ideal Budapest weekend guide to get you ready for the city.
Four days in Budapest itinerary
Budapest day one: get your bearings
Morning: Land at Budapest Airport. You can easily get the bus into the city centre – number 100E every 30 minutes. I'd recommend you stay in the Jewish area if you want the best atmosphere. I stayed at four different accommodations in Budapest and this would be my recommendation for a long weekend with your mates. It was close to the fun of the river, the edginess of the Jewish district and was a cool square in its own right.
Drop off your baggage and freshen up for the day ahead.
If you want to check out a guide to all the key neighbourhoods of Budapest, take a look at this one from Culture Trip.
Afternoon: Go out and explore. Go and find the amazing Sugar Candy Land sweet shop and get as high as possible on sugar. There are some cool boutiquey clothes shops round there too if you want to get some spending in, and to pick up some great Budapest souvenirs too.
Next up, go to my most favourite building in the world – the Hungarian Parliament. If you're lucky you might get to see the soldiers doing their little dance outside like we did. The Parliament building in Budapest is actually best viewed from the other side of the river, on the Buda side so get those legs a moving and work off the Pik n Mix.
Grab a kebab from one of the street vendors for your dinner. They're only 700ft (£2) and ruddy, bloody delicious.
Evening: Wander along the river and cross a bridge or two. You might as well do a coffee / cocktail bar crawl on the way – a beer is less than £1 here and a cocktail less than £2.
Make your way down to the famous A38 club, which is on a boat on the river, and learn your first important lesson: how to say cheers in Hungarian.
Egészségedre! – To your health!
Day two: the key Budapest sights (and ruin bars)
Morning: Get some Langos for breakfast – that'll soak up the booze from the night before, and it's a traditional Hungarian specialty too. Kinda like a massive donut crossed with a Yorkshire pudding, and delicious.
Book onto the Alternative Budapest walk. My host Antonia pointed out some great bars to me, gave a much needed background on the current and past politics of Budapest and showed me around some cool streets. There were lots of places on the tour I came back to later in my own time.
She was also really nice and fun and a cool person to hang around with for a few hours. I loved seeing the Budapest street art, the Ruin Bars and the Budapest Jewish synagogues and having someone to explain them in more detail to me.
Afternoon: Make your way to the Szechenyi Spa Baths in Budapest, in City Park. Along the way plan your route so you go via the awesome Heroes Square.
The Szechenyi Spa Baths are the most popular baths in Budapest, although there are actually lots more to choose from. From around £10 you can have access to the spa, and all the facilities – all day. There are also massages and treatments available on top. Can get pretty busy on weekends though, just so you know!
Evening: Go back to your favourite Ruin Bar and start from there. I tried to go on the Ruin Bar tour – not my cup of tea – I escaped before we got to the first one and went to explore for myself. Forced fun is not for me.
The pubs tend to have gathered together a furious mix of Berlin club chic and the Munich Beer Festival. Many offer DJs or great live music, mostly at weekends, as well as other less usual activities. At different times you will be able to watch a classic cult movie, or perhaps the pub will be turned into an art gallery or bicycle racing track for the evening.
Nagy Diófa utca, is not exactly a catchy name but it is an interesting pub to visit. It has an inner courtyard – better described as a jungle, due to the huge number of plants. There are small areas which have been created as a very intimate spaces. This means you can you can be very much involved in the bar, but still feel that you are alone in the corner.
Another popular ruin pub is Fogas haz, this bar opened its doors in 2010. There had been several failed attempts to keep the doors open previously. But now it seems the new proprietors have the formula just right. This pub is also a cultural and community centre heavily involved in the gentrification of the area.
---
Day three: eating and exploring Budapest
Morning: Go to the New York Café for breakfast. Try to look smart.
Afternoon: Time to explore Margaret Island. Get yourself a bike from the Zebra Bike Tours – it's only 1500HUF for two hours. I cycled down to the island and round, I also went over to the Sziget Island and cycled there too, but I doubt you'll want to do that on a hangover.
There's a range of wheels you can hire out, lots of flowers and bushes, some animals to see, a pub, a café and lots of statues dotted around the park too.
Bring your swimmers and you could go to the Palatinus Water Park. I didn't, but I definitely will do next time. I stood at the gates like Oliver watching everyone have fun without me.
Evening: If you didn't make it to a Ruin Bar called Mozel Tov, that should be your aim of the night. Make sure you try a Mojito – nice big glass and free pour – don't have too many!
---
---
Day four: churches and culture in Budapest
Morning Opposite the New York Café, at Humbak Muvek, I had THE most incredible eggy tortilla. I couldn't stop thinking about it all day. I'd even go so far as to say that it was better than the food at the New York Café, but just didn't have the opulence. Inside it's more Japanese minimalism, perfect when you need some morning simplicity.
Now I have seen a LOT of churches and cathedrals and St Stephen's Basilica in Budapest is without a doubt the most impressive. On the first day I said I didn't want to go because I wasn't interested, but I'm so glad I decided to make the trip towards the end of my holiday.
Afternoon: Before you leave make sure to go up in the Budapest Eye. It's so cool, only aroun £8 each and as I was by myself in the booth I put my iPod on and had a party for one up in the sky. If you have friends I'm sure it will heighten the experience (ha!).
Evening: Go home, or miss your flight and stay forever, yay!
Secret tip for Budapest
Hallelujah Willy Wonka is alive!
He's gone off in his magic lift and set up this amazing sweet shop in Budapest. Sugar Candy Land knows how to respect the sweets – you don't just go in with a paper bag and fill your boots here, oh no. They have counters filled with different kinds, a seated area to sit and enjoy them in a relaxed environment and the most amazing bathroom I've ever seen to wash up in afterwards.
Best sweet shop, ever
I was drawn to the syrupy scent from the sun beaten pavements of Budapest, unknowingly stepping into the best sweet shop I've ever seen. I proved the worth of the analogy 'like a kid in a sweet shop' or some people might say, 'like a bull in a china shop'. I was like a curious cat with a laser play toy as I tried to take in the rainbow of candy colours in front of me.
I finally chose the Tejberizsekas as it's a traditional Hungarian dessert. It was kind of like rice pudding but with all the delicacies I put on it, it was a very fatty one. I didn't know what I was doing and just kept ordering sweets on sweets – I attempted fruit for a sense of health, but they were pickled in sugar, and absolutely delicious. I wolfed the lot down with a coffee – yes, it's a coffee bar too – and promptly felt the sugar high.
I sat at the bar stools and ogled the rest of the food while I digested the delicacies I'd already had.
The bathroom
Before you leave you should check out the bathroom. It's genuinely the best one I've ever seen in all my years and I will definitely be replicating it, should I ever get a house.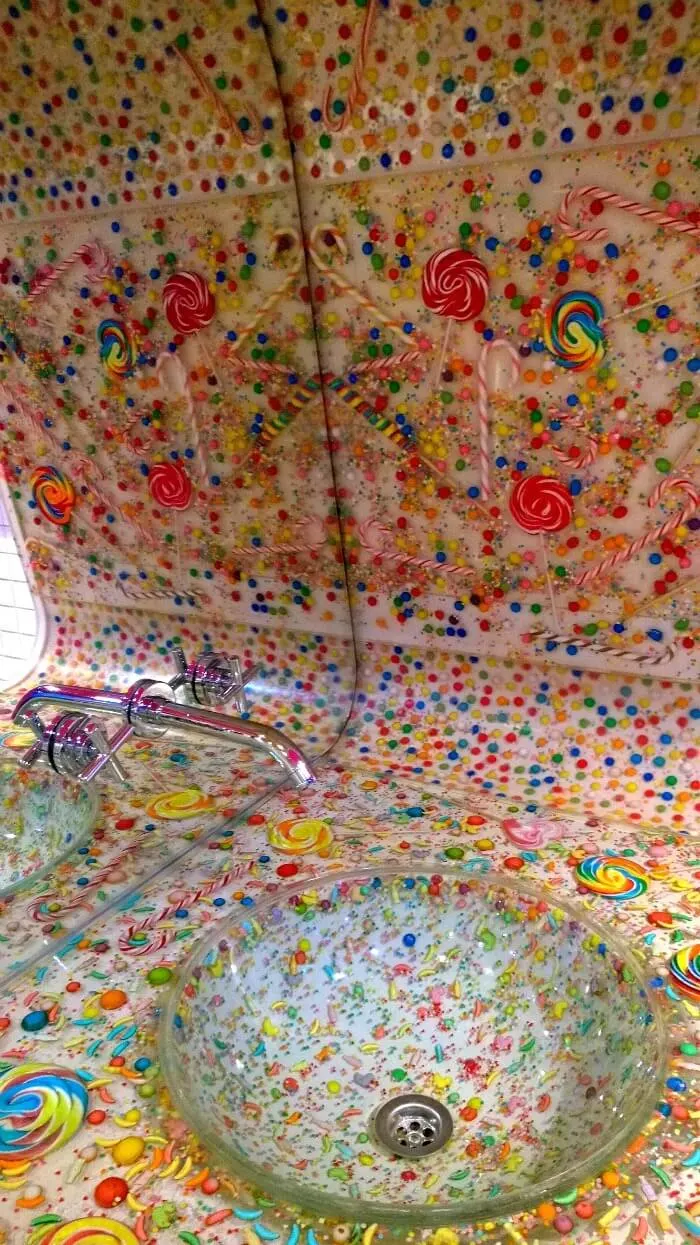 It took all my strength not to go back again the next day. And that means I've earned double portions next time I go in my eyes.
By the time I left I definitely felt like a bit of a Veruca Salt, although I did debate the extensive range of ice creams I spotted on the way out.
Could you stop at one sweet treat?
You'll find Sugar Candy Land at Paulay Ede utca 48, 1061 Hungary, and it's open until 10pm!
More ideas for Budapest for a weekend