People come to Nagarkot for the views of the Himalayas, including the epic Mount Everest. One of the main things to do in Nagarkot is to just relax, breathe the mountain air after the polluted fog of the city, and admire the panoramic views of the Kathmandu Valley.
Incredible Nagarkot views like this beauty…
---
This Nagarkot travel blog will help you plan your trip. You can find out where to stay, what to do in Nagarkot, and how to get there.
---
It's quite the adventure to get up there, the Nagarkot altitude is more than 2000m (7000ft) above sea level. It's also 28km from Kathmandu Airport, and another 4 on top from the centre of Kathmandu.
The journey is all part of the adventure in Nagarkot.
Places to visit in Nagarkot
You can see 8 of the 13 Himalayan ranges in Nepal from here. These include the Annapurna range, Manaslu Range, Ganesh Himal Range, Langtang range, Jugal Range, Rowaling Range, Mahalangur Range (Everest Range) and the Numbur Range.
---
Where is Nagarkot?
Nagarkot is right in the centre of Nepal, you can see it's position on the Nepal map here.
---
What to do in Nagarkot
1. Paragliding in Nagarkot
Paragliding in Nagarkot is apparently a 'thing', although I didn't actually see anyone else doing it, not like the paragliders that became like birds in the sky when I went to visit Pokhara in Nepal.
I didn't actually see anywhere offering it either so if you want to paraglide in Nagarkot, I'd recommend you book it beforehand.
2. Watch the Nagarkot sunrise
The Nagarkot sunrise is famous. You need to be carefully positioned to watch it from the best spot.
In season, my hotel the Hotel at the End of the Universe, offers sunrise trips to the best point which was apparently 20 minutes away. But in February, out of season, it was down to me to find the best spot.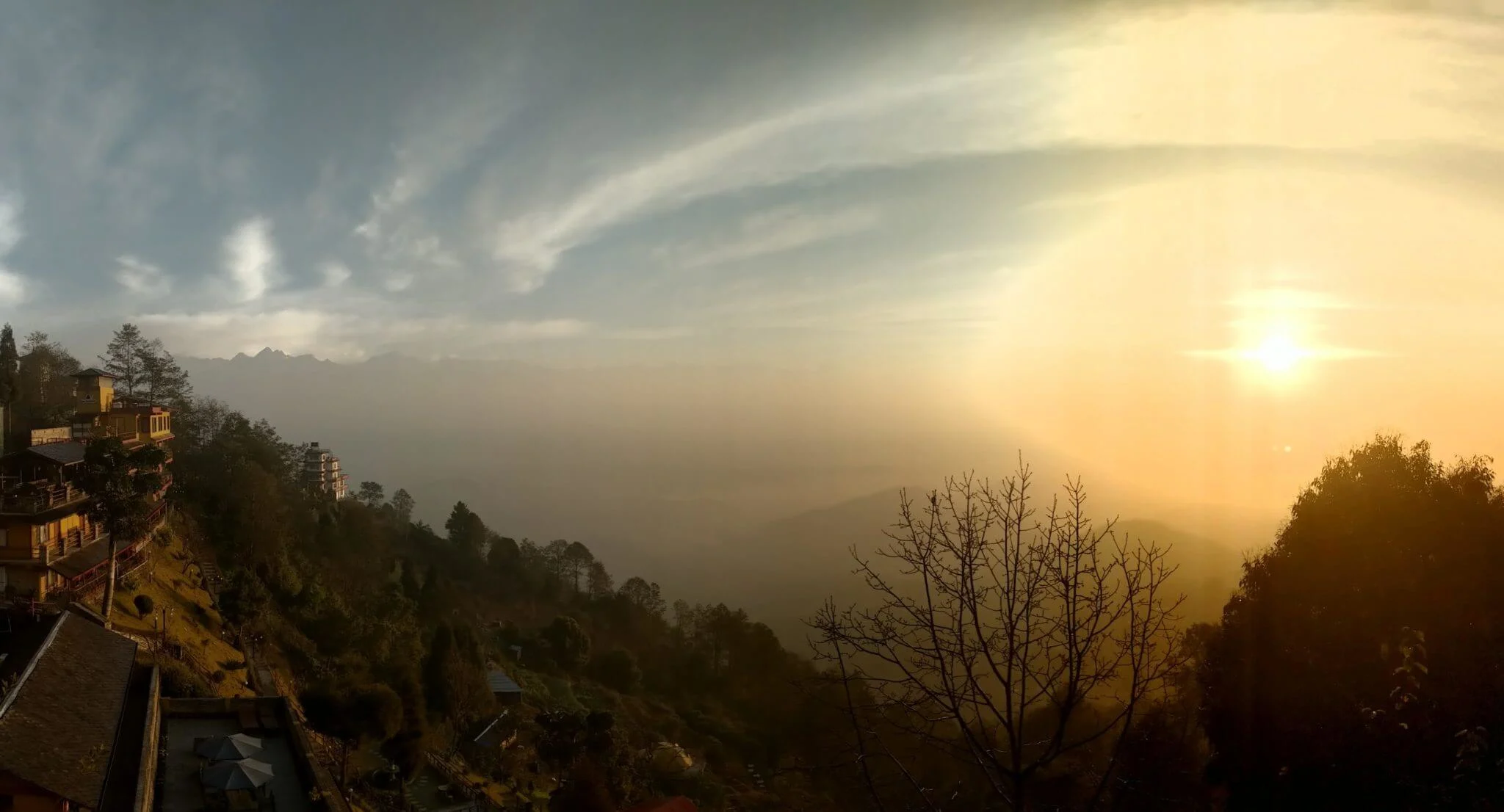 I knew which side of the mountain to be on, which in my 6:30am panic led me to the lush Country Villa. I just bolshed my way in there, and no one seemed to mind.
You could buy a drink to enjoy on the terrace, or just sit there – as I did.
3. Enjoy the Nagarkot hiking
Hiking is one of the main things to do in Nagarkot. If you don't fancy some OTT adventure then the Nagarkot Panoramic Hiking Trail is a great option. It's 14km long, and a simple hike taking in absolutely incredible natural views.
Check out the Nagarkot Panoramic Hiking Trail Map for more inspiration to choose the Nagarkot hike for you.
4. Go trekking in Nagarkot
I actually just had to look up the difference between hiking and trekking. You learn a new thing every day!
So trekking in Nagarkot is the more difficult of the two. Well, there are loads of Nagarkot treks you can do.
– Chisapani to Nagarkot Trek
Sundarijal Chisapani Nagarkot Trek is the most extensive trek, and takes 6 days. Experience the culture, mountain viewing, bird watching and a jungle walk in just 6-days. The route is full of beautiful streams, cool shades, tall trees, calm, peaceful, and tranquil atmosphere. The Chisapani to Nagarkot Trek begins at Sundarijal.
– Newari to Sankhu Trek
The Nagarkot hiking route begins from the ancient Newari town of Sankhu and stretches via the holy Sali River, pine forest, lush valley and paddy fields to the top of Nagarkot hill that lies at the staggering height of 2195m. You'll see women weaving traditional haku patasi dress, corn hanging from the roof and chillies left on road for drying purpose give the sense of pastoral setting.
The trail twists and turns through the pine forest to Nagarkot view tower, where you can see a glimpse of breathtaking sunset over Himalayas along with mountain views from Annapurna to Everest.
– Treks in Nagarkot
There are two examples of Nagarkot treks, trust me, there are loads more. The Everest view here is just unmatched.
5. Nagarkot View Point Tower
You can hike up to the Nagarkot View Point Tower in about an hour, and you'll be rewarded with 360 views of the incredible Himalayas. This would be a great spot to watch the sunrise from.
The Nagarkot view tower is one of the most popular tourist spots in Nagarkot. Lots of people wake up early to really enjoy the magnificence of the Himalayas. Expect unobstructed landscapes, rolling hills, thick pine forests and charming villages.
6. Go mountain biking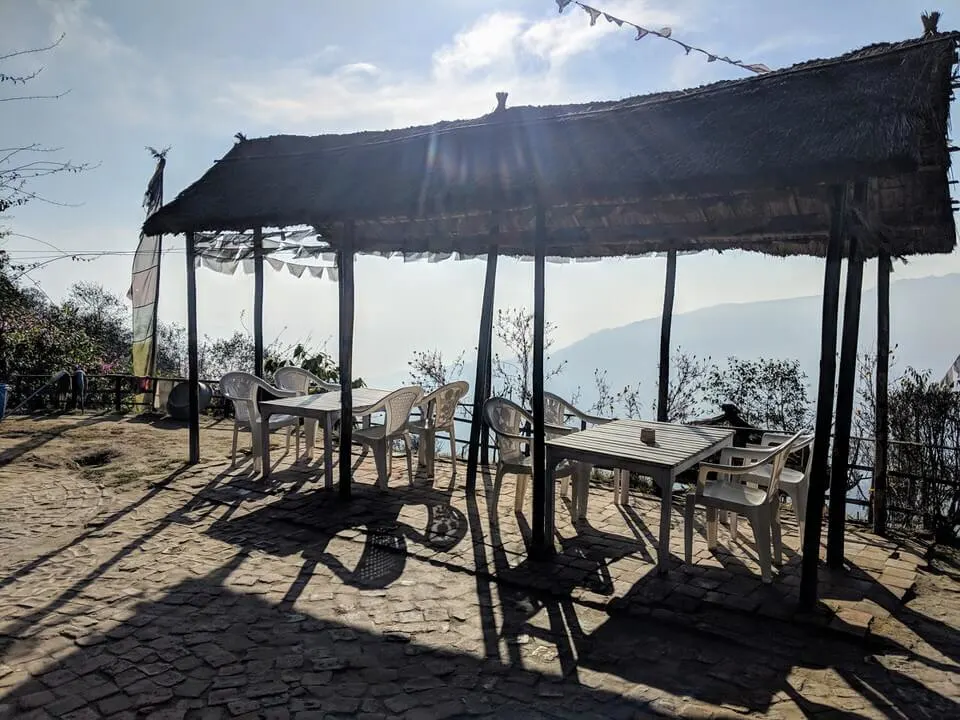 Mountain biking in Nagarkot would be awesome. The hills here are crazy. There's an incredible mountain biking route from Nagarkot all the way to Bhaktapur.
Enjoy a Himalayan biking adventure challenge with amazing views of the Himalayas. Blaze through the trails going uphill, downhill with villages, terraced farmlands and forests on the way before reaching Bhaktapur.
You can expect technical and narrow sections of trail, passages through villages and sweeping views of the Kathmandu Valley too. It's a beautiful ride combining challenging mountain biking with ancient culture and customs.
Nagarkot weather
Being at such high altitude the weather in Nagarkot is quite interchangeable. There might be quite a lot of mist in the morning, but it will pass and reveal the stunning views.
Here's a screenshot from weather.com to give you an idea of the temperature when you're there. When I was there in February it was hot and sunny in the day, and then blummin freezing at night.
Where to stay in Nagarkot
I stayed at the Hotel at the End of the Universe, which totally felt like that when we were trying to find it in the taxi. The USP of this place is the 360 views from the restaurant. Also, the food!
I stayed in a private room for $24 a night in February. I had a double bed, a desk and my own bathroom. The only problem was it was bladdy freezing in February when I was there. They did give me two duvets but I was too scared of the cold to even use the shower.
I heard one guy at breakfast saying he had a travel electric blanket. I mean, he knows the score.
Next time.
I'd definitely recommend the Hotel at the End of the Universe, especially in summer.
It's also a great place for food.
I had a tomato soup with cheesy garlic bread for dinner, and then eggs and a cheese toasty for breakfast. Both were exceptional, compared to what I'd had so far in Nepal.
Check out the latest prices at the Hotel at the End of the Universe on Booking.com.
Budget hotels in Nagarkot
Another great budget option would be the Hotel Valley View. This was perfectly located for the sunset Nagarkot is so famous for.
Best hotels in Nagarkot
If you want to go a bit further upmarket, then the Hotel Country Villa looked lush. I went for a wander on my first day (no one seemed to mind) and then to watch the sunrise on the second day too.
How to get to Nagarkot
I'd read all this about how you could get a bus to Nagarkot, but, I followed the instructions with no success. Here's what you actually need to do to get a bus to Nagarkot.
Tribhuvan Airport to Nagarkot
Walk out of the airport, and all the way down the exit street, about 5 minutes walk, until you reach the roundabout. Stay on the left. You'll see a little bus station. Right, you need to ask everyone to help you get a bus to Bhakaputer.
I tried, for an hour, with three different people helping me and failed miserably. Ended up having to walk back up to the airport and getting a taxi as I just couldn't find a bus.
I did get one easily on the way back to the airport from Nagarkot though. Go to the tourist bus park in Nagarkot, which is just at the bottom of the town. You'll see it because all the buses are there. Ask someone to help you find the bus to Bhakatupur. Keep asking until you know you're definitely on your way. I found that people will give you the wrong information when trying to help – that was the problem before.
Sit on it until they chuck you off in Bhakatupur. Then, again, ask around for the next bus to the airport. Luckily for me it was leaving just after I arrived. So I jumped on. I bought my suitcase on and then the bus assistant helped to find it a space.
Time and cost of the bus from Kathmandu Airport to Nagarkot
The bus took about 50 minutes to get to Bhakatupur, and then another hour to the airport. The bus cost 60 NPR to Bhakatupur, and then 50 to the airport.
Time and cost of a taxi from Kathmandu Airport to Nagarkot
You can pick up a fixed price taxi outside the airport arrivals door. From Kathmandu Airport to Nagarkot it's 2900 and then I gave a 10% tip. It took about 90 minutes to get there.
Time and cost of a taxi from Kathmandu city centre to Nagarkot
You can pick up a taxi in Thamel, which will cost a few more rupees as you're further away, or, you can get a bus to Bhakatupur. And then repeat the above. You can pick one up in Thamel on any street. There are taxis everywhere.
My recommendation to get from Kathmandu Airport to Nagarkot
I actually preferred getting down the mountain in the bus, rather than the taxi. My taxi driver kept using his phone, which makes me very nervous, and he made the journey up seem like some crazy slalom whereas the bus just chilled on the way down. And obviously, the bus is SO much cheaper. More interesting too.
If I did it again I'd bus to Bhakatupur, and then get a taxi to the airport. That journey seemed to take forever.
Tourism charge for visiting Nagarkot
Nagarkot is such a beautiful place the government have decided that you should have to pay to visit such beauty – 339 Nepalese Rupees, which works out as £2.50ish.
Make sure you have this ready in cash, although there are ATMs at the top of the mountain.
Best restaurants in Nagarkot
Berg House Cafe
I randomly wandered into this place because it looked like it would have the best sunset views and was very excited by the food options too.
This ended up being my favourite dining experience of my whole trip to Nepal – for setting, food and price. I had prawn crackers (freshly made and bladdy delicious), with hot sauce, and then a mahoosive plate of veggie fried rice. It was 4pm-ish and I hadn't had any lunch so I was ravenous and despite being surprised by the size of it when it arrived, I ate the lot.
Along with a ginger and lemon tea, which has become my new favourite drink.
READ MORE: What to Buy from Nepal
Hotel at the End of the Universe
I had breakfast and dinner here and they were genuinely two of the best meals of the entire trip to Nepal. Basic, but full of flavour and enjoyed in an absolutely incredible setting.
What to do in Nagarkot
I'd definitely recommend waking up early to really make the most of all the things to do in Nagarkot. Everything looks better at sunrise right?
And then you can spend the afternoon basking in the sun, as I did on both days.
To be honest, as I always am, the best thing to do in Nagarkot, after you've been hiking, is nothing at all. I met one guy who'd chosen to visit Nagarkot as he was writing a book and wanted some peace and quiet without too much of a distraction.
It's a wonderful, beautiful place that I'd absolutely 100% recommend visiting when you go to Nepal.
More on Nepal