There are many incredible experiences to have when visiting Budapest, from the mineral-rich thermal baths to open-air ruin bars. But you might be wondering, what souvenirs from your Budapest holiday can you take back home with you?
Wandering around Budapest, you'll no doubt notice the beautiful buildings and medieval character of the city. It's one of those places that feels like you're wandering around a fairytale, with castles, cobbled streets and caves. One of the things Budapest is most famous for is being a spa city, where most people like to take a dip in the thermal spring baths.
But while these are great experiences, and there are so many more great things to do in Budapest, they don't exactly make for easy souvenirs from Budapest to take back home. You can't exactly pocket the spa water or take some of the Art Nouveau architecture on the plane for example. However, one of my favourite things about Budapest is that it's so iconic for so many different things, which you can see if you wander around the stalls, markets and shops.
From delicacies to crafts and clothing, Budapest has endless choices when it comes to souvenirs or gifts as a memento of your holiday. It's so rich in culture, that you'll want to fill your suitcase with all of the products produced and sold here in the Hungarian capital.
But if you are limited on space in your luggage, I've narrowed it down in this list of the best souvenirs to buy on your trip. It's also a handy shopping list if you're only in Budapest for a short time (you could also check out a very useful weekend itinerary for Budapest to make the most of your trip).
The best souvenirs from Budapest
Make souvenir shopping easy on your trip to Budapest, with this list encompassing local liqueurs, crafts and delicacies.
1. Jewellery or antiques from the Ecseri Flea Market
The Ecseri Flea Market is one of the best places to dig up some treasure, whether that's furniture, vintage musical instruments, lamps and artwork. But if you're planning to take something back home, you need to think practically and go for something small.
Fortunately, the Ecseri Flea Market is like a treasure trove for small antiques and jewellery, such as watches, necklaces, brooches etc. These are great souvenirs from Budapest that you won't find elsewhere.
2. Paprika from Budapest
Yes, you can find this back home, but it won't be the same as buying it from Hungary, where paprika is the national spice. If you eat out a lot, you'll find many dishes seasoned with paprika, such as Paprikás Criske (Chicken Paprikash), halászlé (fisherman's soup) and Lecsó (Hungarian pepper stew). And if you want to take some back as a souvenir, it's easy to find at Budapest Market Hall or from many other shops too!
3. Hungarian wine from Budapest
One of the best souvenirs from Budapest for wine lovers is Tokaji, a white wine made in Hungary. The Tokaji region that produces it is located on the outskirts of Budapest, so it's widely drunk in the city too. Apparently, even famous figures like King Louis XIV and Catherine the Great indulge in Tokaji.
You can normally find Tokaji wine across Budapest, especially in the Central Market; however, if you forget, you can always pick it up from the souvenir shops at the airport.
4. Confectionery and sweets
If you've got a sweet tooth, then you need to try all the different kinds of confectionery in Budapest. Some of the most popular include the Dobos torta, Kürtős kalács (chimney cakes) and Szaloncukor. Some of these aren't that transportable, meaning you may find your suitcase full of cream upon opening it at home.
However, there are lots of artisan chocolates and sweets available at the Central Market that you can take home easily as souvenirs from Budapest. Szamos Marzipan, a renowned Hungarian sweet made from almonds and sugar, is one of the best examples here.
5. Porcelain from Budapest
Porcelain is quite a popular souvenir from Budapest, where you can find lots of different items such as tea cups and saucers to dolls. Hungary wasn't exactly the first country to manufacture porcelain, but it has been doing so for centuries, which is why the white, translucent kind can be found in many stores.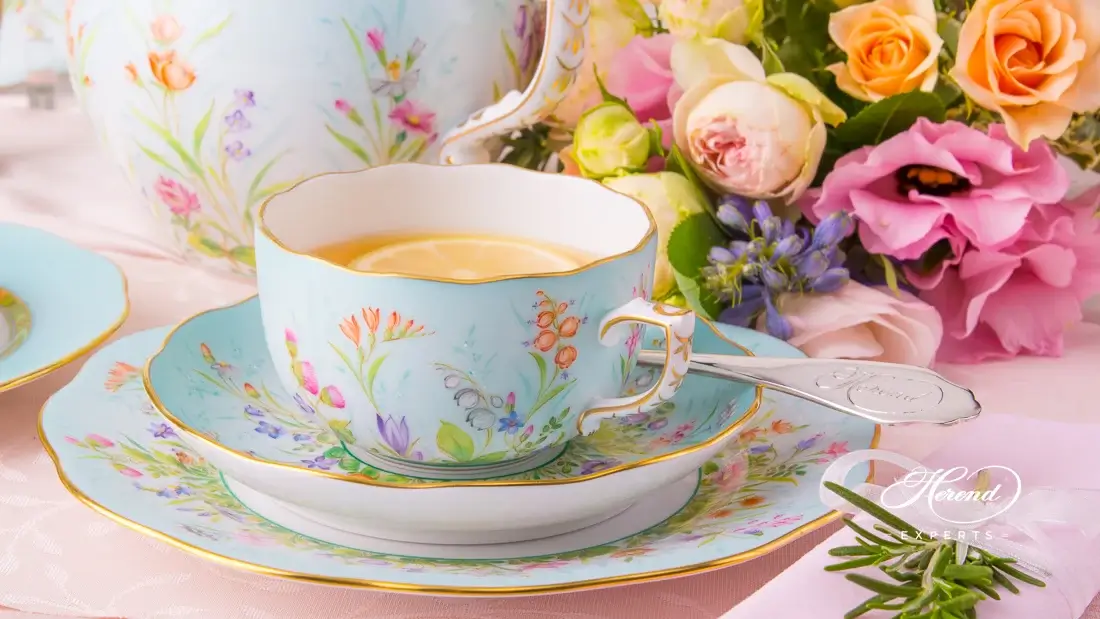 Herend Porcelain Manufactory is world famous – even Queen Victoria, King Charles and Princess Diana are believed to have loved their porcelain designs. If it's good enough for royalty, it's good enough for a souvenir from your trip.
6. Ajka Crystal from Budapest
Ajka crystals are another stunning material manufactured in Hungary, in the region of Ajka – about an hour and a half's drive from Budapest. You can see it all around Budapest though, in tableware, vases, bowls, glass art and more. Each item goes through a detailed process, from meticulous planning and design to being hand-blown from molten glass into a wooden form, cooling, quality control, and final hand etching. It's not always cheap, but it's definitely a unique and stunning souvenir from Budapest.
The glasses pictured above are examples of Ajka Crystal that you can find at Ajka Crystal Brand Store in Budapest, located a 15-minute walk from St. Stephen's Basilica.
7. Painted eggs from Budapest
If you're visiting Budapest during the Easter period, you could pick up a painted egg as a souvenir. I'm not talking about a painted egg like the kind your child might bring home from school. These are beautifully decorated using wax or needle scratching to form flower motifs that are prominent in Hungarian designs. The eggs are also blown out so you won't get a rotting smell in a few weeks.
8. Hungarian dolls from Budapest
It might not be a go-to souvenir, but Hungarian dolls are world-famous and even make great collectables. They're typically hand-made and sporting traditional Hungarian costumes. They combine lots of things that Budapest, and Hungary are known for, such as porcelain faces, embroidered dresses, and local craftwork. One of the best places in Budapest to find Hungarian dolls is at the Handicraft Store on Vaci Street, or at one of the city's markets.
9. Pálinka from Budapest
Pálinka is a type of fruit brandy from Hungary, which is full of flavour. I read somewhere it's been described as a slap in the face, due to the intense cherry notes and strong alcoholic content (a bit like a burn). But don't let it put you off trying it if you're curious; it's not distasteful – just strong! You can have a taste at bars and restaurants around Budapest and even buy a bottle of Pálinka as a souvenir.
10. Unicum from Budapest
If you want an alternative alcoholic beverage to Pálinka, Unicum is another local liqueur to take home from Budapest. It's a Hungarian herbal liqueur used as a digestif that some compare to Jägermister, although it's not as in your face!
Unicum has notes of eucalyptus and pine but comes out a dark thick, almost syrupy type of liquid. It's unique and local to the country, so makes for a great souvenir idea if you fancy savouring the tastes of Budapest.
11. Hungarian secret box
These are really cute Hungarian souvenir ideas if you're looking for a gift from Budapest for someone back home. They appear like simple, hand-carved wooden jewellery boxes, but they're actually a puzzle where you have to figure out how to get to the key to open it. Usually the owner of the shop or stall will give you a demo first, sliding panels out and turning different parts.
Hungarian secret boxes come in all colours and sizes and are pretty easy to pick up anywhere in Budapest. You might also be able to get it engraved too.
12. Wooden items from Budapest
Speaking of wooden secret boxes, as you wander around the many stalls and marketplaces in Budapest, you'll probably come across lots of other wooden trinkets and items. Wood making is one of Hungary's national handicrafts, which is clear in the stunning carving and ornate details.
The Central Market in Budapest is once again a great spot to find wooden items for souvenirs, but you'll likely find them everywhere else too!
13. Embroidered tablecloths
Hungarians are the masters of embroidery, which you can see in their curtains, tablecloths, clothes etc. It's one of the country's traditional folk arts and crafts, traced back to the 11th century when there were weaving and embroidery schools in Hungary.
Different colours used in embroidery represent different meanings, and each region has its own style. However, they all have intricate beautiful designs, which is why many tourists want to take a piece back home.
14. Stühmer chocolate
Stühmer chocolate dates back to 1868, where German chocolatier Stühmer launched a range of chocolates in Hungary. There are seven shops across the country, including one in Budapest (although you'll find them sold in lots of different shops selling confectionery). You can choose from all sorts of flavours from pralines, to cherry liqueurs to plum cubes!
15. Hungarian sausage
If you're a meat-eater, Hungarian sausages may be a staple during your Budapest trip. They're versatile, and can be cooked in lots of different ways. They're made from ground pork, lamb or beef, and are usually seasoned with garlic and other Hungarian staples such as paprika. If you want the spicey kind, these include cayenne pepper too.
Húsimádó is one of the most popular places to pick up Hungarian sausages if you're looking for a meaty souvenir from Budapest. Húsimádó literally translates to 'meat-lover', which is pretty self-explanatory.
16. Rubik's cube from Budapest
Not everyone knows this, but the Rubik's cube was invented in Hungary by none other than Rubik (back then, it was called the 'magic cube'). It took a month to unscramble at first, but now lots of people have tried it – with some being hugely impressive at working it out.
If you fancy practising your skills, grab yourself a Rubik's cube from Budapest in the land where it first came into existence. It will also make for a great way to pass time on the plane home!
17. Hungarian clothes
Hungarian clothing is really beautiful; full of detail, colour and traditional patterns. It's the type of clothing that would cost a fortune in the UK or elsewhere, given that it's usually high-quality too. You might not necessarily buy a full costume, but you could opt for a blouse, shirt or skirt instead?
18. A zither from Budapest
One of the things Hungary is known for is its folk music. A zither is one of the traditional music instruments used in creating the soothing sounds of Hungarian music. There are quite a few musicians that play the zither around Budapest dressed in typical Hungarian costumes entertaining tourists in the city.
Some zithers are definitely too large to take back on a plane (unless you're a hardcore fan of the instrument and want to pay for special items in the hold). However, you can find smaller versions around Budapest if you do want to give it a go.
19. Blue-dye cloth
Blue-dye cloth is another part of Hungary's creative history that is still made today. In Budapest, you can visit the former Goldberger factory, which is now a museum, that was famous for blue-dye cloth-making. Sadly, Budapest-born Leo Goldberger (the factory's director) tragically passed during WWII, however his historical legacy remains today.
You can buy a piece of Budapest's history by taking blue-dye cloth home as a souvenir from your trip. Whether you fancy napkins, tablecloths or placemats – or if you have the space in your luggage – a quilt, there's plenty of the design around. Head to the trendy square Vörösmarty Tér (pictured above) when they have a fair to start off with.
Which souvenir should you buy from Budapest?
As the list shows, you're really spoiled for choice on souvenir ideas from Budapest. There are alcoholic treats, sweet mementoes and a wide range of craft and artisanal works. You'll also be able to find lots of gift ideas for different ages and interests, or restock your wardrobe and decorate your home. Just a word of advice – leave room in your bag and your budget so you can get your fill of Budapest souvenirs to take home.
Quicklist of the best souvenirs to buy from Budapest
Jewellery or antiques from the Ecseri Flea Market
Paprika
Hungarian wine
Confectionary and sweets
Porcelain
Ajka Crystal
Painted eggs
Hungarian dolls
Pálinka
Unicum
Hungarian secret box
Wooden items
Embroidered tablecloths
Stühmer chocolates
Hungarian sausage
Hungarian clothes
Zither
Blue-dye cloth
What is Budapest most famous for?
Budapest is the capital of Hungary, and is most famous for its architecture, history and culture. It's home to several UNESCO World Heritage Sites, including the Buda Castle Quarter, Andrássy Avenue, and the iconic Hungarian Parliament Building. Budapest is also known for its thermal baths, such as the Széchenyi Thermal Bath and Gellért Baths, which are popular tourist attractions, as well as the unique 'ruin bars'.
What to buy someone in Hungary?
When shopping in Hungary, consider buying traditional Hungarian gifts such as Paprika, which is a staple in Hungarian cuisine, or a bottle of Tokaji, a famous sweet wine from the region. Handcrafted porcelain from the Herend or Zsolnay Porcelain Manufactories also make for a unique gift. Other popular items include traditional Hungarian embroidery, Rubik's Cube (invented by a Hungarian), and "Szamos Marzipan," a renowned Hungarian sweet. Find more ideas listed above, which outlines the best souvenirs from Budapest.
What is cheaper in Budapest?
Compared to many other European cities, Budapest is quite affordable. Dining, especially local cuisine, can be cheaper in Budapest. Public transportation, cultural activities like museum entries, and experiences like thermal baths are also relatively inexpensive. Traditional Hungarian products like Paprika and local wines can be bought at reasonable prices. Additionally, accommodations ranging from budget hostels to more luxurious hotels often offer good value for money.
Is Budapest good for shopping?
Budapest is an excellent city for shopping, with so many places to browse and wander around. You could visit shopping centres like WestEnd City Centre and Arena Plaza, or opt for local markets such as the Great Market Hall. These places offer a variety of products from international brands to local crafts and traditional Hungarian products. The city also has lots of antique shops and bookstores. The Ecseri Flea Market, for example, is a popular spot for those looking for vintage items and antiques.
---