Only have time for one day in Key West? Whether you're on a Key West day trip from Miami, or travelling round the Keys, here's what you just can't miss!
The Florida Keys are made up of 1700 little islands, known as keys from the Spanish 'cayo', which means small island. The most southwesterly one, that's inhabited, is Key West.
You can have a great day trip to Key West from Miami, and a brilliant day in Key West if you're on a passing cruise. I want to show you what to do in Key West to really make the most out of it when you get there.
It's here in Key West that a strange mix of party people and old folk live in harmony among the colourful houses, by the beautiful seas and in among the incredible ghostly and literary history.
I was in Key West for two nights, enjoying the sunshine in a fresh, but warm January. Key West is more Caribbean-like than America, it's only 90 miles from Cuba, although with the portion sizes, tip culture and US flags everywhere, there was no doubt I was still in the States.
I had an amazing day in Key West, and here's how you can do the same…
How to Have an Awesome Day in Key West
Follow my top tips on how to have a great Key West day out and really make the most of your Key West day trip. Here's everything you need to know about seeing Key West in a day.
1. Stay at the Ibis Bay Resort
Waking up slightly jetlagged at 5am at the Ibis Bay Resort was a delight. There was a big Varadero poster on the wall – reminiscent of my mum and I's visit to Cuba back in September – I had two double beds, cool bright furniture and a waterfront veranda which at the time was covered in herons.
I sat out the back to watch the stunning sunrise – a perfect start to my one day in Key West.
There was also a stunning pool at the Ibis Bay Resort and hammocks everywhere. Loved it!
If you have time to spend a night or two here, as well as 1 day in Key West, then this is the hotel I'd recommend, for sure. You can find more great places to stay in the Florida Keys here.
2. Eat breakfast at Blue Heaven
Wondering what to do in Key West for a day? EAT!
Blue Heaven is the most popular place in Key West to have breakfast, so of course, we had to go there for a test run. It's advertised as 'breakfast in the shade', which sadly wasn't a USP on the unusually chilly day we were there. I chose my seat in the line of sun instead.
I went for the special Key West shrimp omelette, with the super yum banana bread on the side.
Five stars!
As we were leaving a dude with a guitar had set up, serenading the Monday morning breakfast lovers with his chords. The Bloody Mary here is apparently 'a thing to have' although I stuck with the coffee and orange juice.
The Blue Heaven Key Lime Pie was my first taste of six more over the next five days to come. Eventually not my favourite, but definitely the most instagrammable, which of course is just as important. See pic above!
If you only have one day in Key West but don't have time to plan it, how about signing up for this awesome Key West day tour? Includes the Overseas Highway, Hemingway House and dolphin watching too!
3. Visit Ernest Hemingway's House
The house where Ernest Hemingway spent more than 10 years of his life, with two of his four wives, was located just across the street from Blue Heaven.
As I wandered around on the guided tour I saw the six-toed cats (there are 42 of them, it's a luck thing, comes from Maritime superstition). He's a fascinating person, I keep meaning to read more about him actually, and to finish his books.
I've been to Hemingway's other house in Cuba too, which is where he went after he lived here.
I saw his gardens, his pool (the one his wife Pauline Pfeiffer bought and spent £22k on, when his house was only £8k), and wandered round his studio. The lighthouse over the road apparently guided him home when he'd been on the sauce, useful.
The Hemingway House is now the number two place to get married in Florida, after DisneyWorld, and is also now worth hundreds of thousands, so his family can thank him for making the investment.
He was a very important member of the community here and not only kept the local bars in business, but also used to judge boxing matches over at Blue Heaven.
Make sure to join a tour at the Hemingway House to learn more. If you're really interested in Hemingway history, book onto this Hemingway tour with a food tour included too.
Interesting there are more super famous legends who've called the Florida Keys home – you can find out more in my facts about the Florida Keys post here.
4. Walk around aimlessly
The houses, bars and hotels of Key West are so colourful – all wooden panels and pastel colours. Wandering around Key West I found my future Florida Keys home, if ever I was to live there, this one with this flamingo-themed offering.
How cool is that!
I'd love to sit on the veranda with a cocktail or two, people watching as people go by.
It's easy to do your own Key West walking tour here – you can't really get lost!
From here you can walk down to the US' southern most point – and walked out to the pier. This is where you'll find the number one Key West point of interest – this landmark.
It was here I saw the jet skiers and decided I couldn't possibly move on with life without having a go myself.
---
Key West day out
You can see some of the great things to do on a day out in Key West on my Florida Keys video – enjoy!
Please subscribe to my YouTube channel for more videos too.
---
5. Go jet skiing in the Atlantic
"Ride it like you stole it" – our jet ski instructor during 'free time'
Jet skiing in Key West was awesome.
The water was blummin cold in January (just to be British and moan about the weather) but it was also an unforgettable afternoon in Key West.
It's the third time I've been jet skiing – after trying it in Croatia and Australia – and so I was feeling pretty confident. I had my hand clutched on that accelerator as hard as it would go and managed to get up to 45mph with the wind lashing and the waves pumping. I bounced my way round that Atlantic Ocean. What a buzz!
Book your jetski trip in Key West in advance to save money and time!
Jet skiing round Key West was a great way to see more of the coast, be out on the water and to learn more about the islands. If you can fit a jet skiing trip into your day out in Key West, definitely do. Make sure to book your jet skiing in Key West in advance if you've only got one day though, they book up!
6. Drink craft beers at a local bar
After a tough afternoon of rushing about on the waters of Key West I needed some refreshment. Cue the bar opposite our bus stop.
The dude in there gave us a beer tasting and really listened to us when we told him what we liked in a beer, I appreciate that.
From there we could keep an eye on the free bus back to the Ibis Bay Resort and dashed over to ride it back again when we saw it approaching. There's no need to drive around when you're in Key West, it's time to cut loose and be free!
7. Go to The Stoned Crab for dinner
The food at the Stoned Crab – the Ibis Bay Resort onsite restaurant – was just incredible, my photos don't do it justice.
For starts we had seafood towers – three step cake platters filled with conch, stoned crab, crab, lobster, conch fritters, mahi mahi… all sorts.
And then just because I'd seen 'bacon' written we also had some of that wrapped round crab stuffed prawns, just on the side, just because we could.
After that I was feeling like a stuffed crab myself, but still had the main I'd ordered on its way. A Fisherman's Steamer – crab, shrimp and lobster all steamed together in a pot. Super healthy I thought.
And then dessert, key lime pie, again.
There was so much food, and the quality of the seafood was just incredible compared to what we have in England – The Stoned Crab in Key West is definitely a 5/5 from me!
MORE: 15 Best Restaurants in the Florida Keys
8. Watch the sunset at Mallory Square
If you only have a day trip to Key West, I'd definitely recommend you check out the sunset celebration at Mallory Square. The sunsets in Key West are stunning and you need to see one at least once in your life.
The Old Town Trolley will take you right there. Get to Mallory Square for two hours before sunset to watch the street performers, shop at the craft market and maybe pick up some post-dinner snacks from the food stalls.
Then settle in to watch the vibrant sun go down.
9. Join a Ghost Tour
One of my friends told me how she'd seen a ghost in Key West. Genuinely seen a ghost. So, when the opportunity to go on a ghost tour with Key West Ghost Hunt came to me, I took it with an open mind and an open heart.
I'm sorry to say that by the end they'd closed up again though. I wanted to believe, I really did.
We walked for three hours hearing tales of spooky goings on in the Keys. I saw no evidence, despite testing everything I saw with the ghost hunting device they gave us.
It was an interesting tour though, and I learned a lot about the history, think I was just disappointed I wasn't going to have any ghoulie stories to take home. I wanted to find Casper.
Even though there was no ghostly sightings from me I'd still recommend the Key West ghost tour. It was a great way to walk the streets with purpose, and a good thing to do before the bars opened and to walk off dinner. Add this into your day out in Key West itinerary for sure.
You could also join a haunted pub crawl in Key West, to easily combine numbers 9 and 10. Great for if you're travelling solo and want to hit the Key West bars with some ready made friends.
---
READ MORE: If you're looking for a 48-hour guide to Key West, check out this itinerary from hikebiketravel.com.
---
10. Bar crawl Key West
Obviously you're feeling a bit lucid from the must-try cocktails at the Stoned Crab, so now's the time to really work on that buzz.
The bar life in Key West is awesome, it's why it's a popular place for Spring Break and why people come down here from Miami. In Key West there's always something going on and endless bars with it going on in. Unfortunately one of the crew I was with didn't have their ID which limited things slightly. You get asked here all the time, I'm 31 and had to get it out at every opportunity.
I watched a live band at a bar that would let us in, saw the Irish bars that seem to be so standard for the USA, and stood frozen in the air conditioning that's on super high.
Remember your essential Key West nightlife kit when you go – something warm and your ID. Why do Americans turn the air con up so high?
11. Go dolphin watching
If you're wondering what to do in Key West for a day, how about checking out some of the tours in Key West you can do?
This highly rated dolphin watching and snorkelling tour gives you a great opportunity to see the amazing dolphins out in the wild. You can watch bottlenose dolphins in their natural habitat on this dolphin-watching tour from Key West.
You'll also cruise to the backcountry waters for some snorkelling fun of your own and admire marine life there too. Get off the catamaran to look for sea flora such as sea fans, sea rods, sponges and isolated coral formations.
12. Take a food tour on your day in Key West
There's so much good food to try in Key West, I'd definitely recommend a food tour to really make the most of it. This Old Town secret food tour takes you away from the tourist traps to see you the real city. Join and you'll take a leisurely walk and explore the history, architecture, and cuisine Key West, with a knowledgeable tour guide.
"Enjoy tropical soups, mouth-watering appetizers, gourmet tacos, exclusive island sweet treats and lots more. Plus there's our amazing Secret Dish that you can only find about it on the day!"

– OLD TOWN SECRET FOOD TOUR
Your day in Key West
Hope you've enjoyed this itinerary for a great day out in Key West.
Key West is a great place to visit. It's a fun destination alone, but when you consider that Key West is only a three and a half-hour drive from Miami, a short plane ride to the Tortugas National Park (read about that on point number 3 here) and surrounded by other islands to explore, it's even more interesting.
Some fun facts about Key West
Key West is located just at the end of the Overseas Highway, a 127-mile stretch of US Route 1 running from Miami through the Florida Keys and down to this most southernly point of the USA. Click the link above to see my itinerary for an awesome road trip to get here, if you haven't already. Driving to Key West is one of the best road trips in the USA.
Key West is the final stop on a Florida road trip, or an epic New York to Miami road trip.
Life is super laid back in Key West. In fact, some of the Key West residents don't even consider themselves part of the US. In April 1982 they declared independence and if you arrive into the airport you'll see a large sign welcoming travellers to the 'Conch Republic'.
Getting around Key West is easy – it's only 2 miles wide by 4.5 miles long so it's easy to walk around, in fact, much easier, and encouraged.
There's a long history here, one filled with pirates, shipwreckers, smugglers, writers, artists, fishermen and creatives. All sorts are welcome here and it's one of the most sought after places to live in America.
Follow this itinerary for a perfect day in Key West. And don't forget to go to the beaches either!
FAQs about day trips to Key West
1. How to do a Key West day trip from Miami & Fort Lauderdale?
If you want to do a day trip to Key West from Miami you have a few options. Firstly, you can drive from Miami to Key West, as set out in my road trip guide – although you'll need to get up early to really make the most of it.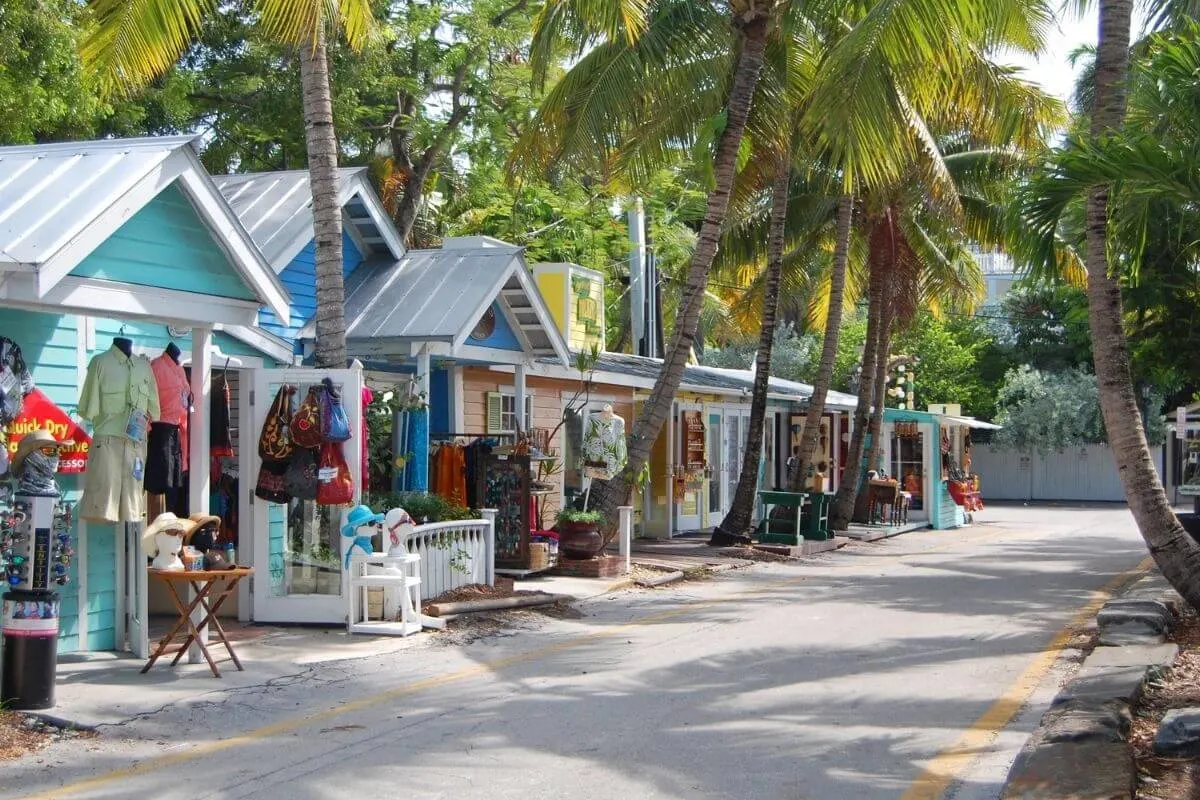 Secondly, you can join one of the many tours that will take you there, give you a few hours to wander around, and then take you back again. You can find details of all the day trips to Key West here.
You could just book a transfer by motorcoach to and from Key West and Miami. Prices start at around £40. Click the link to see the listing on GetYourGuide.
Drive over 43 bridges and 31 islands to America's "Caribbean Islands"
Explore the laid-back city of Key West at your own pace
Hang out in chilled cafés and restaurants
Visit the former home of Ernest Hemingway
Watch the spectacles of Ripley's Believe It Or Not
Take a ride in a glass-bottom boat
Hop-on and off the sightseeing trolley
Travel comfortably in an air conditioned double decker coach bus
Or, if you want to do a day trip to Key West from Fort Lauderdale, there's a day trip you can book with activity options. Click that link to check prices – you'll have 6 hours on Key West to pack in as much fun as possible.
2. How to travel to Key West?
There are a lot of travel options when going to Key West. There's an airport and plenty of water based options too. Then of course, there are car rentals too. Each transport option is a unique experience and shows different sides of Key West.
3. Where are the best places to stay in Key West?
If you're looking for the best places to stay in Key West you can choose between airbnbs, hotels, hostels, inns, guesthouses, cottages, and even RVs. Options are scattered around the island so it's up to you to decide whether you want it near the streets or the beach.
Some of the best places to stay in Key West worth noting are NYAH Key West, Hilton Garden Inn Key West, Truman Hotel, Fairfield Inn & Suites by Marriott, Silver Palms Inn and The Palms Hotel. You can see more of the best places to stay in the Florida Keys here.
4. Which places to visit in Key West?
After spending time on the beach, make time also to visit some other places in Key West such as Dry Tortugas National Park, The Ernest Hemingway Home and Museum, Key West Butterfly and Nature Conservatory, Mallory Square, Duval Street, Harry S. Truman Little White House, Southernmost Point, Key West Lighthouse and Keeper's Quarters Museum, The Overseas Highway and the U.S. Coast Guard Cutter Ingham Maritime Museum.
5. How to spend a day in Key West?
Everything that you can enjoy to spend an great day in Key West is revealed above. And yes, you can first all the great things in one day! So you better check what's in store for you on the article above.
6. How to plan for a Key West vacation?
If you plan to take a road trip to Florida, always check your car and weather updates to be ready for the unexpected. You're going to a prominent beach island so pack light and bring sunscreen.
7. How do I do a day trip to Key West?
There are quite a few companies offering day trips to Key West from Miami, here are the links…
– Miami: Day Trip to Key West with Optional Activities
Hop on an air-conditioned bus from Miami Beach. See 31 Caribbean Islands while being driven through the Florida Keys. Spend 6 hours exploring the Famous Key West – from £50.
– From Miami: Key West Tour with Water Sports Activities
Discover the southernmost point of Florida on this full-day tour from Miami Beach. Travel across the Overseas Highway 1 past Key Largo and on to Key West. Explore the city where Hemingway once lived, and see his favourite bar and former house.
– Fort Lauderdale/Sunny Isles: Day Trip to Key West+Activities
Hop on an air-conditioned bus from Sunny Isles. See 31 Caribbean Islands while being driven through the Florida Keys. Spend 6 hours exploring the Famous Key West.
– Miami: Key West Day Trip & Snorkeling with Pickup Option
Discover Key West during a day trip from Miami with hotel pick-up from select hotels included. Enjoy a snorkeling tour in the warm tropical waters then explore the village of Key West on your own.
You can totally do Key West in a day, but I guarantee, you'll want to come back for longer!
---
PIN THIS DAY TRIP TO KEY WEST FOR LATER