There are some places you have to stop on a Florida road trip. Let me show you the best places in Florida to add to your road trip itinerary…
This Florida road trip itinerary starts in Destin in North Florida and will take you east across the state, down, to the west, and then back down again to Miami. You'll cover a lot of ground with this Florida road trip itinerary.
There's a lot to see on a Florida road trip though, so if you've only got a week in Florida, or even two, you need to be selective. I've been to Florida many times, and can totally help with picking the cream of the crop so you have the best road trip in Florida possible.
Doing this road trip to Florida was brilliant. I got to see so much of the state. Before I planned my Florida road trip I only had a vague knowledge of some of the stops, while others I had none! That's one of the best parts about going on a Florida road trip like this, you get to try things you wouldn't normally.
So apart from a few incidents with our rented car, which I'll go into later, we had fun our road trips in Florida and I want to show you how to do the same.
Our Florida road trip stops
This is our map of Florida road trip stops.
Destin > Panama City Beach > Amelia Island > Daytona Beach > Orlando > Cape Canaveral > Tampa > Anna Maria Island > Sarasota > Hobe Sound > Miami
If you get to Miami and decide you want to keep on going, then check out my Miami to Key West road trip itinerary to add on at the end. It really is a stunning drive!
According to Google Maps our Florida road trip is 1045 miles and 17 hours 34 minutes in total, direct. Obviously we took longer than that, thanks to the scenic routes and the wrong turns. But that's all part of the Florida road trip adventure, isn't it?
So from my first hand experience, here's why I think you should go to each stop on this Florida road trip, and what you should do there.
Do you need a rental car for your road trip? Check out the award-winning comparison site Discover Cars for the BEST DEALS the world over. Book early for the best price!
1. Destin on the Emerald Coast
I LOVE the Emerald Coast, and Destin is at its heart. I was lucky enough to go here for a week for work. Before that I'd never heard of it, but after my week on the Emerald Coast I'm their number one ambassador – loved it!
The beaches are amazing, it's super chill, I love the arty vibe along the 30A and the seafood restaurants on the Emerald Coast were just amazing. I'd absolutely recommend staying around hereto start your road trip in Florida.
You can read more on how to plan an Emerald Coast road trip and why visit the Emerald Coast here.
ACCOMMODATION ON THE EMERALD COAST
I stayed at the Henderson Park Inn. Book a few nights here, the beach is amazing, trust me. Check out my review video on YouTube here.
It's not really that far from the Henderson Park Inn, but I stayed at the Azure Condos for the next few nights. I had a huge condo all to myself. Either of these hotel choices will be great for a few nights on the Emerald Coast!
---
2. Panama City Beach
Next up on our places to stop on a road trip to Florida list: Panama City Beach. The PCB as it's known is popular amoung young Americans for spring break, and for the endless nightlife, but by day it's a stunning beach for you to relax on.
Thanks to the students that come here so often there's also a great food scene, and lots of interesting and unique things to do. Here are some top tips on how to spend two days on Panama City Beach, which is the amount of time I'd recommend you spend here on your Florida road trip, if you can.
ACCOMMODATION ON PANAMA CITY BEACH
I stayed in a HUGE apartment at the Majestic Beach Resort. It had three rooms, each with a bathroom, a huge lounge and kitchen and a cool balcony looking out over the sea. Condos are a big thing here and Americans will use them for summer and then rent them out the rest of the time – just like AirBnB but through an agent there.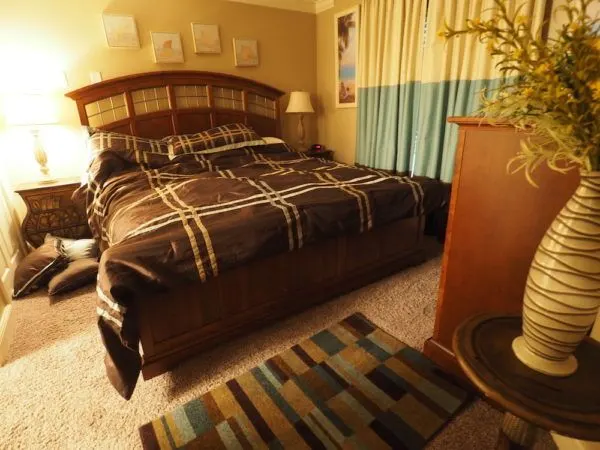 The views of Panama City Beach from my balcony were great, I was near all the shops and restaurants of PCB, and I had a wonderful place to retreat back to after a tough day sightseeing. If you've got the money, I can definitely recommend.
---
3. Beaches of Amelia Island
Amelia Island is definitely the next place I want to go on my Florida wishlist. You can easily make it part of your road trip in Florida with a little detour from Jacksonville.
With promises of uncrowded beaches, beautiful nature, wellness festivals and amazing paddleboarding possibilities, it sounds like my dream Florida destination. Even though I haven't been to this barrier island, I wanted to add it to this list of stops on a Florida road trip.
ACCOMMODATION ON AMELIA ISLAND
The Seaside Amelia Inn comes highly recommended, with an approval rating of 8+/10 on Booking.com.
"The Seaside Amelia Inn is a 46-room boutique hotel located directly on the beach in Amelia Island, Florida. Features in include a free hot breakfast, a rooftop sundeck, and outdoor pool. Historic Downtown Fernandina Beach is 1.9 miles away."
---
4. Neeeooowmmmm at Daytona
Daytona is most famous for its beach and race track, which at one time were one. Daytona is where the world land speeds have been hotly competed since 1959. Now it's the biggest race track in the world and has just undergone a refurbishment – you no longer need to climb up to the must fawned after nosebleed seats to get a good view. A tour around the Daytona Speedway is definitely worth the dollar, whether you're interested in motorsports or not.
Once you're done you can enjoy the rides, shops and bars on the boardwalk, if it's Florida souvenirs you're after, that's your place.
If you're looking for Florida road trip ideas then I'd definitely recommend Daytona. I stepped out from our visitor buggy train, onto the tracks where I learned they go 200mph in a concave bowl, any slower than 80mph and they're likely to fall in on themselves.
Yikes.
I stood in Victory Alley, where the Champers gets shaken when they win, and took this cringey photo with a wheel for some at-the-time unknown reason…
They've recently invested $400 million into the Daytona race track, which now has capacity for over 100,000 spectators. On race days the track becomes one of the biggest towns in Florida, just to give you an idea of what this 100,000 number means.
We went to the Daytona Archives Centre where Herb Branham, the Archives Senior Manager, gave us a super interesting tour, and opened up the world of Daytona to me. I love it when someone's passion for something that's not normally in your realm totally rubs off on you.
He was solely responsible for over 100 years of Daytona memorabilia and the person people go to when they want to recreate engines, cars, moods and experiences around Daytona. He had the stories behind all the cars housed there and was an absolute fountain of knowledge.
After the tour you can explore the Daytona Museum, home to the winning car of the previous year, still with the celebratory confetti covering the bonnet. It was Joey Logano's turn in 2015 – and this is the beast he won it in.
Daytona themed dinner
We topped the day off the with a trip to the North Turn, up at the Ponce Islet, just south of Daytona Beach. It's a race track themed bar that looks out over the beach. Our excited visit that started on the veranda with a craft beer out to sea soon turned into a mad dash to get indoors.
We watched the storm with incredible fish tacos, three of them, dowsed in hot sauce. Delicious.
ACCOMMODATION IN DAYTONA
If you're looking for a hotel in Daytona for your Florida road trip, how about the Hard Rock Hotel in Daytona?
"Offering four-star accommodation, Hard Rock Hotel Daytona Beach features an oceanfront pool and 20000 square feet of meeting and event space. Enjoy crafted cocktails and seafood overlooking a waterfront stage at on-site Wave Terrace.

With panoramic ocean views, Sessions restaurant offers scenic dining for breakfast, lunch, and dinner. Guests looking for an energy boost can stop by Constant Grind for coffee, quick snacks, and homemade gelato."
---
5. Theme parks in Orlando
You can't do a Florida road trip without a little visit to Orlando, surely?
My day at Disney in Orlando epitomised all my childhood dreams and I had an amazing time, I only wish I could've stayed for longer. I also went to Universal Studios and had an incredible time at the Wizarding World of Harry Potter there, too.
Orlando is one of the most popular places to stop on a road trip to Florida, mainly thanks to the amount of theme parks you can find there.
Universal Island of Adventure.
Universal Studios.
SeaWorld Orlando.
Disney's Magic Kingdom.
Legoland.
Discovery Cove.
Epcot.
Gatorland Orlando.
There are some great things to do in Orlando for adults, give yourself a few days to really make the most of it.
---
6. Kennedy Space Center: Cape Canaveral
Cape Canaveral is world famous thanks to the NASA headquarters that call the peninsula home. The Kennedy Space Center is not only a fascinating tourist attraction but it's actually a working office where all the spaceships that have launched out of the USA have started from.
Mind blowing, and an absolute must on any road trip to Florida. Book your skip the line tickets in advance for Cape Canaveral to ensure you get the day and time you want.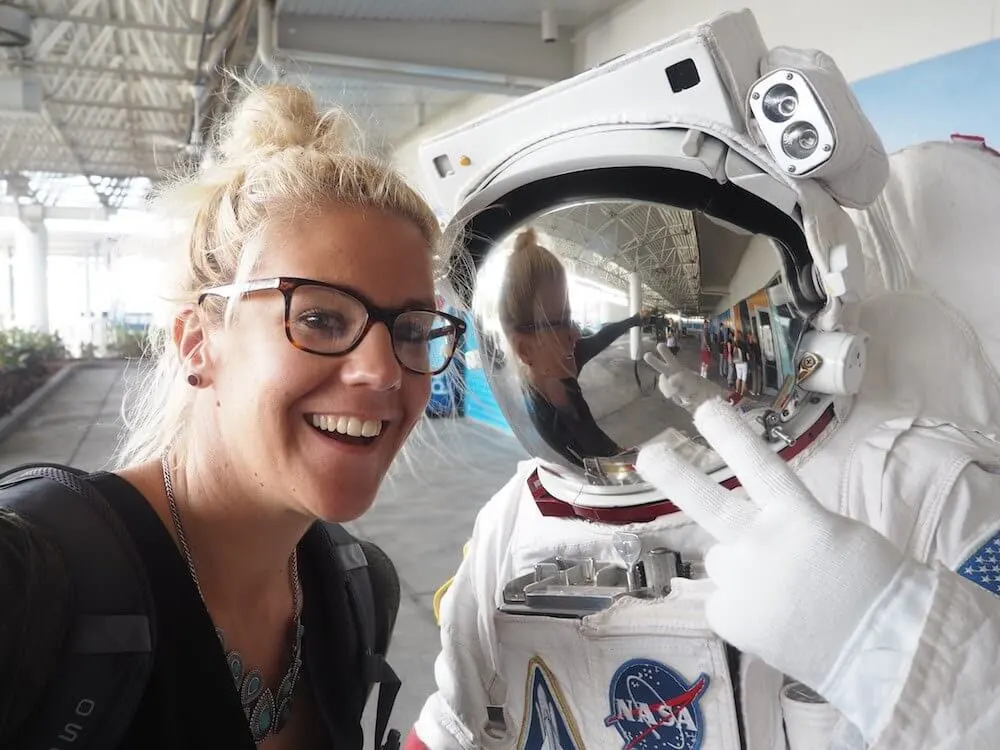 Now a whole visitor centre has been set up, with the Atlantis spaceship as the star attraction thanks to it having gone up into orbit 32 times.
The first thing you come to in the centre is the Rocket Garden – a collection of cool rockets, that have all been into space at some point in time on the Mercury, Gemini, and Apollo space programs.
Some of the rockets reached up to 223-feet high and you could even sit in a few of them. Too cramped – I was already doubting my ability to be a spaceman and we were only on the first exhibit.
Make time to for this astronaut training experience too. It was awesome. We met Charlie Walker – he's been into space three times and is the former President of the National Space Society.
He told me he liked my necklace, now how many people can say an astronaut has said they like their necklace?!
He took us through a fascinating presentation about food in space, what they eat, how they select it, how they eat it and how it's changed over the years. It's been 30 years since he's been but he said he thinks about his time in space every single day.
"I had a moment when I was up there. I looked back at earth, saw how small and precious it is, and just wept for all the pain people cause each other there".

– CHARLIE WALKER
At Cape Canaveral you get to tour around the actual place where the rockets and space ships take off. The actual launchpad you see on the TV. I was amazed, and had to check it hadn't just been set up for tourists.
Nope, this was the real deal.
Just board a bus from the Rocket Garden and get taken on a 20-minute guided tour round the various launch pads. One of my favourite things to happen, apart from all the space stuff, was that we had to stop and wait for a tortoise to cross the road. Seriously.
Also, loads of alligators live in the grounds and the bus driver told us how one day one managed to get in the launch centre and cause absolute havoc because someone didn't close the door properly behind them.
Explore the NASA Museum
At the end of the NASA bus tour it was time for the NASA museum.
It was fascinating. One of my favourite collections was the space suits through the ages showing how much they'd changed. The helmets were there too.
Now I don't want to show off, but I have in fact touched the moon. This little piece was brought back many a moon ago and placed in this safe box. It felt kind of glossy actually, not as rough as I would've expected. No need for me to go through the rigmarole of astronaut training now. Been there, done that.
– Neil Armstrong, Buzz Aldrin and Michael Collins' hand casts for their gloves
– Apollo 14 Command Module
– Live recreation of the first man on the moon
Atlantis
Atlantis is the only spaceship in the world that's been into orbit 33 times, a number which we realised was quite arbitrary when you think about it. There could be exhibits of 'the only spaceship to have been into space 11 times, 23 times, 6 times' but I get what they're saying. Basically, it's been up there many, many times compared to any old space ship.
This rocket cost $196 million to build (£137 million). It's the most expensive thing I've ever seen.
We spent about eight hours at the Kennedy Space Centre. Unfortunately we didn't have time for the Shuttle Launch Experience Simulation or the Journey to Mars Exhibition – there's just so much to do there!
An absolute must for your road trip in Florida.
---
7. Wander around Tampa
Next up on your road trip in Florida, Tampa.
Tampa is in the process of stepping out of the shadows to become a top Florida destination in itself, not just somewhere to fly into. With the new boardwalk to amble or cycle down, to admire the alligators and yachts from, it's a pretty place without the inevitable carnage of the big cities.
I was in Tampa for 24 hours. We took bikes out on the city wide scheme and ate two delicious meals at The Oxford Exchange (definitely go there if you're in the hood) and at U Le Le (same). There are some interesting museums in Tampa and when we were there, they were just setting up for Jazzy Jeff outside the museum. Apparently there are events every weekend on the waterfront – definitely got the weather for it, even in December.
If you want to see a few more things to do in Tampa, check out this post. A day in Tampa would be a more chilled stop on a road trip in Florida, perfect for the day after an intense day in Cape Canaveral.
---
8. Anna Maria Island
If you're looking for Florida road trip ideas then may I present to you, Anna Maria Island. Ever since fellow travel bloggers Twins That Travel spent some time on Anna Maria Island, I've been desperate to go. Those pinky beaches just look incredible.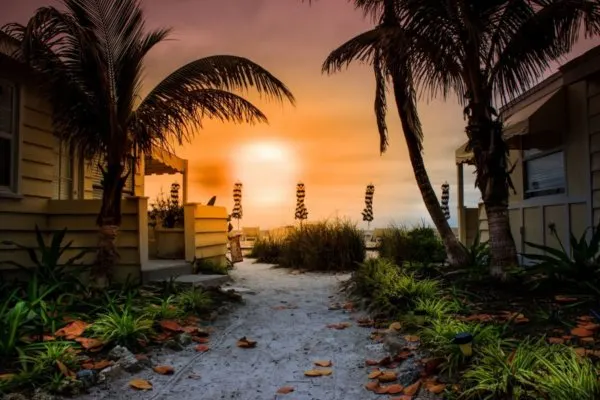 Anna Maria Island is a barrier island just seven miles long and two miles wide, and the sunsets just look worth it in themselves. It's nestled between Tampa and Sarasota, making for an easy stop on this Florida road trip.
Keep driving down the Gulf Coast and you'll find it.
ACCOMMODATION ON ANNA MARIA ISLAND
How about this awesome holiday home in Anna Maria, just 450 yards from Anna Maria island?
"Island Nestaway offers accommodation with free WiFi, air conditioning and free bikes. This holiday home also features a private pool.

The holiday home has 3 bedrooms, a TV with cable channels, an equipped kitchen with a dishwasher and a microwave, a washing machine, and 2 bathrooms with a shower."
---
9. Relax on the Sarasota beaches
Home to the 'best beach in the USA' so says TripAdvisor, Sarasota is definitely a town that moves around the beachlife. There are races on the beach, rollerbladers, skateboarders and a whole beach bar vibe to enjoy in the evening. Sarasota is set out on a peninsula with other islands nearby to drive or cycle over to.
The coastal town lies about an hour from Tampa on the west Florida coast. Sun is guaranteed on over 250 days of the year here, inviting everyone to make the most of the world famous Siesta Key Beach, along with the other 27 miles of other beaches in Sarasota County.
One of the most popular things to see is the St Armand's Circle shopping area in Sarasota Bay. It was the 'Porsches in the Park' weekend when we were there – shows the kind of clientele to expect here.
Here you can enjoy the enjoy the likes of Siesta Key Oyster Bar, Gilligans Island Bar & Grill or Daiquiri Deck.
We went for breakfast at LeLus – a Hawaiian-like surfer type coffee lounge with a menu I'd like to work my way through every day, forever. One incredible breakfast burrito down and I was satisfied, for the next few hours.
We just had time for a quick look at The Ringling Museum of Art – a stunning building to look around with incredible grounds that are free to see. You only have to pay to actually go inside, amazing.
Sun is guaranteed on over 250 days of the year in Sarasota, inviting everyone to make the most of the 27 miles of beaches in Sarasota County.
Sarasota is definitely a key stop on a Florida road trip – don't miss it out!
ACCOMMODATION IN SIESTA KEY, SARASOTA
We stayed at the Siesta Key Bungalows. A motel like accommodation coloured in baby pink and decorated with flamingos and white picket fences. My room was huge, a double bed with lounge and kitchen, and a bathroom.
I loved the kitsch.
It's a shame we didn't have more time there as we discovered in the morning that there was a lake out the back, complete with kayaks, and a pool too, but the road was calling and we had to leave.
Check out the prices for Siesta Key Bungalows on Booking.com.
---
10. Visit arty Hobe Sound
Make a stop in Martin County nearby and check out the all the cool things to do in Hobe Sound. I spent a few days here and loved the street art, the beach, the drive and the great restaurants surrounding Hobe Sound's 'turn circle.
Hobe Sound would make for a nice relaxing day on a road trip in Florida – check it out!
ACCOMMODATION IN HOBE SOUND
We spent two nights at the Hutchinson Shores Resort on Hutchinson Island, about a 30-minute drive from Hobe Sound Fl. It's new and super plush.
There are two heated pools, a jacuzzi, a delightful restaurant and of course bars too. It's located right on the beach so the views from the room are amazing.
Also, you can fall asleep with the balcony doors open and the sound of waves.
Dreamy.
Alternatively, stay at the Old Colorado Inn in Stuart. It's about 25 minutes from Hobe Sound and is a great spot if you like your hotels with a bit of history. It's one of the oldest buildings in Stuart and has accommodation to suit all prices and party sizes.
---
You can book good value, reliable car hire with Rental Cars – use this link for the best deals.
11. Explore Fort Lauderdale
Fort Lauderdale is great – there's so much to do here. The Atlantic Ocean is perfect for a morning swim, you can go segwaying on the waterfront, go karting at the Xtreme Action Park and ride the water taxi round the millionaires homes from the water side.
Of course you have to go to the Everglades National Park to see the alligators from an airboat.
While you're in Fort Lauderdale go to Las Olas Boulevard – a cool street filled with boutique shops and cool bars. Apparently Louie Bossi is a cool place to eat if you like Italian. We also managed to fit in a little visit to American Social, one of the best places to try the local craft beers. They have pull-your-own beer taps on the table.
As for food in Fort Lauderdale, go to Coconuts. I had oysters, a cocktail with limencello and gin, fish tacos and a key lime pie (shared that, of course). Coconuts is an awesome waterfront, chilled out restaurant with one of the friendliest waiters ever. The food was yum, and the scenery perfect.
You definitely need it to give you the energy for the afternoon's adventures.
Oh, and go to the drive in movie theatre at the Swap Shop too – it's one of the few remaining in Florida. We went in the Mustang to watch, obviously. We tuned the radio in, I sat on the back and the Hunger Games played out, just like you see on the films (think 'Grease'). A guy went round on a little golf cart with snacks and you could flash your light and he'd come over to supply.
I will admit that the film was rubbish and I fell asleep for what felt like the third hour but the experience was awesome. Definitely something I've always wanted to do on a Florida road trip!
ACCOMMODATION IN FORT LAUDERDALE
I stocked up on the epic breakfast at the super luxe Hilton Fort Lauderdale Beach Resort, where we were staying. Sashimi salmon with capers, egg muffin, fruit and half a bagel for good measure. I can't be trusted around buffets. Oh, and two coffees.
---
12. Chill in Miami
"Welcome to Miami".
Will Smith's musical travel documentary, as I like to call it, was quite right. You need money, it's all about the booze, and yeah, there's a lot of 'skantily' clad women strolling about.
The final stop on your road trip in Florida is iconic, and an absolute stunner: Miami.
But darrhhling the art. Miami's South Beach is notorious for the art deco architecture in the city. I actually went on a tour to learn more about Barbara Capitman and how she pretty much saved the South Beach from descending into generic building hell. Now there are a million and one rules about what you can and can't have on your house, and you can see it's paid off. It's one of the most unique places I've seen. The beach isn't bad either.
There are loads of great things to do in Miami, in fact, I know you'll have a great time. My top recommendations would be the food tour in Little Havana, Wynwood, and to just relax and lie out on the beautiful beach.
ACCOMMODATION in MIAMI
Stay at the Lennox Hotel for a real luxury accommodation in Miami – we had a great time there!
Your Florida road trip
My trip was great, I've loved seeing all the different places in Florida, places I didn't know a thing about. The beaches, cruising in the Mustang, the three portions of fish tacos I got through and the drive in movie, will all stay with me for a long time. I hope you get a chance to do the same!
Hope you've enjoyed this list of places to stop on a road trip to Florida.
If you do have time to carry on, then check out the fun you could be having with a day in Key West, and some of the great things to do in the Florida Keys.
If you do go, check out my top tips for the Florida Keys so you can really make the most of your time there.
---
MORE: 15 Best Restaurants in the Florida Keys
7 tips for hiring a car in Florida
Hiring a car in Florida is definitely the best way to get around the county. It's easy to travel between the attractions and beaches, and you don't have to haul your stuff around on your back. It also means you can stop off where and when you want to build a totally custom road trip in Florida.
Here are a few tips I've learned from hiring a car in Florida that will help make your Florida road trip a special one.
1. Find the best car you can get… book it immediately
We went for a deep red convertible Mustang. I mean, if you're going to do a Florida road trip, you might as well, DO IT.
We'd already planned it before, having looked through the list available, but on arrival we were told about all kinds of offers on porsches and the like. We stuck with our horse, but what I'm saying is, treat yourself, and if the opportunity arises, treat yourself that little bit more.
2. Sign up to the Hertz Club… and flex that membership
You get all kinds of benefits, including a free additional driver, faster reservations, faster returns and special discounts too. The lady at the desk at Tampa airport was ever so friendly and went through all our options so I understood exactly what I was paying for. We were a bit last minute, but I know from previous USA road trips that if you do your research in advance you can save quite a bit of dollar.
3. Get to know your car… before you leave the car park
So we had another little inicident where we realised the lights weren't on, as we were entering the highway and we couldn't work out where the switch was. Of course, in the car park the lights had been on and in all the excitement we hadn't thought. The dashboard was lit up but apparently not the car.
We found them, but we had to pull over on the hard shoulder to do so. Have a good feel around the car and know where everything is before you start the ignition.
4. Under 25s cost… about $30 per day
To hire a car as a driver under 25 you'll have to pay a premium. With Hertz this was $30 per day.
5. Make sure your car is big enough… for you, and your luggage
We had issues with boot space and my bag ended up on the back seat, not as cool as we wanted for our Ford Mustang look but an absolute necessity with all the camera equipment someone had.
6. Know the local laws… and fines
So err, we had a lovely chat with a state trooper (who looked just like Hank from Breaking Bad) on our journey from Daytona to the Kennedy Space Center. Apparently, we were going a little speedy in a construction area and he wasn't too happy about it. If we hadn't looked like petrified tourists, and sounded like we were fresh from Downton Abbey – "Terribly sorry sir, yes, yes, I have a license, just off to the Space Centre sir" – then it would have been a $600 fine for us, he said. So yeah, know the laws (fines are doubled in a construction zone and speeds are halved) or you could get some of your hard earned holiday cash wiped out.
7. Prepare for the journey… you'll enjoy it more
Before you drive in the USA make sure to read up on the American way of the road, the car you want to get, the music and the route you want to take. More confidence equals more fun and better safety. Everyone wins.
---
PIN THIS FLORIDA ROAD TRIP FOR LATER