So many cool things to do in Phu Quoc, trust me. I spent a week there and totally could've made it months. It's one of my most favourite trips I've ever been on. If you're looking for what to do on Phu Quoc, then let this post guide the way.
Phu Quoc is a relatively little island off the coast of Cambodia, in the Gulf of Thailand, but it's part of Vietnam.
Of course, being an island, one of the best activities in Phu Quoc is just to relax on the beach. There are dreamy beaches all round the island, in fact, quite a few of them made my best beaches in Vietnam post.
– What to do in Phu Quoc?
Hotel swimming pool hop, of course.
Phu Quoc has some great restaurants, and the almighty nightly street food market too, with some of the best seafood around.
Over half of the island is covered by Phu Quoc National Park, which I motorbiked through, making the air fresh and the view, amazing. If you're worried a little island like Phu Quoc won't be exciting enough, you're wrong!
– This post contains affiliate links
52 Coolest Things to Do in Phu Quoc
1. When you first arrive, spend some time unwinding on Sao Beach, the most popular on the main island of Phu Quoc.
2. Pick up one of the largest overseas cable cars at Bai Truong and test your nerves on the 15-minute journey to Hon Thom island.
– BOOK YOUR TRIP before you go: Cable Car and Three Island Tour in Phu Quoc –
3. Get your souvenirs and a snack from Duong Dong Market – the almighty food market I was talking about.
4. Visit the traditional Ham Ninh Fishing village on the east coast for half a day and have lunch in one of the floating restaurants.
– As an island getting out on the boats is one of the most popular things to do on Phu Quoc
5. Get the binoculars out on a trip to Bai Ganh Dau and see if you can spot what's going on across the ocean in Cambodia.
6. The Coconut Tree Prison may sound like a nice name but don't let it fool you. During the Vietnam War, this place was pretty grim but now, under its official name Phu Quoc Prison, it's open to the public for free so you can learn what it was like for the 40,000 living there at one time.
7. Fish sauce is this area's speciality and you can tour an actual fish sauce factory like Khai Hoan to learn how they go from anchovy to amazing sauce.
---
---
Where is Phu Quoc?
Phu Quoc is just off the coast of Cambodia, but it's actually in Vietnam. I took a flight from Ho Chi Minh City to get there, and then a taxi to my accommodation. It took an hour with Jetstar. You can also get to Phu Quoc by boat, although it takes a lot longer.
Follow me on Instagram for more travel inspiration!
[instagram-feed]
---
8. Phu Quoc is Vietnam's top location for watersports, so test that out with some paddle boarding on many of the islands' bays.
9. Bun cha is a traditional Vietnamese dish made of grilled pork and vermicelli and you have to try some at Bun Cha Hanoi. The restaurant serves only this dish so it's safe to say they know what they're doing.
10. Hire a motorbike and feel the open road as you explore the main island's more remote locations like Gahn Dau.
11. Watch the sunset with views of the sea at Rory's Beach Bar on Long Beach.
---
Follow me on Instagram Stories for the latest travel adventures (and pretty pics!)
[instagram-feed]
---
– Best Phu Quoc activities? Try and find this swing, let me know when you do!
12. Try your hand at a little black jack or practice your poker face in Casino Phu Quoc.
13. Go for a night time swim in the sea to see the underwater life glow in the dark with bioluminescent algae.
14. The Phu Quoc Ridgeback is the most popular dog you'll see on the islands and you can watch them as they speed around a purpose-built race course twice a day for the official dog races for just $2.
15. Snap those postcard beach views complete with coconuts at Long Beach or Ong Lang Beach.
16. Get a little vitamin C by buying the fresh fruit sold by the ladies on the beach.
---
More on travel in Vietnam
Click here to read all my advice on travelling to Vietnam. I've got over 30 posts, so you'll be well prepared!
Your Awesome Itinerary for Two Weeks in Vietnam
Interesting Facts About Vietnam to Know Before You Go
Top Tips for Travelling Vietnam Solo
Your Vietnam Packing List
---
17. Take a boat trip to the 15 An Thoi Islands off the south end of Phu Quoc Island for more crystal clear waters and dreamy beaches.
18. If you're visiting in November or December, keep an eye out for whales and dolphins as you pass by the An Thoi archipelago.
19. Hike to the top of the Suoi Tranh Waterfall in the centre of the Phu Quoc island.
20. Congratulate yourself for making it by knocking a few back at the popular Embassy Bar.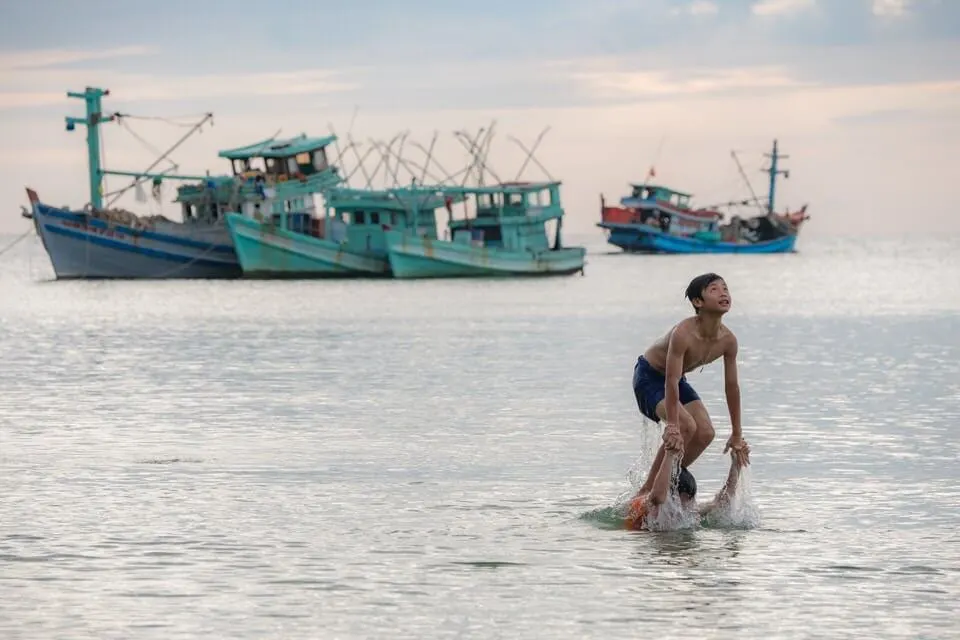 – Take the time to look around you when you're on holiday in Phu Quoc.
Who knows what you might see?!
21. Make friends with bamboo sharks, cuttlefish, octopus and moray eels by getting your PADI certification in Phu Quoc.
22. Continue getting close to the animal kingdom with a visit to Vinpearl Wildlife Park where there are over 150 different species to see.
23. Try a glass of coconut infused wine at Coco Bar.
24. Dare yourself to eat a frog or snake at the Dinh Cau night market.
25. Cao Dai is its own religion combining lots of elements from other religions and Phu Quoc Island is considered its birthplace. Visit the Cao Dai temple to watch a worshipping ceremony and learn more about it.
---
READ MORE: Check out all my travel advice for Phu Quoc for everything you need to know about this little island.
---
26. Get buzzzy at the bee farm where you can do some planting and harvesting before enjoying a coffee, with a dash of honey of course, in the cafe.
27. We all know how tough it can be lugging that backpack about. Treat yourself to a traditional Vietnamese massage somewhere like Spa Linh to ease all those knots.
28. Listen to electronic beats at one of the only nightclubs in the area, Happy Buddha Club.
29. Work those upper arms with some kitesurfing on Rocks Beach east of the island.
30. For a wow moment, visit the Old Mountain Pagoda known as Su Muong at sunrise.
– What to see on Phu Quoc?
Island life in Vietnam is fascinating to watch.
31. And you thought only the French ate snails? Try the slimy critters Vietnamese style at Sang Tuoi Restaurant.
32. When it's lunch time and you can't be bothered to move too far from the beach, head to Hieu's Family Restaurant where they serve barbecue greatness.
33. Take advantage of this paradise location and perfect your happy baby with a yoga class.
34. Clear waters are Vietnam's thing and you can see what lies beneath them with a snorkelling session around Turtle Island.
35. Stay somewhere cheap, beautiful yet eco friendly like the beachside Ecolodge Phu Quoc Resort.
36. Kayak from from Vung Bau Beach to Fingernail Island.
37. Go crazy for crabs at the Crab House.
38. Find your inner piece with a trip to the Ho Quoc Pagoda. It's the largest buddhist temple in Phu Quoc and beautifully located at the base of a mountain facing the sea.
– Lots of wonderful places to see on Phu Quoc!
---
Book your activities in Phu Quoc
– These are all affiliate links, meaning I will earn a small amount if you book, at no extra cost.
Do any of these Phu Quoc activities take your fancy?
If you book in advance with GetYourGuide you know there'll be space for you on the day and time you want, and it can help you budget better too. Take a look at these things to do in Phu Quoc for more inspiration for your trip.
Absolute top activities in Phu Quoc
Personally, if I was going to Phu Quoc again, these are the top 2 activities I'd book.
Phu Quoc: Cable Car Ride and 4 Islands Boat Tour with Lunch
Phu Quoc Sunset and Night Squid Fishing with Dinner
---
39. Amp up your Instagram game by snapping the lighthouse and colourful Dinh Cau Rock temple by Duong Dong Fishing Harbour. Maybe even say a little prayer like local fishermen do before they head out to sea.
40. Try and keep your calm as you discover that Sao Beach has a beachside swing overlooking the water. Make sure you get a snap of you swinging into paradise.
41. Learn how pepper is cultivated with a tour around a pepper plantation. They're extremely popular here and generate over 1,100 tonnes of the stuff each year.
42. Take it a step further and stay in a pepper farm homestay to really experience Vietnamese farm life.
43. Learn how to put some of that pepper to good use with a traditional Vietnamese cooking class.
44. Go to Starfish Beach where you'll see loads of…starfish. Snap away but be careful not to damage them.
45. Hustle your way into a luxury resort to get a jet ski excursion on the go.
46. Munch on a herring salad with fresh fish of the day at Kem Beach.
– The food on Phu Quoc is an absolute delight – enjoy!
47. Make all your Little Mermaid dreams come true with a mermaid show. They take place daily at the Vinpearl amusement park.
48. Try a few glasses of the local sim wine and see how it's made at the Simsom Wine Factory on Phu Quoc Island.
49. Walk the tiny bridge from Bai Thơm to Mot Island for a picnic.
---
Pin me for later
---
50. Feel a little scared on a visit to the Phu Quoc Crocodile Farm.
51. Lace up for a four hour trek to Mount Heaven in the Phu Quoc National Park. Once you get to the top, make the last push by climbing the 10 foot ladder.
52. Prepare to be patient as you set out to sea to go squid fishing. Once you get a catch and enjoy it all cooked up it'll be worth it.
---
SAVE TIME & MONEY
Check the prices for your Vietnam trains, buses, flights and ferries here…
---
Looking for Vietnam travel tips?
I filmed this video on tips for travelling in Vietnam on the beach in Phu Quoc – Mango Beach to be precise. If you'd like to know more about travelling in Vietnam then give it a watch!
And you can subscribe to my YouTube channel for more travel inspiration and information too.
---
Your Phu Quoc questions, answered!
Let me know if you have any questions about Phu Quoc in the comments below. I'll try to answer the usual below.
Is Phu Quoc safe?
At no time in Phu Quoc did I ever feel at risk. I did most of these big things to do in Phu Quoc and never felt in danger at any of them. I left my Kindle and phone on the beach. I hired a moped. I went out at night. I was fine. In my experience, yes, I would say Phu Quoc is totally safe.
The official crime rate of Phu Quoc is very low.
As long as you're sensible and respectful I don't think it's dangerous at all. Don't prove me wrong!
Is Phu Quoc worth visiting?
Absolutely yes, 100%. When I first landed I wasn't in love, I'll admit. Phu Quoc was so much bigger than I expected. It took me a day or two to understand that Phu Quoc is awesome. There are great beaches, but that's not all the island is about. There are so many things to do in Phu Quoc, that with even a two week trip there I don't think you'll be bored.
As long as you like the outdoors that is.
Is Phu Quoc expensive?
I found Phu Quoc prices to be very reasonable. I basically lived like a queen for a week, eating and drinking what I liked, and I was totally happy with how much I spent in Phu Quoc.
If you're coming from the West then I can guarantee that Phu Quoc will be cheaper than home, but if you're coming in from Asia, then maybe not.
If you're worried about the cost of Phu Quoc then eat local, stay in hostels and make the most of the totally free beaches!
What to do in Phu Quoc?
As you can see from the 52 activities above, there's a lot of fun to be had in Phu Quoc. Check around my blog for more posts about Phu Quoc as it's one of my favourite places I've ever been.
What is Phu Quoc known for?
Phu Quoc is known for its fish sauce and black pepper. If you're really desperate for things to do then there are plenty of options to learn more about these top Phu Quoc activities, but if I were you, I'd spend the time much better on a moped or at the beach instead!
How do you pronounce Phu Quoc?
Phu Quoc is pronounced "foo kwok". Well, there you go.
Hope you've been saying it right for this whole blog post about Phu Quoc!
Need any more information about Phu Quoc, let me know in the comments below.
Follow me on Bloglovin
---