There are loads of festivals in February around the world for you to add to your bucket list. Something fun to look forward to after Christmas anyone?
Who says you have to come down from your Christmas and New Year high once peak winter passes? There are plenty of festivals in February to keep the fun going.
Before spring hits, indulge in more festivities wherever you happen to be! Your February festival calendar looks no less shabby than the rest of the year, even if it means travelling across the world to fill it.
Best Festivals in February
Here are the best February festivals for you to choose between!
1. Rio Carnival, Brazil
17th until 25th of February 2023
Let's start our list of February festivals with a bang!
Possibly the world's most famous festival, the Carnival lures in millions of people every day. The streets of Rio de Janeiro are flooded for five sleepless days, colourful parades, costumes and over-the-top parties making it the 'greatest show on Earth'.
The flamboyant festival arose out of tradition, where everyone removed the temptation to wine and dine during Lent. As you can imagine, this means a hedonistic party where everything goes – including feathered headpieces and exuberant Brazilian dances.
Go to Rio Carnival and it'll be the experience of a lifetime!
2. Chinese New Year, China
22nd of January 2023
Yes, Chinese New Year makes it onto yet another list, as well as the best festivals in January: the best festivals in February that the world has to offer. The exact dates are decided by the lunar calendar, landing as early as mid-January and as late as end-February.
Many families have their own rituals and traditional activities scheduled throughout the week, but even walking through your city's Chinatown is an amazing experience during Chinese New Year! I know I've gorged on my share of dumplings, Chinese sweet cakes and other occasion delicacies – especially when I lived in London.
If you're in the position to earn some red packets, make sure you return the favor with traditional Chinese greetings.
3. Tapati Rapa Nui, Chile
6th until 13th of February 2023
Easter Island is known for the monolithic heads and potential for deep magic, but for two weeks in early February, our attention is drawn to a unique cultural festival. What Tapati Rapa Nui offers isn't unlimited drinks or heart-thumping music – but authentic, islander culture.
Visitors are encouraged to participate, even in events hosted at the crater of an extinct volcano! Spearfishing, sliding down steep slopes on banana trunks, dance competitions and more will fill your days with laughter. The highlight? When two families battle it out on the dance floor to crown the Queen of Tapati.
4. Carnival of Venice, Italy
11th to 21st of February 2023
Similar to the Rio Carnival of Brazil, Italy's version – the Carnival of Venice – also takes place before Lent. Where the Brazilians are about indulging before a long fast, this Carnival is about throwing away class differences and knowing only revelry.
How do they do so?
Why, by hiding behind the most elaborate masks you can find!
Twirling skirts, painted faces, jester hats and peacocked masks will lead you in a merry chase across Venice's countless bridges. It's like falling into an alternate universe; your own Alice in Wonderland experience for this February festival. It's known as one of the best festivals in the world.
5. Taj Mahotsav, India
18th to 27th of February (Annually)
Like most of India's celebrations, this February festival lasts a whopping ten days!
With India being such a diverse quilt of states, Taj Mahotsav is a chance for people to understand how culture, food, craft, dance and music vary across the country. It's one of the most important festivals in February.
Located in Agra, the festival brings a flood of colour, noise and visitors. Featuring furniture from Saharanpur, carpets from Bhadohi, pottery from Khurja, other arts and cuisines from all over India – it's the ultimate sampler plate.
6. Jaisalmer Desert Festival, India
Date to be confirmed for 2023
Another Indian festival in February not to be missed is the Jaisalmer Desert Festival. Often a monthly affair, the festivities draw plenty of tourists to Rajasthan where it is held.
You can imagine all kinds of quirky contests and still be surprised at the innovation behind them. From camel racing to turban tying and even ranking the longest moustaches in attendance, visitors can watch and participate in various activities.
7. Bergen International Literary Festival, Norway
8th to 12th of February 2023
Literature lovers welcomed a new literary festival in 2019: Norway's Bergen International Literary Festival. Celebrating both non-fiction and fiction, it hosted writers from 25 countries in 2020. Apart from readings, author talks and open mikes, there are also youth programs to encourage young writers.
While the festival is still young, it's definitely helping us understand how literature has evolved over the decades.
---
READ MORE: Fancy doing a Festival Quiz?
---
8. Envision, Costa Rica
27th of February to 6th of March 2023
Costa Rica is telling you to envision a week full of hippie goodness. After all, music heals the soul – and it might just heal earth too. With an overarching theme of environmental awareness and holistic healing, Envision Festival is all about having fun while doing good.
The heavy beats and eclectic music might give off night club vibes, but your day-to-day is a whole lot wholesome! Think yoga sessions, guided herb walks, drum circles and collaborative art projects. Through martial arts, dance and spoken workshops, you'll find a community to vibe with.
Who said eco-friendly festivals can't be fun?
9. Quebec Winter Carnival, Canada
3rd to 12th of February 2023
Embrace the cold! Frolic through snow!
The largest winter carnival in the world takes place in frosty Quebec, this February festival leans into the winter spirit. In a city besieged with harsh winters, festivities and community really warm the heart. It's one of the best winter festivals around the world.
The first step is, of course, bundling up! I wouldn't go without the whole scarf, gloves, hat and winter boot ensemble. Make sure to snap some photos of the ice and snow sculptures, and also of the colorful parade cars. The music shows will keep you toasty all night through.
It's one of the most important festivals in Canada.
10. Sauti za Busara, Zanzibar
10th until 12th of February 2023
Yet another February festival with cultural leanings, Sauti za Busara translates into 'sounds of wisdom'. These very sounds echo around Stone Town's Old Fort; traditional African music mingle with modern genres to keep you dancing between film screenings, comedy shows and other riveting performances.
Don't miss out on the opening parade at Forodhani Gardens!
11. Charleston Wine + Food, USA
1st to 5th of March 2023
South Carolina is known for its hospitality and Charleston for its connoisseurs of everything tasty. Yes, this is a festival dedicated to food.
Hundreds of chefs gather at Culinary Village to offer tastings, samples, chef demos and other amazing food-themed activities. Eat your way through multi-course dinners or Signature Events; make oyster roast the highlight of your day.
While the brunches and lunches sound fantastic, I'm also intrigued by the cocktail workshops! It'd be a great learning experience, prepping you for future home parties where you can show off unexpected kitchen skills.
12. Adelaide Fringe, Australia
17th of February -19th of March 2023
Forgo the snow and winter chill for a beachside month at Australia's favorite southern city, Adelaide. I certainly would love a dose of the outdoors!
What makes Adelaide Fringe so amazing however, isn't just the weather – it's also the world's second-largest annual arts festival. Anyone brave enough to step on stage is welcome to perform. From cabaret to circus acts, to comedy and dance performances, you might be catching the next trending talent!
Don't forget other going-ons like the night markets, a literal 'goose chase' for treasure, and the ever epic Parade of Light.
13. Saidaiji Eyo Hadaka Matsuri, Japan
18th of February 2023
Nearly naked men might not be your idea of a festival, but Okayama's annual fest (in the winter no less) is all about luck and happiness. Priests toss lucky objects for thousands of men to fight over, a ritual that started over 500 years ago. Dressed in simple loincloths and tabi socks, these brave souls spend an hour or two running around the temple to 'purify the body and soul'.
Pay your respects to the patron goddess of mercy at the temple where it takes place. It's actually the first stop of the Chugoku Pilgrimage, an extremely meaningful journey for worshippers.
14. Taiwan Lantern Festival, Taiwan
5th of February 2023
If your birthday wish hasn't come true, try your luck at the Taiwan Lantern Festival!
Piggybacking off age-old Pingxi Sky Lantern Festival and Yanshui Fireworks Festival, this combination festival is spread out over the country.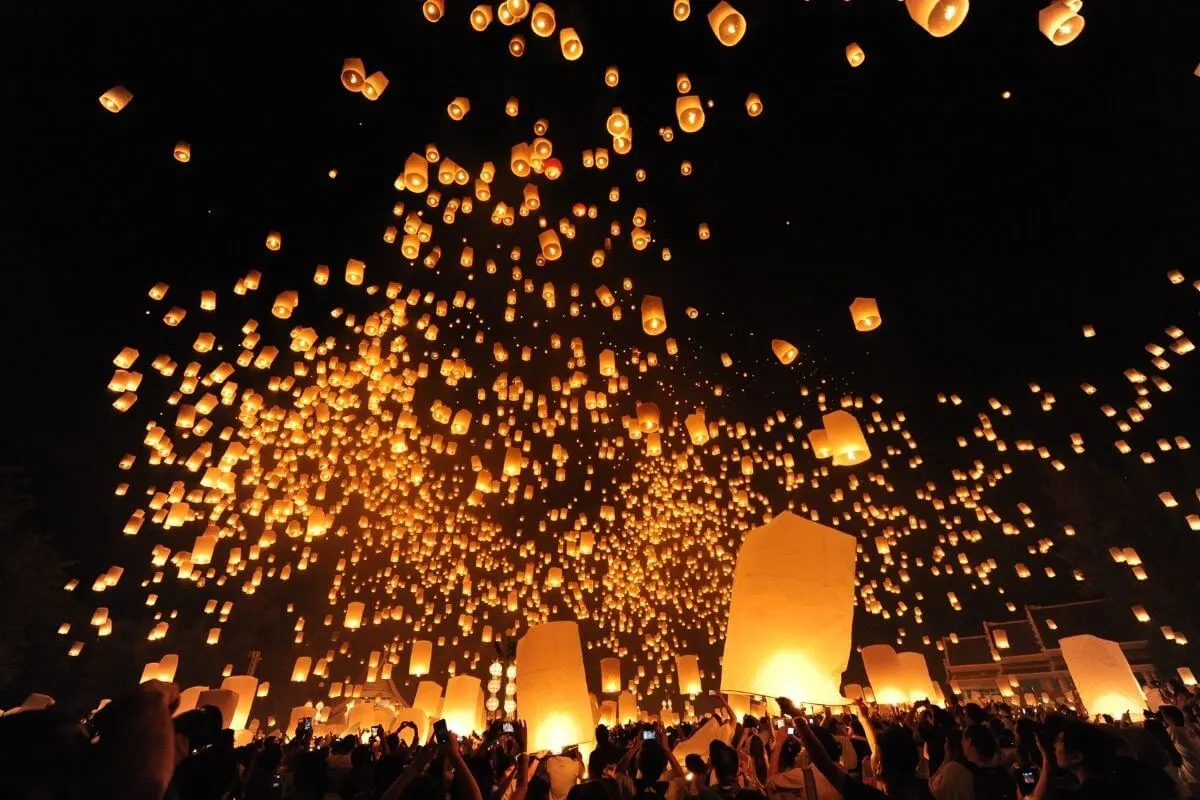 You know the famous flying lantern scene in Disney's Tangled? Well, you can watch the beautiful drift of lights in person. The lanterns once signaled safety but now, they carry our deepest wishes and hopes into the sky.
It's truly an incredible sight.
15. Lemon Festival, France
11th until 26th of February 2023
Can you believe there's a festival dedicated to lemons, of all fruits? Definitely one of the weirder food festivals in the world!
Located in the French Alps is a town known for its high quality lemons: Menton. This innovative community took celebrating local produce to a whole new level in 1934, resulting in a popular and colorful festival.
Yellow colors everything, from floats, displays, sculptures and other evening shows. Don't forget to take home some of these famous citrus as well!
Festivals in February
With these amazing festivals in February around the world, winter no longer seems so long and dreary. What February festivals does your country enjoy?
READ MORE: The Best Festivals in March
---