There are loads of festivals in January to enjoy. Think 'festivals' and you might just think summer, but… you're wrong!
Hands up if you're not a fan of January?
Cash strapped from Christmas, bad weather and a case of the winter blues mean many of us spend the month wishing spring would hurry up and arrive. It doesn't have to be a total white out though.
The best way to beat the January blues is to check out this January festival calendar, and pick one or two to spice up the start of the year.
Give yourself something to look forward to!
January festivals around the world
Here are the best January celebrations to add to your year's festival calendar.
1. Falls Festival, Australia
29th of December 2022 – 8th of January 2023
The first question to ask yourself is where in the world isn't seeing significant amounts of snow and rain in January? Australia will do.
Falls Festival tours to Lorne, Marion Bay, Byron Bay and Fremantle from the 29th of December right through to the 8th of January giving you plenty of places to choose from.
In its 29th year, the music fest knows how to put together a line up and does a good job of blending interactional acts like Halsey, Vampire Weekend and Disclosure with locals ones too.
Falls Festival is one of the only music festivals in January around the world.
---
2. Harbin Ice Festival, China
23rd of December 2022 – 28th of February 2023
If you're a fan of Frozen, put this Chinese January festival on your list. Each year around Christmas Day right through to February 28th, hundreds flock to the town of Harbin in Heilongjiang province. It's here that people showcase their sculpting skills for the annual display of the world's best ice and snow sculptures.
And I'm not just talking small snowmen, people make whole buildings, towers and palaces big enough for visitors to walk into. At night they're all lit up and create what feels like an entire city of icy magic.
I don't think you're getting much closer to Elsa than that.
---
3. Hogmanay, Scotland
December 31st annually (New Year's Eve and Day)
Hogmanay was the best New Year's Eve I've ever had. I was invited to attend Hogmanay as a travel blogger (amazing press trip!) and had the opportunity to join the parade through Edinburgh with the vikings, to climb up the tower, and to party all night long too.
The atmosphere in the city was awesome. So much buzz and there's a big concert in the Gardens outside the Edinburgh Castle too. Such a fun night – I'd definitely recommend Hogmanay for a different take on a January festival.
Featured in MY book about festivals!
---
4. Kaapse Klopse, South Africa
January 2nd (annually)
Kaapse Klopse is a bright festival that takes places in the streets of Cape Town in South Africa. A huge parade swans on through with music, dancing and fun, and if you go to this festival in January, you can be a part of it too.
"The Kaapse Klopse is a Cape coloured minstrel festival that takes place annually on 2 January in Cape Town, South Africa. It is also referred to as Tweede Nuwe jaar. As many as 13,000 minstrels take to the streets garbed in bright colours, either carrying colourful umbrellas or playing an array of musical instruments."

– Kaapse Klopse
---
5. Chinese New Year, Worldwide
22nd of January 2023
Chinese New Year is celebrated the world over, mainly so everyone can eat Chinese with glee. Of course it's a lot more important than just that to anyone in China, or with Chinese roots.
Join any of the Chinese New Year January celebrations around the world and you can expect loud parades, big meals, paper lanterns and fireworks too. Every year the 'year of' changes – in 2023 it'll be the Year of the Rabbit.
In England you can head to city centres and their ChinaTowns for the best celebrations. Chinese New Year is definitely one of the biggest celebrations in January around the world.
---
6. Sapporo Ice Festival, Japan
13th of February 2023
The Sapporo Ice Festival is based around huge ice sculptures crafted out of ice, and based on famous figures of the time. When I went there was a huge Star Wars ice display. As in, huge!
There are hundreds of ice sculptures, a snow plaza, a huge ice rink and loads of fun things to do in Sapporo. Also, it's where the Sapporo Brewery is – fun!
You can find out more about my weekend at the Sapporo Ice Festival here.
---
7. Otaru Ice Festival, Japan
February 11-28, 2023
I went to the Otaru Ice Festival in Japan a few years ago, it was magical. I was in the north of Japan, in Hokkaido, to go to the famous Sapporo Festival – one of the best January festivals around. It just so happened that the Otaru Festival was on at the same time, nearby.
Thought I might as well pop over for a look.
I actually liked the Otaru Festival better than the Sapporo one, it was just prettier and more magical. If you want to know more about this January festival, take a look at the link above.
---
8. Ocaso Festival, Costa Rica
6th till 9th day of January 2023
If there's one place that'll pull you right of that post-christmas funk it's a trip to Costa Rica, and Tamarindo's Ocaso Festival gives you the perfect excuse to go. Go and as well as a brilliant festival, you'll also get some much needed winter sun.
Kicking off right after New Years on the 6th until the 9th of January, this underground music festival runs a line up of the hottest electronic acts with a focus on Costa Rica's homegrown talent. But don't expect them to be performing somewhere as mundane as say a stage; the acts perform poolside, beachside and even in a jungle making sure that the underground tunes are anything but underground.
If you can tear yourself away from the music, you can also test out Tamarindo's surf culture.
READ MORE: The Best Festivals in September
---
9. Voodoo Festival, Benin
January 10th 2023
Looking for something a little different in your list of world festivals?
Start the year in Benin where each year on the 10th of January the country pays homage to its ancestors and various gods in a celebration of African spirituality. While it's a national holiday countrywide, the town of Ouidah is the epicentre of all the celebrations with beach parties, costumes, drums, horse racing, sacred ceremonies and sacrifices.
This is probably one of the most unique festivals in January you'll find.
---
No matter where you're going for your January festival, always get international travel insurance beforehand. If anything happens it can save you thousands, and a lot of hassle. Do NOT travel without it!
---
10. International Kite Festival, India
14th till15th of January 2023
If you've mastered how to fly a kite then kudos to you, but if you want to pick up some tips on harnessing the wind, see how the pros do it in India.
On the 14th of January, thousands of kite lovers come from over 40 countries to Ahmedabad in Gujarat where, from dawn till dusk, their homemade colourful creations fill the sky. It's one of the most popular kite festivals around the world.
And the fun isn't just reserved for the flyer. Locals and tourists make a real day of it by hosting viewing parties, eating special foods like laddoos and a pop-up kite bazaar even opens for the full week before.
The International Kite Festival is just one of the many amazing festivals in India worth travelling over there for.
---
11. Winterworld, Germany
To be confirmed for 2023
A little closer to home and not hitting the bank balance quite as hard, Winterworld takes place in Germany's Karlsruhe. The last one was on January 19, 2019 but since, the festival is no longer active most likely because of COVID-19 pandemic. It is yet to hear from the organizers if it will be back for 2023 because who wouldn't want it? It's one of the best January festivals all over the world.
It's another for electronic music fans as well as those with a penchant for EDM and drum and bass, bringing together top DJs from across the genres. For ten solid hours, an estimate of 8,000 people pack into the city's dm-Arena and with tickets under €50 it's a bargain.
---
12. Sneeuwbal Winter Festival
28th January
Rather than running from it, one option is to fully embrace the colder weather in all its fur-wearing glory and head somewhere like Utrecht in the Netherlands for the Sneeuwbal Winter Festival. This is one of the coolest options on the January festival calendar.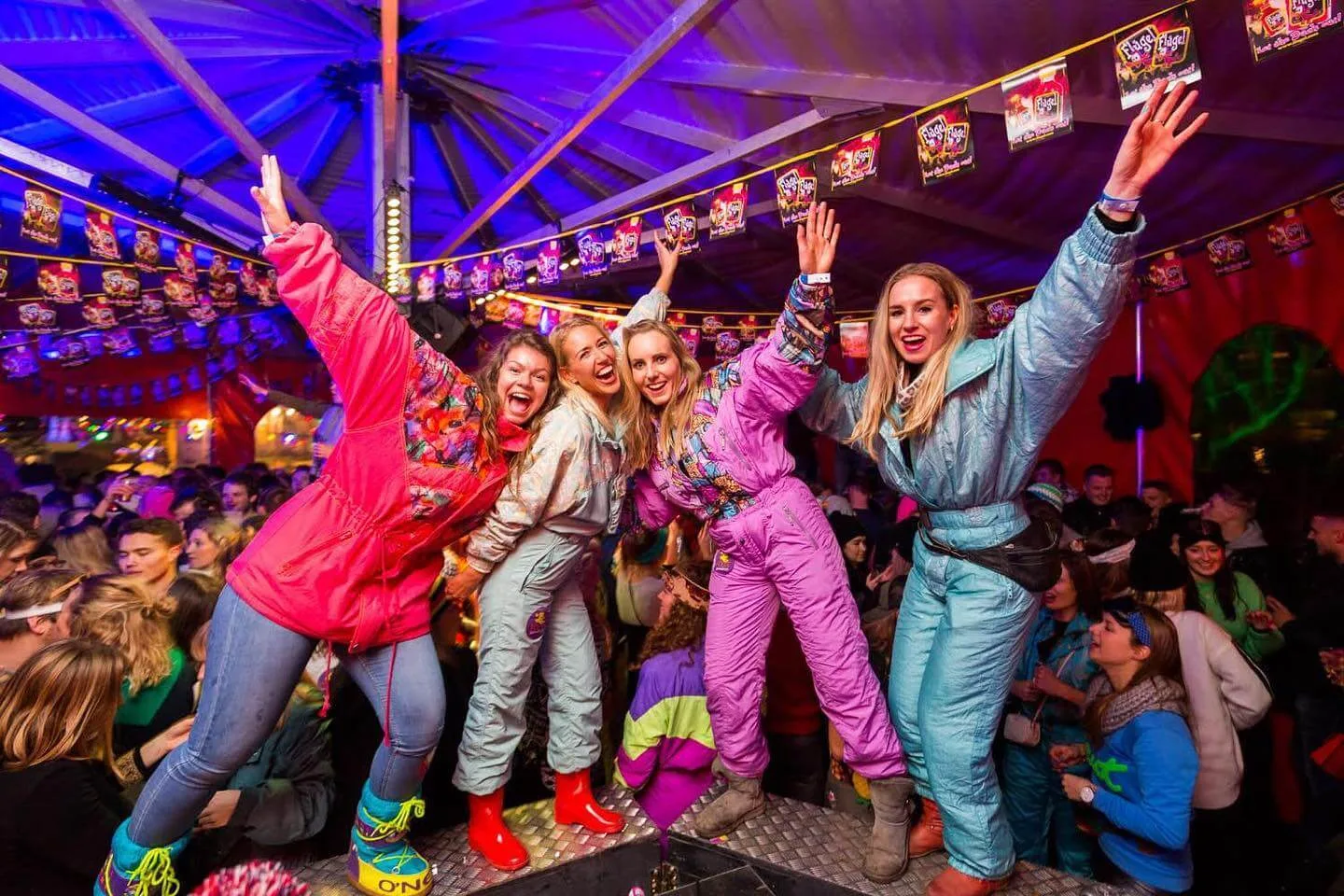 On the 28th of January, top house and techno acts take the stage from 2pm in what organisers call an atmosphere of an 'après-ski party.' Adding to the theme, festivalgoers can alternate between listening to acts in igloos and activities like ice skating or snow sliding.
Dress code? Your wildest winter outfit whether that be 80s ski apparel or an ugly Christmas sweater. How's that for a fun January festival for you? It's definitely one of the best winter festivals you could choose. Check out these great skiing festivals in Europe too.
---
13. Up Helly Aa, Shetlands, Scotland
31st January (Last Tuesday of the month annually)
You may think Scotland in the depths of January isn't the best idea but I promise you Up Helly Aa, aka Europe's largest fire festival, will soon warm you up.
On the last Tuesday in January, the town of Lerwick in the Shetland Islands embraces its Viking heritage putting a year's worth of preparation out in full display. Think authentic music and dance performances, epic costumes, the burning of a Viking boat and plenty of beer before 1,000 Viking clad residents hold burning torches in a parade through the town.
This is the type of festival I'm meaning when I talk about the importance of festivals in this article. Check it out to learn more on why we NEED festivals back!
---
14. Sundance Film Festival, USA
19th until 29th of January 2023
The Sundance Film Festival takes place every year in Salt Lake City in Utah. It's where the newest films are shown for critical acclaim.
This is the ultimate film festival in January for movie buffs to attend, and one of the most exciting January events in the film calendar.
"We are excited to bring the Sundance community together for the 2023 Sundance Film Festival, a celebration of independent filmmaking. After two years of being apart, our priority is reuniting in person, while still sharing bold new films with audiences across the country through online access. We've designed this year's festival based on our learnings from previous years — embracing the traditions that have been meaningful in the past, while also looking toward accessibility for audiences and expanding the platform we provide our storytellers."

– SUNDANCE FILM FESTIVAL
---
15. Straw Bear Festival
13th until 15th of January
On the first Monday after Twelfth Night the Straw Bear Festival takes place in Whittlesey, near Peterborough.
At the Straw Bear Festival, a straw bear is paraded around the town. Dancers and musicians from all over the country come to take part. The star attraction is a man covered from head to foot in a straw costume, dressed like a bear, which weighs 30kg!
---
Festivals in January
Going to a January festival is a great way to kick the year off in style. January can be a funny month, with dodgy weather, no money and everyone trying to get started on their New Year Resolutions. I recommend you ditch all that for next year, and just book yourself a festival in January to have a great way to kick off what's going to be a brilliant year for you.
Which of these January festivals sounds best to you?
Check out the best festivals in December too, and the November festivals look pretty sweet!
For the best FESTIVALS IN FEBRUARY, click here.
---
Pin these January festivals for later