On the way to my brother's wedding in Samos I signed up for a personal shopping experience at Heathrow.
Totally felt like a celeb, and along with the Champers, the whole experience turned out to be the perfect start to my trip.
So, seeing as you don't have to be a celeb, or millionaire, or even want to spend loads, to sign up, I thought I'd tell you exactly what to expect from Heathrow's personal shopping experience, so you can think about booking it for your next trip.
My personal shopper
I met my personal shopper Anjana at customer services, as you exit security in Terminal 2. We walked down to the personal shopper room, via WHSmith where she bought me some water. As you can see in the video above, she opened the room to one wall lined with display cases, showing off the latest Paul Smith and Miu Miu designs. These change regularly to suit the seasons.
I settled in and Anjana showed me the clothes she'd picked up from John Lewis. Terminal 2 has a small selection of shops, but you can request brands for your experience from any of the other terminals. The personal shopping experience is also available at Terminals 3 and 5 too.
I'd already mentioned in the pre experience survey that I wasn't really interested in the super expensive brands. Sure, it'd be fun to try stuff on, but I knew I wouldn't buy them. There's no obligation to buy a thing, but rather than just trying a bunch of unattainable clothes, I wanted a more practical experience with actual suggestions on what would genuinely look good on me. And I could buy.
---
Watch my Heathrow Personal Shopping Experience on YouTube
Subscribe for the latest videos!
---
The clothes chosen for me
And so I slowly made my way through the clothes hung up for me in the changing room. Turned out Anjana had picked a few pieces that were basically what I was wearing on arrival – black trousers, shirts, long necklace, a backpack and flip flops.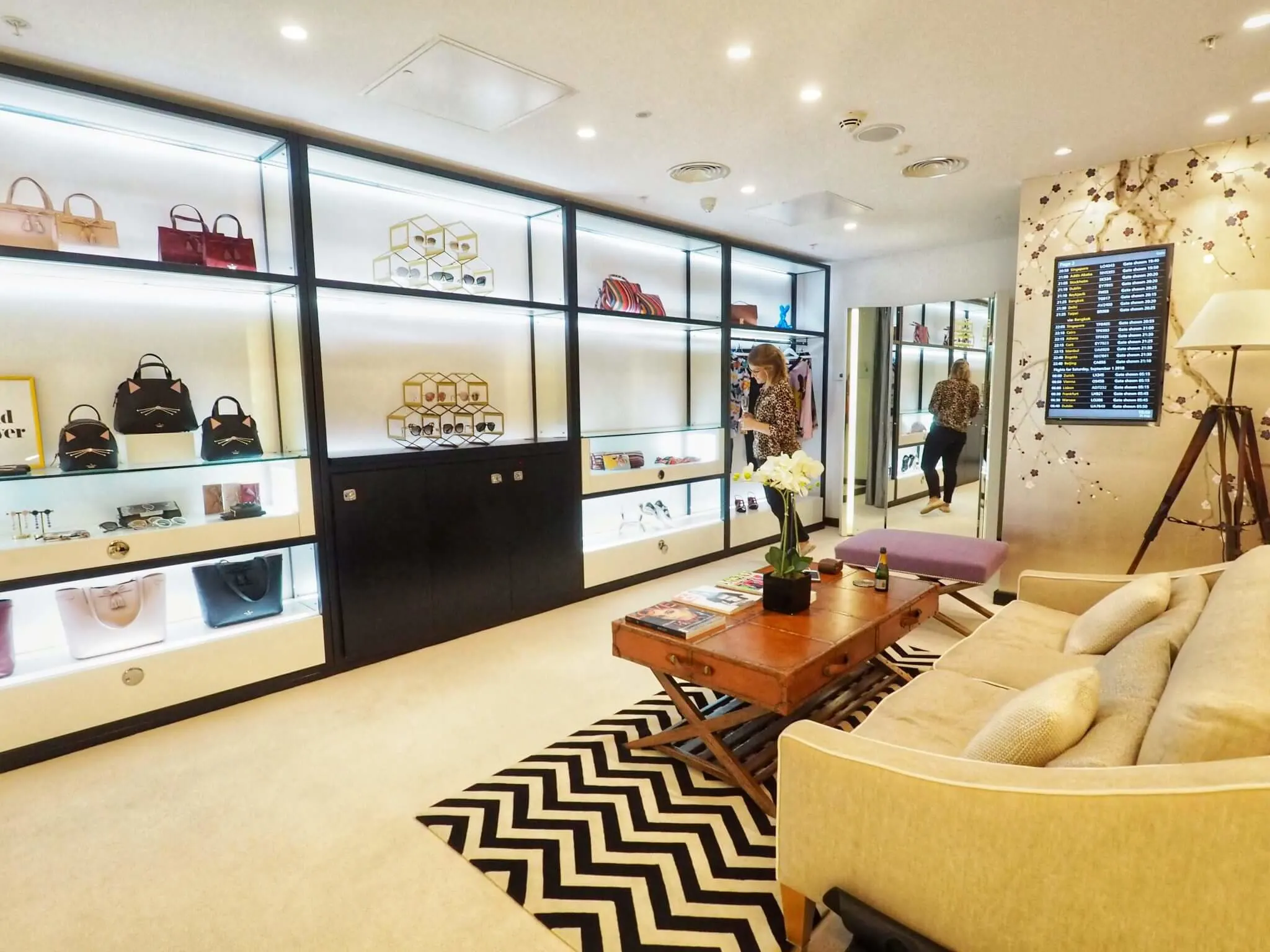 I loved the backpack, but I was basically wearing the same one in brown. I also really liked the red shirt, but I just felt like it wasn't quite right for me right now as I was on my way to the sun. Same goes for the black jeans.
---
Love airports?
Check out this airport quiz. See how many funny airport codes you can name, and do you know the busiest airport in the world? Test your airport knowledge here!
---
Personal shopping around Terminal 2
Her choices did persuade me to go and look in John Lewis though – where I picked up some cool sunnies and some awesome swimming shorts for Ben. Part of the personal shopping experience at Heathrow is to then go and look round the shops, with your personal shopper at hand. I'd already tried on all the sunnies in the room, some of which I loved but were just too expensive.
I mean, these Miu Mius. Yes please, anyone?
And so we wandered up to the Sunglasses Hut – where I spent a lot of time wanting more money to buy sunglasses I totally didn't need. You can see some of the selection in the video.
And then, a quick dip in John Lewis for more treats. I checked out the clothes I'd tried on but ended up buying my boyfriend some cool swim shorts and me some (cheaper) sunglasses from the selection.
Personal shopping in Duty Free
I wanted some advice on aftershaves and perfumes, so Anjana led me to Duty Free. I really wanted to buy Ben a nice fragrance but had absolutely no idea where to start. The guy there introduced me to a few, and after about ten, where my nose was stunted (did you know you can sniff coffee beans to replenish your palette) I found the Salvatore Fergusson one.
Treated myself to the Marc Jacobs travel size pack too. Wanted the Decadence, but at £70 that's going to have to wait.
Also went for a little chat to the Dixons crew about headphones, earphones and memory cards. Thanks to the little Champagne buzz I had going I was very close to buying the Marshall headphones I've wanted forever – managed to stop myself at the last minute.
And that was it – my Heathrow Personal Shopping Experience.
Your personal shopping experience at Heathrow
Anyone can sign up to the experience, on the Heathrow website. Just fill in your details, any requests for shops, or brands or other information and send it off within 48 hours of your flight time.
Your assigned personal shopper will get back to you ASAP, either via email or text, and have a chat with you about what you'd like to get from the experience.
If you fancy treating yourself to something a little different at the airport next time you're travelling, book yourself a Personal Shopper at Heathrow on the website.
---

---
Few quick facts for you
– Heathrow's personal shoppers speak 20 different languages.
– You can book the personal shopping experience at Terminals 5, 3 and 2.
– The experience is complementary and there's no obligation to buy.
– The team are all trained stylists and many have extensive fashion backgrounds.
– You can fill out a request up to 48 hours before you're due to fly.
I was invited to try out Heathrow's Personal Shopping Experience in return for a review on my blog.
I bought all the treats myself!
More on flying