In September I was invited to Saas Fee, in Switzerland, to check out the Nostalgic Culinary Mile Food Festival. Food and festivals – obviously it was going to be a yes.
Of course the food festival was awesome (more on that) but Saas Fee turned out to be a pretty cool town too. I'd never actually even heard of it before, but once I started chatting about it on my social media I realised a lot of other people had. Apparently it's kinda famous, and not just because the snowy mountain tops were where George Micheal's video for 'Last Christmas' were filmed.
It's actually one of the most popular skiing spots in Switzerland, all year round (see point 2 below). The quaint little town is right in the middle of an amazing mountain range, so of course the scenery rides pretty high, and with easy and more difficult walks galore, it's a favourite place for hikers from around the world.
And with the calories burned walking, that means more FOOOOOOOD. And we like food.
6 Great Reasons to Visit Saas Fee in Summer

Saas Fee is just on the border of Switzerland and Italy.
1. The amazing food
The food in Saas-Fee is hearty, wholesome and I'd estimate a good 1000 calories per serving. Well, it was for us anyway. The whole reason for being in Saas-Fee was for the annual Sass-Fee Culinary Food Festival, but even if you can't make it for that weekend in September, you can have your own food festival with all the food options in town.
Think stodge, think cheese, think delicious.
I was in Saas Fee with my friend Fiona, who was there for BBC Good Food Magazine, so we had to eat a lot for research purposes. Not my fault.
As well as our three nights of six-course dinners at four-and-half-star Hotel Schweizerhof Gourmet & Spa, we tried a few places in town…
Try the fondue at Vieux Chalet – you can choose three different cheeses to have in a separate fondue, all served with potatoes and bread to dip. Deeeelicious.
And you need to try the rosti, anywhere – this stuff is hearty, filling and super cheesey. Perfect after a morning up the mountain walking.
I can also recommend the lamb stew at Waldhus Bodmen (with potato rosti on the side). This was a great restaurant on the mountain side, with incredible views and llamas wandering outside. Inside they had a whole room filled with bunny rabbits that you could see from the restaurant while you ate. Waldhus Bodmen was my favourite restaurant from my time in Saas Fee and a nice little ten-minute walk from town along a lit path.
2. You can ski all summer long
Saas-Fee has the luxury of being near one of the highest summit's in Europe, which means there's guaranteed snow all winter, and usually in summer too. We went up to have a look but unfortunately after taking the two cable cars and funicular all the way up there, the visibility was shocking.
Instead we had a mulled wine in the world's highest revolving restaurant looking out into the white abyss.
By the time we got back down we looked at the webcam and it had turned into glorious sunshine with beautiful blue skies. Dammit.
If you fancy a summer skiing holiday in luxury, you could book a chalet in Saas-Fee for the family / friends and make a home away from home. Chalets are available for 2-12 people all around the main town and surrounding area – there are even some ski in ski out, lush!
3. The Marmots are out, and they're hungry
I'm not really an animal person – sure you've seen me write that before. I wasn't too bothered about the Marmots but Fiona wanted to see them and of course I was happy to go along and take photos. But they were such cute and funny little things. After feeding that little one an apple I had to get involved.
It might look like Fi is just eating an apple below, but she's biting off bits to feed them. They loved it.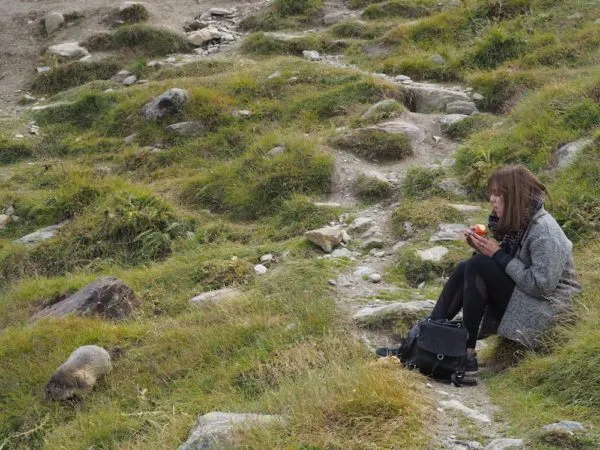 The marmots hang out half way down the Spieldon cable car so it was a bit of a hike up and down, especially at that altitude, but totally worth it. I reckon there were about 7 or 8 of them while we were there.
4. You get more for your money
Go to Saas Fee in summer with Inghams Holidays and your lift pass and your train tickets are all included in the price. This alone comes to a few hundred.
Saas Fee might be well known as more of a winter destination but if you want somewhere new and interesting, with lots of outdoorsy things to do, then I'd totally recommend a trip there in the summer – if you've got the money for it.
It's Switzerland, it's expensive.
5. The hiking is stunning
Thanks to the hills and valleys of Saas Fee, the views from the hiking trails are just amazing. There are so many beautiful viewpoints to see the surrounding mountains from.
There are a few different hiking trails, from easy to difficult, all around the valley. Lovely way to chill out and clear the mind.
6. And you can scooter down the mountain
In the summer you can rent a scooter at the top of the mountain and scooter all the way down the ski trails.
Lots of fun but also kinda scary. I was too much of a wimp to let the brakes go entirely but if you have a need for speed then you're going to love it. The unlevel ground definitely made for a bumpy ride.
Summer in Saas Fee
I visited Saas Fee courtesy of Inghams Holidays in return for telling you aaalll about my experience.
---