If you're planning on taking alcohol into a festival you need to think strategically. What is the best alcohol for festivals, what'll taste good in the sun, and what will get you the desired level of 'tipsy'?
Also, you need to establish whether you're actually allowed to bring the festival drinks in, or not. If you're not, you'll be better off reading my article on How to Sneak Alcohol into Festivals first.
If you are, here's my advice from over a decade of experience and effort in deciding on the best alcohol for festivals based on cost, weight, taste and durability.
The best alcohol to take to a festival
There are a few things to remember in taking alcohol into festivals.
You may have to carry your festival drinks a long way.
And for a long time.
Your festival drinks will get warm.
Or cold.
You can't take glass in.
No matter how long this is though, you will reap the benefits tenfold when you get to your camp and you have cheap booze yours for the taking.
Enjoy my tips for the best alcohol to take to festivals!
---
This post contains affiliate links which means if you click them and make a purchase I make a small commission at no extra cost to you!
---
No glass at festivals
You need to put your alcohol in plastic bottles for festivals – so make sure you decant them before you leave the car. You will not be allowed to bring the glass in, and for good reason.
Danger!
Lots of people walk round barefoot at festivals, and things get lost and misplaced and the glass is dangerous. Also, total nobheads throw things, and no one wants a wine bottle to the back of the head, do they?
So yeah, decant. Just start saving your plastic drinks bottles in the run up to your festival of choice.
Festival drinks ideas
Wine at festivals
You need the type in a bag, which I like to call Cardboardeaux.
Keep it in the box as long as possible for protection and at the final stage take it out so you only have to carry the bag around. You might want to keep it in another plastic bag though, just to be on the safe side if it's in your rucksack with all your other stuff.
Sweet Amazon wine bargains for festivals
I'd go for red wine at festivals– white or pink is rancid in the sun, especially the kind you get in a bag. Or of course, take one to drink immediately and a few to keep.
Don't bother with bottles for festival drinks, you'll never get them in and they're really heavy. They're also pretty dangerous. You can get some great deals on boxes of wine for festivals at Amazon.
Top tip: take some frozen fruit to drop into the wine to keep it cool. You can just eat the fruit afterwards.
---
Beer and cider for festivals
I've never been a fan of taking beer and cider to a festival, in fact the most I've ever taken is four to drink on the way. What's the point of beer if it's not cold?
You do often see people carrying a few in on a trolley (see below
) or even in a wheelbarrow, all strapped in and down. After a few days they must be rank though, and they take up loads of space in your baggage. I'm more of a wine and spirits woman myself, but I couldn't have an article on the best alcohol to take to festivals without mentioning this major drink group – could I?
Sweet Amazon beer and cider for festivals bargains
Carrying beer into the festival is just way too much effort and too much hassle for me, for not enough return.
The other problem I have with drinking beer is that I'm constantly at the toilet, and we all know how annoying that is to deal with at festivals.
So annoying in fact I've written an entire post on how to avoid the toilet at festivals, and not drinking too much beer is definitely one of them!
BUT, if beer is your drink, your thing, your friend – and you don't mind it being warm, check out the beer crates on Amazon for some great deals.
Top tip: if you do decide to take cans of cider or beer to the festival, start off with a cold one or two from the bar and then the warm cans will slip down a little easier.
---
Drinks trolleys for festivals
Trolleys can really help when it comes to getting your drinks into festivals, especially if you have a long way to go like at Glastonbury. This is the trolley I have as I just felt like it was worth investing that little bit extra (£30).

If you don't have that much to spend, this lightweight one at £15 could be good.
Otherwise, check out the whole range of trolleys they have on Amazon. I've found some of the best festival trolleys here – there's also a guide to what to look out for when you're buying one.
---
Spirits for festivals
Now we're talking.
I like to have a friendly array of spirits in my festival backpack when I go to any festival. Spirits are definitely the best festival drinks.
Rum is always my top choice at festivals, I get a nice buzz and you can easily drink it straight – great for saving money on mixers and time on toilet queues. You can't beat some good festival liquor to get you in the mood to party.
Gin, always a nice drink, but I prefer that as a fancy drink in a bar rather than at a grimey festival. As much as I like gin, I don't like it straight up so gin is not a top choice for me.
Vodka is always a no for me because of the inevitable memory loss. But, I know this is a strong contender as a festival alcohol favourite. Just don't come near me with it.
Sweet Amazon spirits bargains
When I went to Glastonbury for the first time and we had to queue for three hours to get in in the rain, we were so happy for our de cantered bottle of Jagermeister. We drank the whole litre between the four of us and the queue time became much more fun. Jager is always a good one because it's delicious to drink straight.
My hot tip for Jager is to mix it with Iced Tea.
Need to copyright that drink actually.
Buy festival liquor miniatures to sneak in to the main arena!
---

---
Mixers for festivals
I just wouldn't bother taking mixers to a festival.
A nice carton of orange juice might be good to start, but by day two of being in the tent it'll be rank. Bottled fizzy drinks are horrible in my opinion – they need to be in a can – and they're just too darn heavy to carry.
Splash out on mixers at the festival for your de cantered spirits, it'll be worth it.
Or, even better, learn to drink your spirits with water. Cheap, calorie free and easy!
Shame it's kinda disgusting, obviously.
My festival drinks
In short, my basic boozey backpack for a festival contains:
Bag or two of red wine
Decantered bottle of dark rum
Decantered bottle of Jagermeister
Extra cash to buy a deliciously fresh beer, cider and cold soft drinks as mixers.
What to drink at a festival
Yep, all of the above, but also, that magical hydrating W word: WATER.
At Glastonbury 2017 I think I thought I was too good for water and by the Sunday was pretty much dying from some sort of digestive sepsis, or similar but not quite as dramatic.
I'd barely drank any water during the festival because I didn't want to need the toilet. Terrible idea TBH.
Water is free – at most decent festivals from the tap – will hydrate you, and will make you feel a helluva lot better in the morning.
How to keep drinks cold at a festival
Well, here we have a problem – it totally depends on the weather at your festival. If it's a cold field festival then the best way to keep the drinks cold is to just put them in a bag, under your tent. Put them inside and the heat will warm them up. Also you could try putting one of those foil emergency sheets on top of them but make sure they've still got contact with the cold ground.
If they're cans you can also try putting them in socks, or coozies, as they have in America. This can help cool them down, and this little lot are just over a tenner.
♥
Click to check the latest prices on Coozies on Amazon.
♥
If it's a hot festival, then you'll need to see if you can buy any ice. At Coachella Festival, in the Palm Desert in California, there was an ice man who came round on a cart. This was an amazing way to stay cool at festivals. At Glastonbury, I've never seen any ice for sale. So, I'm at a loss.
The worst thing you can do is leave the booze in your tent to boil.
If you're going to a British festival you won't want to carry a big cool box, but you can keep one in your car to keep your festival alcohol as cold as possible until the last minute.
---
Coolboxes for festivals
Click here to check the latest prices on cool boxes and cool bags on Amazon.
---
Easy festival drinks to try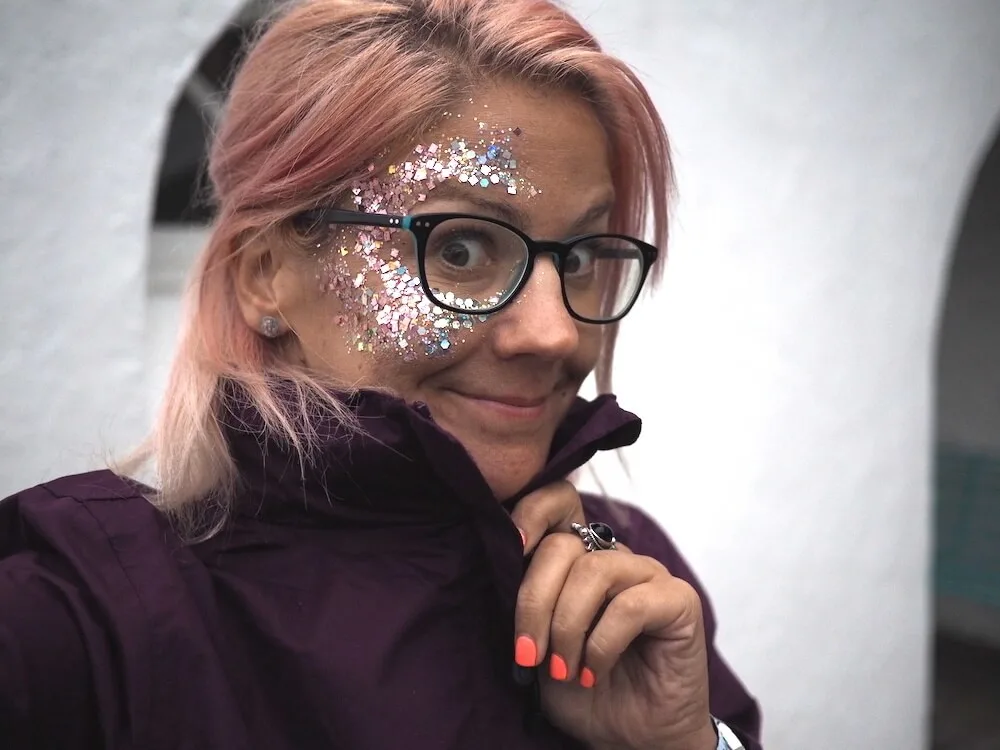 1. A good quality whisky with just a drop of water to dilute. You might need to practice a bit with this one on the run up. Worth the effort though, trust me.
2. Nice bottle of port in your hipflask? A slightly warmed port makes for a great festival drink, and actually a nice one to have a sip on now and then too.
♥
Hipflasks for festivals
Click here to see the awesome range of hipflasks on Amazon.
This one is only £12.99!
♥
3. Real ales. I hate real ales but if you're a fan then I have it on good authority that they taste the same a degree or two warmer. Could be a good shout.
4. Best quality tequila. Freeze it into a thermos flask and you'll have days of cold tequila from that little experiment. The perfect alcohol for festivals!
♥
Thermos flasks for festivals
♥
5. Frozen vodka and juice. Mix vodka and cranberry juice in a juice box, and then just carry that in. By the time it defrosts you'll have a nice mix to drink.
6. Dark rum and ginger beer. This kinda tastes ok when it's warm, especially if you have a little lime in there. If you're at one of those festivals where they put the bottles on ice see if you can sneak a cube or two for your drink.
♥
So, what's your favourite alcohol for festivals?
---
Pin the best alcohol for festivals for later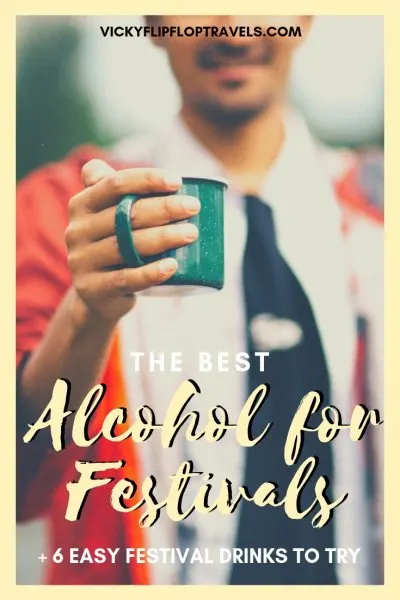 ---