Wondering where to shop in Singapore? You will be spoilt for choice! Read the blog to know more.
Whether you love your high-street designer brands or seek comfort and joy in budget shopping and steal-worthy deals, Singapore is the place to be. It's one of the most vibrant shopping hubs in Asia that can fulfil all your shopping dreams and desires.
Singapore is regarded as a fashion paradise for millions of tourists and one such place that does justice to the phrase 'shop till you drop'.
If Singapore has the best of designer brands, it also offers a world of choices for budget shoppers.
1. Chinatown
When in Singapore, a visit to Chinatown is a must. Just strolling the streets is a wonderful sight. The colonial architecture, coupled with the hanging red lanterns bringing out the simple beauty of Chinatown, is an unmistakable part of authentic Singaporean culture.
This market area has some of the best shopping places that are perfect for budget travellers and budget shoppers. You can find a plethora of the most fascinating items – from spices to souvenirs to clothes, from street side stalls to cute little shops – you can heartily bargain and shop here until you feel satisfied with your purchases!
Talking about the stalls, you'll witness a range of interesting items such as traditional attire, waving lucky cats, handmade fans, impressive lacquerware and a variety of souvenirs available in all shapes and sizes. But what you must remember is that to get the best deals, you have to haggle and bargain like a pro.
There are multiple bus routes that can take you to Chinatown. There are multiple entry points into Chinatown so when you book your bus ticket, make you sure to input the right option.
Opening times: While some stores stay open till 6 PM, some close late in the night by 11 PM.
2. Bugis Street
Situated in between Little India Marina Bay in the south, the Bugis Street Market is one of the top shopping places in Singapore and considered to be the cheapest market in the country for buying souvenirs, accessories, clothes, electronics, houseware, and cosmetics.
There are over 800 stalls to peruse through and you can spend hours browsing through the stalls and exploring eateries for a fun and truly local Singaporean shopping experience.
For all the fashion-fanatics out there, Bugis Street has some incredible clothing, shoes and accessories stalls and stores. These choices are affordable and up with the fashion trends – the perfect combination of being a trendsetter without having to burn a hole in your pocket!
Opening times: Open from 11am to 10pm every day
3. Orchard Road
When you want a wholesome shopping experience that goes beyond clothes and shopping, Orchard Road is the place to be.
There are local and international department stores, boutiques and mega malls – from budget apparel and electronics to high-end fashion labels and housewares, you can find it all at Orchard Road. The street performers add a nice touch of entertainment and vibrancy to Orchard Road and makes shopping here a truly unique experience.
If high-street fashion is what you are wanting to shop, ION Orchard and Paragon house all the designer brands you'll ever need.
Opening times: Most of the stores and markets open from 9 or 10am, and close by 10pm. But on every Saturday, almost all the shops extend the Singapore shopping hours till 11pm.
4. The Editor's Market
What makes your visit to the Editor's Market is the concept of step pricing – the more products you purchase, the cheaper the price!
Editor's Market is a multi-brand outlet offering an interesting and satisfying mix of top-selling international labels to vintage-style fashion collectibles. This is the perfect place for some good ol' binge-shopping clothing and accessories from a time forgotten yet cherished, like the '70s with its disco pants, bobby heels and chiffon shirts of the 80s and much more.
The Editor's Market is a great place for you to reinvent your fashion sense and create a whole new wardrobe with incredible one-of-a-kind items.
Opening times: 10:30am to 10pm
5. Little India
So you've been to Chinatown, now let's take a trip to Little India as well. The colourful and vibrant Little India is a shopping haven which offers an insight into the Indian culture and life of Indian living in Singapore. All the lanes are inter-connected, making shopping and walking around a breeze. This is also an advantage for those travelling by bus since it provides easy access into Little India.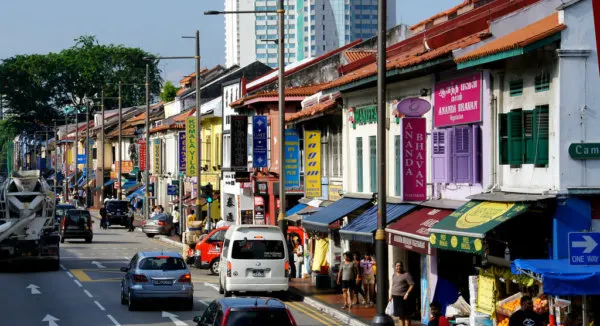 From spices and rich sari fabrics to flower garlands, jewellery, and silverware, you can find a plethora of things to shop here in Little India!
Radiant colours, exotic sounds and intriguing smells, add to the experience of exploring. What's more, no trip to Little India is complete without sampling the different fragrant curries and feasting on local Indian delicacies. Multiple bus routes can take you to and from Little India so when you book your bus ticket, you can book multiple pit stops but make sure Little India is one of them!
Opening times: While the Mustafa Centre stays open for 24 hours, the other shops mostly remain open till 10pm.
Shopping in Singapore
When in Singapore, you have to shop given that this thriving southeast Asian country has something for everyone. These 5 shopping places are easily accessible by public transport so if you are planning on travelling around by bus, your bus ticket can take you anywhere and everywhere in Singapore.