There are so many important religious festivals around the world to enjoy. Religious festivals are a great way to understand the local culture, and to join in some of the biggest celebrations of the year!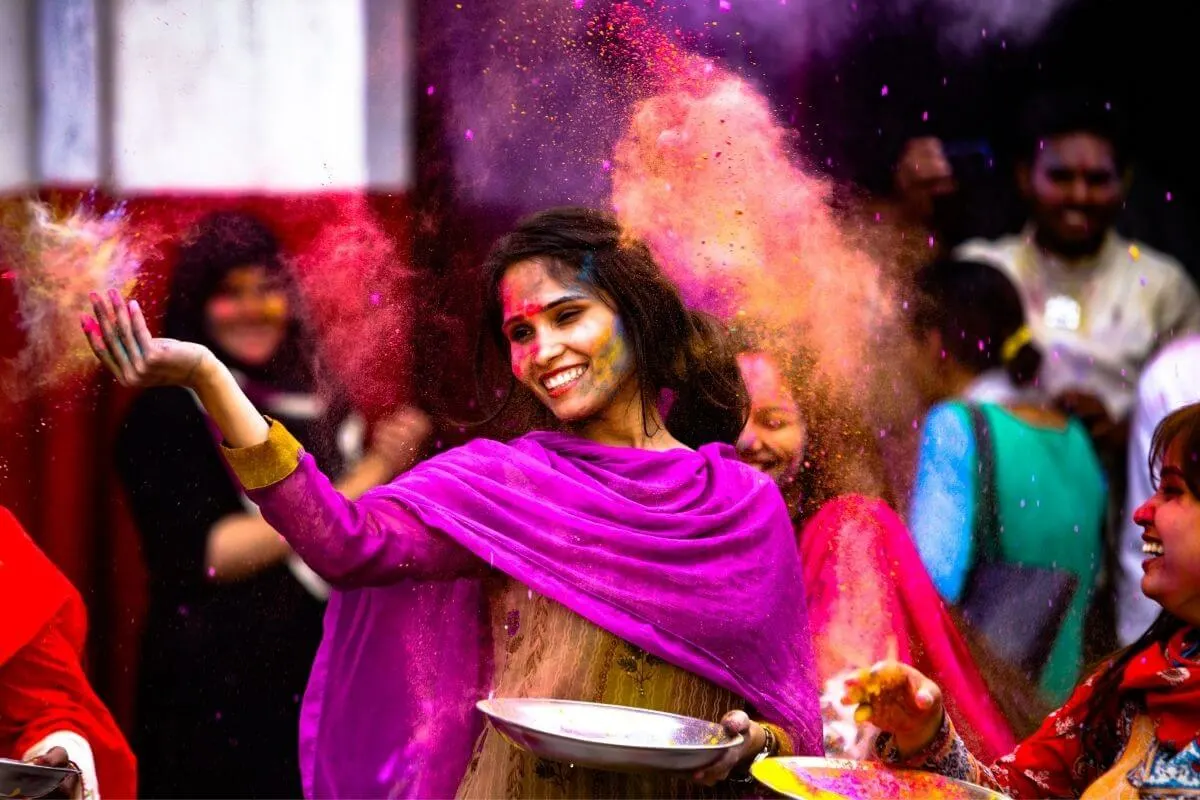 In most religions, there are important days of celebration.
In Judaism, for example, Yom Kippur is the most important religious festival and it is a day of fasting from sunset to nightfall where Jews go to synagogue and atone for their sins.
In Christianity, Good Friday is an important holy day because it commemorates the death of Jesus Christ on the cross, and Easter which celebrates Jesus' resurrection.
Muslims celebrate Eid al-Adha which celebrates Abraham's willingness to sacrifice his son Ibrahim in order to obey God's command.
The celebrations that stem from these can be considered some of the most important religious festivals around the world. Let's take a look at some of the best…
Most Important Religious Festivals
If you want to know what the most important religious festivals around the world are, then read through this list.
---
1. Spain's Semana Santa religious festival
What is Semana Santa?
Spain's most known and important religious festival is Semana Santa. Semana Santa or Holy Week is celebrated throughout the entire country with large festivals taking place in Seville and Malaga.
The celebration lasts over the course of the entire last week of Lent. Lent is the time when people fast or give up something that they would normally do, or something they usually eat or drink which can be a distraction for them. They use this time to reflect and draw closer to God.
Who celebrates Semana Santa?
Semana Santa is very significant in most Spanish cities, especially Seville where most of the most important religious festivals happen every year during this time. It is also celebrated among many people from Mexico, South America, and most of Europe.
What are the 7 days of Holy Week?
Holy Week is the most important part of Easter celebrations. Holy Thursday, Good Friday, and Holy Saturday are days of significance where people spend most of their time in prayer and remembrance.
Holy Thursday commemorates the Last Supper where Jesus established communion.
Good Friday commemorates Jesus dying on the cross
Holy Saturday commemorates Jesus' last day of being dead
Easter Sunday celebrates Jesus' resurrection.
Why is Semana Santa important?
Semana Santa is most important because it celebrates the most important day in Christianity: Jesus Christ's death and resurrection. It also celebrates God's ability to redeem sins through Christ's sacrifice.
Is Semana Santa a tourist attraction?
Semana Santa is an important time of remembrance and celebration as people in Spain and other countries remember Jesus' last few days on earth, His death and resurrection. During Holy Week, people who observe celebrate these days through fellowship with others, gathering with family, and even elaborate festivals. These festivals can be a tourist attraction to people visiting one of these countries.
Where is the biggest Semana Santa celebration?
Sevilla holds the biggest of all the religious celebrations of Semana Santa in Spain with about 1.5 million people attending. The celebration begins on Palm Sunday and goes up to Easter Sunday.
It is a huge celebration with tons of different activities. One of the most popular activities is marching in the procession of brotherhoods of the church and penitents with is later followed by floats decorated with images of the Virgin Mary or Jesus.
Semana Santa festivals are an incredible sight that you must see if you are planning a trip to Spain around Holy Week.
---
2. India's Kumbh Mela religious festival
What is the Kumbh Mela?
The Kumbh Mela is the biggest festival in the world, held in India. Every four years there's a mini Kumbh Mela, but the big deal is every 12 years. I went in 2019. The one in 2013 was the biggest celebration in the world, with an estimated almost 120 million visitors.
The Kumbh Mela in Prayag happens at the convergence of the Ganges, the Jamuna, and the mythical Sarasvati rivers. It's an incredibly religious experience to attend, and the holy sadhus come down from the mountains to join. Devotees take the pilgrimage in the hope of washing away their past sins.
Bathing is the most important ritual here, for 'soul-cleansing'. Devotees believe that by taking a dip in the river, their sins are forgiven. Other rituals include religious assemblies, devotional singing, mass feeding and debates on sacred doctrines. You can find out more about the Kumbh Mela here.
Who celebrates the Kumbh Mela?
Hindus, especially Hindus in India.
What does the Kumbh Mela represent?
The Kumbh Mela indicates the beginning of an auspicious and holy event. It also signifies knowledge, happiness and bliss.
Why is the Kumbh Mela important?
The Kumbh Mela is one of the world's most important religious festivals because of the holy dip. It's an important place, date and experience in Hindu mythology. If you want to know more about my experience of the Kumbh Mela – click the link!
Is the Kumbh Mela a tourist attraction?
No, it's a deeply religious festival. Although, I went as a tourist, and I saw a handful of tourists around. I think a lot of tourists would find it an uncomfortable experience, although a fascinating one. If you don't go as part of a tour, it can be difficult to know what is happening.
Where is the Kumbh Mela?
The location of the Kumbh Mela changes every three years, although it's always in India. It goes round in a loop like this:
"The festival is held at four riverbank pilgrimage sites – Prayagraj (at the confluence of the Yamuna, Ganges and the mythical Sarasvati), Haridwar (along the river Ganges), Nashik (along the river Godavari) and Ujjain (along the river Shipra) – over the course of a 12-year cycle."
---
3. Japan's Obon Festival
What is the Obon Festival?
The Japanese Obon Festival, or sometimes referred to as the Bon Festival is a holiday is held in honor of the spirits of their ancestors. It is called Obon and typically lasts for three days. During this time they visit the graves of their loved ones to clean them up and decorate them.
Obon is centered around the belief that the spirits of your loved ones and ancestors come back to visit. Obon usually takes place in the middle of August. The dates can vary based on what region of Japan you're in.
During Obon, families will visit the graves of their loved ones and ancestors to clean and wash the gravestones or grave markers of their family. As this is a common practice in Japan, cemeteries provide ladles for water so that the families can wash the grave markers.
The families will also hang lanterns in front of their houses that are to guide the spirit of their ancestors home. Offerings called Ozen out placed in front of their houses on alters and even on the graves as a way to bring the living and the spirits of their ancestors together.
There is also a traditional Obon dance that is performed called bon adori which is a way of dancing with the ancestors. It is an amazing sight if you ever get the chance.
Is Obon a religious holiday?
It could be argued that Obon is a religious event in Japan because it is observed yearly in honor of the spirits of their ancestors. Many cultures around the world have religious holidays to remember their loved ones so Obon can be religious if someone chooses to practice it with that motivation whereas others may not be considered as such.
Who celebrates Obon Festival?
Obon is held in Japan where it is observed to honor the spirits of their ancestors. The Japanese people believe when they celebrate Obon, they are reunited in a way with their ancestors and loved ones during this time.
3 Obon Festivals to See
Daimonji Gozan Okuribi Fire Festival in Kyoto, Japan
Awa Odori Festival in Tokushima and Shikoku, Japan
Gujo Odori Festival in Gifu, Japan
The Japanese Obon festivals are another must-see if you are looking for an amazing cultural experience.
---
---
4. Mexico's Día de los Muertos
What is Dia de los Muertos?
Dia de Los Muertos translated in English, Day of the Dead is a holiday celebrated in Mexico and other Latin countries from October 31st through November 2nd and is believed to be the day when the spirits of their ancestors can come back to visit their loved ones on earth.
It is celebrated by families keeping photos of their loved ones on their ofrenda, placing offerings to their ancestors on their graves, and wearing elaborate masks so that you cannot tell the living from the spirits.
What does Dia de los Muertos represent?
This holiday is about choosing to be happy in the present instead of dwelling on the past. It is a time to remember family members and memories that you may have of them while they were living as well as a time to pass down stories to their children.
How is Dia de Los Muertos celebrated?
What happens during this celebration are people go to the cemetery to clean and decorate the graves of their loved ones. What makes them different from other holidays is that people will set up an altar for their deceased relatives with offerings of favourite foods, favourite drinks, and photos of their loved ones who have passed away.
They light candles and put out flowers to help guide their ancestor's spirits home to bring the family together. This is all part of the tradition of Day of the Dead Festival.
What significance does Dia de Los Muertos have to Mexican culture?
This holiday has a very rich history for the people of Mexico. It's important to them because it connects them with their ancestors, which makes it easier for them to remember their culture and where they came from.
Is Day of the Dead a religious festival?
Day of the Dead is actually a religious holiday that was celebrated long before the Spanish arrived in Mexico. In fact, it's widely deemed as one of the most important festivals among native Mexicans. Originally, it was only celebrated by indigenous people, but now it is also observed by many non-indigenous Mexicans who want to preserve its traditions and customs.
How did Dia de Los Muertos originate?
Dia de Los Muertos' origin can be traced all the way back to the Aztecs. The Aztec people celebrated the Festival of the Dead by offering food and water to the spirits of their loved ones for the journey to the land of the dead.
How did Dia de Los Muertos later get established?
When Mexico gained its independence after the Mexican War of Independence in 1821, two significant dates were set: November 20th (which marked the beginning of the war) and September 15th (which marked the independence day). The Day of the Dead was placed between these two important dates, in order to emphasize its significance.
How did Dia de los Muertos transfer from Mexico to America?
Artist Jose Guadalupe Posada created artwork that showcased those celebrating the holiday with skeletons. As Mexican traditions gained popularity among other countries, it became more common to see skeletons and Calaveras (the Spanish word for skulls) in Day of the Dead celebrations.
What countries do Day of the Dead?
Today, the Day of the Dead is celebrated all around the world and incorporated in many countries like Colombia, Ecuador, Honduras, El Salvador, Nicaragua, Peru, and Venezuela.
What makes this holiday so popular is that no matter where you live, there are countless ways to incorporate it into your culture. What's most important is to show gratitude to those who came before us, and remember all that they've done for us.
---
5. India's Diwali
What is Diwali?
Diwali is a Hindu festival, often known as the Festival of Lights. It's held in October / November time and is associated with Lakshmi, the goddess of prosperity. It marks the beginning of the financial year in India.
Who celebrates Diwali?
Hindus, Sikhs and Jains the world over.
What does Diwali represent?
Diwali lasts for five days and celebrates the victory of light over darkness – it's one of the most popular holidays in India. It's a festival of new beginnings. In the UK many city centres will also celebrate the festival. It's a time to pray to the Hindu goddess of wealth.
What do you do during Diwali?
This religious festival is very important to the faithful. Followers will wear their finest clothes, illuminate their homes with diyas and rangoli, perform worship ceremonies of Lakshmi, light fireworks, and have ifamily feasts, where mithai (sweets) and gifts are shared.
Is Diwali a tourist attraction?
People do travel for different Diwalis around the world, but it's a serious religious event. Most religious followers will be travelling back to be with their families. It is a time though for all faiths to get together and celebrate, and eat!
---
6. Brazil's Rio Carnival
What is the Rio Carnival festival in Brazil?
The Rio Carnival festival is an annual celebration in Brazil. It is the largest carnival in the world and brings together over 2 million people per day. What makes Rio Carnival so popular? Everyone has their own story, but for many who participate in the festivities, it is a chance to celebrate life.
Despite being one of the most famous festivals in Brazil, you don't need an invitation to join in the fun. Anybody can be a part of this amazing, colorful experience by buying tickets online or simply walking up to one of the many gates that are set up around Rio de Janeiro.
How do you celebrate Rio Carnival?
People celebrate Rio Carnival by wearing costumes and dancing through the streets. There are many different ways to celebrate: You can purchase a ticket for one or more days of festivities; you can go on a tour that includes visits to various stages where dances happen throughout the day; you can buy food from street vendors who set up their stands outside stage areas and watch as people parade past them with elaborate masks and headdresses.
What is Rio Carnival's origin?
The birth of the Rio Carnival Festival as we know it today dates back to 1723 when the first informal street celebrations were held in Rio. What began with a few people dancing on the streets gradually turned into something much more organized: an event where people parade through the city, celebrating life, music, and culture.
Who Celebrates Rio Carnival?
Today, Rio Carnival is still celebrated in Brazil and all around the world. People from Australia, England, and New Zealand participate in this celebration with costumes made out of colourful fabric or paper mache. On this holiday people are encouraged to express themselves and embrace their own unique identity.
---
7. India's Holi Festival
What is India's Holi Festival?
Holi is a holiday celebrated in India and by Hindu people. It is also known as the Festival of Colors, the festival of love, and the festival of spring. Holi is a celebration of the victory of good over evil that lasts for two days. During Holi, people often participate in activities like playing games with friends and family, eating sweet treats, and playing with colors.
When is Holi celebrated?
Holi is celebrated on the day after the last full moon of the Hindu month of Phalguna. On a traditional western calendar, Phalguna is between the middle of February and the middle of March.
Who celebrates Holi?
Holi is celebrated primarily in India and Nepal but has eventually spread to parts of the western world. Holi is a religious holiday so it is also celebrated by people who practice the Hindu religion.
What do People wear during India's Holi Festival?
Traditionally, those who participate in Holi wear bright colours like red and blue, which represent happiness, fertility, prosperity, courage, liberation, and energy. Holi is definitely one of the most colourful religious festivals around the world.
What is Holi's origin?
A stone inscription was found dating all the way back to 300 BC mentioning the festival of Holi. It was also mentioned throughout history by notable people and was later developed into what we know today.
Colourful inspiration
Several popular events have been inspired by the festival of colors or Holi that includes The Color Run which is a 5K run that people throw colors at each other as a part of the tradition and music tours such as the Festival of Colours Tour.
The Holi festival is another great example of how different people across the world celebrate life. Religious holidays are a way for religions to spread the knowledge of their beliefs and culture, which helps us learn more about those who practice them!
Holi is definitely the most popular festival in India for tourists.
FAQs on Religious Festivals
1. Why do we celebrate religious festivals?
Some societies need to be reminded of their culture of origin so many practices celebrate of religious Festival. Through this, it also pays tribute to the ones they are worshipping to.
2. How are religious festivals celebrated?
Unless the same entity is being worshipped but just celebrated in different parts of the world, each religious festival is done differently. Some may take days or dance is incorporated or just prayers through and through. Nothing is the same.
3. Why are religious festivals important?
Since religious festivals revolve around faith, it gives devotees another way to get in touch with what they believe in. It also acts like a thanksgiving and a chance for families to come together.
4. What religious festivals are all about dance?
The Philippines in South East Asia is home to many religious festivals that are heavily incorporated with dancing. Almost all festivals held in the country won't be complete without festival dances which is another way of tribute.
5. How do you compare religious festivals with non-religious festivals?
While both amass thousands of people, there is definitely an obvious difference. Religious festivals are acted out to give tribute to what a community believes in. On the other hand, non-religious ones are mostly focused on interests by many in, let's say, music or anime, or cartoons. Organizers hold these festivals either outdoor or indoor.
6. Are all religious festivals done yearly?
Most festivals do. One example that does not is Kumbh Mela in India. This religious festival is only celebrated 4 times in a full round of 12 years. This is a practice of the Hinduism religion.
7. What is the oldest religious festival in the world?
Nevruz in Turkey is the world's oldest religious festival. This is to commemorate the country's liberation from Egenekon. It's also associated with biblical events such as Noah setting foot on Earth after the Great flood or the day God created man.
---
Religious festivals around the world
Religious Festivals are a great way for people to celebrate their beliefs and spread the knowledge of those who practice them. Religious holidays can be found in many different religions, but some stand out more than others because they have been celebrated since ancient times.
No matter what your religion is or where you live in the world, there'll be a religious festival coming up to take part in. They're a wonderful opportunity for followers to share their customs and traditions with each other, and outsiders.
---