The new Virgin Voyages Scarlet Lady cruise ship has been unveiled to the world!
Richard Branson and his Virgin crew have decided to branch out into the world of cruising, and I was invited along on Friday to the press launch.
It was just a night, to the ship docked in Dover, but oh what a night it was.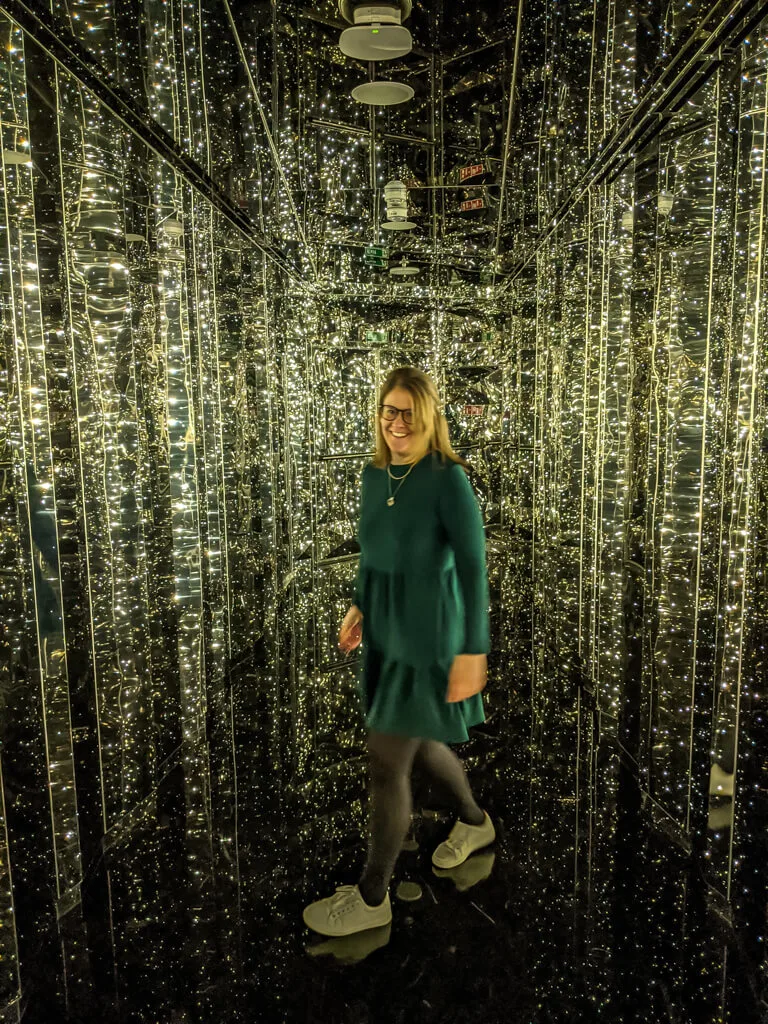 – This is the walkway into the ship's club, The Manor
---
Click here to see my TOP INSTAGRAM STORIES from the Virgin Voyages Cruise ship,
or just check out my story highlights on my profile @VickyFlipFlop.
---
The Scarlet Lady launch party
You might've seen some of the pics of the ship in the press – as this has been BIG NEWS. I saw a few before I went and knew to expect photo ops at every turn, pools, night clubs and fancy looking atriums.
Couldn't wait to get on board to see for myself.
As the press launch this was Virgin Voyages' chance to launch the boat with a crowd. Unfortunately, on arrival, the systems were down and they couldn't connect the gangway thanks to the wind.
Oh dear.
Lucky for us we strolled in at just the right moment as it was announced the queue was finally moving, and they handed out Prosecco in celebration. Then it took around 20 minutes in security and passport control, and we were on.
Honestly, from that moment on, it was pure cruise luxury. Drinks were free, we got to see one of the shows, eat at one of the ship's amazing restaurants and dance all night at the club. And get a second dinner at the burger bar.
We finally got to bed at about 2:30am. We had a brilliant time.
---
Review of the Scarlet Lady cruise ship
But, let's get back to the ship.
I thought it looked great from the outside. I've seen a few reviews point out that the ship's grey is kinda military, but I thought with the red, it worked. It certainly will make it stand out from the white ones when it's in port.
Sorry for the @VirginVoyages spam today, but we just can't help ourselves. She's such a beauty! ? pic.twitter.com/pHWtPaLzkP

— Port of Dover (@Port_of_Dover) February 20, 2020
We arrived onto the ship by the shops (all luxury designer brands I have no interest in), and into the first bar. We were keen to find our room, drop our stuff and get out to explore so we didn't stop.
This main atrium was really cool though. There's a good selection of different styles of chair, a stunning winding staircase and the aforementioned bar.
Rooms on the Scarlet Lady
They've designed the rooms so you can pack the bed away and have more space, if you need. This does give you more flexibility but, on the three cruises I've done, I've never actually wanted this. I'd rather have a comfy bed.
Other cruises I've done
Thankfully, despite being multi functional, the bed was still very comfy. In fact, I managed to sleep until about 10 the next day. Only waking up absolutely desperate for water.
Most of the rooms on board have balconies, and all the balconies have hammocks on. I got in the hammock, despite the fierce Dover wind, and decided it was more of one of those hammocks you sit on, rather than lie on, as you can see from my poor attempt at a picture.
It'd be lush on a summer's day though. So nice to have your own outdoor space on a cruise ship too.
"Scarlet Lady has a total of 1,408 passenger cabins and 813 crew cabins for a maximum capacity of 4,400 passengers and crew, which can accommodate over 2,770 passengers and 1,160 crew. Of the 1,408 passenger cabins, there are 78 suites, 1,030 balcony cabins, 95 window cabins, and 105 inside cabins."
The bathroom was compact, and I feel like it was designed by a man. There's a super powerful and delightful top shower, which Ben enjoyed. But, if you don't want to get your hair wet, your options are limited as there's nowhere to put the little shower head. I ended up holding it between my knees while I lathered up, which definitely is NOT ideal in a shower someone else will be using too.
The shower room was quite small, and if you were sharing with a friend. I just got changed in the bedroom so it was fine for me but if you weren't that comfortable with your room mate then it might be awkward.
Minor thing, but the Virgin gifted black bar of soap was weird. Ended up with black stuff all over the sink top – think they need to change that.
I liked the way you could close the curtains with a swish of your wrist, and then they went the rest of the way. But, we could NOT find the light switches.
We did find them the next day, hidden behind the curtains of the balcony door, which seemed a strange decision.
There wasn't really anywhere to put your stuff in the room, which meant that with the two of us in there it felt like it got pretty messy pretty quickly, even with us just staying overnight. I think they're fine for the younger generation, but if you like your space, or need some room, then I'd recommend booking into the cabins a level up.
Rock Star Suites
So most of the rooms are Ocean Terrace, which is the room type I was in. But, if you have some serious money to spread around then book yourself into the Rock Star Suites.
There are three Rock Star Suites, increasing in size and comfort, at the front of the ship. And the absolute premium rock star suite, has two versions, side by side right at the front.
They were amazing.
I've never been in the luxury suite on a cruise ship before, and so it was interesting to see how the rich people cruise. They had their own hot tub, an impressive bathroom and bath, a guitar room and a huge bed. Also, a record player and fully stocked bar too.
Eco friendly factors on board
The biggest criticism of cruising is of course the eco-friendliness of it all. Virgin have designed the ship with this in mind.
– The ship is single use plastic free.
– Repurposed ocean plastic and upcycled materials are used as much as possible on board.
– Products stocked on board come from small local businesses whenever they can.
– Virgin has partnered with Ocean Unite to work with the ocean for best practices.
– The ship's engine heat has been converted to electricity.
– All food is made to order, and there are no buffets.
Virgin are after the 20s/30s market with the ship. There are no kids allowed, WiFi is free all over, they've banished the idea of tips – keen to see how the Americans cope with this – and fizzy drinks and coffee are all included.
Evening entertainment
We were invited to the Red Room to watch an acrobatic show. It was AMAZING. The performers were so talented and it was a great, feel-good show.
They'd made the performance space so that the audience sat on either side, like a runway, rather than in front to watch the performance. I really liked this as it totally drew me in, although I did get a bit distracted by audience members on the other side.
Think that's just me though.
Top deck on the Scarlet Lady
It's not the Bahamas, but the outdoor space on board @VirginVoyages #scarletlady is looking mighty fine pic.twitter.com/0Ea5yHO1WO

— Marcus Adams (@Sparkx) February 21, 2020
So I was told on board that they didn't want to do the usual cruise ship thing, of having one star attraction up top (like a ropes course, or slides) and instead have lots of smaller things to do.
One of my biggest confusions on board is the swimming pool. It's SO small, and I just don't understand why they thought this would be enough for the 2,770 passenger capacity. It's also not very deep, or accessible.
Gonna be difficult to climb over that white slippery slope there, especially after a cocktail in the Caribbean.
On the Carnival Sunrise there were three bigger pools and they were always busy, and that capacity is 2,984, only a few more. I'm intrigued to see how this will work on their inaugural Caribbean cruise in May.
There are a few hot tubs – I saw at least three – but I still don't think that really makes for wanting to cool off after a hot day in the Caribbean.
There's an outdoor gym, or at least monkey bars and a punching ball. I can't imagine these being used for actual exercise, more for showing off to the hot tubs.
The gym wraps around the hot tubs, which I guess gives you some good people watching when you're running on those treadmills.
It was hard to get the full effect of the outdoor space on board the Scarlet Lady, as we were in a rainy, windy Dover, and there weren't many people up top. It did look like a really nice space though, and will be totally transformed with some sun and a few loungers spread about.
Bars and restaurants
Sip was a great bar, and beautifully designed. I mean, it's a shame with all this beautiful design, and huge windows, all you can see from them is the lifeboats. But, on the bright side, at least you know you're safe.
Pink Agave is the 'elevated' Mexican on board @VirginVoyages #scarletlady – another venue with such gorgeous design, don't you think? pic.twitter.com/T9FaltNb75

— Marcus Adams (@Sparkx) February 22, 2020
Dinner in the Test Kitchen
So, 20 restaurants on board. We were randomly assigned the Test Kitchen – a kind of fine dining experience – in, what looks like a test lab. And all the staff wear white coats.
Our waiter, Oleksander, was amazing. Such a nice guy.
My only criticism here would be it took AGES. We were in for a six-course meal and we were coming into the third hour and still waiting for the third course. Our sitting was at 7:45pm, so by this point we were ravenous, and well on our way to too many G+Ts.
The food was so tasty though.
In the end we just asked them to bring everything, and they did. So we ate courses 4-6 in about five minutes. I guess this is nice when you have all the time of a holiday cruise, but we only had one night on the Scarlet Lady.
They've also got a vegan restaurant on board, Razzle Dazzle. A steak and seafood restaurant, called The Wake, and a Mexican, called The Agave.
In the name of research and doing this review, at sometime around 1am we did go and get a burger and chips at the all night burger bar too. Absolutely delicious and everything I wanted to be honest. Love that they have this open and freshly cooked all night.
Great for a snack after dancing!
Breakfast at The Wake
We went down to The Wake for a three-course breakfast. First thought was that it looked amazing, and I was thrilled they would still serve us when we were after the breakfast time.
Second thought was that there was NOT much space to get into our seat, which could cause embarrassment. I could JUST make it. But if I cared more about what people thought of me I'd probably be embarrassed – I did have to squeeze in.
Speaking of, we were encouraged to try a three-course breakfast.
Clam Chowder
Eggs Benedict with Canadian Bacon
French Toast
The Clam Chowder and French Toast were a delight, and I'd totally recommend. I managed alright with three courses, but you may be overwhelmed. It was all beautifully presented and tasted great.
The Eggs Benedict wasn't cooked properly though – you know when the white of the egg is still clear? That. Couldn't eat it. I'm not entirely sure mine was Canadian Bacon either – looked more like ham.
We also had coffee, orange juice and a hard cooked croissant.
The Wake is right at the front of the ship so we could feel the engines underneath, and the sea was particularly choppy that day. Ben ordered the same starter but then had Eggs Benedict with bone marrow. He didn't really enjoy his either, and has pretty much vowed off bone marrow for the foreseeable future. I don't think the richness went very well with those choppy seas.
The restaurant is beautifully designed though, and seeing as this was press night, the Instagrammers were out in force and enjoying photoshoots on the sweeping staircases.
More things to do on the Scarlet Lady
The Redemption Spa
A day in Redemption costs $75 while you're in port, $100 at sea #scarletlady pic.twitter.com/uN71vGgIQw

— Telegraph Cruise (@TelegraphCruise) February 22, 2020
Ice cream parlour
Barbers and that walkway again
There's also a piercing studio, a pizza place, a Korean restaurant, a beauty salon, group fitness classes and a whole ship full of beautiful photo spots and cool nooks and crannies to explore.
To find out more, check out the Virgin Voyages website here.
Review of the Scarlet Lady
We had a brilliant 24 hours on the Scarlet Lady. Anyone who goes on a cruise will have a great time I'm sure. My only worries for you would be the size and functionality of the small rooms and the tiny swimming pools. Quite big gripes to be honest, but everything else was fantastic!
---
PIN THIS VIRGIN SCARLET LADY REVIEW FOR LATER