Looking for some long drive quotes to inspire a road trip, or maybe to caption your Instagram pics? Here are the best road trip quotes to motivate you to start that engine!
If you want to go on a road trip but just need that extra push to make it happen, then read these quotes to get inspired. Also, share with your friends (if you want them to come) for some extra road trip motivation. Going on a long drive is one of the best ways to clear the brain fog, feel in control and enjoy your surroundings.
Let these long drive quotes get you excited for the road trip possibilities ahead!
Best long drive quotes
These are the best quotes about long drives. Learn them all and then dish them out to your friends to sound super intellectual on your road trips. You'll then be known as the profound one forever more, or pretentious – depending on your road trip buddies.
If you make it to the end let me know your favourite long drive quotes out of this list…
1. "Stop worrying about the potholes in the road and enjoy the journey." – Babs Hoffman
2. "Nothing adventured, nothing attained." – Peter McWilliams
3. "I don't know where I'm going from here but I promise it won't be boring." – David Bowie
4. "Sometimes, the most scenic roads in life are the detours you didn't mean to take."– Angela N. Blount
5. "A long drive is a million times more invigorating than a day at the spa." – me, just checking you're paying attention.
6. "Road trips are the equivalent of human wings. Ask me to go on one, any one. We'll stop in every small town and learn the history and the stories, feel the ground, and capture the spirit. Then we'll turn it into our own story, that will live inside our history to carry with us. Always. Because stories are more important than things." – Victoria Erickson
7. "Sometimes you find yourself in the middle of nowhere and sometimes in the middle of nowhere you find yourself." – Stacy Westfall
8. "Sometimes the best therapy is a long drive and good music." – Unknown
9. "I love road trips. You get into this Zen rhythm; throw the sense of time out the window." – Miriam Toews
10. "Now, on this road trip, my mind seemed to uncrinkle, to breathe, to present to itself a cure for a disease it had not, until now, known it had." – Elizabeth Berg, The Year of Pleasures
11. "Take care of your car in the garage, and the car will take care of you on the road." – Amit Kalantri
Funny road trip quotes
When I write 'funny road trip quotes' I mean more like they might make you smile, might make the corners of your mouth rise a little, rather than all out LOLs. Unless, maybe you've had a few glasses of wine or are feeling starved of any kind of jokes.
See how funny you think these funny road trip quotes are…
12. "That's why I love road trips, dude. It's like doing something without actually doing anything." – John Green
13. "Road trips required a couple of things: a well-balanced diet of caffeine, salt, and sugar and an excellent selection of tunes—oh, and directions." – Jenn McKinlay
14. "In 1903 the Wright brothers invented airplanes, because in 1902 they took a road trip across the country with their family." – Bill Engvall
15. "Driving at night is about communicating with lights." – Lukhman Pambra
16. "Sometimes the road less traveled is less traveled for a reason." – Jerry Seinfeld
Road trip with friends quotes
Oh road trips with friends, a whole other level of road trip. It all depends on your friends as to whether you prefer a road trip with friends or by yourself, I like both, equally. These quotes about road trips with friends match that – they're both positive and negative, and some are just blummin lovely.
Add some of these long drive quotes to your vernacular and bring them out at tense times, your friends will love you for it.
17. "I have found out that there ain't no surer way to find out whether you like people or hate them than to travel with them." – Mark Twain
18. "Never go on trips with anyone you do not love." – Ernest Hemingway
19. "Sometimes all you need is a great friend and a tank of gas." – Thelma and Louise
20. "Life is meant for good friends and great adventures." – Unknown
21. "It doesn't matter where you're going, it's who you have beside you." – Unknown
22. "Some roads aren't meant to be travelled alone." – Chinese Proverb
23. "Good company in a journey makes the way seem shorter." – Izaak Walton
24. "A journey is best measured in friends, rather than miles." – Tim Cahill
---
Have you seen my USA road trip itineraries?
---
Quotes about roads and journeys
As we all know, it's not about the destination but the journey in getting there. These are the best quotes about roads and journeys, and being out on the path of joy driving your own car and exploring how and as you please.
25. "Jobs fill your pockets, but adventures fill your soul." – Jaime Lyn
26. "Roads are a record of those who have gone before." – Rebecca Solnit
27. "When all's said and done, all roads lead to the same end. So it's not so much which road you take, as how you take it." – Charles de Lint
READ MORE: Why don't you try this road trip trivia quiz? FUN!
Modern road trip quotes
Enough of all the old timers and their road trip quotes – who even are these people anyway? Here are some great long drive quotes from modern writers, influencers and thinkers. Sorry for quoting DJ Khaled but I really liked the road trip quote…
28. "The only impossible journey is the one you never begin" – Tony Robbins
29. "At the end of the day, I understand that life has roadblocks, and life is like school – you'll be tested; we gotta pass it." – DJ Khaled
30. "Life is one big road with lots of signs. So when you riding through the ruts, don't complicate your mind. Flee from hate, mischief, and jealousy. Don't bury your thoughts, put your vision to reality. Wake Up and Live!" – Bob Marley
31. "Wherever you get to is better than where you started. To stay on the road is a massive achievement." – Anthony Joshua
32. "I want to be the man in the back of the car, I will let it ride" – Miike Snow
Deep road trip quotes
If you're one of those people who just want to feel the wind in your air and the love in your heart, then these are the deep road trip quotes for you. These long drive quotes will get you right in the feels, and who knows, may even become your next mantra. I'd recommend reading these quotes about road trips slowly to really let them register in your soul…
33. "Fill your life with adventures, not things. Have stories to tell, not stuff to show." – Unknown
34. "The struggles we endure today will be the 'good old days' we laugh about tomorrow." – Aaron Lauritsen
35. "Do not follow where the path may lead. Go instead where there is no path and leave a trail." – Ralph Waldo Emerson
36. "There are no mistakes. Only new paths to explore." – Gregory David Roberts
37. "Roads were made for journeys, not destinations." – Confucius
38. "The most beautiful thing in the world is, of course, the world itself." – Wallace Stevens
39. "If we wait until we are ready, we will be waiting for the rest of our life!" – Lemony Snicket
40. "Live life with no excuses, travel with no regret." – Oscar Wilde
41. "Look at life through the windshield, not the rearview mirror." – Byrd Baggett
42. "Only those who risk going too far can possibly find out how far they can go." – T.S. Eliot
43. "Look on every exit as being an entrance somewhere else." – Tom Stoppard
44. "A bend in the road, is not the end of the road….unless you fail to make the turn." – Helen Keller
---
Have you seen my UK road trip itineraries?
---
Road trips quotes from songs
Everyone knows the music makes a road trip. Get your Spotify playlists set up before you leave the house to give the soundtrack to your awesome adventure. The internet is full of 'best playlists for road trips' and these are the songs that are usually riding high at the top. These are my favourite road trip quotes from songs…
45. "If you don't know where you're going, any road will take you there" – George Harrison
46. "On the road again, Goin' places that I've never been, Seein' things that I may never see again, And I can't wait to get on the road again" – Willie Nelson, On The Road Again
47. "Get your motor runnin', Head out on the highway, Lookin' for adventure…" – Steppenwolf, Born to be Wild
48 "Road trippin' with my two favorite allies – fully loaded we got snacks and supplies. It's time to leave this town it's time to steal away. Let's go get lost anywhere in the U.S.A." – Red Hot Chilli Peppers, Road Trippin'
49. "Map out your future – but do it in pencil. The road ahead is as long as you make it. Make it worth the trip." – Jon Bon Jovi
50. "No one you have been and no place you have gone ever leaves you. The new parts of you simply jump in the car and go along for the rest of the ride. The success of your journey and your destination all depends on who's driving." – Bruce Springsteen, Born to Run
51. "So remember when we were driving, driving in your car. Speed so fast I felt like I was drunk. City lights lay out before us. And your arm felt nice wrapped 'round my shoulder. And I had a feeling that I belonged. I had a feeling I could be someone. (be someone, be someone)" – Tracy Chapman, Fast Car
52. "You can't find the right roads when the streets are paved." – Bob Marley
53. "Here in my car
I feel safest of all
I can lock all my doors
It's the only way to live." – Gary Numan, Cars
Road trip movie quotes
You just can't beat a movie about a road trip, can you? Well, you can, you can actually go on one yourself, but second best thing, watch someone else's awesome road trip instead. These are the best road trip quotes from films. If you haven't seen Into the Wild yet, get on it. Without spoiling the end, if you need to talk about it, I'm here for you…
54. "Just grab a friend and take a ride, together upon the open road." – The Goofy Movie
55. "If you come to a fork in the road, take it." – Yogi Bear
56. "Adventure is out there." – Up
57. "Well, we're not in the middle of nowhere, but we can see it from here." – Thelma & Louise
58. "According to the map, we've only gone four inches." – Dumb & Dumber
59. "I don't want to know what time it is. I don't want to know what day it is or where I am. None of that matters." – Christopher McCandless, Into the Wild
60. "It's supposed to be a challenge, that's why they call it a shortcut. If it was easy it would just be the way." – Road Trip
61. "Old elephants limp off to the hills to die; old Americans go out to the highway and drive themselves to death with huge cars." – Hunter S. Thompson, Fear and Loathing in Las Vegas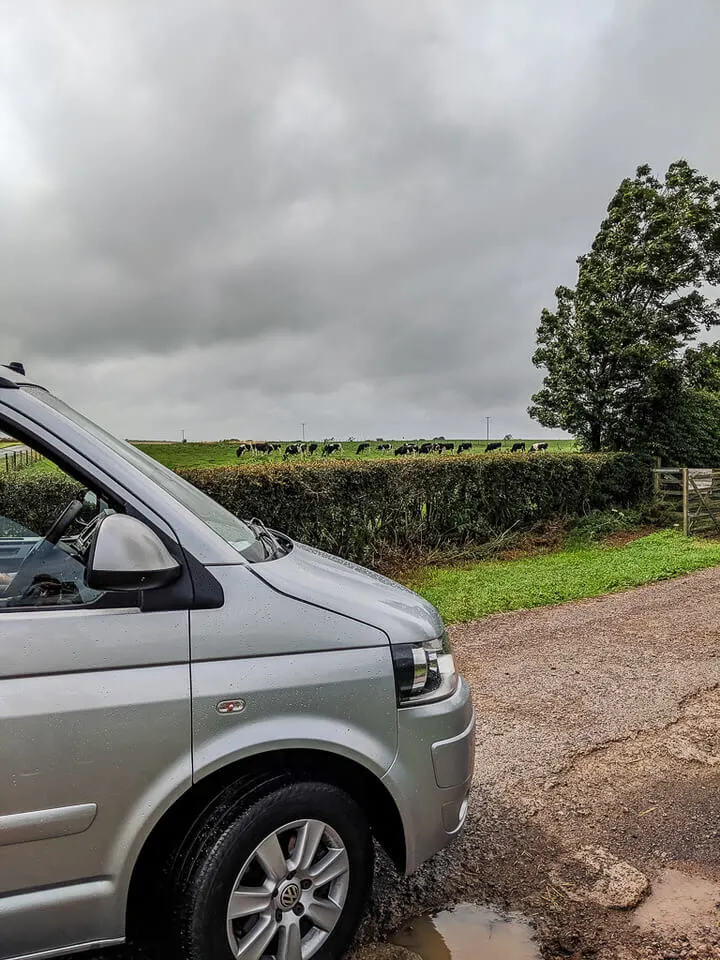 On the Road quotes
Ever read On the Road by Jack Kerouac?
I tried to once but I just couldn't get through it. It's often thought of as the ultimate road trip depiction, especially in the USA. To be honest, I think the quotes from On the Road are better than the actual book so I'll just give you the highlights here and save you some time and money…
62. "All he needed was a wheel in his hand and four on the road." – Jack Kerouac
63. "I suddenly realized I was in California. Warm, palmy air – the air you can kiss – and palms." – Jack Kerouac
64. "Nothing behind me, everything ahead of me, as is ever so on the road." – Jack Kerouac
66. "The road must eventually lead to the whole world. Ain't nowhere else it can go – right?" – Jack Kerouac
67. "There is nowhere to go but everywhere, so just keep on rolling under the stars." – Jack Kerouac
68. "Our battered suitcases were piled on the sidewalk again; we had longer ways to go. But no matter, the road is life." – Jack Kerouac
Road trip quotes from books
Speaking of books, there are hundreds if not thousands of other books about road trips. Here are a few of the most popular road trip quotes from books to satisfy your long drive quotes need.
69. "And just like that, we're on our way to everywhere." – Emery Lord, Open Road Summer
70. "There is something about the momentum of travel that makes you want to just keep moving, to never stop." – Bill Bryson
71. "Because the greatest part of a road trip isn't arriving at your destination. It's all the wild stuff that happens along the way." – Emma Chase, Tamed
72. "The freedom of the open road is seductive, serendipitous and absolutely liberating." – Aaron Lauritsen, 100 Days Drive: The Great North American Road Trip
73. "The journey is part of the experience – an expression of the seriousness of one's intent. One doesn't take the A train to Mecca." – Anthony Bourdain, A Cook's Tour: Global Adventures in Extreme Cuisines
74. "It's a road trip! It's about adventure! . . . It's not like we have somewhere to go." – John Green, An Abundance of Katherines
75. "I can speak to my soul only when the two of us are off exploring deserts or cities or mountains or roads." – Paulo Coelho
76. "I wonder why it is that when I plan a route too carefully, it goes to pieces, whereas if I blunder along in blissful ignorance aimed in a fancied direction I get through with no trouble." – John Steinbeck, Travels with Charley: In Search of America
77. "It's a dangerous business, Frodo, going out your door. You step onto the road, and if you don't keep your feet, there's no knowing where you might be swept off to." – J.R.R. Tolkien, The Lord of the Rings
78. "Sometimes the most scenic roads in life are the detours you didn't mean to take." – Angela N. Blount, Once Upon an Ever After
79. "Still, round the corner, there may wait, a new road or a secret gate." – J. R. R. Tolkien
Road trip quotes I'm sick of hearing!
I've worked in online travel for over ten years now, and there are some road trip quotes I'm just absolutely sick of hearing and seeing. These are the road trip quotes that are brought out at every opportunity, so much so, I'm over them – especially the first one.
But, at the same time, I'm also including them here as no list of road trip quotes is complete without them.
80. "I haven't been everywhere, but it's on my list." – Susan Sontag
81. "Twenty years from now, you will be more disappointed by the things you didn't do than by the ones you did do." – Mark Twain
82. "Life is either a daring adventure or nothing." – Helen Keller
My favourite quotes about road trips
After reading all of these long drive quotes here are my all time favourites to finish off the list. These are the road trip quotes that go through my mind when I'm planning a road trip, or thinking about my route.
83. "Live your life by a compass, not a clock." – Stephen Covey
84. "Attitude is the difference between an ordeal and an adventure." – Bob Bitchin
85. "You can pack for every occasion, but a good friend will always be the best thing you could bring." – Unknown
86. "If you're not lost, you're not much of an explorer." – John Perry Barlow
87. "At the end of the day, your feet should be dirty, your hair messy and your eyes sparkling."– Shanti
88. "As soon as I saw you, I knew an adventure was about to happen". – Winnie the Pooh
89. "Shut up and drive." – Rhianna
Which is your favourite road trip quote? Let me know in the comments below…
---
PIN THESE LONG DRIVE QUOTES FOR LATER