Coachella is one of the friendliest festivals I've ever been to, but it was also the one that needed the most preparation. As my first American festival, even the drinks culture was different (read on to find out how) and the fact we could go on a road trip through California beforehand made it pretty damn cool. Anyone who's going needs all the Coachella tips and advice they can find, especially if it's your first time, and even more so if you're a Brit heading over the pond.
I had a great time at Coachella Festival, and here are 25 Coachella tips you need, to make sure it's as fun for you too.
27 Coachella Festival Tips
1. What is Coachella Festival?
"The Coachella Valley Music and Arts Festival (commonly referred to as Coachella or the Coachella Festival) is an annual music and arts festival held at the Empire Polo Club in Indio, California, located in the Inland Empire's Coachella Valley in the Colorado Desert. It was co-founded by Paul Tollett and Rick Van Santen in 1999, and is organized by Goldenvoice, a subsidiary of AEG Live. The event features musical artists from many genres of music, including rock, indie, hip hop, and electronic dance music, as well as art installations and sculptures. Across the grounds, several stages continuously host live music." – Wikipedia
2. Where is Coachella Festival?
Coachella Festival is held at the Empire Polo Club in Indio, California, located in the Inland Empire's Coachella Valley in the Colorado Desert.
Coachella Valley Music and Arts Festival
Empire Polo Club 81-800 Avenue 51,
Indio, CA 92201
3. What are the Coachella dates?
The weekends of April 13-15 and April 20-22.
4. How do I get Coachella tickets?
The cost of a Coachella ticket, in 2018, was $400, so £285. You need to be signed up well in advance to get a Coachella ticket, and then be on the ball in the January before to make sure you pay for one. You can find out more about getting a Coachella ticket for 2019 in my blog post here. Keep in mind that you'll also need to buy a camping car pass for $113 if you're driving too.
5. How can I do a road trip to Coachella?
Doing a road trip to Coachella is awesome. Well, if you've gone all that way you might as well make the most of it right? We flew in to San Francisco, travelled down the Pacific Coast Highway to LA, and then across to the festival. Once the festival was done we went to Las Vegas, and flew out from there.
6. Take time to have a wander by yourself – make some friends

7. When do I get my Coachella wrist band?
Your Coachella wristband will be sent in the post a few weeks before. The Coachella wristband box is excitement in itself with guides to the festival and an elaborate design. It was so cool in fact, I felt the need to write a whole post about the Coachella wrist band box that first time I went.
8. Is there free water at Coachella?
You should already be drinking 8 glasses of water a day, plus the fact you'll be exercising a lot more by walking around, plus the fact you're in a desert, plus the fact you'll be drinking. You need to drink as much water as possible at Coachella. There are free water fountains, you'll just need to find them…
If you're camping at Coachella, it's the perfect opportunity to bring in a good few litres of water with you.
9. Where can I find the Coachella schedule?
You can see the line up for Coachella here, but the actual set times etc aren't released yet. They will be in a few days.
---
10. Put your phone down,
your video will be shit,
it's distracting for others
watch it on YouTube if you wanna watch on a screen,
be with your friends & not online,
live in the moment,
keep it safe in your pocket / bag,
with your mate's phone number as the screensaver.
---
11. Is there a Coachella live stream?
Yes! There is a Coachella Live Stream, and I'll be watching that rather than going to the festival this year. So far there are 72 confirmed artists, and an always-on 3D-180 & VR live stream on the Coachella YouTube channel.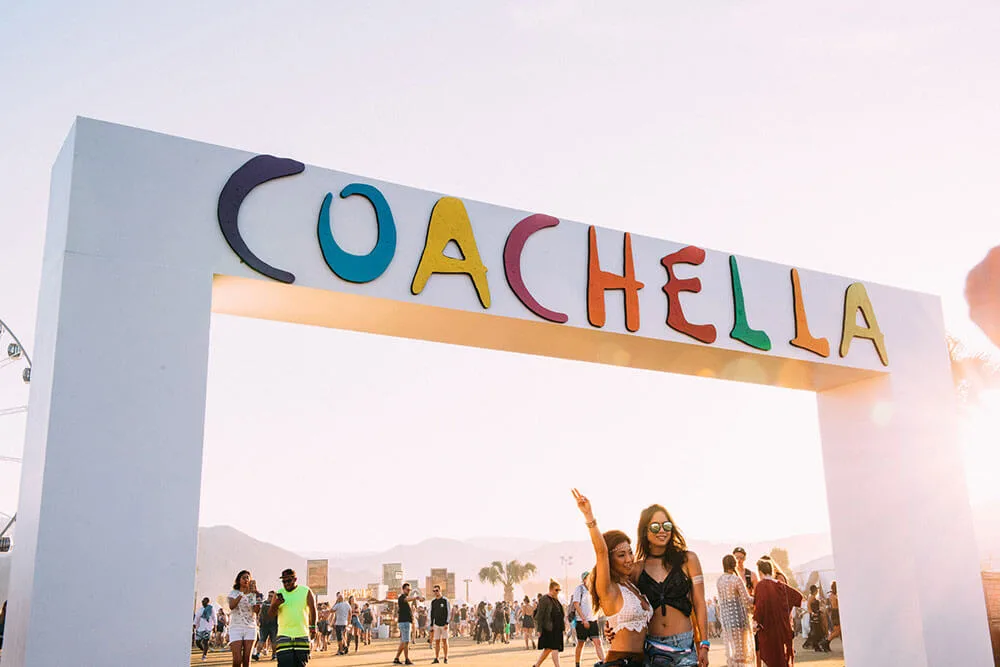 12. What should I wear for Coachella?
Oh gawd, the question a million websites and magazines are trying to answer right now. Every year Coachella fashion is a huge issue, with some saying it makes the festival, and others that it ruins it. Either way, for a lot of people the Coachella fashion is one of the highlights of the whole thing. Crochet is 'typically Coachella' but if you're looking for inspiration just take a look at Vanessa Hudgens at Coachella, or
Take as little as possible into the main grounds with you – backpacks are annoying for you, and others.
READ MORE: The Festival Accessories You NEED This Year
13. Are there lockers at Coachella?
YES!
Sign up to the Coachella lockers here. There are a few different sizes to choose from and you can share with your friends. Make sure to go for the combination lock option so it's easier to share and you're not waiting around for the key. Book in advance as they do sell out. Also, you can use the changing area and bring a pair of jeans for the evening – it gets cold!
---
14. Take time to relax, get a cocktail and people watch
---
15. When should I arrive at Coachella?
Thursday. We got through the car camping security line pretty quickly but the guys in front of us were having their car pulled apart – they did look like they'd already started on their supplies though, to be fair.
16. Is there a Coachella map?
Here is the map for Coachella last year, expect the 2018 version to come out soon.
17. Where do I find the celebrities at Coachella?
If you get to the acts you want to see early, then look for the VIP pit – they'll be in there. Also, they're just walking around, mingling with us commoners. You just need to be clued up and open eyed enough to spot them. Coachella is a total celeb fest. The pics are real.
18. What are the Coachella food options?
There's a whole bunch of food options at Coachella, from health drinks to dirty burgers. You can take a look at the Coachella food options for this year here.
19. Tell me about drinking at Coachella…
Drinking at Coachella is great, if you're over 21. You have to get another wristband at Coachella, that reveals whether you're old enough to drink. Every day the colour changes and you need to go and queue up for another one. I was 27 when I went so no worries, but from the looks of all the searching and from being checked at every bar there was no chance of getting booze in to the festival if you're under 21.
READ MORE: I've written a guide to drinking at Coachella here – take a look.
---
20. Coachella is a marathon, not a sprint
---
21. Any advice for my first time at Coachella?
– Make sure you turn up well in time for any act you really want to see. Coachella gets pretty hectic, especially as the night / weekend goes on, get a good spot as you're only going to get pushed further back.
– Be calm and patient with others, it'll be a lot of people's first festival ever.
– Texting / messaging can be tricky with so many people in a field. If you do text, text something affirmative like 'Meet at the fairground wheel at 7pm. I'll wait till 7:30pm and I'm off to see Beyonce' etc. If you just text 'Where are you?' or 'See you in 20 mins' then by the time they receive it, it probably doesn't mean anything any more.
– If you wear contact lenses, or just have dry eyes, bring dry eyes solution. That desert dust is a killer.
– It's soooo hot there – check out my post on dealing with the heat at Coachella for help!
READ MORE: Loads of Tips and Advice for Your First Time at Coachella
22. Drugs at Coachella?
You will get searched more intensively than any festival I've been to. The year I went they made you pull out your bra and shorts to show there was nothing in your waistbands, and searched the bag every time. Despite that, there were loads of mashed up people. As a Brit, it was obvious to see that there were a lot more drugs at Coachella, than the boozy culture of British festivals.
23. Is there a Coachella playlist?
It's a good idea to listen to all the acts on the line up before any festivals, and to make your own Spotify playlists of who you want to see. Obviously the big headliners are one of the main draws to Coachella, especially with the surprise celebrity guests, but check out some of the newer smaller bands too. Here's the official Coachella line up playlist on Spotify, work your way through and add the acts you like to your own playlist so you can plan who to see.
Obviously you'll add the Coachella app to your phone, but it can help to print out a few copies so you're not just wasting your phone battery looking up who to see next.
---
24. Wear sunscreen, take after sun, stay in the shade
Coachella Festival is absolutely scorching. In the day the highest recorded heat reached was 50C. There are barely any trees for shade and the sun is relentless from about 9am to 6 at night. You need to be ready to deal with the heat at Coachella, or it will deal with you.
Have a cold shower every morning, hang out in the shaded tents and drink as many ice cold smoothies as you can. Also, get a tarpaulin for your campsite
Our next-door neighbour gave us one to cover the space from the gazebo to the car, giving just enough space for two of us under there, and the cool box. The other two of our group of four could find solace in the shade from all the other gazebos all around us. You need as much sun protection as you can fit in your car, you can never have too much.
25. Buy ice
The ice man comes around with huge bags of it for $10 a pop. Make sure you keep stocked up on this and when it comes to carrying it back I liked to carry it on my head to give me that extra cooling factor. Suck on ice, put it in all your drinks, buy some to put your feet on and of course to keep your cool box as cold as possible too.
---

26. What do I bring to Coachella?
I have whole post on what you need to bring to Coachella, have a read through that. Generally you'll see it's similar to other festivals, but you just need to be ready for the extreme heat in the day and the surprising cold at night. Make sure you bring a hat and some sort of dust mask for the sand storms (I was still coughing it up a week later) and don't bring anything you're not prepared to lose or have ruined. Also, good comfy shoes are a definite necessity. And bring baby wipes into the grounds for the toilets – those toilets get real feral, real quick.
READ MORE:
27. Don't get drunk
Just as a warning, you get spotted drunk or otherwise intoxicated at Coachella, and you will be chucked out. They try to keep it classy here, and with the whole alcohol age limit thing, they have to be stricter.
28. Don't expect to look fabulous
Big brands come and sponsor tents and in the day you kinda hang around waiting for it all to cool down. Some people camp (like me) while others stay in nearby hotels in Palm Springs and just come in to look fabulous.
28. Just chill
Coachella is the most chilled festival I've ever been to, so go with it and just chill out while you're there. There's no reason to run around between stages desperately trying to see everyone – just pick a few acts and be happy with them and make some friends with all the other cool and chilled out people around you.
---
More on Coachella Festival