I researched 'food in Cuba' before I went and all I found was tasteless, miserable and damning reviews. From what friends had told me and what I'd read online I was prepared for two weeks of rice, peas and miserable excuses for meat or fish.
Turns out it was quite different. Once I'd got over the original over analysis and apprehension caused by these reviews I actually found quite a different story in the streets of Havana, Trinidad and Cienfuegos.
Breakfast in Cuba
Hotel Lincoln
This hotel is actually an exception to the joy and unfortunately our first meal in Havana. The omelette was passable, but the breads were stale and the fruits had too many flies around for me to even try. Coffee was also rank. The breakfast was included in our £13pppn stay though, and I guess you get what you pay for.
Parque Central
I had five amazing breakfasts here but the amount I paid for the hotel it was the least they could do. Every morning there was a ridiculous sprawl of foods from cheeses (Stilton for breakfast?) to cold meats to all the ingredients for an English breakfast to cereals, pastries and fruits. The selection was actually overwhelming. I ended up with a bacon sandwich one day, full English another and fried eggs and toast the other. Late partying meant I almost missed it on the final day and ended up with croissants, but they were among the most delicious I'd ever had.
Costasur
At our hotel in Trinidad we were treated to another guilt-inducing array of breakfast items, but at the same time quite unappetising too. They were ok with serving chips from the night before, meringues and skanky-looking sausages. I kept to the freshly fried eggs and toast. Another exception to the title, but the last one.
Casa Particulars
The breakfasts at the houses we stayed at were the best. For just 5 CUC we were given freshly-cooked feasts of fruits, fried eggs, breads, Cubano sandwiches, coffee and juices. Casa particular breakfasts were definitely my favourite option.
Just to note, I ate more fried eggs in Cuba than I probably have in the last five years. A total of 18 in 2 weeks to be precise.
Lunch in Cuba
Restaurant Dona
In Havana we needed to get out of the heat, but wanted to stay in the action. Cue useful persuasive lady. She directed us to her rooftop bar overlooking the main street of Obispo in the Old Town in Havana. Here I had a deliciously fresh tuna and caper pizza and Waiel had a huge Cubano sandwich. Knocked back with a few daiquiris, both were delicious.
Parque Central
Thanks to the Havana Club Gap Year project I was working on I got a free lunch at Parque Central. The spread was even more incredible than breakfast. Everything you could ever want – thanks to trying to make a good impression to the team I couldn't get everything I wanted but what I did manage to smuggle on my plate was yum.
Traditional Cubano restaurant
You'll find these traditional Cubano sandwich shops dotted around Cuba. You can spot them easily thanks to the locals frequenting them and the buzz around them. If you travel from Havana to Trinidad you'll stop by one, or you'll definitely find them in the less touristy parts of town. We went to one in Trinidad…
"Cafe con leche?" I asked.
"Just Cubano."
"Water?"
"Just juice."
"Mustaza?"
"No just Cubano."
They know what they do and they do it well. I ended up with a sugary espresso – the way they do it there – a mango juice and a Cubano sandwich. Possibly the only time I've ever managed to have one of everything on the menu. For both of us this came to just 7 CUC.
Cool lunch in Havana
We popped into this restaurant just off Obispo as we'd walked past it a few times and gazed in admiration. We weren't disappointed. We stuck to the set menu – lobster, Mojito and a Creme caramel – and they all tasted delicious. We were sat by the open front and had a great spot to watch people dancing to the Cubano music being played by the band inside.
Tasty shrimp stew
Again we were seeking refuge from the strong Carribean sun and again we came across a delicious restaurant. It was next to the book fair in what was possibly the most touristy part of Havana and we were drawn in by the quant of men playing Cuban tunes. Hungover, weak and unsure if we even wanted to eat, we ended up with pulled pork and a shrimp tomatoey stew. It was one of the best meals of the trip. If you do go here though check out the courtyard around the back before you commit to a table, it's beautiful.
Barra Con de Hemel
It was our first day in Havana and we were feeling overwhelmed. The seclusion of the garden at the Barra Con de Hemel was inviting and at least it got us away from the hustlers for a while. I tried their cocktail special – the Bodeguita – and we decided to lunch. Black beans, rice, fish, salad and bread later and we were stuffed and satisfied ready to take on Havana. Thankfully he'd warned us about the huge portions and we had one between us. The next couple in weren't so lucky and ended up wasting a lot.
Costasur
Like breakfast, lunch here was an array of grim food. I tried the fish – it was sickly. I stuck with bread, cucumbers and noodles for the most part, and ice cream. One day I tried a burger, but the huge lumps of fat nestled in the gristle made it inedible.
Pizza in Trinidad
This was my most favourite lunch thanks to the deliciously fresh tuna, the pizza base and Waiel's pork sandwich. The shady courtyard helped too, oh and the daiquiris. We were treated to Cuban music as we dined and ended up spending a few hours here – leaving a bit worse for wear. Oops.
Beer factory
There's a beer factory in Habana Vieja – you'll be able to spot it thanks to the throngs of tourists outside. I had a really nice tuna sandwich here, complete with banana crisps and a pint of light beer that just hit the spot right. Unfortunately we were sat by a man who kept spitting on the floor through his teeth who ruined the whole experience for me. Hate spitting.
Pizza and chips cafeteria
If you see a queue in Cuba it's either for a cash machine or for one of these pizza cafeteria places. On the last day we decided to go and see what all the fuss was about. I paid the equivalent of £1.20 for some chips and a cheese and tomato pizza – they were absolutely delicious. Really flavoursome and super cheap – what more can you ask for?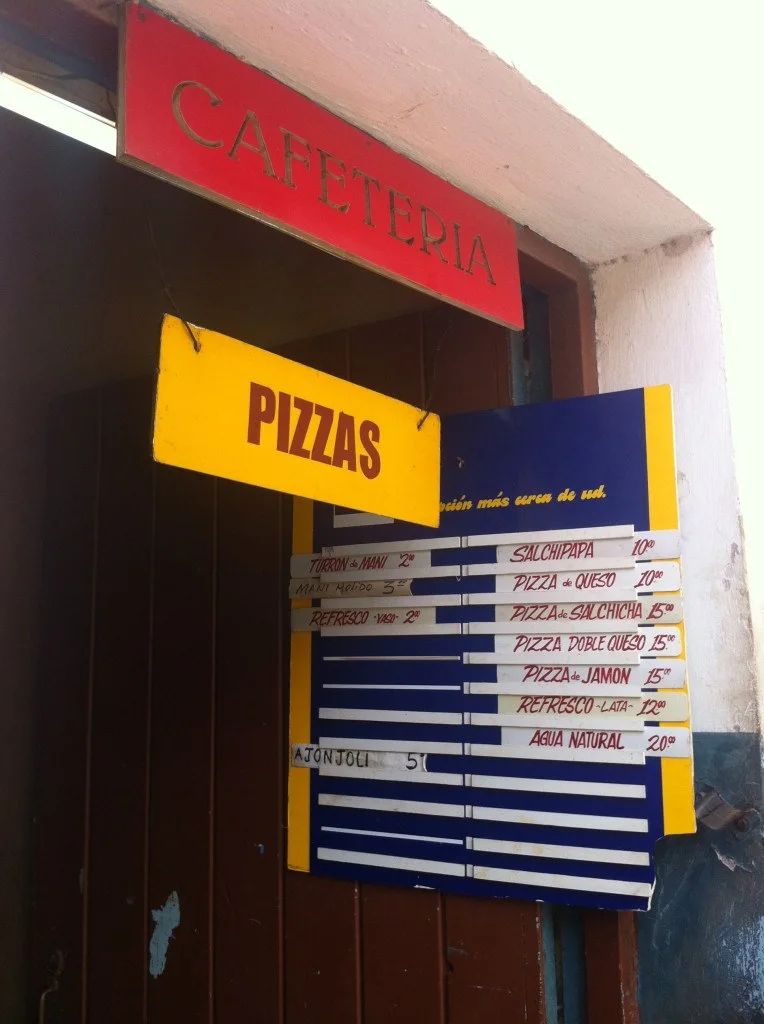 Dinner in Cuba
Another Havana club one
This was my favourite dinner. I couldn't deal with anymore fish so went for the house special: duck. It was incredible. Every mouthful was a taste sensation and together with the warmed prune chunks it really was a meal to remember. The house was cool too. Great toilets and some err interesting art on the walls.
El Tranvia
This was an amazing find in Cienfuegos. We didn't warm to the city straight away, but after a trip here for cocktails, and a other one the next day for dinner we soon did. I made a bad food choice here: breaded fish for starters and then breaded prawns for main. I was too breaded out and not sure what I was thinking. What I did eat though was incredible, the whole experience was amazing – so good in fact I'm writing a post about it. Oh god I've just remembered the potatoes. Smooth as you like. Nom nom.
Parque Central
Huge meaty prawns with chips on the roof terrace looking out over Havana? One of my favourite meals.
La Inglaterra
We ate at the famous Inglaterra hotel twice. First time it was mixed brochettes – unfortunately they forgot Waiel's so we had to wait – and the second just a plain a chicken brochette. The view and setting made it a perfect place to watch the sun set and keep an eye on Havana from.
Casa de la Musica
Aww this was a lovely romantic restaurant in Trinidad. We sat on the balcony and between gazing into each others eyes and debating the safety standards of the balcony we had an incredible view of the sun setting over Trinidad. We had huge fat prawns for starters then I had beer chicken and Waiel had chicken rice. Then we had a creme caramel for dessert to share. It was a bit stiffer than the other one we'd had, making it yum. I wouldn't recommend the chicken beer for main but the rest of the experience was brilliant and taste worthy.
L'Atelier
We had the Havana Club Gap Year wrap party here. I was a bit gutted it wasn't a sit down meal as I'd heard this was one of the best restaurants in Havana. It was just a buffet, which unfortunately I can only remember as average.
Temple
Best brownie ever. I was chatting so much it was only on about mouthful three that I realised how delicious it was. My mouth is watering at the memory. Fish was average, but it was nice to eat by the water at one of the most legendary restaurants in Havana.
Costasur
Think you'll know what I have to say about here. Too much focus on quantity rather than quality. One of the most interesting dishes was the chip salad – I was surprised to see that people were actually eating it. There was one night where it was good – it was really busy so the food turnover was fast and actually hot where it was meant to be. Fried fish, chips and ice cream featured heavily in my 'diet' at Costasur.
Torre de Havana
We couldn't read the menu and had had a late lunch so just saw tapas and went for a plate of each. Turns out we'd ordered one hot plate and one cold, both were yum. The restaurant in the square was near the Bodeguita and the Torre de Havana making a beautiful setting for one of our final dinners.
The Nacional
It was Saturday night and our last night in Havana so we wanted to go somewhere special, although we didn't really have the money to do it. Turns out The Nacional has a great restaurant round the back that's a bit cheaper from the a la carte. I went for shredded beef with rice and black beans – a delicious end to a delicious holiday.