Here are the best gifts for travel lovers, no matter what the occasion. Trust me, from one travel obsessive to another, these are the best presents for travel lovers around the world.
Shopping for other people can be difficult, especially if we're talking about gifts and presents. Everybody has different tastes when it comes to such things, but if your partner, family or friends happen to have a particular taste for travel and exploration, then this is the list for you.
From everyday travel items which can be of great help to just about anyone, to accessories that make the exploration experience just a little bit brighter, and even to the occasional niche gift that may not benefit everybody, but has its use to some, there's plenty of options when buying gifts for travel lovers.
The Best Gifts for Travel Lovers
Only the best of the best presents for travel lovers have made it onto this list!
1. The Great British Adventure Map
Let's get started with the unique travel gifts!
Most travel enthusiasts fancy seeing the whole world, but every trip takes careful planning and research. So, if you happen to know any travellers interested in Great Britain, then the Great British Adventure Map is the ideal gift.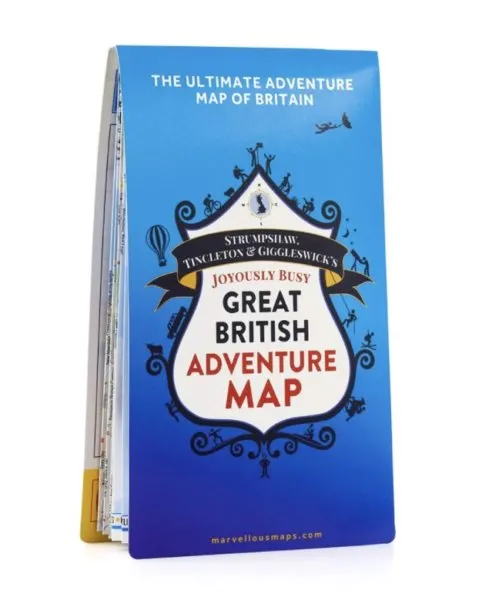 Pointing out interesting places and travel locations all over the UK, and featuring at least 2,500 different places to learn more about. The occasional titbits of interesting trivia and facts make it all the more interesting to read through. All this combined with its reliability as a map make it a great gift for any curious travel lovers.
"Britain is beautiful, perfectly proportioned and small enough that you can explore it properly without having to blag an enormous career break. And with so much variety – superb coastline, idyllic islands, luscious landscapes and incredible views – crammed into such a small area, Britain really is the perfect adventure playground."

– Strumpshaw, Tincleton & Giggleswick's
Find the Great British Adventure Map here on Amazon, for £11
---
2. An SD Card
While it may seem like a rather simple gift for travel lovers, a spare SD card is always a relief for any traveller, whether they're exploring the heated savannahs of Africa or the green highlands of Scotland.
Plenty of travel lovers carry their camera with them everywhere when they travel, snapping enough pictures to fill up all their card data memory. While most experienced travellers will always be prepared for this kind of crisis, it can never hurt to carry a spare around. SD cards don't last forever, so this small gesture of a gift can really end up being a great boon to any of your travel-loving friends or family!
Find your SD cards here on Amazon, for £13 (though prices vary, depending on memory size)
Sale
Netac 64GB MicroSDHC Memory Card, Micro SD Card R/W up to 100/30MB/s, TF Card 4K Full HD Video Recording, UHS-I, C10, U3, A1, V30, for Camera, Smartphone, Security System, Drone, Dash Cam, Gopro
High Speed Transport: The microSDHC card supports UHS-I interface, speed Class U1/V10. Transfer read speeds up to 100MB/s,writing speed 30MB/s, format exFAT.
---
3. A waterproof travel bag
Travellers find themselves exploring through all kinds of wet conditions, with all kinds of sensitive equipment. It's always vital to keep those spare socks dry, especially if you happen to be travelling anywhere by boat, or if kayaking, fishing or even snowboarding happen to be on the agenda somewhere down the road.
More importantly than socks, your electricals!
A waterproof bag can prove a little pricier, but it's a great gift that will never go under appreciated. Conversely, you can always find some waterproof bag covers, which are much more affordable if less effective at keeping the wet out. Either way, it's a gesture that's sure to be greatly appreciated!
Find waterproof dry bags here on Amazon, for £20
Or find bag covers here on Amazon, for just £8
---
4. A Travel Thermos
When you've been walking or hiking for hours on end, there's nothing more satisfying than taking a seat and taking a long drink of something re-energising. Some travellers like to pack energy drinks or water, but sometimes, you just want something warm on the journey. This is what makes a travel thermos one of the ideal unique travel gifts to give to your travel-loving friends or family as a gift for any occasion.
Their ability to retain heat make them perfect for bringing along some hot coffee or tea along with you on the trip, and some can even be effective at keeping drinks cool if the trips happen to take you through somewhere hot. Though sizes may vary, you'll find that most are a convenient fit for packing. A perfect gift for travel lovers that isn't too pricey or personal, either!
Find a Travel Thermos mug on Amazon here, for £14
---
5. Packing cubes
As far as equipment for travel goes, packing cubes might be fairly obscure to new travellers, but they're among the most useful gifts for travel lovers you can buy. They make packing clothes and equipment incredibly efficient, allowing you to separate your clothing by type and purpose – all the while storing them just as easily inside travel bags or general luggage.
Some types of packing cubes are even waterproof, while other types may be breathable as well. There's almost no end to their convenience, and you might find them to be far more useful a gift than they seem!
If you're looking for a gift for travel lovers that'll be extremely handy for years to come, and entirely affordable to boot, then packing cubes are a great idea.
Find the packing cubes here on Amazon, for £12
---
6. A travel neck pillow
One of the least comfortable parts of travel involves being comfortable sleeping – be it in planes, trains, or cars. Plenty of travellers experience neck problems when trying to sleep on the road, which makes a neck pillow one of the best and most thoughtful gifts for travel lovers out there.
Though these are among the most common gifts you can give to anybody who regularly hits the road, they're revered for their simplicity, pricing, and convenience. You can even find travel pillows made of memory foam, which don't get beaten out of shape too easily. Anytime you need to sleep while sitting up, these pillows are your best friends, and an ideal gift for travel lovers!
Find it the travel neck pillow on Amazon, for £10
---
7. A Swiss Army Knife
This is one of the more niche travel gifts on the list, as it's not always appropriate for travel to some countries or places, and doesn't always have a use unless your travel plans involve camping or surrounding yourself with absolute wilderness on the open road. Nonetheless, as a multi-purpose gift for travel lovers, it goes a long way in terms of potential usefulness.
The Swiss army knife has plenty of purpose, with inbuilt scissors, nail files, a knife, a can opener, toothpicks and pliers – which are particularly helpful for pulling out splinters and the like. The exact tools will depend on the model of the knife, but a good quality Swiss army knife always makes a perfect and appropriate gift for any seasoned traveller.
Find your Swiss Army Knives here on Amazon, from £30.
Sale
---
8. A Lifesystems Blister Kit
On the road, there are many potential perils to be faced, but none are anywhere near as annoying as blisters on your feet. Whether you're hiking up Kilimanjaro or cycling through Vietnam, the risk of blisters is always imminent, and can ruin your experience. Gift your travel loving friend a blister kit to solve the problem.
Health and safety are an important aspect of any trip that can be easy to forget when thinking about gifts, given that there aren't many gifts that would be appropriate with this in mind. For travel loving companions who often enjoy hiking, or going on long walks where blisters are all but guaranteed, this gift can be a wonderfully thoughtful one.
You can buy the Lifesystems Blister Kit on Amazon here, for £10.
---
9. A GoPro Accessories Kit
This is a bit of a unique travel gift, given that it appeals to the travel lovers whose hands are so busy that they prefer to keep their cameras strapped to their head, rather than their palms. Regardless, if your travel lover friend is also an enthusiast of these convenient cameras, then the accessories kit would make a fine gift!
Of course you also need to make sure your friend actually has a GoPro to use with it, unless you want to fork out £250+ for that too.
This one isn't so much a need as it is a collection of interesting accessories that give you options with your GoPro, including a chest harness strap, a car suction cup and camera mount, or helmet-friendly adjustable head straps. An interesting little gift for travel lovers which, mind you, doesn't come with the GoPro!
Find the coolest GoPro accessories on Amazon here, for £10.
---
10. The Traveller's Language Kit
Communication is key, no matter where you may be. Hence the curious but wonderful ingenuity behind one of the best gifts you could give any travel lover – the 'Point it: Traveller's Language Kit,' which features around 1300 photos, maps and drawings that can be pointed to in order to establish communication in just about any part of the world.
It sees wide use by UN Peacekeepers and interested travellers, and is no bigger than a passport! The convenience of this language guidebook really can't be overstated, and it's just about as perfect a gift for any travel lover as you will ever find.
Find the Traveller's Language Kit on Amazon, for £6.
---
11. Travel board games
The best travel board games are a a great idea as a gift for travel lovers. My personal favourite is Monopoly Deal, but if you click that link there are loads more great ones to choose from!
If you're looking for some really unique travel gifts, then these travel board games are perfect for you!
---
12. Flip Flops!
It had to be number one, of course. But don't just get any old flip flop, take a look at Gandys flip flops. The guys who created these, Rob and Paul, were caught up in the tsunami in Sri Lanka on Boxing Day 2004, along with their parents. Their mum and dad managed to get their younger siblings up high before both both parents were washed away by the waves. At 13 Rob managed to pull Paul, 11, out of the way and the four children survived. It was the last time they saw their mum and dad.
They wanted to create something to help other people affected by that day and set up the Gandys social enterprise. I met Paul at a conference and he was a really sound guy who just wanted to help the charities they've gone on to support.
Forget the Havaiana flipflops, give the gift of Gandys this Christmas and not only will you make someone flippy floppy happy when they open them, you'll also make someone's life better when the money clears.
---
13. Tinggly gift experience
Oh you can get some really unique travel gifts from Tinggly.
If your loved one is travelling in some far off land, a Tinggly gift is a great idea. Worth €100 the giftee can choose whatever they want to do from a list of hundreds of experiences around the world.
They could spend some time in an ashram in India, go swimming with Thresher sharks in the Philippines or even check out a samurai course in Japan. The best thing about this present is that they don't have to physically be there for you to give it.
On your Christmas Day Zoom chat just send them the link, and watch them read it and weep with joy.
---
14. Scratch off map
Last year my mum bought me this Luckies Scratch Off Map
, which I love, but I haven't actually scratched anywhere off yet. It's waiting for me to have some sort of fixed abode to keep it in.
If the traveller in your life has still managed to keep an address and a full passport, this is a great idea to keep them inspired.
Bargain piece of artwork at £17ish too.
---
Fancy doing my WORLD CHRISTMAS QUIZ?
Opens in a new tab so you can save it for after you've read through all these great gift ideas for travel bloggers.
---
15. Go Pro and accessories
Go Pros are awesome. You can do so much with these little cameras and if the traveller in your life loves an adventure and an adrenaline-fuelled experience then these make for the perfect present.
They can be hard to get quite right, but the fun is in the practising. I've taken some of the greatest shots of my travels with my GoPro, from festivals, to watersports to scuba diving.
You can also make some awesome videos with these too. Keep a look out for sales for the best prices. Check out the latest prices of GoPros here.
---
16. Speaker
I've also bought myself a new portable speaker. Who says brilliant Christmas presents have to be for someone else hey?
My old one that I had for over five years was bought out for every occasion but since decided to pack up.
When there's a group of you using the laptop or you're getting ready to go out I like to be able to play the tunes loud, so say hello to my little friend. Comes in all different colours and it's a great price for all the positive reviews too!
17. Good quality beauty stuff

I've never been that into beauty and hair and make up and all that, but I've just spent over £100 on stuff to take with me on my travels next year. Not sure if it's my age or what, but I just want to be able to put the good stuff – basically Dermalogica and Kerastase – on my hair and face.
The better the quality of the product, the less you need, so the less space it takes up and the longer it lasts. That's how I justify the splurge anyway. I reckon the traveller in your life would love a good moisturiser and conditioner.
More of a festival lover than a traveller? Check out my top gift ideas for festival lovers.
---
Unique gifts for travel lovers
Buy these unique travel gifts for travel lovers – they'll love you for it!
Travellers, they're notoriously difficult to buy for. Most of them are trying to minimise their possessions not add more to the pile. Some travellers might even have hippy ideals about not having any presents at all – but what kind of a Christmas is that?!
"It's all about experiences, maaaan."
Having said that, there are a few essential possessions above that no one, home bod or traveller, could shake their head at. Including me. If you need my address for one of these brilliant Christmas present ideas, just shout.
Buying gifts for travel lovers is always a tricky affair, given that they tend to be moving around so often that they just might not have enough time to enjoy the gifts that stay in one place, like a nice mug, a book or clothes. Nevertheless, there's a market for everyone – but it's ultimately up to you, to understand what the travel lover in your life may need!
Hope this list has given you some inspiration for what to buy your travel loving friend!
If, by chance, your travel loving friend has a blog – here's a great list of presents for bloggers for you to peruse too.
---