Way back in 2012 when I was a six-month-old blogger, wondering what the hell I was doing, I bought a book from the number one travel blogger in the world, NomadicMatt. 'How to Make Money Travel Blogging', he promised me.
I decided that if I was going to trust anyone, it'd be the guy at the top. At the time the payout seemed quite the investment – I was living with my ex's mum, trying to pay back my credit card from 5 months travelling round Europe and earning a few grand under the London Living Wage.
What made me trust him with what equated to a good few hours pay (back then anyway)?

Make money blogging from NomadicMatt
Check any list of the biggest travel bloggers in the world and NomadicMatt will be somewhere at the top. He talks at conferences around the world to share his knowledge, is friends with some of the most popular bloggers in the world (not just the travel ones), and seemed to be having a brilliant time travelling the world and earning money as he went.
He must know something, right?
That investment was pivotal for me. Unfortunately blogging has changed a lot since then, Google's updates in the last 5 years have meant it's not quite so easy to make money anymore. But How to Make Money Travel Blogging helped me to ride the crest of a making money from travel blogging wave for a short while, and stood me in good stead to advance my blog with Google's regular updates.
In just a few weeks that eBook taught me the basics of what had taken NomadicMatt years to learn.
He taught me how to make passive income, as well as how to conduct myself as a travel blogger.
My job, and how much I've made
The book set me on the path of what has now evolved and adapted to become my job. Almost every week I go to 'work' in a different country. My laptop is my office and I can start and finish as I please. All of my income from the past 2.5 years of full time travel is directly linked to my activity on this here blog. Let's just say my deposit is saved and I'm hoping to buy a house next year, once I've visited just a few more countries first.
I've since tried other courses, just out of interest or request by their creator to promote them here, but none has come close to the wealth of practical step-by-step information in How to Make Money Travel Blogging. That is, until I met NomadicMatt in Stockholm in July…
Superstar Blogging Course Review The Business of Travel Blogging
At this year's TBEX in Stockholm – a conference for travel bloggers – I was telling Matt how much he'd helped me and he invited me to check out his new Business of Travel Blogging course.
So I did.
I told him that if I liked it, and thought it would help my readers, especially those who've worked their way through my Travel Blogger High series, I'd tell them about it.
And if not, I wouldn't.
So here I am.
Here's what you'll learn
– Me, loving life on my birthday as a travel blogger in Croatia
After blogging for almost five years now and having read NomadicMatt's first book, I merrily made my way through the first few modules nodding. 'Yep, got that.' 'Yep, yep.'
Kind of like that.
This is where he sets out the basics any aspiring travel blogger needs to know in order to set up a site for long lasting success.
Business of Travel Blogging modules include…
Get Started Right
Setting Up Your Website
How to Write Well and Go Viral
How to Design a Beautiful Website
How to Get Traffic and Grow Your Website
Search Engine Optimization
How to Make Money with Your Website
Newsletters: How to Create and Market With Them
How to Work with PR, Tourism Boards, and Brands
Of course I took some notes, and reading back through them now I see 'Readers!' 'Site design!' 'Read more!' 'What do you want people to think of you?'. And I know, I've been told before, I really need to make those newsletters a priority. Think I've sent about six in the almost five years of blogging. Might as well get started…
Sign up to my (supposedly) monthly newsletter, if you want to see the next, long awaited one!
So there I was thinking I had this down, that somehow along the way I knew as much as Matt. But then we got to modules on Getting Media Attention, on Pitching Guest Posts and Webmaster Tools and realised that even for an intermediate or advanced blogger, there's a lot of work to be done. So many more things to learn.
There were modules where I was frantically writing notes on whatever revelations came next. This definitely isn't a course for beginners, but for any aspiring blogger with whatever stage they were at.
I'd arrived at the meaty part…
The case studies
And then came the case studies. Tip after tip, wave of knowledge after wave. Insight and years of understanding gained from people like Wandering Earl and Candace Rose Rardon.
Candace was in fact the first travel blogger I met, back in March-ish 2012 at a meet up in London. I was nervous and babbling, pretty sure she thought I was insane. It was so interesting to read her case study on how far she's come since then, following her own path.
Confidence booster
One of the things I struggle with most in blogging is comparing myself to other people, which always makes me miserable. One of the most important takeaways I got from the course was the stories from the case studies. All of them said their blogs took off when they found the confidence to do this 'travel blogging' thing in their own way.
There are more ways than one to be a successful travel blogger.
The audio interviews
NomadicMatt has connections. People like Rand Fishkin from moz.com, Pat Flynn from smartpassiveincome.com and Ryan Holiday – one of the most successful internet and viral marketers ever – have given up their time to share their knowledge for this course. As much as they could fit in to 45 minutes-ish.
These guys are the absolute top people in the industry, not just travel, but the wider world. They have book deals, number 1 podcast shows and are always headliners at any conference they appear at. NomadicMatt's course definitely reminds you that there's a whole world out there, which in your travel blogging bubble can be easy to forget.
I have reams of notes from listening to the audio interviews, and so much to act on to try and make my blog better, more interesting, and to stand the difficult test of time.
Webinars
There's a new webinar every month, meaning you get more from the course as you go and all the information is up to date. Webinars so far include…
Introduction to Strategy Planning
How to Create Content People Want to Read
How to Attract (and Keep) Readers to Your Blog
The Importance of Design (or How Not to Look Like Spam)
Questions, Answers, and Site Critiques
SEO: Theory and Practice
Advanced SEO
Growing Your Readership
Top 5 things I learnt
1. – Derek's insight was awesome. Aka Wandering Earl, Derek is all about doing things your own way and having a long term strategy. I went on a press trip with Derek to Israel last year and he's such a cool guy. He has one of the most loyal followings in the business and such a strong sense of community thanks to his travels, that that's his specialist subject in his case study.
2. – Invest in myself. Sometimes it can seem expensive to do the courses and attend the conferences, but these are where all of my knowledge and partnerships have come from, whether directly or from what I've learnt there. It's so important to invest in your learning, and a pay out in money now can save a whole lot of hours / days / weeks, in working it out for yourself.
3. – Ask for help when you can. My blog is entirely me. You'll have seen other blogs turn into multi authors but that just won't happen for me. It will always be just me. I designed it, write it, plan it, photo it, everything. I just have an external host and got someone to design my logo, although I came up with the idea. It might be time to get some help, so I can concentrate on writing more.
4. – I really need to take some time out to practice everything I'm learning, to put into place the steps and procedures that will help me to make this as a blog as it can be. I'm fully intending to make this a priority. I have so many cool ideas for the blog and no time to do any of them. Next Feb, this will all change.
5. – Travel bloggers are in a bubble. There are so many other bloggers out there, hugely popular people who are making thousands yet give away their advice for free. Matt knows them. He reveals who to go for for the best information, both in books and blogs. He's read so many business books, you can trust his recommendations as gospel.
Who's the course for?
The Business of Travel Blogging course will help any travel blogger, no matter what stage they're at on the travel blogging journey. If I compare it to other courses I've seen, it has the edge in that in focuses on the long term, on how you can make travel blogging your job instead of looking at how to get free stays and goodies for nothing.
NomadicMatt emphasises creating great products and teaming up with likeminded people to work on projects your readers actually want.
Anyone who's looking at travel blogging as a career, as something they want to progress in, will benefit from the Business of Travel Blogging course. You'll learn about branding, about making money and offering value to your readers so they keep coming back. It's not a get rich quick scheme – it's honest and thought out practical advice in how you can make travel blogging work for you, on the terms you want..
How much is it?
The course is $347 / £284, which, if you think how much you'd pay for an evening or university course in the UK, is an absolute bargain. And you don't even need to pay your transport or take the time to get there, the course comes to you.
Sign up and you can work your way through at a time that works for you and use the group to help support you too.
The $347 / £284 includes…
– 28 lessons
– 10+ hours of expert interviews (from the best people in blogging!)
– 4 insightful case studies (from 4 of the most popular travel bloggers in the USA)
– Tech support from Chris Richardson (he helps me with all my techy probs too)
Sign up to the course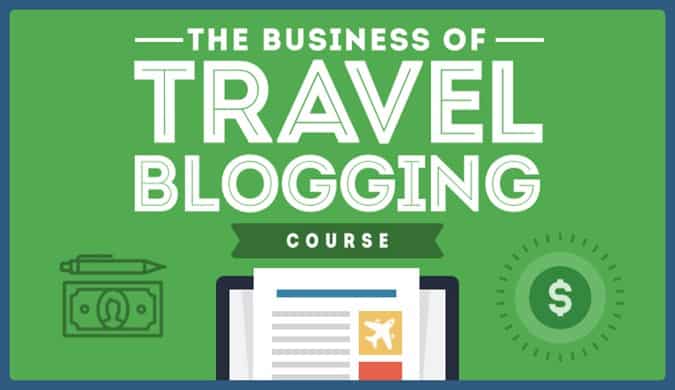 Matt offers a 100% refund with 14 days, if you get through the course and you're still not happy. You know why he offers this though, right? You're going to learn at least 10 hugely important things from it, guaranteed. Bet ya.
About NomadicMatt
I mean, how many other travel bloggers can say this… ?
"My website has become the top travel blog in the world, with close to one million visitors per month, a 180,000-person e-mail list, four employees, a best-selling New York Times book, and revenue in the mid six figures per year.

And I want to help you do the same, because I believe there is plenty of room for new, quality blogs."
Yeah, just NomadicMatt.
I've taken loads of notes, still have some webinars to work through, and have earmarked February next year (travelling non stop till then!) to put the biggest of the plans he's inspired in me into action.
Questions?
If your question is listed, click the pic and scroll to the end of the page, if not, just let me know in the comments box below.
Happy blogging! xx – I completed NomadicMatt's Superstar Blogging course in return for writing about it on my blog if I liked it. I did. I will receive a commission if you sign up through my site. I totally endorse this course, and even after 5 years of blogging, there's a huge amount in there for me to still learn. Whatever stage you're at in your blogging career, it's a great investment, but the sooner you buy, the more you'll get!