Actually can't believe how much I got around in 2019, especially as I thought I was going to cool it for a year. Looks like my globetrotting got the better of me.
I went to SIXTEEN countries in 2019, and SIX new ones.
Wow.
I don't feel like I've been that far, but then, it feels weird that my trip to India was this year too. Time, and travel, and feelings… they just don't match up.
Always helps to look back on what I've done in a year, for nostalgia, to remind myself how lucky I am, and to learn from what I enjoyed and what I didn't.
February
One week in India
Press trip
India was an amazing adventure – something really unique and special that I will remember forever. I was invited to go to the Kumbh Mela Festival, which I'd never actually heard of before but is actually the biggest festival in the world (call myself a festival blogger!).
The trip was an absolute shambles. Get a million people in what is usually just a field and there's going to be some problems. Thankfully I was in an amazing group and we had fun.
Apart from the time we did a 13-hour detour because a road was closed, 10 hours later and we were back where we started. That was not good for me.
BUT, it was amazing to experience such a big human gathering, and I feel this was a trip that will be remembered forever.
One week travelling in Nepal
I decided to tag on a week in Nepal after India. I've been wanting to go for a very long time and this seemed like the perfect opportunity. I only had a week but I was determined to make the most of it.
I loved Nepal.
I travelled solo to Kathmandu, to Nagarkot and Pokhara.
It was so, so cold though. And I'd booked cheap accommodation without heating. Apart from freezing my ass off every night it was a wonderful week that absolutely reinforced my love of travel.
I feel like if ever I needed a retreat from the world, Nepal would be it.
March
3 days in Barcelona, Spain
I had three days in Barcelona to see my brother and sister in law – basically just hung out, ate lots and played with their dogs. Not much sightseeing, seeing as I've been over ten times now. Still think it's such a cool city though.
4 days in Hamburg, Germany
Conference
I then went over to Hamburg to a travel video making conference called KeyFrame. It was a great few days of hanging out with fellow travel bloggers and getting to know the city a bit more. I vowed to make more videos, and since then, I've made six.
Oops.
Here's my favourite one of the year…
Weekend breaks in England
I had a few weekend breaks in England this year, starting with Shoreditch in January with Ben, the New Forest in April, the Mendip Hills in August and then the Isle of Wight in September and Birmingham in October.
I love spending time in my home country and plan to do a lot more of it next year.
So many places I still want to see.
---
Check out my YouTube channel for more British travel videos
---
May
4 days in Kuhlungsborn, Germany
Press trip
I was invited to explore the German Riviera, in Kuhlungsborn on the north coast. I spent 4 days there and was wowed by the scenery and amazing beaches. Just goes to show there's so much more to places than you think you know.
I really don't think you have to go far to explore somewhere people don't really visit.
17 Things to Do in Kuhlungsborn
One week in Lake Maggiore, Italy
With a trip to Switzerland
Press trip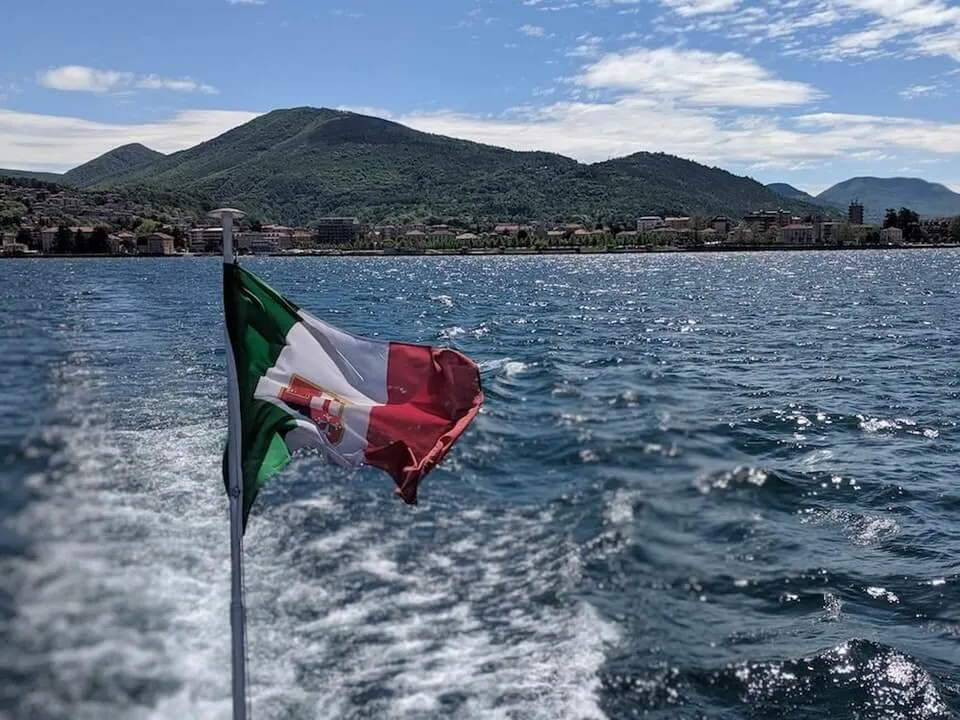 Ben and I were offered a villa to stay in for a week around Lake Maggiore in Italy. It was a great place – huge in fact. We had a balcony looking out to the lake and had a brilliant week exploring the area. Driving in Italy was a lot more fun that I thought and we even crossed the border to Switzerland for the day too.
June
3 Days in Sydney
Oh my god, I LOVED Sydney. Loved, loved, loved it.
I'd been before when I was 20 but definitely didn't fall for it as much as I did this time. I spent my time there just planning how I was going to live there in the future, and regretting not doing my Working Holiday Visa when I was younger.
Honestly, Sydney is just amazing and if you get the chance to go, live there, I'd totally say go for it.
I still need to write about the brilliant time I had here, including the amazing VIVID Festival. And get started on the video I planned to make too!
One week in Samoa
Press trip
My week in Samoa is absolutely one of my favourite press trips I've ever been on. I was honoured to be invited in the first place and they totally followed up on it.
Every way I looked it was colourful and green, and I couldn't stop comparing it to the film Moana. It's such a beautiful place, with a friendly vibe and incredible beaches. It was a long way, especially for us Brits, but if you break it up with a few days in Sydney, then I think it can be the absolute trip of a lifetime.
22 Fascinating Facts About Samoa
Your Guide to a Holiday in Samoa
15 of the Coolest Things to Do in Samoa
Trentino in Italy
Conference
I went to another travel bloggers conference this year. This time in Italy, in Trentino. The conference was fun, of course, but it was the Trentino region that totally wowed me. I was massively jet lagged, I'd done too much with Samoa and all, but it was a great introduction to a region I'd love to go back to one day.
Trentino is so underrated but I've got a feeling, that with over 100 bloggers visiting, that's about to change.
---
2019 Festivals
1. Kumbh Mela – see above, the biggest human gathering IN THE WORLD!
2. VIVID Festival – this is an amazing light show that takes place all over the centre of Sydney. Projections, installations and special effects, in some of the most iconic locations in Australia.
3. Glastonbury Festival was amazing – such a good team, and great weather. We had a brilliant week watching Kylie, Mavis Staples and Chemical Brothers.
4. Dawson City Music Festival – a lovely little festival in Dawson City, in the Yukon in Canada. You can read more about the Dawson City Music Festival here.
5. Victorious Festival felt quite tame in comparison. Me and Ben went just the two of us, VIP. Such an easy festival to do, thanks to the proximity to my house and the size of it. It's on August Bank Holiday Weekend and I'd like to try another festival that weekend, but it's just so good, and so easy, I can't resist.
6. 90s Festival – and then my 2019 festival season was topped off with the awesome 90s Festival. We had a brilliant weekend glamping in a bell tent and enjoying the hot tub, and I actually think this was one of my favourite weekends of the year.
---
July
Two weeks in the Yukon and Vancouver, Canada
Press trip
The Yukon was awesome. I felt super privileged to visit such a remote part of Canada no one I knew had. I went to the Dawson City Music Festival which was small but wonderfully formed. There were some great bands and I loved the concept.
Watch my video: What to Do in Dawson City
And you can subscribe to my YouTube here
And then once my press trip finished I had three days in Vancouver to explore. Such a cool city, and I got to go to Victoria, on Vancouver Island too.
Canada is absolutely one of my favourite countries, and this trip just reinforced that.
29 Cool Things to Do in Whitehorse
Bucket List Canoe Trip Down the Yukon River
September
One week in Samos
I went over to Samos in Greece for the second time, to spend the week with mum and dad. My sister in law's lovely family are from there, and so it's a wonderful opportunity to feel like part of the island, and the family. I had a great week eating, drinking and sightseeing on Samos. I feel like I know I'll be back again one day.
October
One week in Aruba
Press trip
Gawd, Aruba was LUSH!
I went over to the Dutch Caribbean island for a week to check out the beaches, the food, and generally just for a looksee to find out what it had to offer us tourists. It's a really beautiful place, that seemed more modern than some of the other Caribbean islands I've been to. Definitely recommend.
What's Aruba Like for a Holiday?
November
Ten days on a Caribbean cruise
Press trip
Ben and I visited the Bahamas and Turks & Caicos on our Caribbean cruise. We decided to stay on for a few days and explore Miami too. We had a great time hanging out in Wynwood and enjoying the chicken wings there. Miami is a really cool city – but it's SO hot!
Carnival Sunrise Cruise Review
One week in Japan
Press trip
I went on a press trip to see Shiga and Fukui in Japan, to have a look at two Japanese prefectures that are less popular with tourists, but deserve to be a lot more so. Honestly, it was brilliant. It was such a beautiful time to be there, and the scenery and vistas were just incredible. In 2015 I went to Japan for six weeks and so it was wonderful to go back and see more.
Japan is a fantastic country and I hope you all get to go (if you want to!).
One week in South Korea
I decided to tag on a week in South Korea after my week in Japan, just to finish off the year with a new country, and to explore somewhere brand new. It was great – I had four days in Seoul and then four days on Jeju Island and feel like I got a good feel for the country. Although it's one of the closest to Japan, it definitely felt very different.
My highlight of South Korea was the road trip I did in Jeju, and the food tour I did in Seoul.
December
And now we're into December.
No more travel for this year, I think I've done enough!
I plan to spend the next month editing my photos, writing up my adventures and just chilling with friends and family. It's been a good year, but no wonder I haven't got any money!
2019 travel stats
Countries visited:
1. India
2. Nepal
3. Spain
4. Germany (twice)
5. Italy (twice)
6. Switzerland
7. Australia
8. Samoa
9.Canada
10. Greece
11. Aruba
12. Bahamas
13. Turks & Caicos
14. USA
15. Japan
16. South Korea
New countries visited:
1. Nepal
2. Samoa
3. Aruba
4. Bahamas
5. Turks & Caicos
6. South Korea
Plans for 2020
I'm planning on doing a lot less overseas travel in 2020. A few reasons…
– I need to save some money.
– My carbon footprint is absolutely horrendous.
– I want to see more of Great Britain.
– I want to focus more on the skill of writing and video production, rather than the travel.
– I just want to be at home a bit more, to be with family and friends. Lots of friends having babies in 2020!
Having said that, I have two trips booked in already…
Skiing in Bansko, Bulgaria with Dan
Dan from danflyingsolo.com and I are going skiing in January. Can't wait. We were invited by Snomads (the independent chalet company) to come and stay in one of their chalets and try out the slopes.
I've been wanting to go skiing in Bansko for about ten years, ever since I first heard of it. It's meant to be among the best value skiing in Europe, so we shall see!
Travelling to Osaka, Japan
And then, also in January, I've been invited back to Japan to explore more of Osaka. This will be my third time to the area, but always on the way to somewhere else. I'm excited for Osaka to be the focus, and to see more of the prefecture.
I'll be there for a week to see the new Nintendo World at Universal Studios, visit some cool temples and castles, and of course – get stuck into the food too.
Exploring England
For the rest of 2020 I'm expecting to see more of England. I still haven't been to Margate, Norfolk, the Lake District, the Scilly Islands and I want to go back to Cornwall and Devon too.
Also… I'm planning a road trip to Bosnia and Albania with my school friend, but not till the summer. Anything could happen between now and then. Who knows?!
My 2019
What I do know is that I have had an absolutely incredible 2019. It's been filled with fun experiences, my blog is continuing to do well and I've met some great people, as well as seeing more of those who are special to me.
There's always room for improvement, and I don't like to bring up the negatives when it's been so great most of the time, but if 2020 is anything like this year, then I'll be pretty happy!
More on looking back
How to Be Body Confident on Holiday
5 Tips to Help Us Calm Life Down