Preparing to travel in 2021 just got a whole lot more complicated, but don't let that put you off. I haven't!
In preparing to travel to Guernsey, and Greece, these last few weeks, I've learned a lot about what you need to do to be ready. When my parents were preparing to travel to Greece (to see my brother and his family) a few weeks ago, I know they nearly had a meltdown with all the paperwork and prep they had to do in advance.
I didn't want to be that stressed, and I don't you to be stressed either, so I've put together this checklist for preparing to travel so you're ready for action.
1. Get your vaccinations
Travelling and preparing to travel is a lot easier if you just get your vaccinations. After some initial worry and hesitancy I'm a BIG believer in the vaccine and it surprises me when people my age say they're 'waiting to see what happens'.
How long are you gonna wait, hey?
Just do it. We're all in it together.
---
2. Get your COVID passport in the NHS app
Sign up to the NHS app and when you've had both vaccinations they'll appear on there as proof and evidence that you've had them.
For the COVID pass, you need to wait two weeks until after you've had your second dose to get the official one through. And then five days after that to get a printed paper copy of it. It'll show up in the app as a digital version that you can print right away though.
---
3. Check the up to date rules for your destination
Personally, I'd wait until as close as possible to your departure date (no closer than two weeks though) to book your tickets. I booked our Greece flights a month before we were due to go, and a fortnight later they'd halved in price! We paid £361, and they went down to £178. Gutted!
I'm just focusing on the fact the plane is still leaving though (fingers crossed). There's only one direct flight to Samos in Greece a week from the UK, and I do not want to be wasting time connecting in Athens.
Waiting also gives you less time to panic. In the run up to Greece there was so much in the news about the country being placed on the 'Amber Plus' list.
On the one hand I liked the fact that we'd booked – it meant we were going. But on the other you could argue it would've been good to have the option not to go if it'd happened.
So, when you start preparing to travel, you need to look up your destination on the gov.uk site and read the latest advice for travel. You need to know what 'list' you're on, and what it means at that time.
---
4. Know the Passenger Locater Form rules
Mark in your diary when you need to fill in any Tracker forms or Passenger Locater Forms for your trip.
For Guernsey I needed to fill in a Tracker form within 24 hours of entry.
For Greece I need to fill in a Passenger Locator Form within 48 hours.
Make sure you're ready to do this, with a printer that works. And a second printer lined up at your friends' house, just in case.
---
5. Order your fit to fly tests
Lucky for me going to Greece, at the time they said they didn't require any fit to fly test to go, just the vaccination evidence would suffice. This meant we didn't have to do any Fit to Fly Tests.
And, with Guernsey being part of the British Crown dependency, it was the same.
But your destination might be different, and you need to a Fit to Fly test to board the plane.
When you order your Fit to Fly tests you need to make sure the company you sign up with are government approved and know what they're doing. Project Screen by Prenetics are an approved, certificated and trusted provider and were one of the first private Covid-19 providers listed by the UK Government. They are proudly CQC and ISO 27001 certificated. You can find the official stamps all over their website.
They do 30,000 tests a day at 120 sites, and home tests – they know what they're doing.
They do nine different tests, which cover all the different types you need to travel right now. You can view all of Project Screen's private PCR tests for travel on their website. Click here to find out more.
With the home tests you'll be sent everything you need to do the test, log your information and record it for your travels. It's all explained for you with the videos on site, and the instruction leaflet you'll get in your pack.
Within 24 hours of them receiving your swab at their laboratory, your sample will be analysed, and your results will be delivered securely online. You will be notified by email when your results are ready.
---
6. Order your return home tests
The next item on the preparing to travel checklist is to order your 'return home' tests. This needs to be done before you leave so they're ready and waiting for you.
Guernsey was all good for tests to return home, I didn't need anything but my NHS Covid Pass.
For Greece, I needed to order the 'Mandatory Amber Day 2 Test' from the Project Screen by Prenetics menu to be at my house ready for my return a week later.
The UK Government listed COVID-19 Amber Day 2 PCR tests start from £79. This includes:
Mandatory day 2 arrival test for all fully vaccinated UK residents travelling to England from Amber countries
Suitable for arrivals from Monday 19th July
Complete home test kit sent via DPD Next Day – includes free Royal Mail Tracked 24 return envelope
Gold standard, highest accuracy PCR tests
Results in 24 hours after receipt at the laboratory
By ordering through Project Screen I knew that my test would be waiting for me when I got back. I also knew I could order a Test to Release test if the rules did happen to change while I was away. Or, I could go to the nearest test site and do it on site, which for me wasn't far – just in Whiteley about 30 minutes away.
Fingers crossed, this will be all I'll need to return to the UK safely after my trip.
You can find out more about how to do the Amber Day 2 Test here.
---
7. Pack, and go!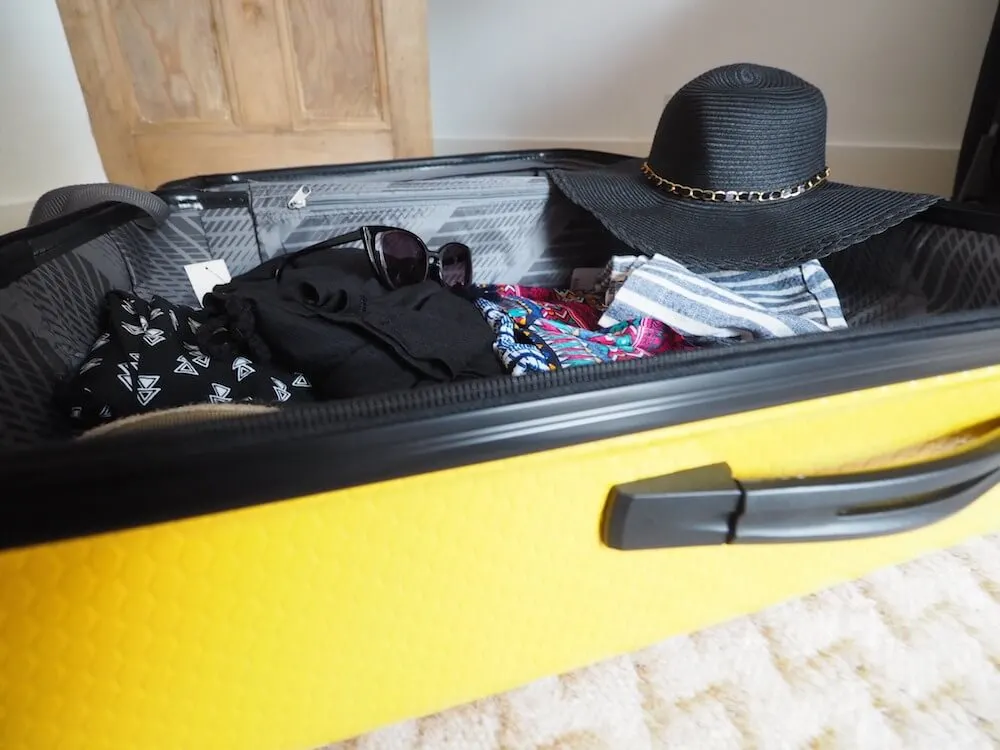 Make sure you pack your masks, your sanitiser, all the usual holiday packing list items, and do NOT forget your passport. Remember that to travel in Europe you now need six months extra on your passport, over the three you used to require.
I'd recommend wearing your mask on the plane too, at all times.
---
8. Have a great time
Enjoy your holiday, but remember to protect yourself and others, and adhere to the local laws and restrictions. You may need to take a test to get back on the plane, but that depends on your destination. Make sure you've researched this before you go.
---
Preparing to travel in 2021
Preparing to travel can seem a little overwhelming but really, it boils down to these 8 points, which you can prepare in advance. Don't let it put you off, but do let it make you that little more cautious.
---
What is Project Screen by Prenetics?
"Project Screen is an initiative developed by Prenetics, a digital healthcare company with headquarters in London and Hong Kong. Pre-Covid our core, business focused on providing personalised preventative health solutions via DNA and blood tests. Our company's mission has always been to make complex science accessible via a range of innovative self-collection test kits.

In 2020, we adapted and evolved into COVID-19 testing, taking advantage of our laboratory network, scientific expertise, and digital systems to deliver world-leading COVID-19 testing solutions.""

– PROJECT SCREEN
---
PIN THIS POST ON PREPARING TO TRAVEL FOR LATER