So many great festivals in Bulgaria for you to enjoy. We just don't know enough about them! From rock to opera, to bagpipes, to film and the more traditional Bulgarian cultural offerings, there are festivals to enjoy year round in Bulgaria.
As well as festivals in Bulgaria, tourists can enjoy sea or ski vacations, city breaks, cultural, culinary, and adventure holidays in the sun. Bulgaria was also home to the European Capital of Culture 2019: Plovdiv.
Which seems a good start to our introduction to the festivals in Bulgaria.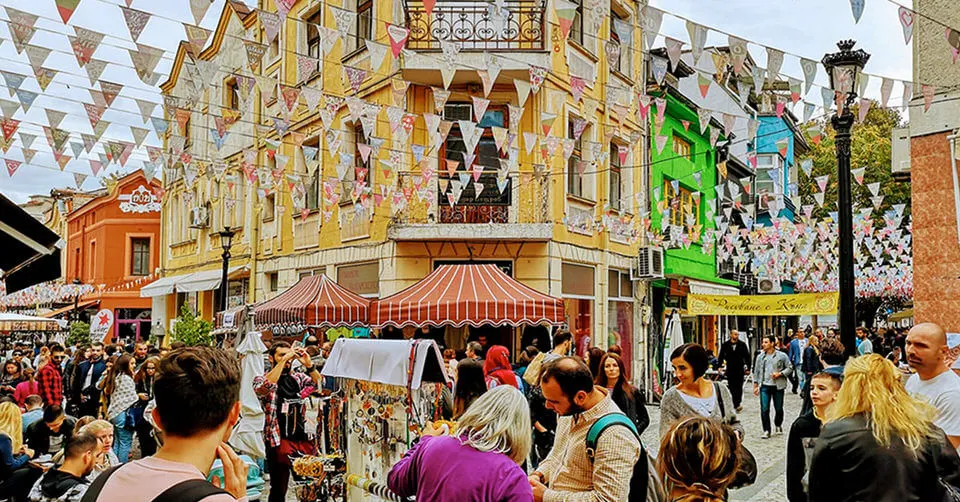 Top Bulgarian festivals around the world
From film festivals in the capital to carnival, jazz and other traditional celebrations, here are the best festivals to go to in Bulgaria.
1. KvARTal, Sofia
15th – 17th September 2023
KvARTal Festival takes place in Sofia to celebrate the city's 8000 years of history. The main action takes place in the square formed by the boulevards 'Dondukov', 'Maria Louisa', 'Vassil Levski' and 'Slivnitsa'. The boulevards become a designated space for art and fun to show off the city's dedication to culture.
2. Sofia Film Fest, Cinemania, Cinema and Food, Cinelibri et al (all year)
Bulgaria is home to many film festivals. As well as the ones listed above, there's also IN THE PALACE International Short Film Festival and the World Festival of Animated Film.
Cinelibri is set to take place between the 6th – 29th October 2023 and Sofia Film Fest will be returning for its 28th edition in March 2024.
In 2014 Sofia received the creative UNESCO title "'City of Film', awarded to cities not only possessing the necessary infrastructure of studios and movie theatres, but also being known for caring about the development and preservation of their own cultural heritage.
Bulgaria's film festivals are an important showcase for high-quality European film productions and co-productions.
---
3. Surva Carnival (Festival of the Masquerade Games), Pernik
TBC January 2024
Also known as the International Festival of Masquerade Games, Pernik's Surva features more than 6000 'kukeri', specially costumed to fight off evil spirits, take part in the majestic parade. It's a celebration of cultural traditions which takes place over two days and is located in North West Bulgaria. Surva festival happens every year, usually in late January. Thousands of visitors enjoy the appeal of ancient pagan customs at this UNESCO site of Intangible Cultural Heritage.
4. International Bagpipe Contest, Gela
TBC August 2024
The International Bagpipe Contest in the village of Gela takes place in the scenic Rhodope Mountains (plenty of space to make some noise) – usually on the first Saturday of August. More than 100 performers, including ones from Japan and Australia, test the natural acoustics of the location in front of thousands of visitors each year.
5. International Folklore Festival, Veliko Tarnovo
20th July – 27th July 2024
The International Folklore Festival Veliko Tarnovo is an official festival of CIOFF (International Council of Organizers of Festivals for Folklore and Traditional Arts – Official Partner of UNESCO)
More than 400 folklore singers, instrumentalists and dancers gather to perform authentic Bulgarian music which can rarely be heard anywhere else.
6. Nestinari Festival
3rd June 2024
The tradition of 'nestinari' or barefoot fire dancing, over red hot coals, is one of the oldest Bulgarian customs and is spectacular in its exclusivity and magical aesthetics. Only a few villages host it: Bulgari, Kosti and Brodilovo, traditionally around June 3-4.
The ritual, recognised by UNESCO as Intangible Cultural Heritage in 2009, is known for the hypnotic state that its performers slip into while dancing in the style of old Thracian traditions.
7. Meadows in the Mountains Festival, Polkovnik Serafimovo
6th- 9th June 2024
'Meadows in the Mountains' is a young and bold dance music festival, taking place in the Rhodope Mountains.
The 3-day event is set in the Polkovnik Serafimovo village. The unparalleled nature is calling all adventurers and explorers to dive into its wild atmosphere and combine partying with exploring its treasures through trekking, horse riding and many more activities.
8. International Jazz Festival, Bansko
TBC August 2024
Every August the biggest stars of European, American and Bulgarian jazz gather to create an amazing ambience of music and nature in Bansko. It's the most popular event of the summer in Bulgaria, the entire Balkans even. 2024 will be the festival's 27th year and consists not only of main stage evening performances but also masterclasses, jam sessions, conversations with leading jazz musicians and meet & greets. Performances from young up-and-coming musicians also take place on stages in the mornings/early afternoons on different stages around Bansko, followed by activities for all the family. Jazz enthusiasts will love every aspect of this multifaceted celebration of music.
Bansko is a popular cheap winter ski destination so you can listen to jazz music by night and relax with spa and mineral springs by day. Sounds lush!
---
Pin for later

---
9. Hills of Rock, Plovdiv
TBC July 2024
Hills of Rock is one of the biggest rock festivals in the Balkans. Previous headliners have included Slipknot, Garbage, Whitesnake and Disturbed. It has been described as 'a dream for every devoted rock and metal fan' with the organisers reporting that they are in negotiation with some huge names to be headliners for 2024. Get your black eyeliner on and get down there!
10. Opera Under the Stars, Plodiv
TBC June – August 2024
In 2023 the Opera Open festival celebrated its 10th anniversary. Bulgarian opera has stepped out of the theatres and turned listening to classical music in the open air into a tradition. Opera Open Festival in Plovdiv is already established with its emotional international programme, set in the Ancient Theatre each June-August.
A wide-ranging program is offered to suit many interests and tastes: 'Opera and Ballet', 'Classical and Jazz' and 'Musical and Rock'. The setting of the Ancient Theatre makes this a magical and unmissable season of performances!
Quicklist of Bulgaria festivals
KvARTal, Sofia
Sofia Film Fest
Surva Carnival
International Bagpipe Contest, Gela
International Folklore Festival, Veliko Tarnovo
Nestinari Festival
Meadows in the Mountains Festival, Polkovnik Serafimovo
International Jazz Festival, Bansko
Hills of Rock, Plovdiv
Opera Under the Stars, Plodiv
See, lots of weird and wonderful festivals in Bulgaria for you to try out!
---
What is the main festival in Bulgaria?
The main festival in Bulgaria is the Liberation Day celebrated on 3rd March, marking the day Bulgaria was liberated from the Ottoman rule in 1878. Additionally, many traditional and cultural festivals in Bulgaria are celebrated throughout the year in different regions of the country.
What do Bulgarians celebrate?
Bulgarians celebrate a wide range of holidays and traditions. Some of the most popular include Liberation Day, Baba Marta on 1st March, Easter, and Christmas. There are also numerous traditional folk festivals, music festivals, and dances that celebrate the rich Bulgarian culture and history.
What is the biggest holiday in Bulgaria?
One of the most significant and widely celebrated holidays in Bulgaria is Liberation Day on 3rd March. However, other major holidays such as Easter and Christmas are also deeply rooted in Bulgarian traditions.
What is the festival in Bulgaria in July?
In July, one of the notable festivals in Bulgaria is the Rose Festival, particularly in the Rose Valley near Kazanlak. This festival celebrates the rose harvesting season, with parades, folk dances, and music. The exact dates can vary depending on the year and the timing of the rose harvest.
Do Bulgarians celebrate name days?
Yes, Bulgarians do celebrate name days. In fact, for many Bulgarians, name days are considered more important than birthdays. A name day is celebrated on the feast day of a saint after whom a person is named. For example, someone named "George" would celebrate their name day on St. George's Day.
For more information on Bulgaria, visit www.bulgariatravel.org.
This post is in collaboration with the Bulgaria Ministry and The Great Swap.
---