I'm fresh back from Festival No. 6. My tent is drying out in my parents garden and mum's complaining there's 'half a Welsh field' in the washing machine. Yeah, it was a dirty, wet weekend. Really wet. The mud in some areas was up to my knees, I fell over and got it all over my bum too and everything I took is now a darker shade of brown.
I think it says a huge amount for a festival though, when the weather was so terrible (winds of 40mph / 5cm rain) and yet I'd still say Festival No.6 was up there with Latitude as one my (now) two joint favourite festivals in the world.
I loved the vibe, the setting, the atmosphere and the fact you could sit in the warm for a proper cup of coffee in a morning. Here are just a few more of the reasons why you'll (hopefully) definitely find me at Festival No.6 next year.

1. Get to glitter up from start to finish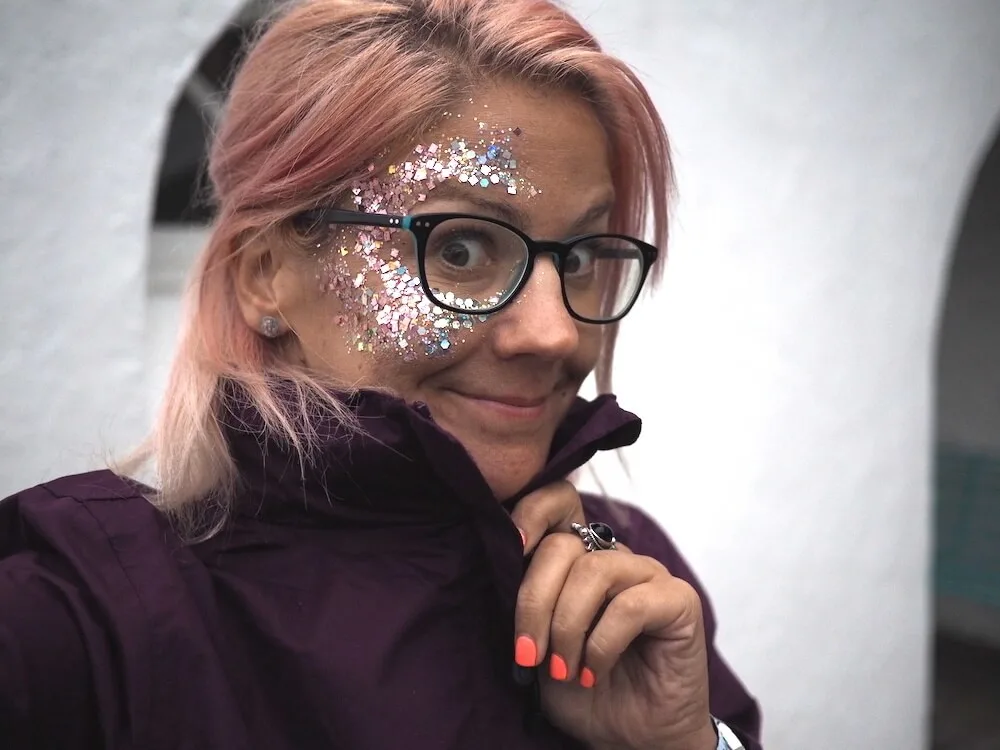 I got the Festival No6 Express Train from Virgin, one of the festival sponsors. On the way they had girls glittering people up, for free. The carriage was absolutely covered in glitter from floor to ceiling, loved it.
I also took my own glitter for days 2 and 3, and then decided to get my face painted like a zebra for day 4 and cover that in glitter too. Why not?
2. Portmeirion
The village of Portmeirion, the location of Festival No. 6, is awesome. It's the set of The Prisoner, the TV show that gave the festival its name. The TV show is bonkers, as is the village. It was built by a rich Italian man as a dedication of love to his wife with colourful houses built into the cliff faces. There's also an estuary, awesome viewpoints to view the festival from, and a whole area of woodlands, complete with stages in among the trees.
3. Real toilets
That's not me on a toilet. That's me sat in a chair inspired by The Prisoner TV show, in the beautiful Portmeirion Hotel on the water front. As a festival guest, whether you were staying there or not, they let you use the toilet as you pleased.
The fact that the festival takes place in Portmeirion, a place with actual infrastructure, meant there were at least ten lots of proper toilets around. From the cafe ones, to the bar to the town hall. Nothing like washing your hands under hot water after you've been caked in mud all day.
4. Actual cafés and bars
The rest of the year Portmeirion is a cute tourist attraction. This means there are sweet cafes, gift shops, ice cream shops and proper bars set up around the grounds. And they all had Wi-Fi.
As I've said, this year, 2016, the weather was horrendous. Having the opportunity to sit in a warm cafe with a proper hot drink, meant more than you could imagine if you've never camped out in epic winds and rain all night.
5. Free coffee every day
Lavazza gave out free espressos on the campsite every morning – amazing!
6. Awesome stages
Every stage location had it's own personality. Down on the beach was the Stone Boat, used in The Prisoner, and there was also the Estuary Stage looking out over the pool and the beach. The Castle Gardens had been made into a marquee and you could see over the whole site. Pictured above is the Central Piazza Stage and the Main Stage, complete with Noel Gallagher singing Wonderwall on it.
7. Friendliness
I can honestly say that there wasn't a time I sat down next to someone and we didn't have at least some sort of conversation. Everyone at the festival was so friendly and we met so many characters, I'd go back just for that fact. It was brilliant.
8. The food options
I tried so much great food at Festival No. 6. Just the usual three meals a day – needed for the 20k+ steps I did every day – but (almost) everything was so good.
I had Bao (x3, like the little bao sandwiches you get in Asia), Fabulous Fish Fingers, Bubble and Squeak, Truly Scrumptious, and a proper Welsh lamb burger.
I also had a bacon sandwich from the cafe, which was pretty grim, and a hot dog from Topdogs which I wouldn't recommend – but neither were awful. The other foods were incredible, so incredible I ate them before I even had time to photo them.
9. Range of drinks from gin to craft beers
Festival No.6 didn't just have your average generic beer and wine on offer. They had a whole beer festival tent with tens of different beers to try, as well as a Sipsmith gin stand serving all kinds of cocktails. Around the festival site they were serving Vila Maria wine and you could get the usual spirits from every bar too.
10. There's a pool
Unfortunately, after reminding my friend to bring her swimmers, I totally forgot to bring mine. She went in the pool though, and enjoyed the cleanse after a night of camping. After the first day the thought of getting in and being cold on the walk home just got too much, so that was that. Nice to know they have one though.
11. Amazing variety of acts
This is Matthew Corbett, one of the most popular spoken word poets of our times. Just before this I'd gone to a festival photography workshop with Danny North, a festival photographer who's shot for the likes of NME and Rolling Stone. I also saw music from Hot Chip, from the Gypsy Bohemians, Andy Weatherall, Bastille and Cassius, and more. I joined in rain aerobics, watched the carnival parade, saw a lecture by Professor Danny Dorling on how we can help the refugee crisis, and the UK in general, and watched beatboxer Bellatrix do her thing.
And that's just a small glimpse of the weekend – you can see more on the official Festival No 6 site here.
12. It's bonkers
From the acts to the vibe to the setting and the people who go, Festival No. 6 is bonkers. It was like a world away from the one we're all in. Loved it.