A Beginner's Guide to RVing at Festivals
Going to festivals is a blast, but sometimes you just don't want to stay in a tent on the ground or have to drive from a nearby hotel. Enter: RVing at festivals
– This guide to festival RVing is written by Bill Widmer from thewanderingRV.com.
I'm getting a few new voices on the blog to cover topics I know nothing about! 
Taking a camper to a festival means clean water, a shower and kitchen, and a comfortable bed – usually right on festival grounds, so you can hit the stage right out your front door.
This article is a beginner's guide to RVing at festivals. Let's dive in.
Renting vs buying an RV: which is right for you?
Renting an RV from a camper rental company
is a fantastic way to save money instead of buying one. You just pay for what you're using and don't have to store your rig, pay insurance, or perform cleaning and maintenance to keep it in tip-top shape. However, buying an RV means you don't have to worry about it being used by someone else and you can potentially save some money (if you use it often enough, say 10+ times per year).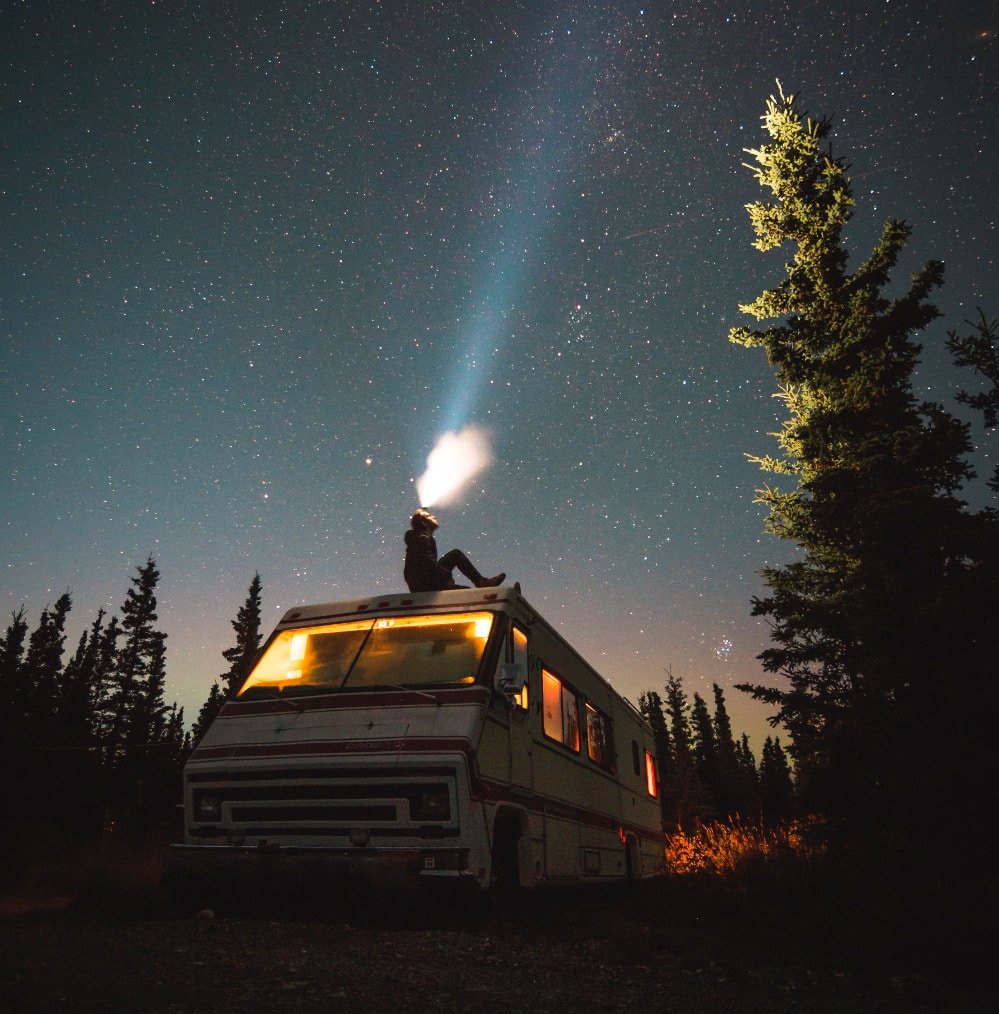 Long story short:
If you're only going to a few festivals per year, renting is probably much cheaper and hassle-free. But if you're an avid festival goer and perhaps even like camping at RV parks or boondocking (staying for free) in the woods, buying an RV is probably the better option. For more help finding an RV rental, check out our guide to
everything you should know before renting an RV
.
How to find RV-friendly festivals
While many do, not
all
festivals allow RVs on or near their property. Luckily, it's easy enough to figure out if RVs are allowed at your favourite festivals. Simply check their website. If you can't find it there, call or email their support team. You should get an answer quickly. If all else fails, Google 'festival name RV' and you'll likely find the right page or a forum that discusses it.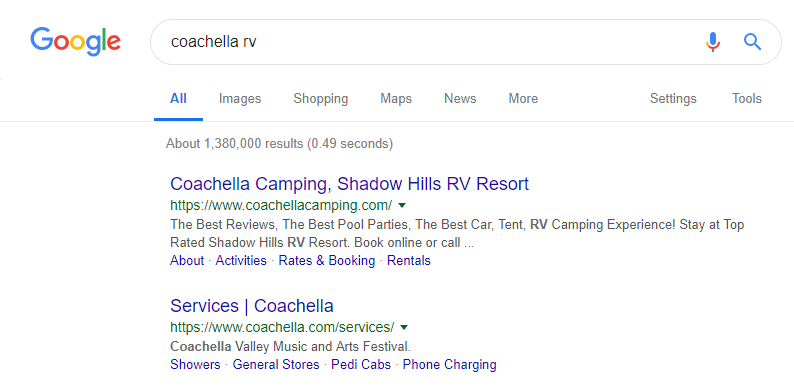 Here are a few RV-friendly festivals I know of:
Bonnaroo (Manchester, Tennessee) – one of the US's largest music festivals, with over 140,000 people attending every year. What I like about Bonnaroo is that they have multiple camping areas that act like mini-cities. Just keep in mind that RV sites with electric hookups are about 3 times the price of non-electric sites.
Coachella (Coachella Valley, California) – Coachella features private showers, chair massages, wifi, phone charging lockers, and a fresh produce stall. However, you're pretty much limited to compact RVs like campervans if you're camping here, because the spaces are small.
Stan Rogers Folk Festival (Canso, Nova Scotia, Canada) – Stan Fest's campgrounds provide potable water, outdoor privies and security personnel. There's also a shuttle service to easily get to the stage from your camping site.
You can also check out RV Lifestyle Magazine's list of RV-friendly festivals to find more, however they don't update the page as often as they should so there may be some old festivals that no longer exist.
Wondering what festivals to visit this year?
Click here to see all the North America festivals Vicky has been to.
5 tips for RVing at festivals
Ready to take your camper to a festival? Awesome! Here are five tips to help you have the best experience possible:
1. Bring all the essentials
You have to remember that despite having an RV, you'll still be spending lots of time outside. So here are some things you'll definitely want:
Sun screen
Bug spray (I prefer deet-free)
Raincoat/poncho/umbrella
Comfortable clothes in layers
An outdoor camping chair (the zero-gravity chairs are heavenly)
Flashlight or headlamp
Mud boots in case it rains and things get muddy
An outdoor blanket
If you'll be walking to the festival, a lightweight chair and/or picnic blanket
Sunglasses and/or a rimmed hat
Ear plugs (both to help you sleep with all the noise and in case the music is too loud)
A portable BBQ grill for outdoor cooking and/or something to cook over the fire
Marshmallows, hot dogs, hamburgers—the usual camping goodies
A book for your downtime
This is a good start, but be sure to do some brainstorming if there's anything else you'll want – and make a checklist before you go! Check out
Vicky's packing list
for more ideas of what to bring. It was made for Latitude Festival in the UK, but you can (and should) bring most of those items to ANY festival!
2. Make sure your rig is well-prepared for a music festival
Before you get to the camp, make sure your propane tank is topped off! And keep in mind that while some festivals have full hookups (electric, fresh water and sewer drainage), at most festivals you'll be dry camping. Meaning, whatever electric and water you have in the rig with you when you get there is what you have for the whole duration, unless you head out to re-stock. So top off your fresh water tanks within an hour's drive of the festival (that way you don't hurt your gas mileage with all that water slowing you down). And, if you can find one, try to get an RV that has solar hookups. That way you'll have power without a generator or electric hookups. Also, having jumper cables or a portable battery charger stowed away doesn't hurt!
3. Read the restricted items list before you go
Some festivals have certain restricted items you're not allowed to bring on the premises. For example, you can't bring your own instruments to Coachella unless you're playing on stage.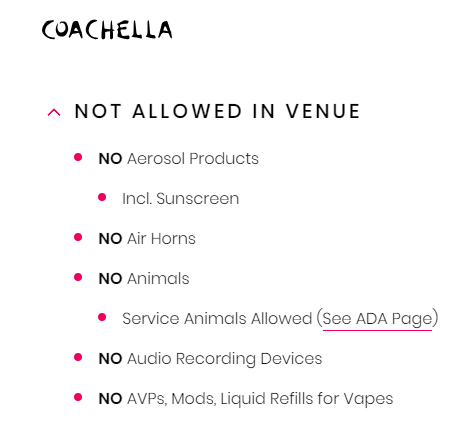 Bringing anything restricted is a sure way to get kicked out if they catch you, so read their terms carefully! (Though it's possible to
sneak alcohol into any festival
if you're really dying for it.)
4. Book your spot and buy tickets early
This probably goes without saying, but most music festivals book
fast
. If you want a decent spot and the best possible price, buy your tickets and reserve your campsite as soon as they go on sale.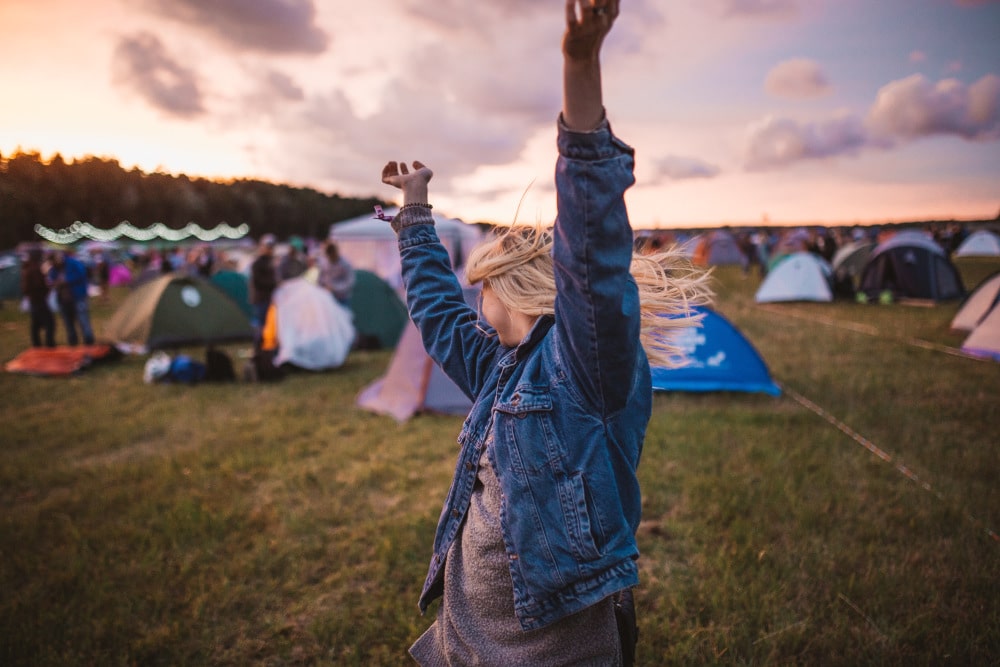 In some situations, you can even book your campsite BEFORE tickets go on sale!
5. Thoroughly clean your RV and campsite to avoid cleaning fees
If you're renting an RV, the owners expect it back the way they gave it to you. That means you should wipe down the shower and toilet, clean up any trash, and pretty much just put everything back where you found it (to the best of your ability). That way you can get your full security deposit back and not have to pay anything extra. Same goes for your campsite. Most campgrounds will charge you extra or keep your security deposit (if you paid one) if you leave your site a mess. Plus, it's just common courtesy.
And there you have it! A beginner's guide to RVing at festivals.
Are you going to take a camper to your next festival?
Or have any other questions?
Let us know in the comments below!
More on festivals
10 Different UK Music Festivals for 2019
How to Volunteer at the UK's Biggest Music Festivals